Until now you've never really seen the world you live in.

The most important event, to perhaps our entire history, is fundamentally gone unnoticed.

This is our departure from a natural environment as our host of life into a technological milieux. 

We look at acceleration and density as qualities of a way of life that is not seen and goes unquestioned.

A life unquestioned is a life lived in a religious state.

Unwilling to wait for mankind to improve, the outlaw lives as if that day were here. 

Outlaws are can openers in the supermarket of life.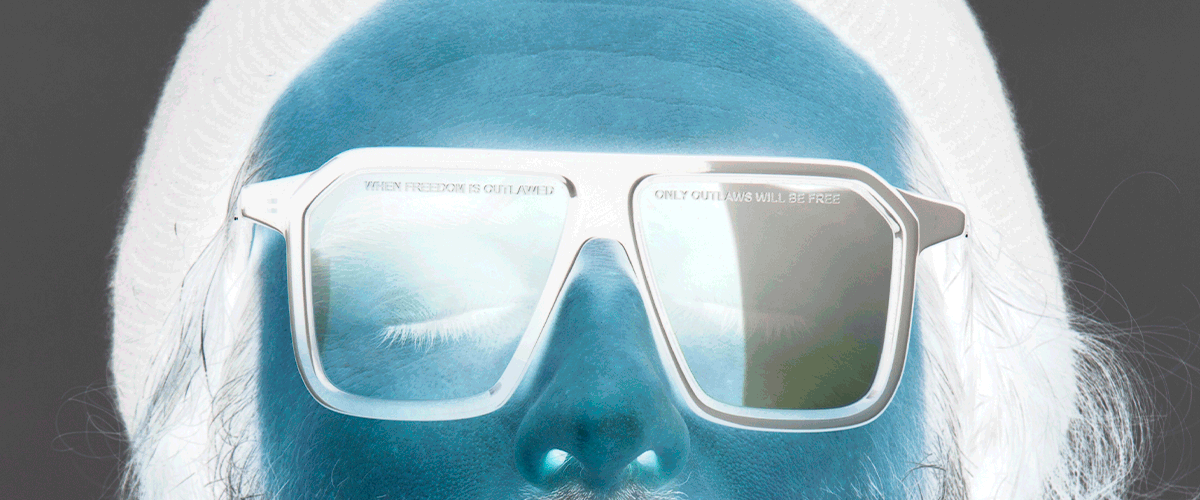 The new Native Sons x El Solitario Collab Frame: OUTLAW   
This design is an ultra-tall targa shape that is 3D carved with a flat nose area. the connections left / right step down 1.0 mm from the rim creating a receding effect. The front is a vertical black to grey gradient.
The temples (arms) are very minimalistic and semi-straight, making them very easy to slide on with a helmet. Palamino speckled color.
The hinges are our original 5 barrel config. with a star nut fixed at the bottom for tuning the hinge.
With the front hinge is embedded, the side hinge is welded to the core wire before shooting into the temple. The temple sides are fixed with our "motorhead" icon, which fits through the temple and is fixed with a set screw.
The temples would not be complete without the wolf stamped black on black, running off the end.
Lenses are 2 – based CR-39, tinted in a grey gradient to match the front. They are hard coated and have an AR coated back (anti-reflective) with a hydrophobic surface coat on the front to repell water.
The race shield laser etched data reads, right to left lens as you wear: "WHEN FREEDOM IS OUTLAWED" // "ONLY OUTLAWS WILL BE FREE"
All Native Sons frames are hand-crafted in Japan.
Materials are: takiron cellulose – based acetate (CBA) which is made from cotton oil. CBA does not pollute nor remain on earth… Unless you want it to.
Lens 51.8mm, Nose Bridge 13.1mm, Temple 144mm.