'Oil in The Blood' came into fruition in 2016. I had witnessed motorcycling go through a renaissance. In hindsight my somewhat stagnating passion for motorcycles had become revitalised by an explosion in creativity and anarchy, fuelled by a rejection of the old tribal misogyny that had previously plagued motorcycle culture. 
A movement had emerged with its own self-defined identity that laughed in the face of convention and corporation. I saw men and women all over the world engaging with motorcycles again, rolling their sleeves up and get their hands inside machines, reviving lost, forgotten and belittled skills as they created bikes that were an inexpensive expression of themselves as individuals. The rejection of the corporate dogma of the motorcycle as a convenient and disposable appliance, resonated deeply with me.
I had seen plenty of video content around this new culture, but it tended to be high-octane stylised visuals, or artful musings on one builder or a tight group of friends. Much of it really good. But what I hadn't seen was a feature film that looked to dig beneath the surface of the new custom culture as a global phenomenon. As Scott Johnson of Mama Tried says "We're living in the best of times", and I felt someone needed to document it whilst it lasts.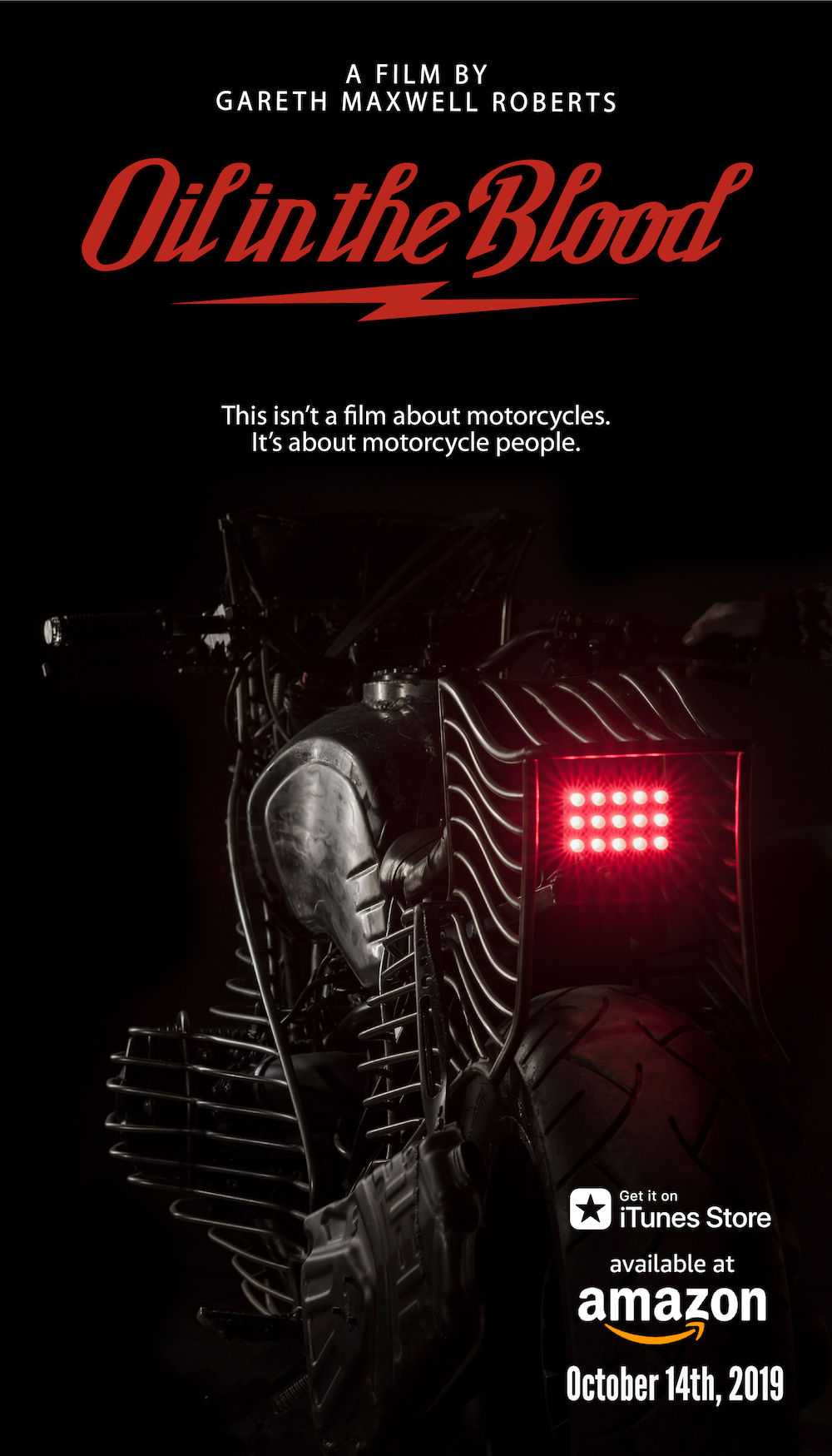 My whole adult life has been spent in film production in one form or another, and with that came the culture of bitchy competitiveness and the mistaken belief that cynicism is in some way clever or smart; that by criticising others gives you some kind of intellectual or professional leg-up. Motorcycles to me were always my saviour from that. Bikes were the positive that drowned out that negativity, and because of that I kept the two aspects of my life very separate. So, diving into a project that combined both worlds I was determined that the film be a positive representation of custom culture, and those who participate in it. That was its guiding principle.
Now of course all things change, and the idyllic movement that I saw flourish had garnered the attention of the major manufactures and brands. They deemed this emerging culture 'cool', and they wanted to monetize it. Courting builders and bribing the influencers, big business muscled in. This was something the film set out to explore, because with any potential conflict like this there is no absolute right or absolute wrong, but many shades in between. Some alliances worked well, others not.
One entity that seems to master the art of collaboration is El Solitario. Before we became friends, I had admired them from afar; their spirit, their passion, their irritation, and their lack of willingness to compromise encapsulated everything I loved about this new custom culture. It seemed a paradox that such fiercely independent souls could work so well with corporates. I wanted to know how, and why, so I approached David to see if we could try to work this out on camera.
It was fortuitous timing because Desert Wolves was in gestation, and it seemed the added element of capturing this adventure on film was the final impetus that it needed. We seemed to share the same goals, so we agreed to work together. For me it would be a working example of how collaborations can be positive and beneficial to all involved.
The project was ambitious way beyond available funding and resources, but we vowed to make it work. The months of preparation were consumed by logistics and planning. What we didn't discuss was what the focus of the filming would be. 
From my point of view, we were going on an adventure and I wanted to capture it on film. Bearing in mind that funding was limited, and the scope of the filming was huge, I didn't want to fall into the trap of over-planning. Over-planning is deadly when you haven't the resources to deliver on the planning. It's like wading in quicksand where you commit to achieving the unachievable. You have to approach these kinds of projects with an attitude of let's shoot what becomes available to us, shoot a lot of footage, and find the story in part as we go and in part when we get into the edit bunker. For me that discovery was the story.  David didn't see it that way. He wanted this to be a conceptual film, but we'd neglected to discuss what that concept would be.
To execute a conceptual film well, we would have needed three times the budget, recced the entire trip beforehand, storyboarded and shot listed every frame, planned each day to down to the last minute, and have a crew of forty. Nobody wanted that, or could indeed afford it.
El Solitario are sophisticated media communicators, who have an eye for impeccable presentation and work with high production values. This film had to match those values, so to be able to shoot the standard of material that we all wanted, we needed a crew and an infrastructure that could deliver. It wasn't just a case of me and myself waving around a camera. So came a truck, a camera vehicle, drones, a crane arm, boxes of camera equipment, three 4x4s, and at times eighteen people. This irritated David immensely, to him this was destroying the spontaneity of the adventure, but to me it enabled us to capture the spontaneity of the adventure.
El Solitario are very aware of how they are presented to the world. They have been misrepresented on film previously, and David is adamant it will not happen again. He is cautious of film crews, and it turned out was cautious of me. He didn't trust me. When I explained that I wanted to film the adventure as it unfolded, talking candidly and without guard to the riders as they battled with their machines in the harsh environment, it rang sirens in his mind. To him it stank of cheap reality TV, to me it was fluid documentary film making.
My mistake was assuming David trusted me. I was approaching my collaboration with El Solitario with earnest enthusiasm, and from a position of admiration and a belief in their vision and execution. The "Oil in The Blood" mission was to present this culture that I am vested in and love, in a positive light. I had no intention to belittle or sneer at anybody. The film is a celebration. I just assumed David knew that. What I forgotten is that trust is not a given, it has to be earned, and I hadn't earned his trust.
So, there were a number of factors that played into the inevitable confrontation on day one of filming, high in the thin air of the Atlas Mountains. Two very opinionated and vocal men coming to loggerheads. Over what? I can no longer remember. But it was bad, very bad. It very nearly killed the project dead there and then, but with some hasty and skilled diplomacy from both camps an uneasy truce was reached, and a path forward was navigated.
We continued until the end of the trip, with both David and I speaking hardly at all. Both of us focused on our specific roles, and we shot some fantastic material. I didn't get my wish of having David and his team talking on camera, but I came away with wonderful imagery of an ambitious multi-brand collaboration succeeding in tough but very photogenic conditions. We got something, and I hoped it was enough.
It very nearly destroyed mine and David's friendship, but with time giving some perspective and after much experimentation with the footage, we started to talk again. With both of us knowing we didn't have what we needed, we eventually returned to El Solitario HQ with a camera and David, Pico and Val spoke to us at length.
It was only at this point that David and I really understood each other. We both let our guards down, and were candid and honest. Our friendship became stronger.
I am sorry that I robbed David and El Solitario of the spirit of adventure that they hoped the journey would be, and I'm sorry that I didn't put the time in to earn David's trust before we started filming. But after all was said and done, David and I had both approached Desert Wolves with enthusiasm, integrity, desire and belief, albeit it coming at it from different perspectives.
I am immensely proud of what we achieved, and to me Desert Wolves represents the pinnacle of 'Oil In The Blood'. I believe we captured the spirit of an ambitious and successful adventure, and that we give a loving, honest, and fair account of El Solitario, who in my mind are today are more vital to the motorcycle culture than they have ever been.