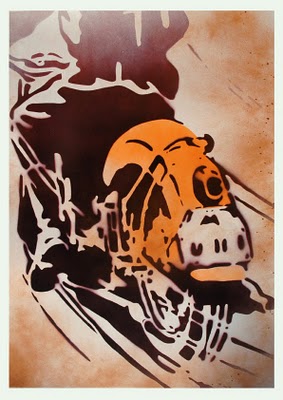 "When we get out of the glass bottle of our ego
and
when we escape like the squirrels in the cage of our personality
and get into the forest again
,
we shall shiver with cold and fright.
But things will happen to us so that we don't know
ourselves.
Cool, unlying life will rush in.
"
D.H.
A true gentleman, a man of our world, this is our friend Toño, one of those special beings that have understood the fragility of human destiny and the need to caress the soul. A true biker, with thousands of miles across the globe. Crossed India in Vespa. Thailand on a small two stroke bike… Knows Spain like the back of his hand, thanks to the miracles of his tired Shovelhead and a hoarse rear cylinder… or his beaten BSA, a flawed british sporty… We love Toño 'cause he brings us light, and love his optimistic artwork. Mr Merinero quitted a well rewarded job in advertising a decade ago, to travel the worlds and do what he believed in most; share & pursue a plural artistic vision but always faithful to the eyes of the Madrid boy, who once signed a pact with the devil to stay true, stay put.
Keep on speeding Toñin and keep on growing miles on the odometer.
Be all those Gods be with you!