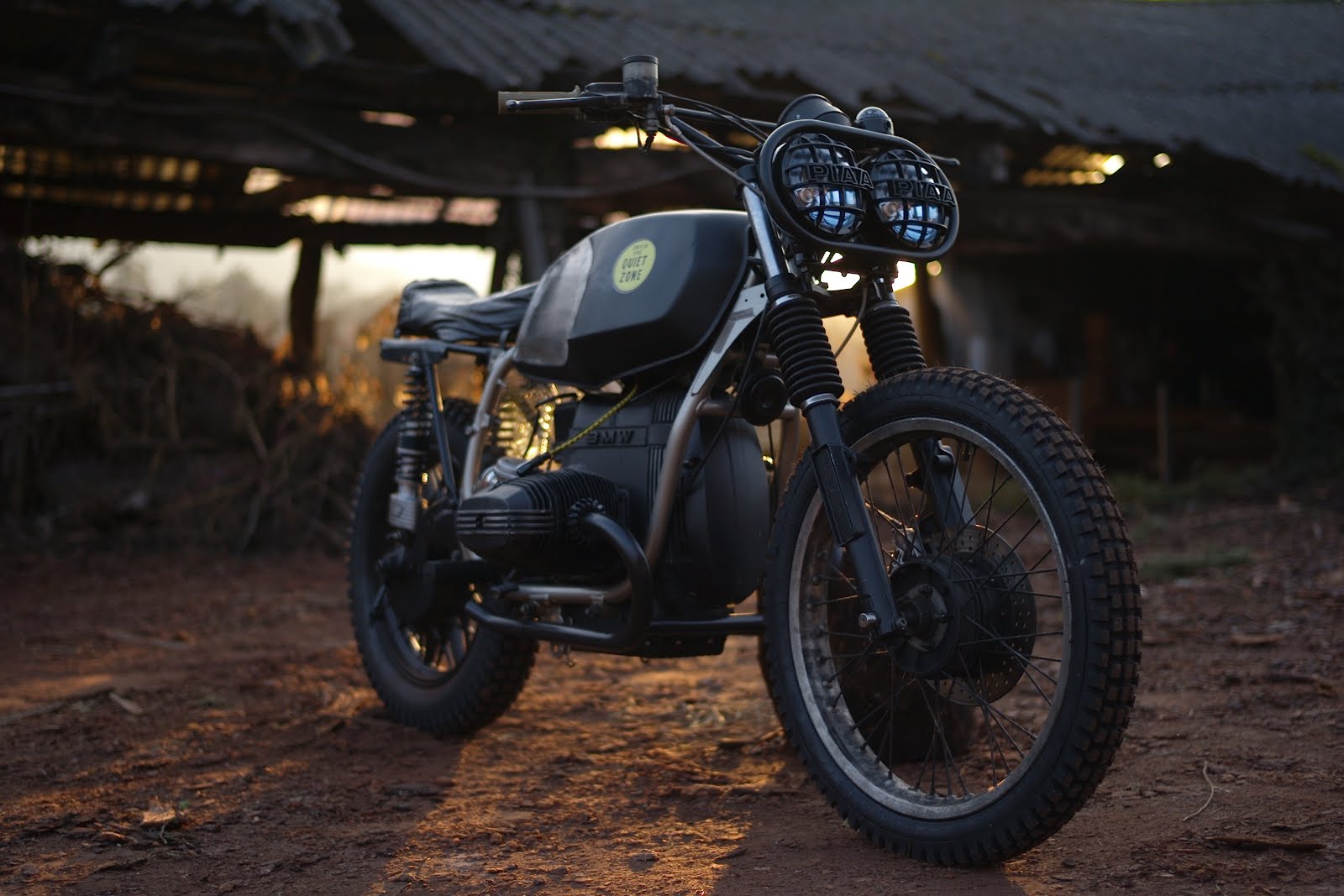 After the
bikeexif
rush and the thousand fires we're crossing every day, to keep this hungry machine steaming, we can finally have a rest and introduce you, more privately, what Gonzo is, and what it is made for. Starting from the beginning, this R45 was my first fully titled and insured!# motorcycle. Payed for her 200.000 pesetas in Madrid a summer in the mid nineties. She was dull burgundy and sporting high roadster bars… During all these years she went through various skins, and was almost a faithful bitch, until winter 2001 or '02, when for one reason or another, she ended up forgotten in the back of the garage, crying for a second chance.
In 2011 we started
El Solitario Heritage Motorcycle Co
, and with 8 projects in the pipeline, it was also time to recover the tired lil' german. Using the "dead" times in between our "responsible" works, we applied to the R45 some
TLC
, a couple of
PIAA headlights
, a lithium battery, a 21′ front Akront rim and some of the junk we had sitting around the shop and this is what came out. A cheeky monster indeed, half cartoon half rata bastarda… The "No Plan Bike" as she was called in house. A bike which was not supposed to happen this way or any other… but just did and that is Gonzo's way.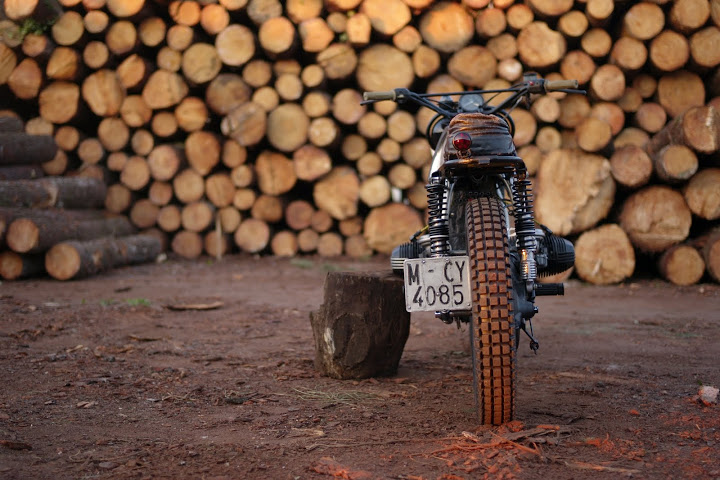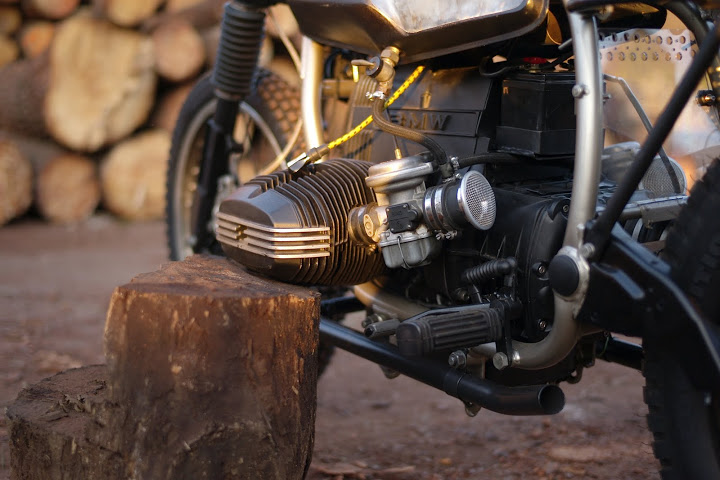 And for you avid readers that out of boredom still wanna know, what is it for? I will answer a few FAQs to finish with all the buzz generated:
Q: Who are you? A: I'm DB, half or maybe even… a third?? of El Solitario MC.
Q: Who took the pictures? A: I did.
Q: Is Gonzo a slashed together pile of junk? A: Yes, and we love it.
Q: How many miles have you put onGonzo since completion? A: 30 or so.
Q: What is it its intended use? A: Family grocery getter.
Q: Will it be used off roads? A: Yes, mildly but almost daily, (We live in the country).
Q: Will it work off road with velocity stacks? A: Yes, and nothing will happen to the engine, unless you plan to surf in mud or sand with it, which I don't.
Q: Can you use those tires on the road? A: Yes but no titties on the tarmac with this boxer.
Q: Does everything work? A: Yes, minus the center stand which we will fix when we feel like it. Meanwhile, will enjoy the, teenage bum, pleasure of leaning it against the wall.
Q: Will you run with no fenders? A: Yes, we love to get grease and dirt on our scarf and our ass.
Q: Is it finished? A: Never.
Q: Is there anything you miss to have done differently? A: Definitely a bigger motor, probably an R80 which is a bolt on operation. Also on the list is adding some short mufflers. Loud & slow is no good. Now I know.
Q: Define in one word how is it riding Gonzo? A: It is raw & uncut. Sorry 2 words.
Q: Do you want to thank anybody in special? A: Yes, our dear Javier from
Maxboxer
, Spain's greatest Classic BMW Specialist. A true character.
Q: Is it for sale? A: No, and hopefully never will be.
Q: Can you make me one bike like Gonzo in 2 weeks? A: Yes, if you are willing to pay for it.
Keep on speeding Bandidos