At El Sol HQ's, time is the most scarce of commodities nowadays and the wolves couldn't make it to Dirt Quake, so we sent our monkey instead. As careless as naive, our dearest ape just jumped on the Zaeta (AKA: E.S. Pluto) and twisted it wide fucking open, scramming into the UK, like there was no tomorrow. Considering the abundance, and good vibes, of the various updates and news we were receiving, in his absence, we can guarantee he had the fun of his life.  In a future post he promised to tell us all the details and adventures of his road trip but now, we will center our pens around the ridiculously fun race that is Dirt Quake.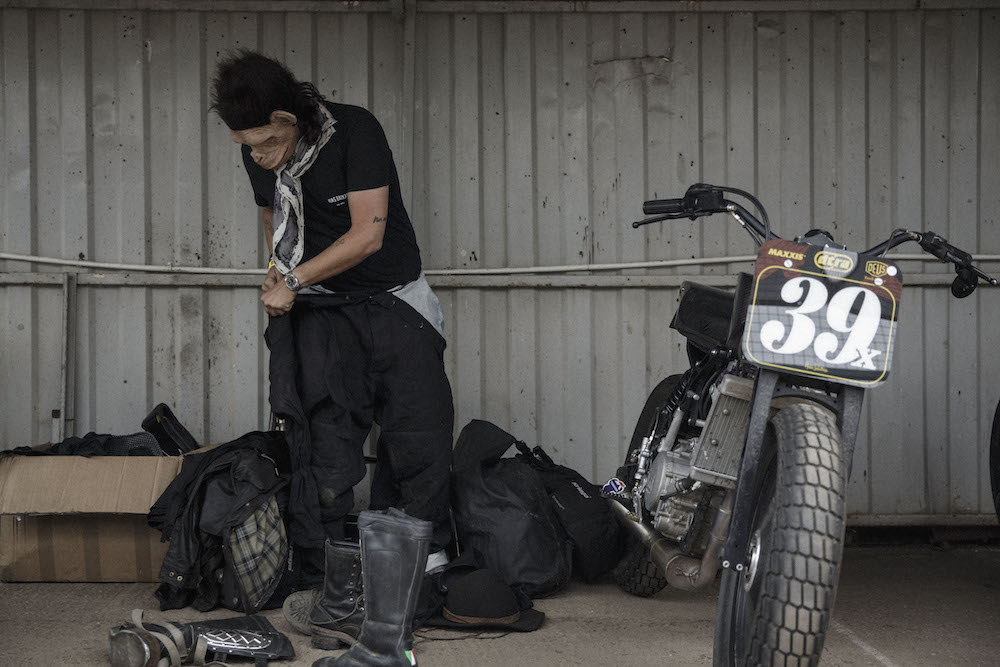 Our ape was also testing the performance, feel and hand of our new Dyneema powered Coveralls. Soon to be available on our shop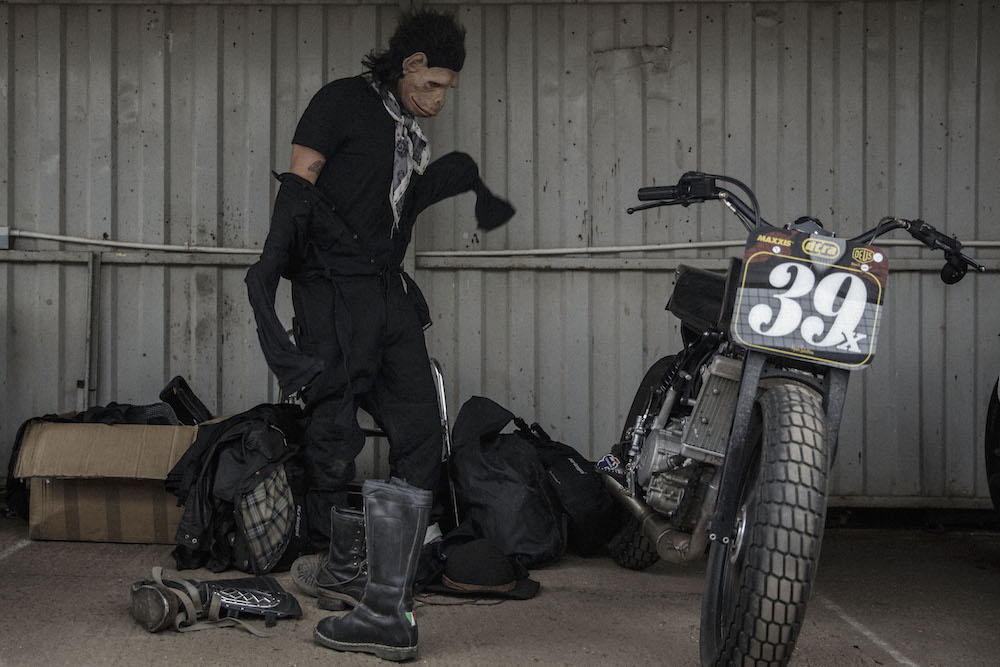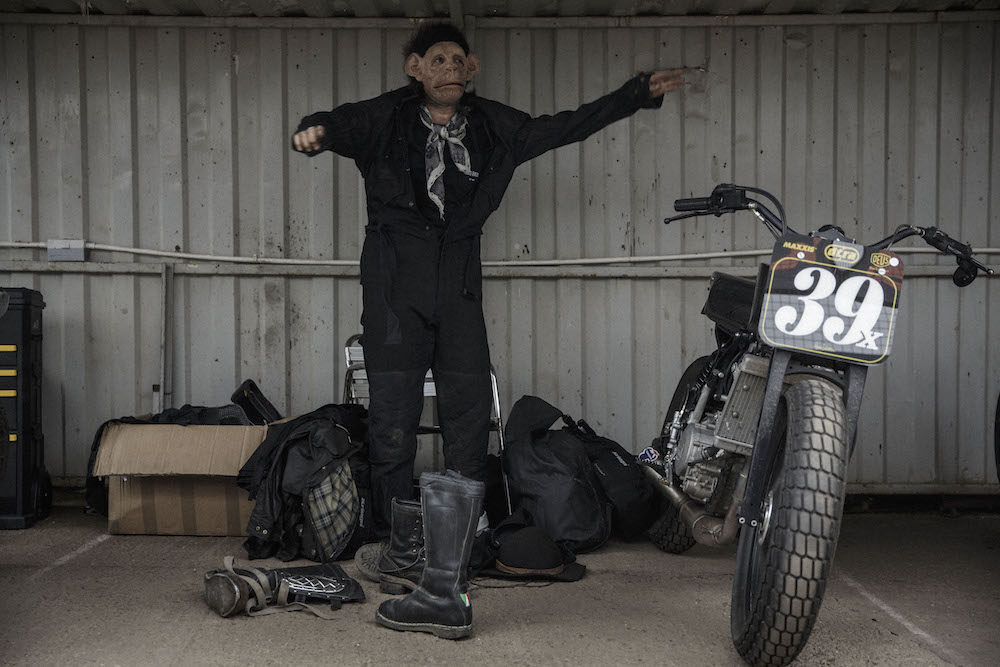 Not for the timid or the austere, the gates opened that Saturday around 11:00am. Inside the arena, our chimp felt as "normal" as the women selling sausages and bread at the improvised cafe. This is England, he realized! He felt safe, surrounded by frogs, birds, the whole Simpson family or herds of Goblins, Vikings and other creatures from "Where The Wild Things Grow". All in peace, coasting, as if enjoying their soma holidays in the Brave New Moto-World.  Can you imagine?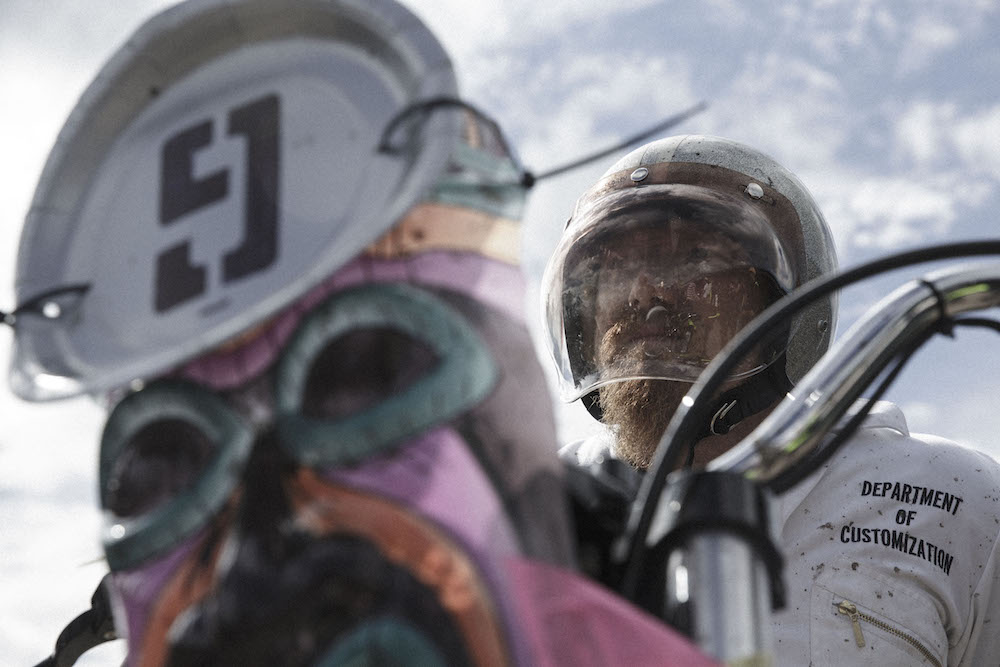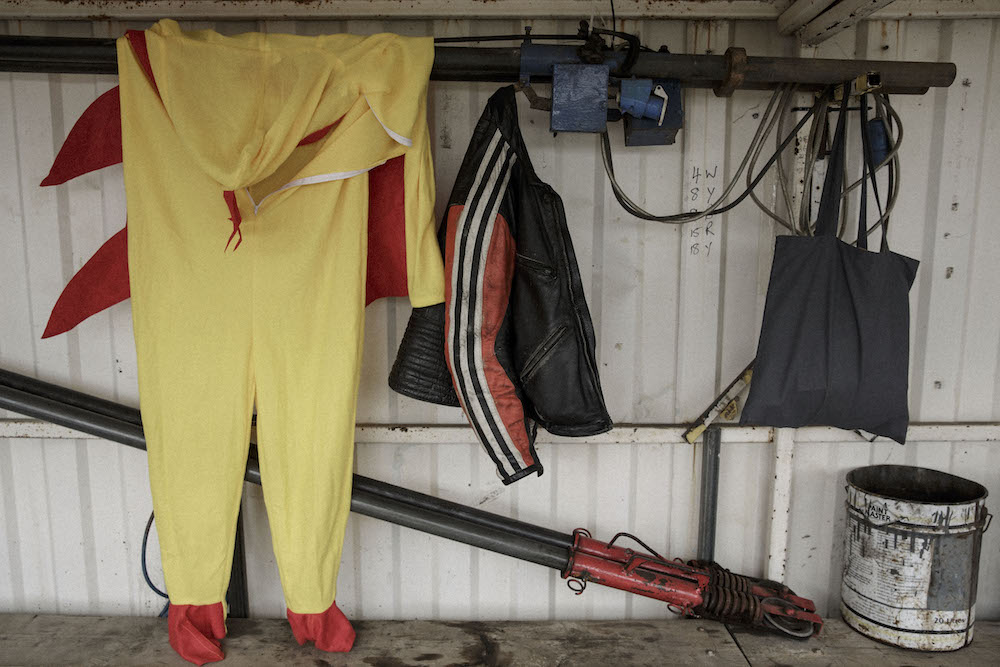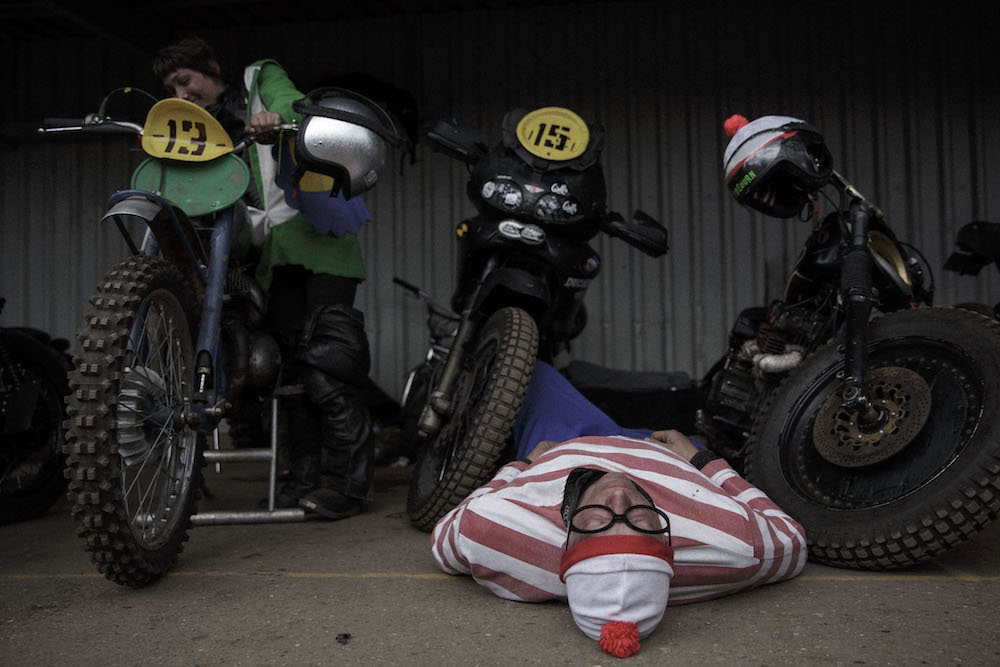 Wally's power nap after reigning with his deadly bobber on the track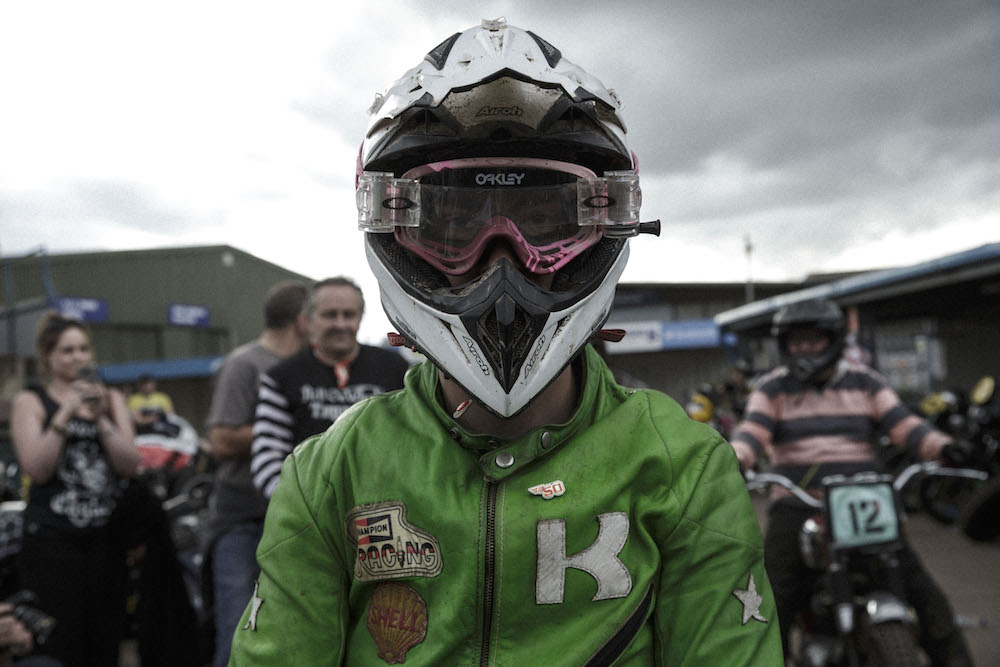 The attack of the Crab Monsters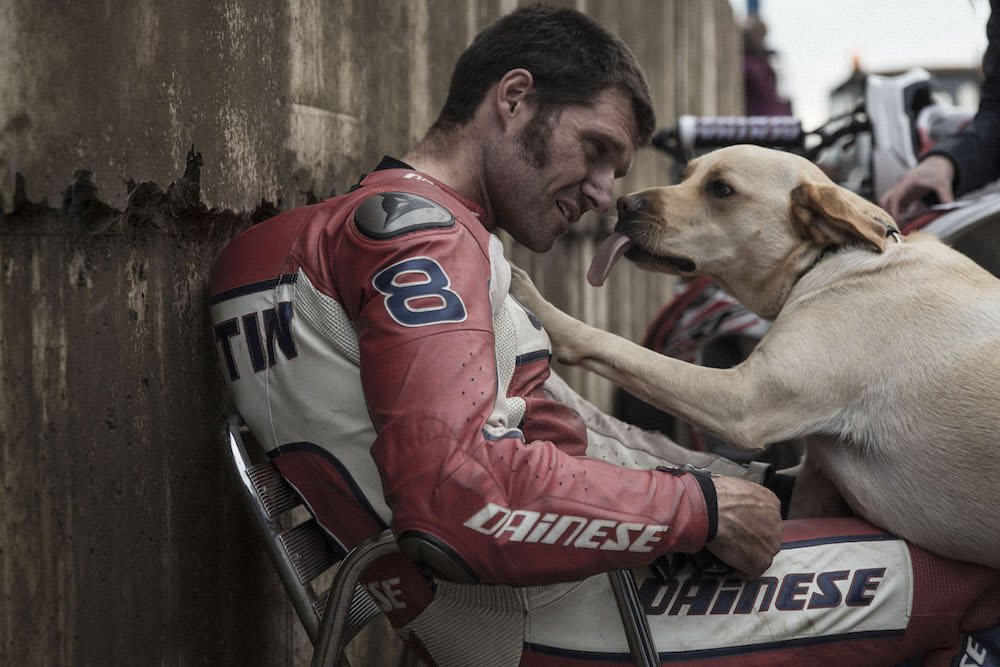 TT Racer Guy Martin & the most normal hairy creature in the pits
Below, the million $ pic: D.G. AKA: Death Spray Custom and his awesome bespoke El Solitario Rascal Leather Pants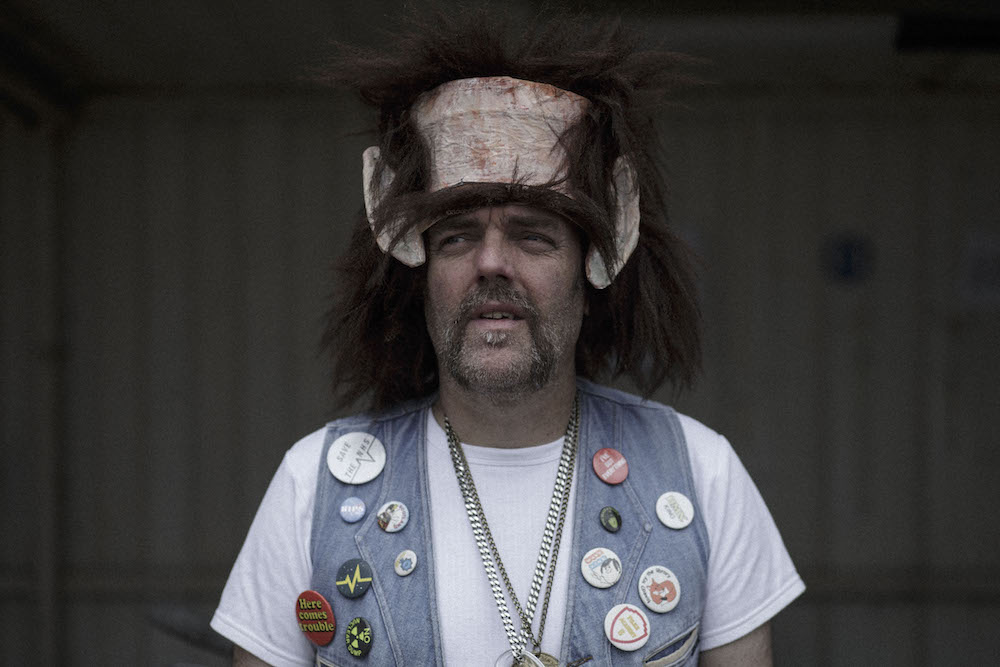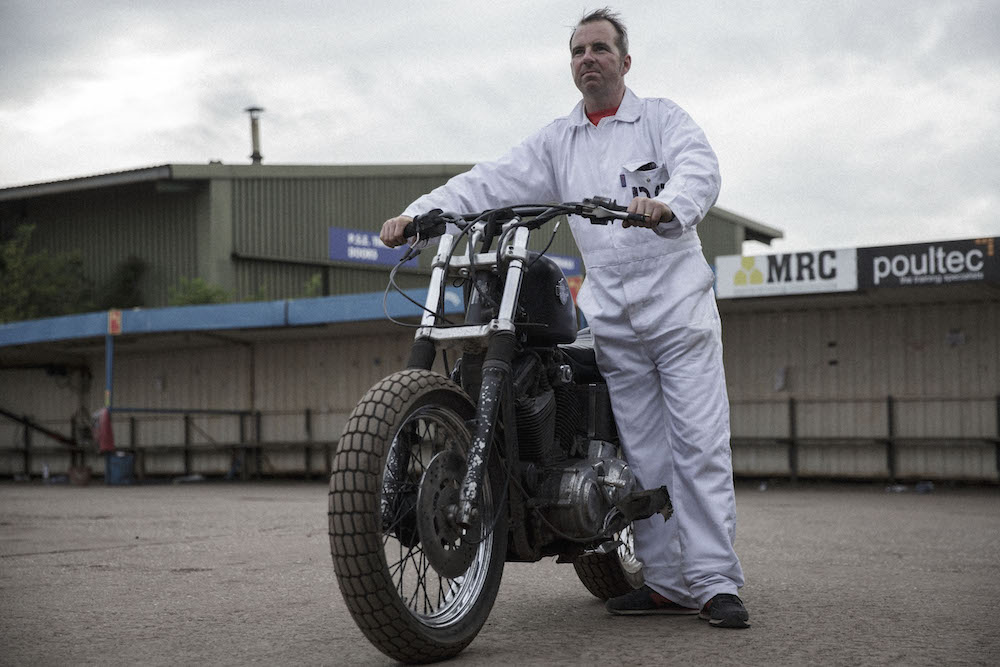 Mr. Gary Inman, Sideburn's Editor in chief and the man in command of this band apart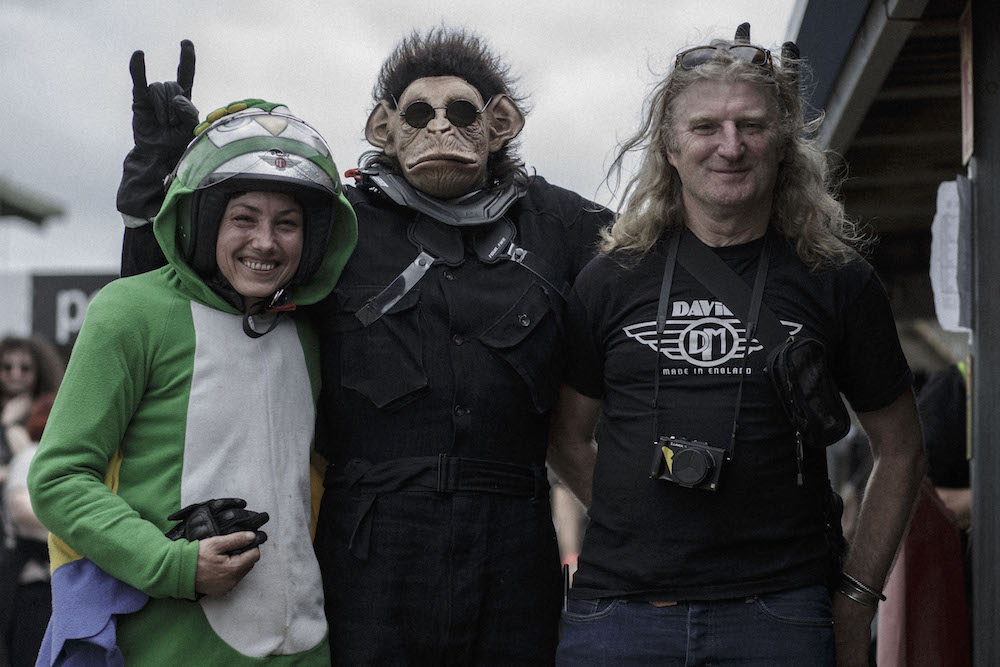 You meet the nicest people on a Zaeta
Even though the disparity of clans and adhered machinery was limitless, everyone seemed… to get along?!@#  Our ape was thrilled and didn't get it at first, although step by step, he evolved, and realized that everybody was there under 1 common goal.  This could be no other than kicking the shit out of their mutant motorbikes and any trace of mundane conventionalism or reverence.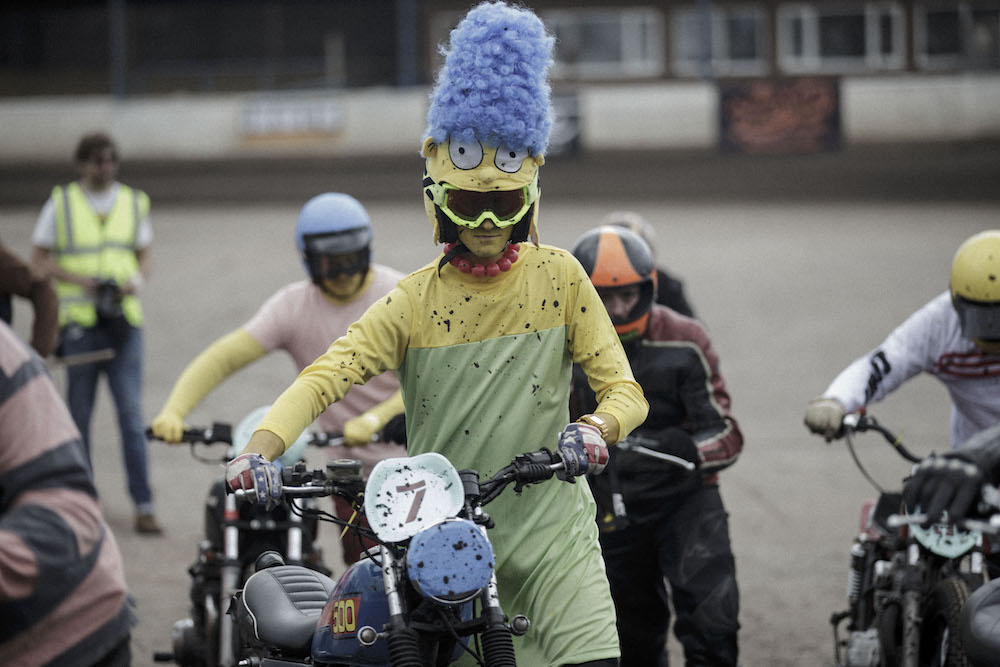 Marge Simpson was fast and got faster giving a hard time to our naive ape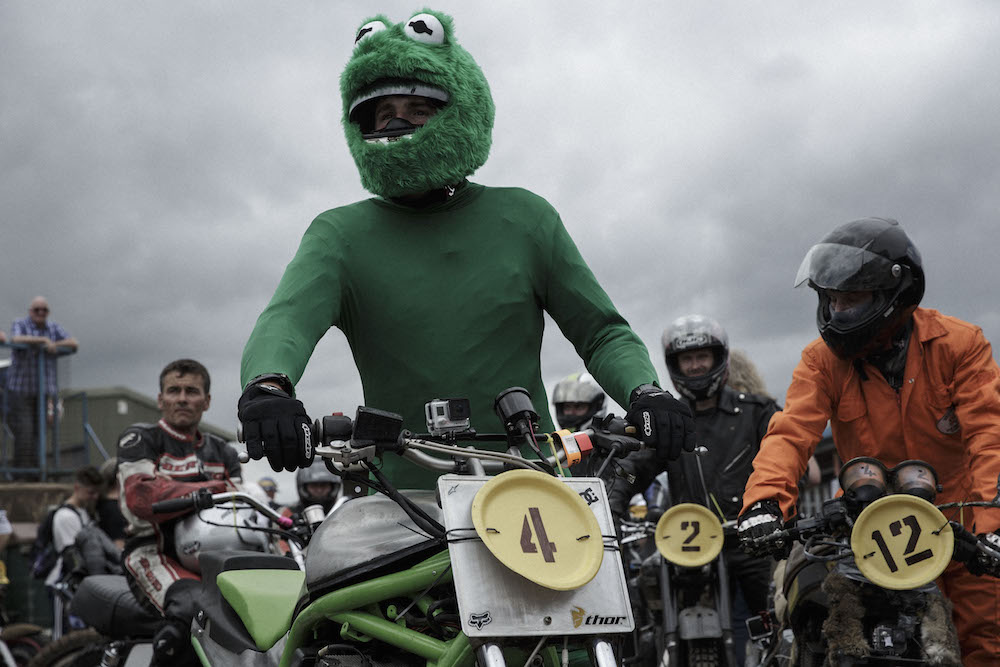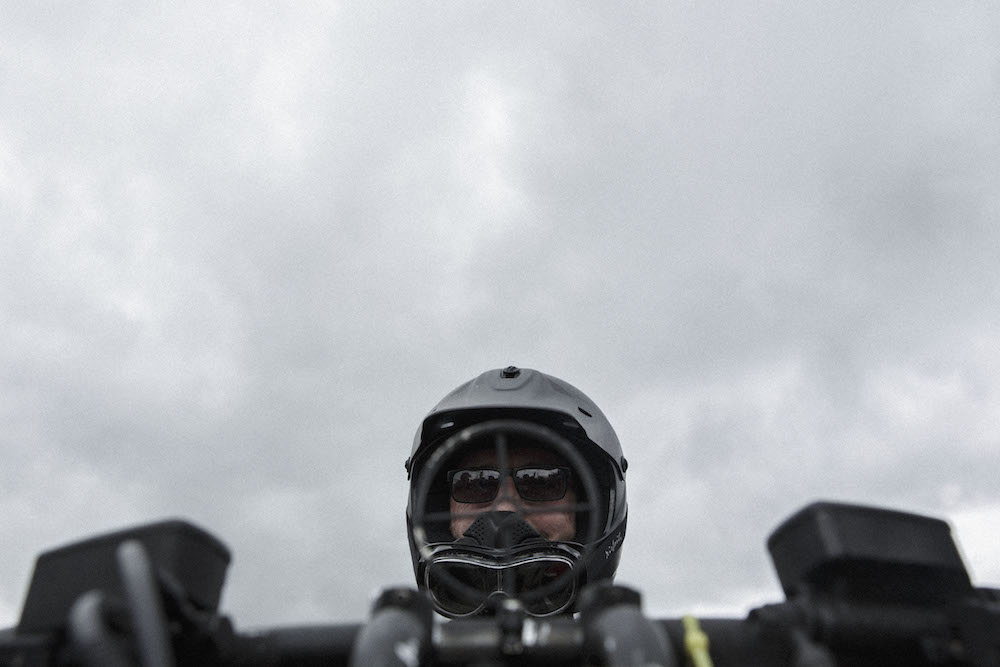 Point, Lock, Fire!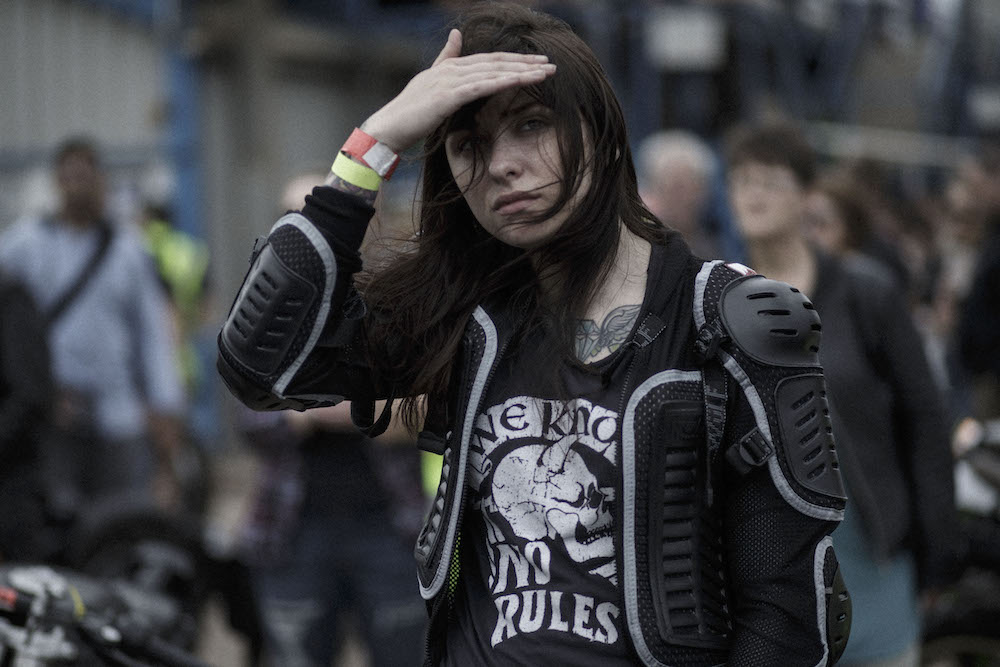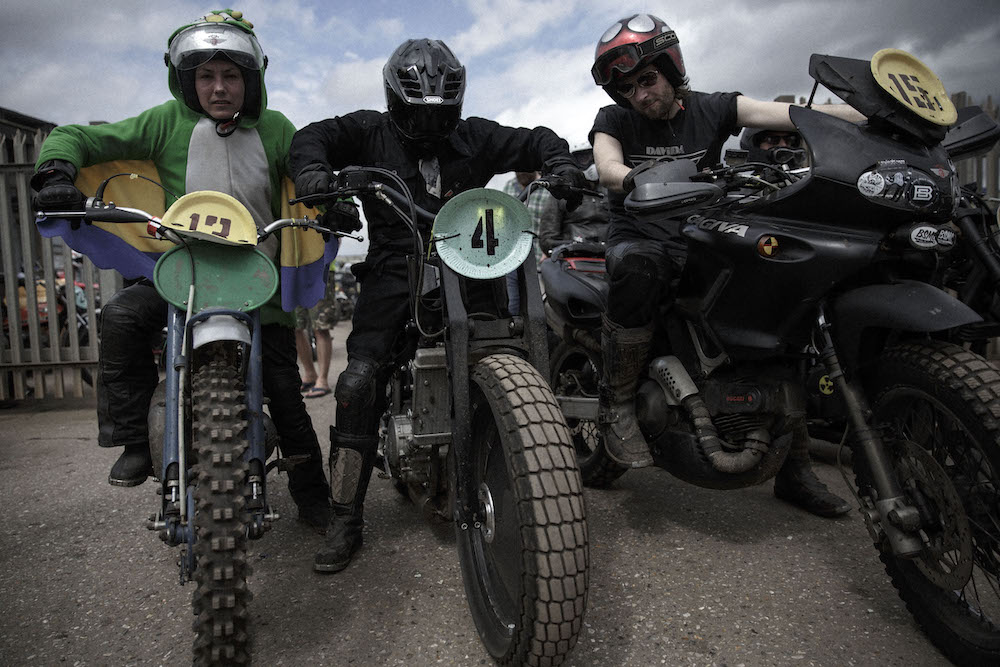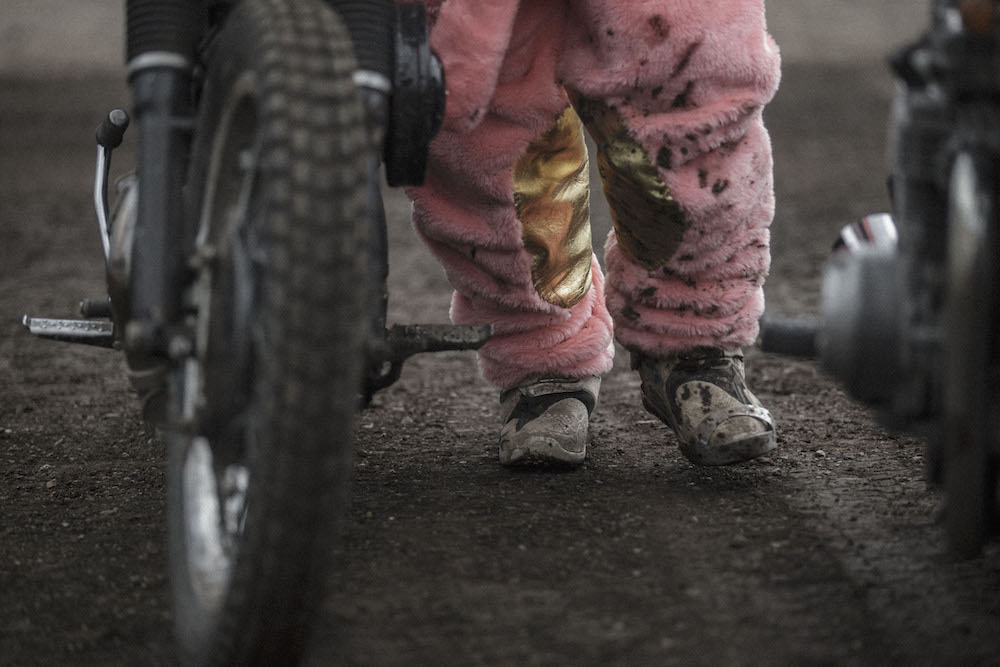 The huge penis rabbit was killing it on his flattie on the Harley Class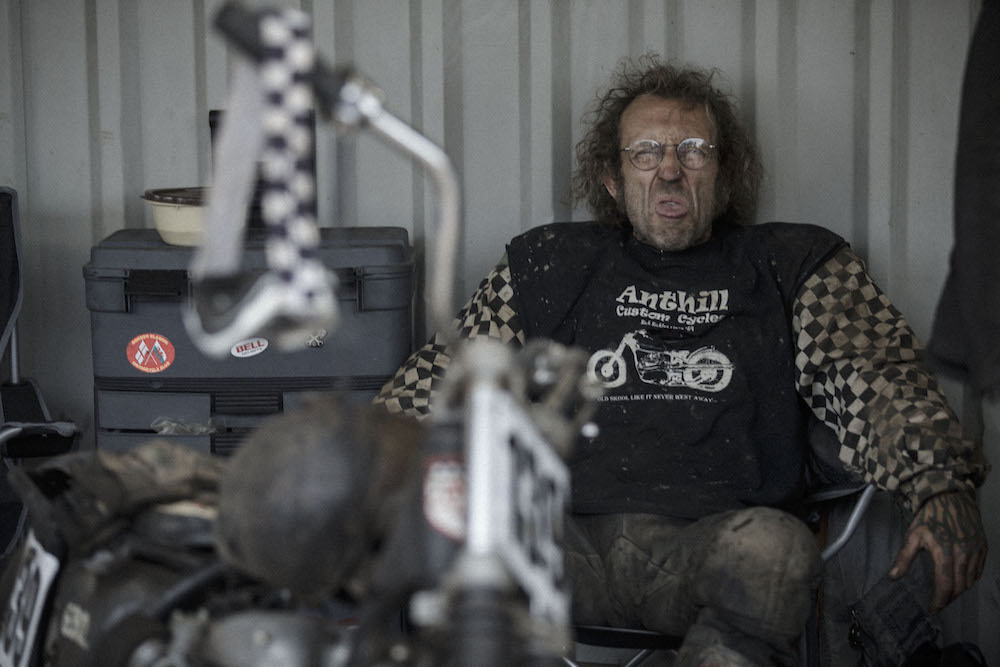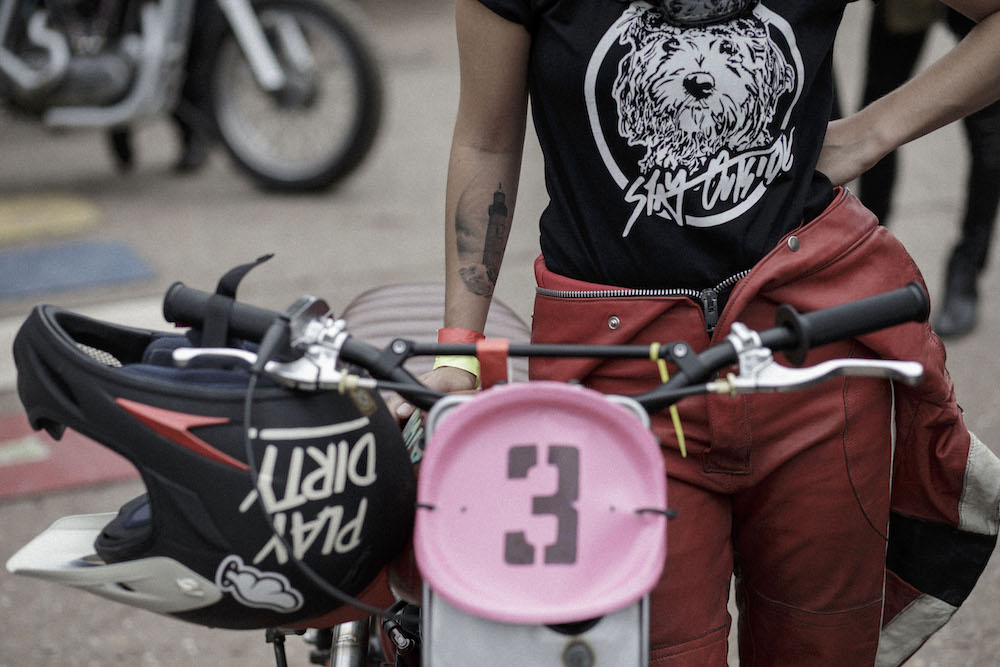 Play Dirty, Stay Outside! Sounds like a plan for a good life to follow this moto, although it gave lil' Cay a hard time, specially the Stay Outside part #RIPPER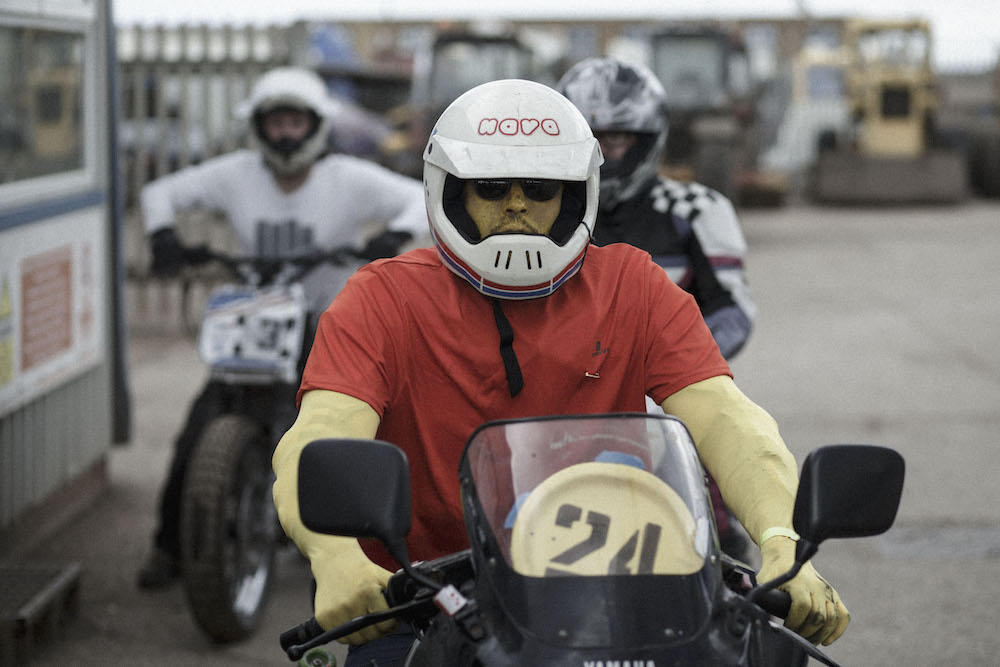 Bart Simpson after a whole winter on milk shakes and steroids made it on his FZ ruling the straight lines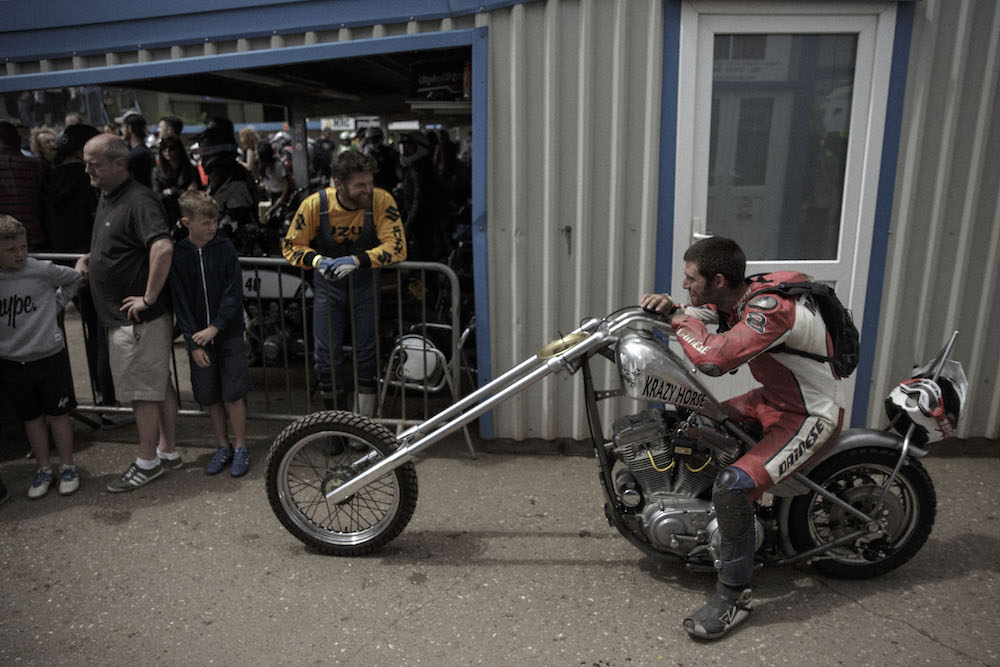 Long forks always bring the excitement to the chopper class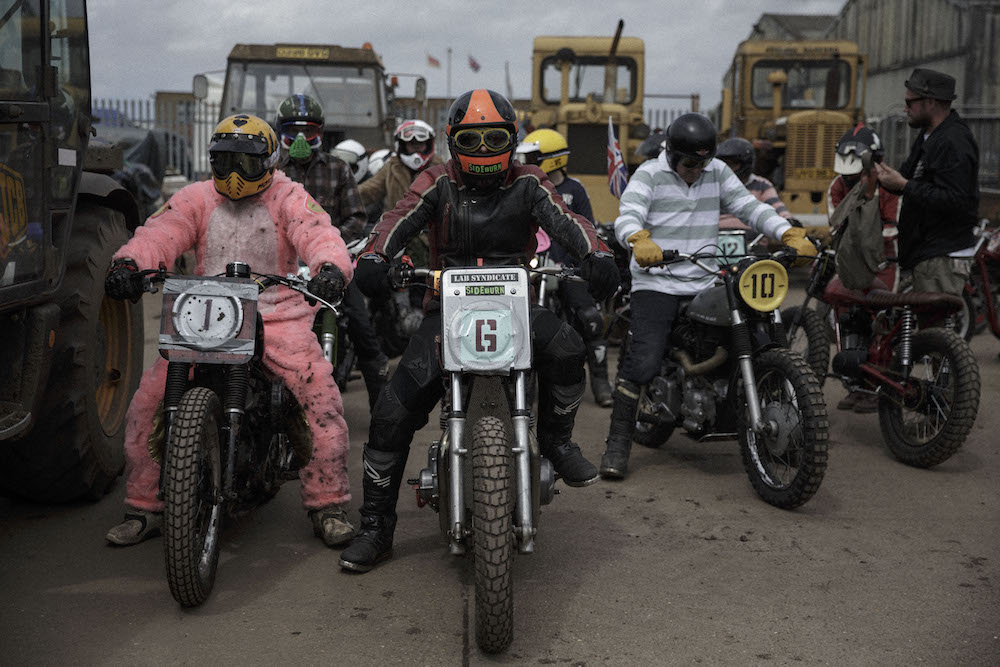 Rapidly, our Ape tried to evade himself from the troupe & concentrate in what he was sent to perform. Race! The mission was simple: Take El Solitario's custom Zaeta, AKA: Pluto, around the track, as fast as you can without a crash.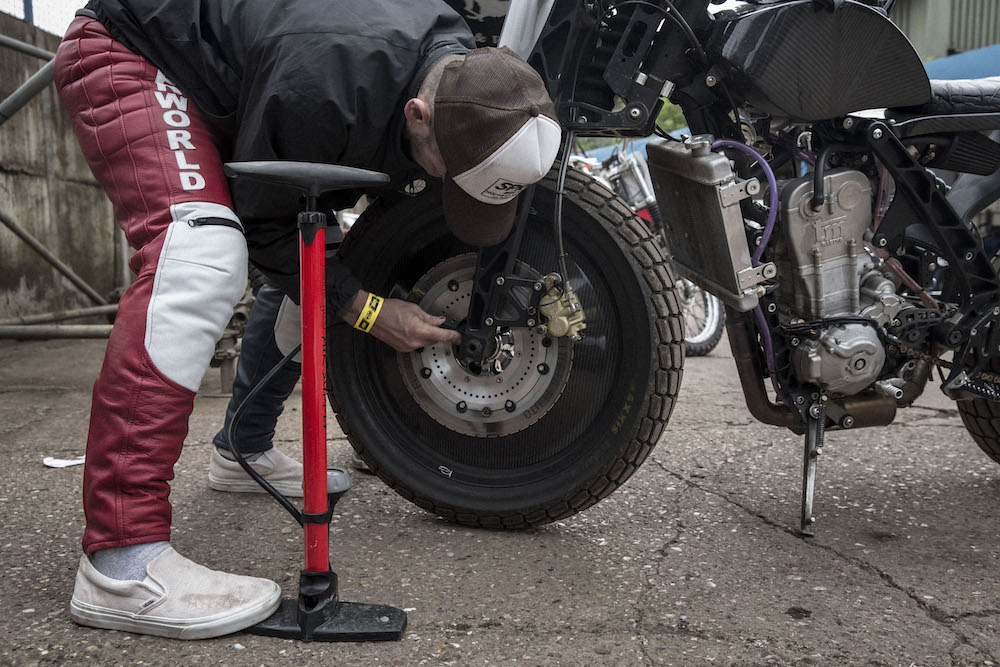 David DSC lowering the pressure in the tyres after a sketchy first heat in which E.S. Pluto only wanted to high side our chimp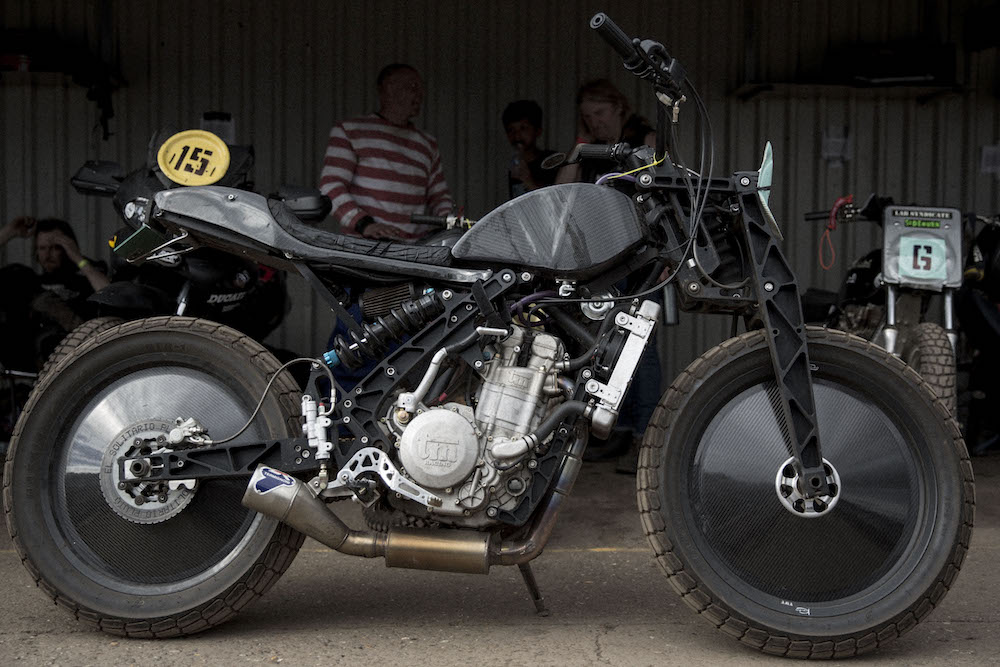 Dirt Quake Ready in full glam with the Astromal Made Carbon Wheel Covers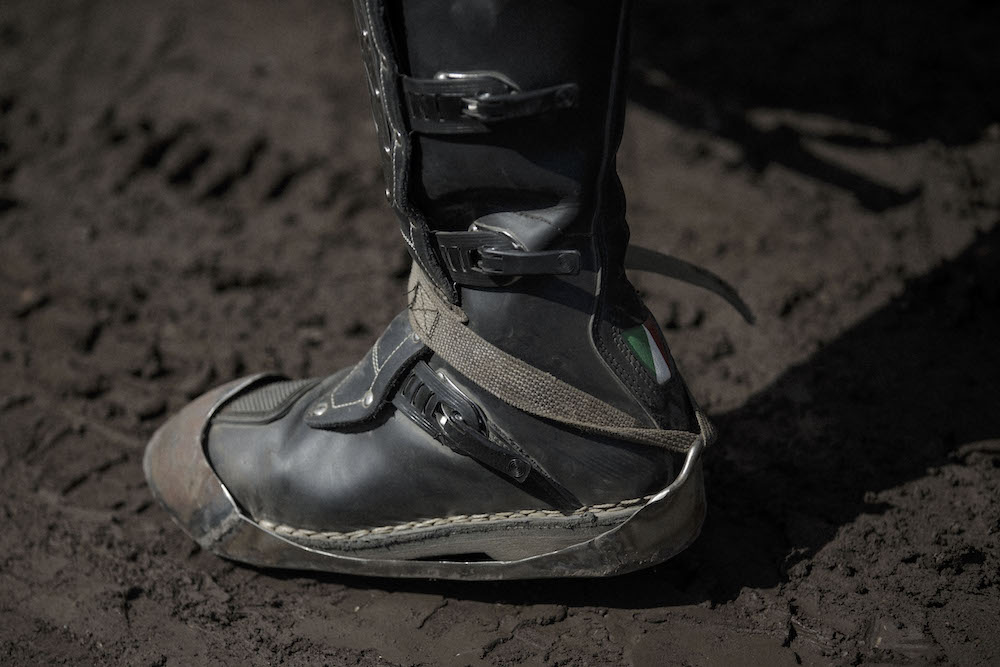 First time for our ape with a "Hot Shoe". The reports say that it was beautiful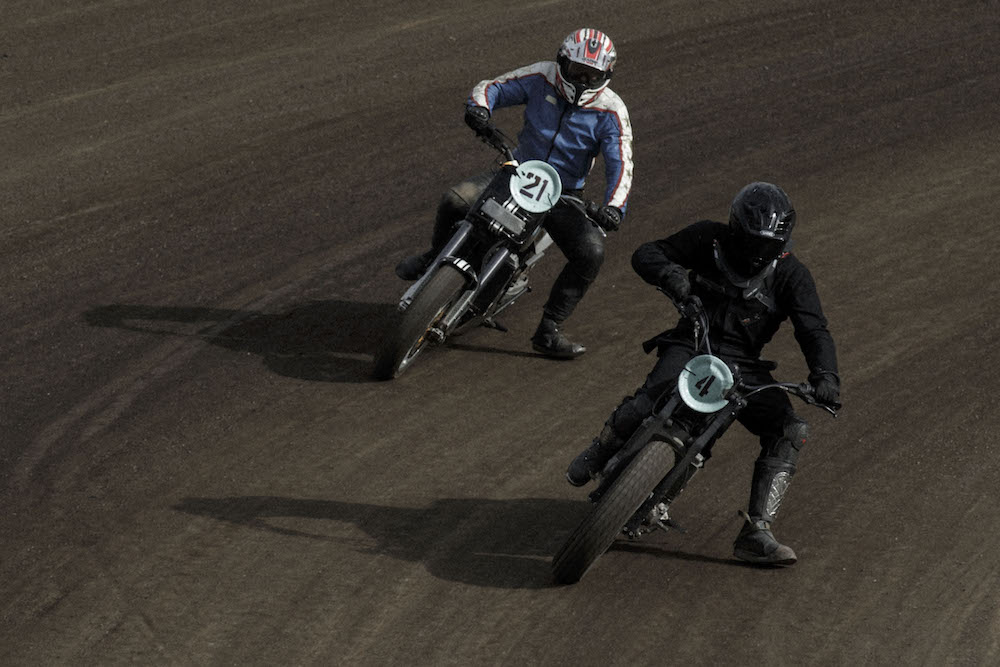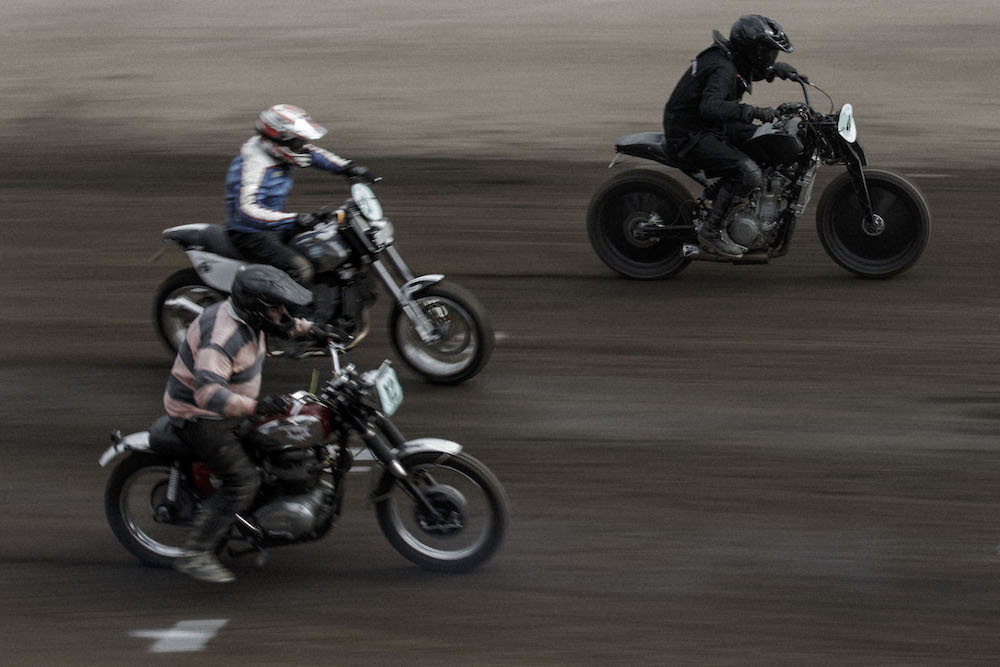 El Solitario monkey always managed to keep the Zaeta in the top third of the grid although the competition was fierce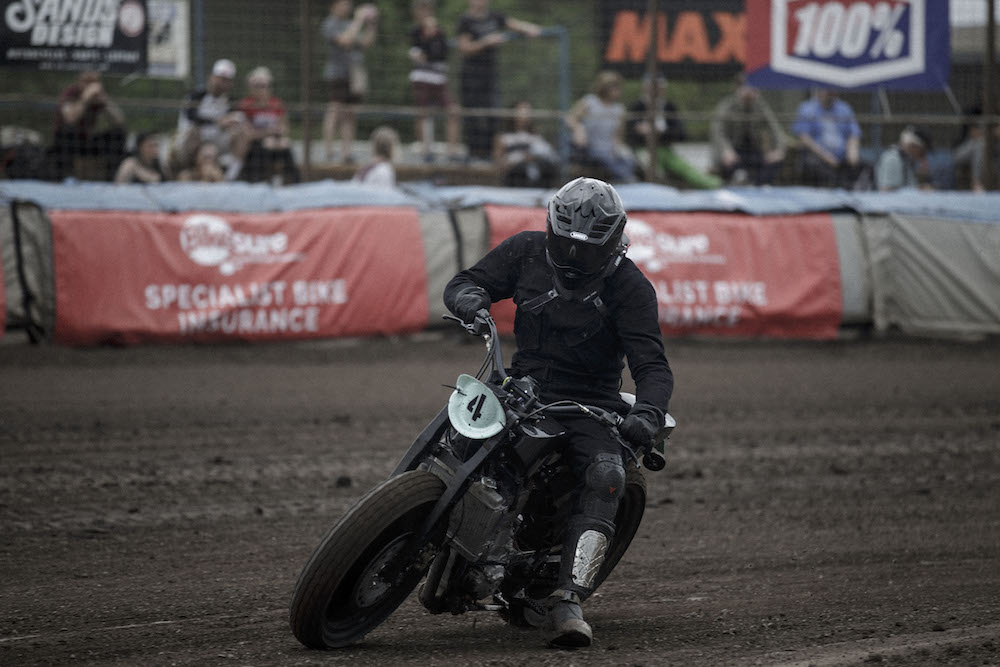 After 2 heats the Zaeta made it to the final in Street Tracker Class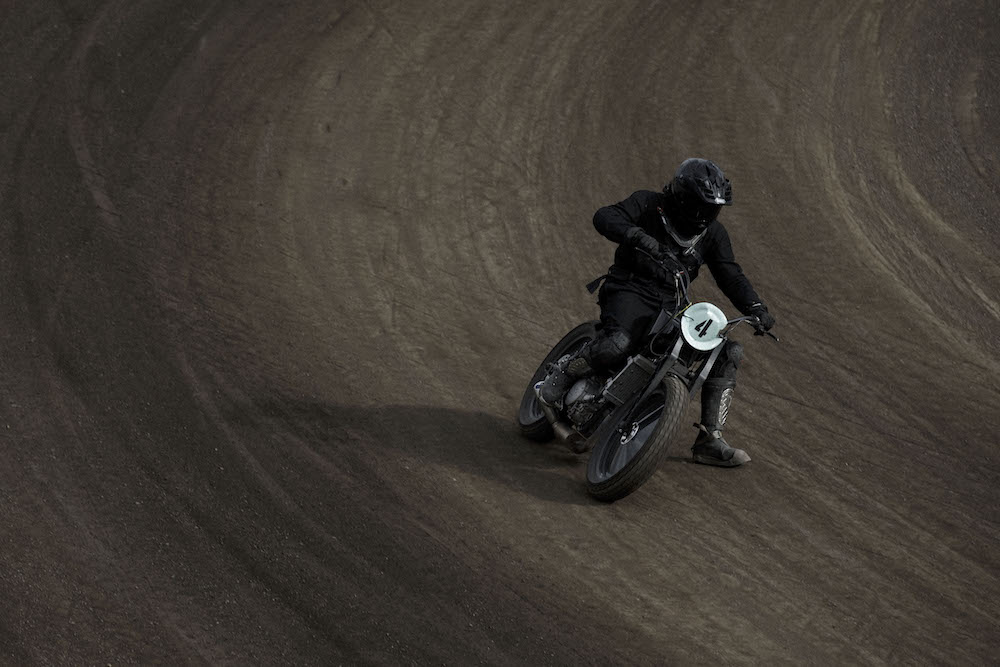 The Zaeta is simply put, a firecracker, a factory hot rod and an unbeatable competition motorcycle – especially on the Flat Track arena – But then came El Solitario and his inevitable devenir to fuck things up. One day, for good or bad we will never know, our roads crossed with Paolo Chiaia, the inventor of the Zaeta. An absurd and useless motorcycle to ride on the streets, but freezing cool as titty fucking a lusty Italian prima donna on a pool of the finest champagne. (Sorry ladies for the ill mannered analogy but, yours truly is just literally quoting the monkey's words here). Back to the meeting of the minds, or Paolo & the Wolf, don't know who became the muse of whom, or who hit first,  but truth is that together we doubled the stakes and embraced like mad men the pursue of motorcycle nihilism, with total disregard of any devastation threat. And god we have fun doing so.
Fruit of this mayhem is the UFO like girder front suspension, that aside from giving it a terrifyingly interstellar look & stance, it is still far from working well in any given terrain. Something that will change in the upcoming months,  because as crazy as these folks might look, their stubbornness is superior to their defiance and this always guarantees they will succeed on the final outcome. MOTIVATION! Its all it takes.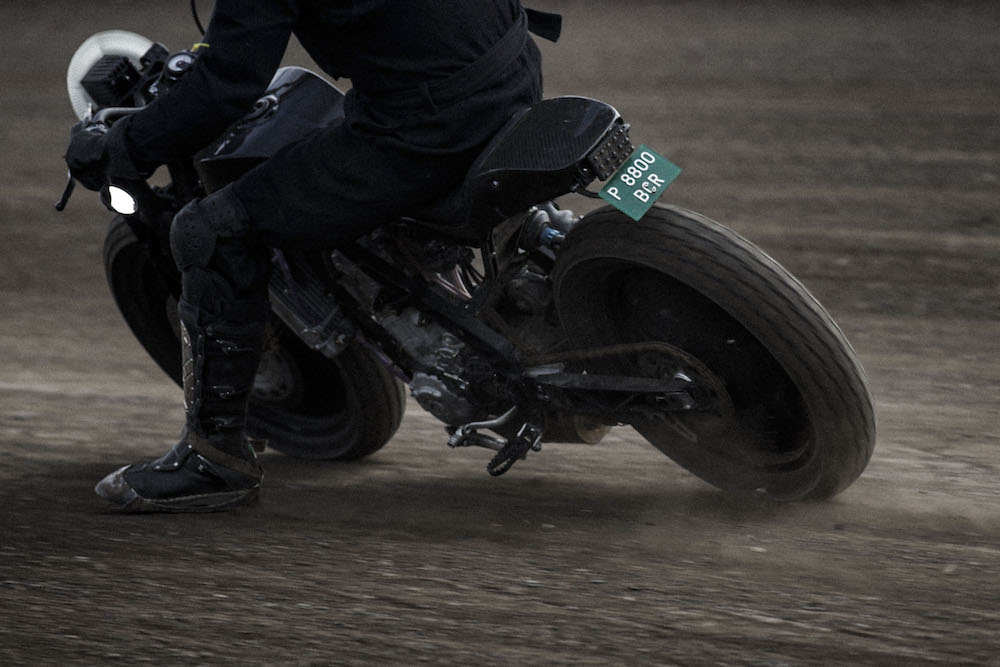 Dirt Quake's formula just, works! And it does because it is well thought and executed. The geographical and architectural limitations of the venue are also the angels that guard its ethos from the dangers of dilution or corruption. It is a hard core event, driven by the crowds that attend to it and after 5 editions remains exactly the same, only more and more familiar every year.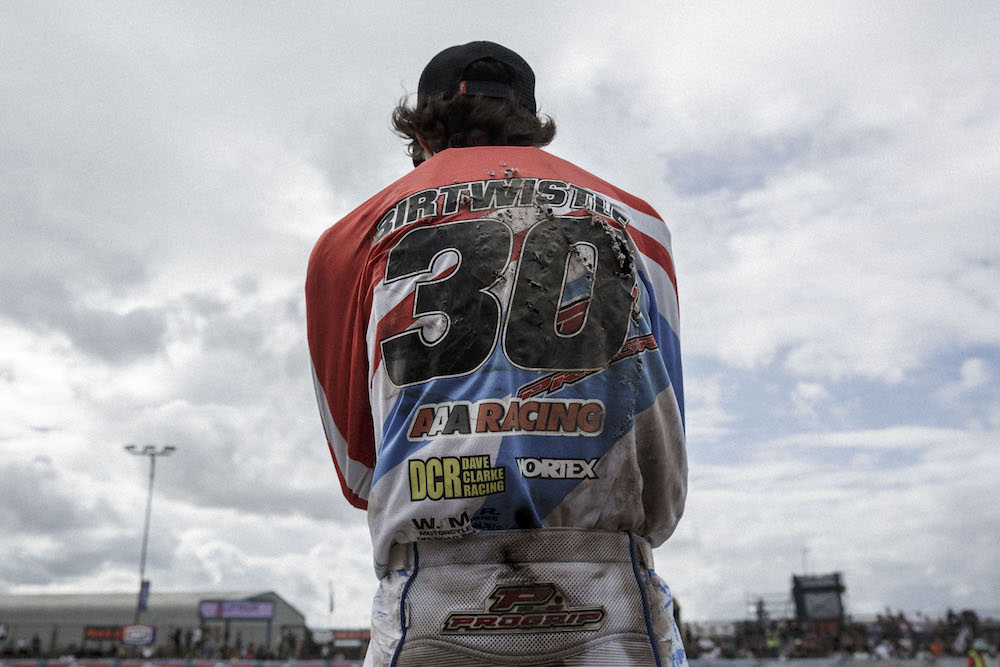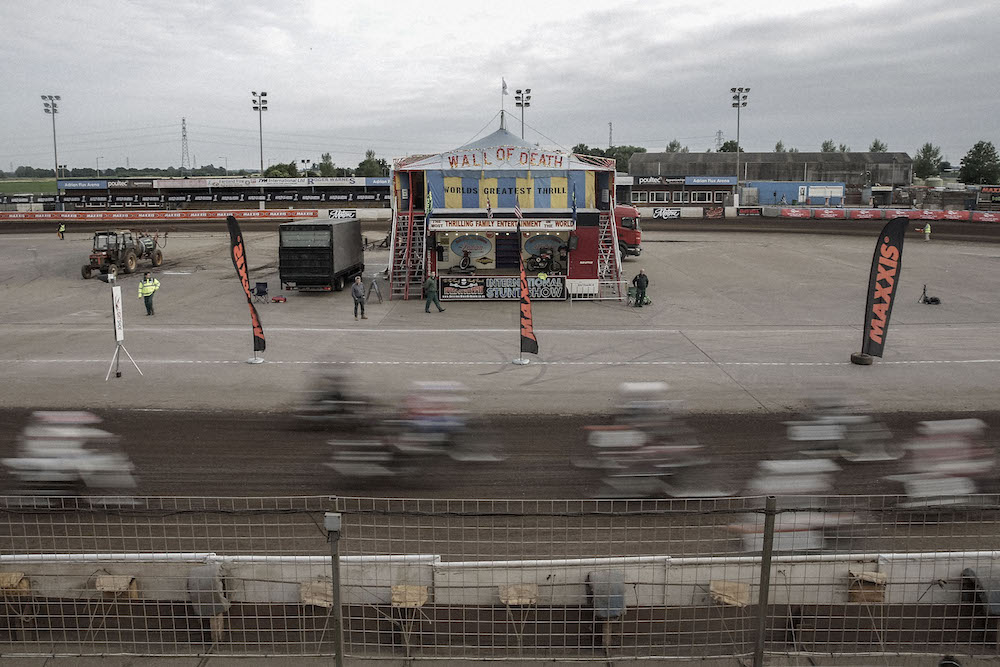 Each Heat lasts barely 2 minutes and it is an adrenaline rush both for riders and public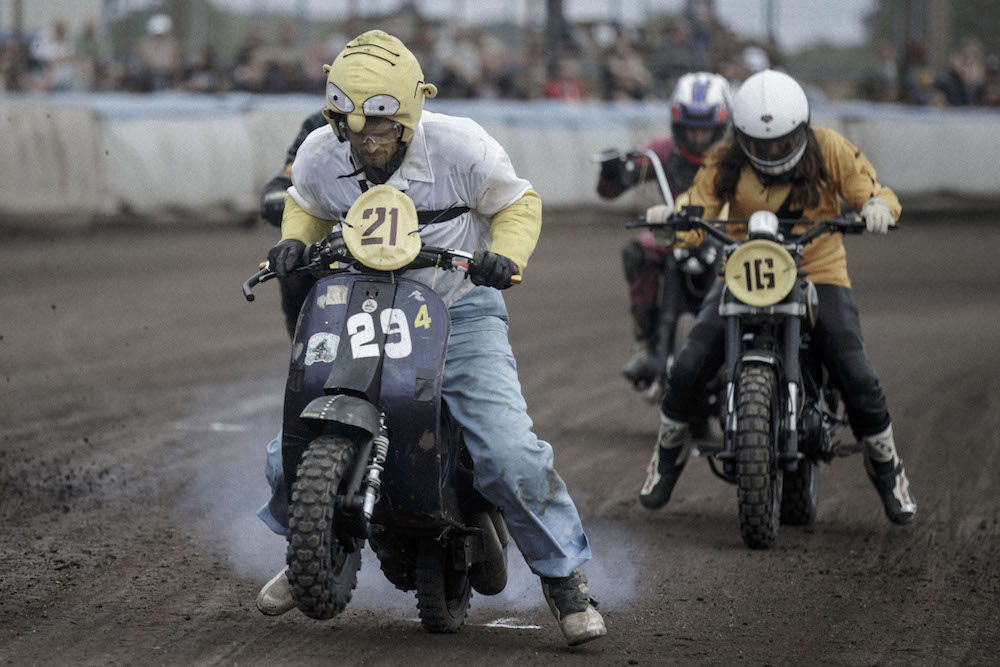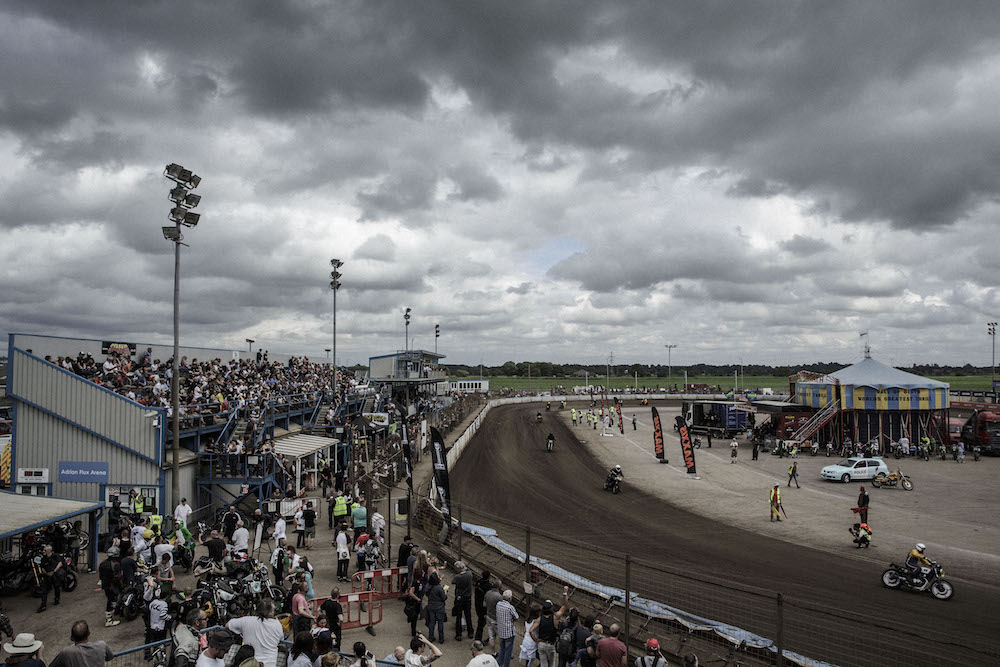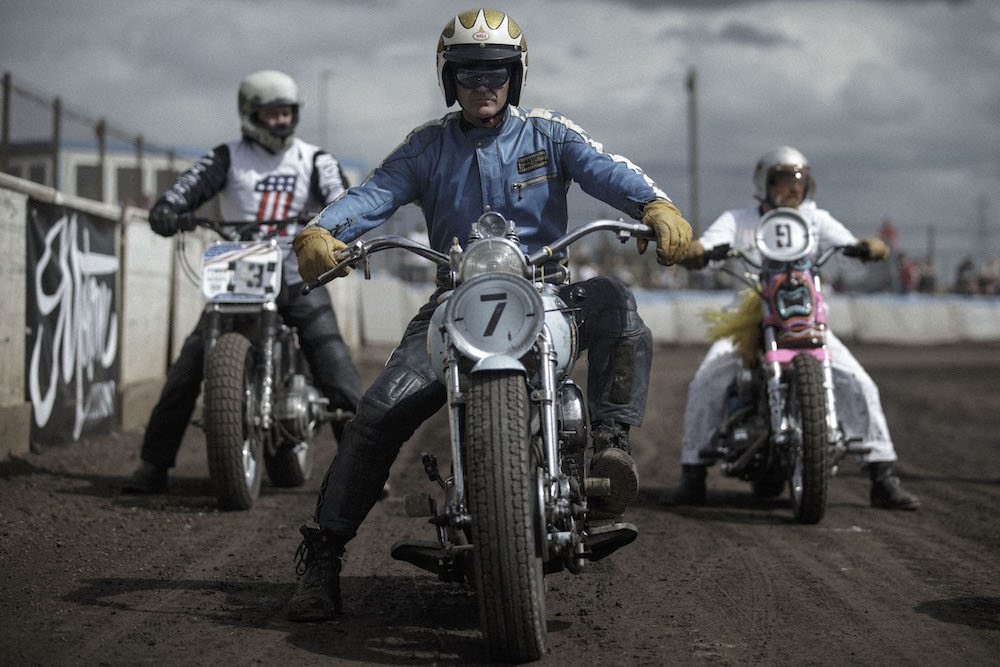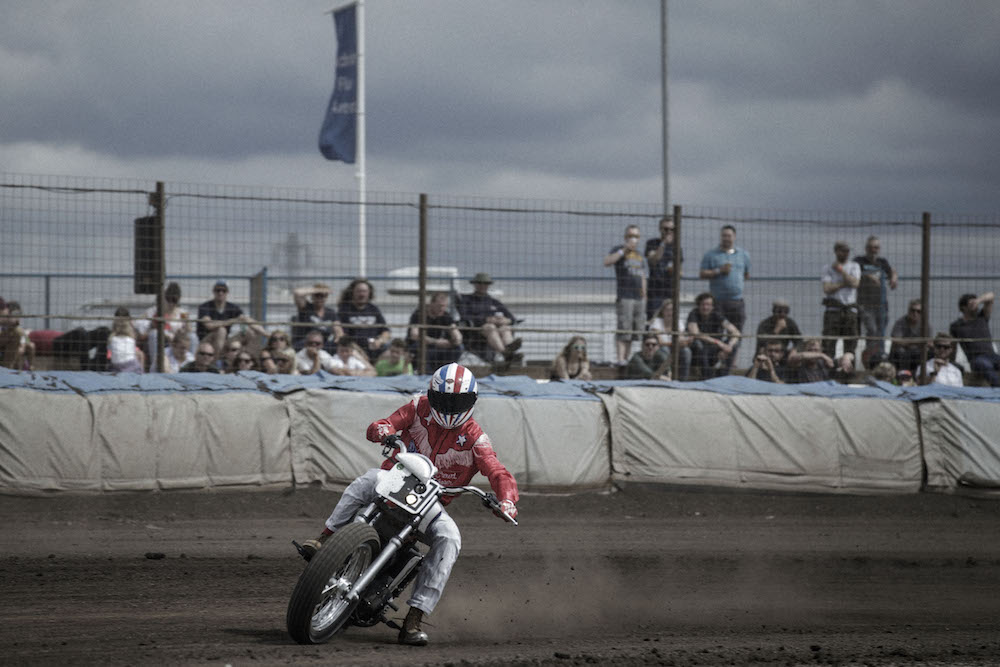 Dimitri Coste ruled in the Harley Class with his beautiful and aggressive ride.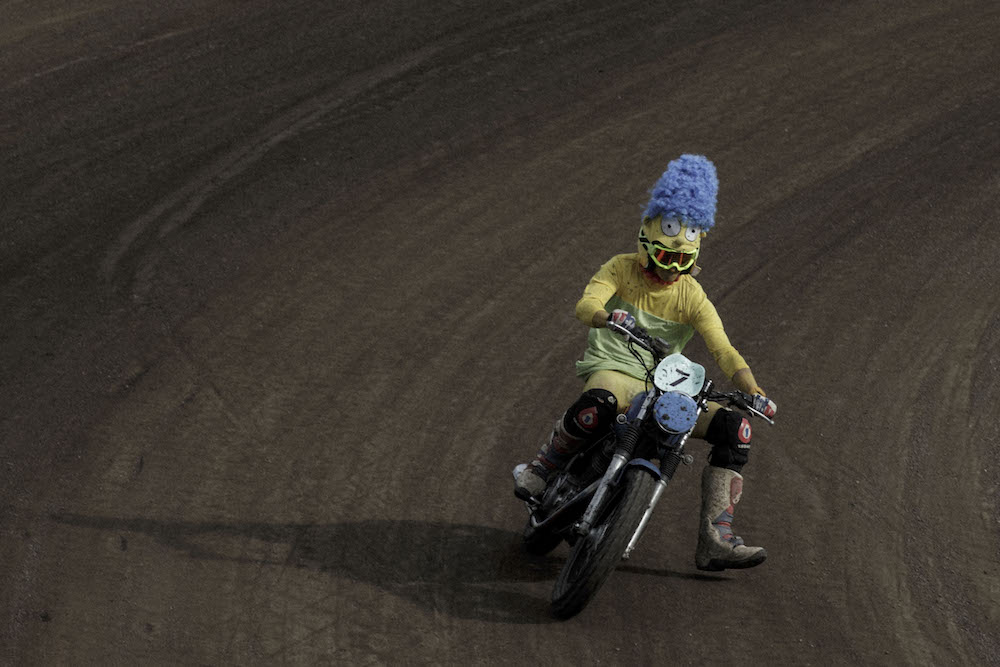 Marge the Thief or Hubert Bastie in disguise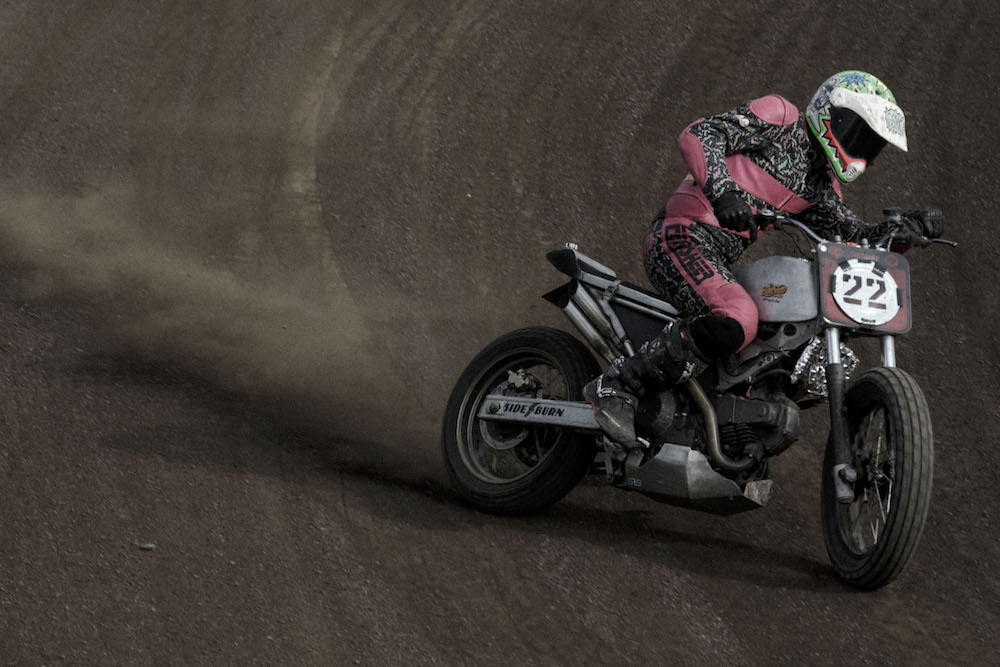 Ross Sharp and his, crazy loud, Ducati powered 900 Cagiva was scary and very fast in Street Tracker Class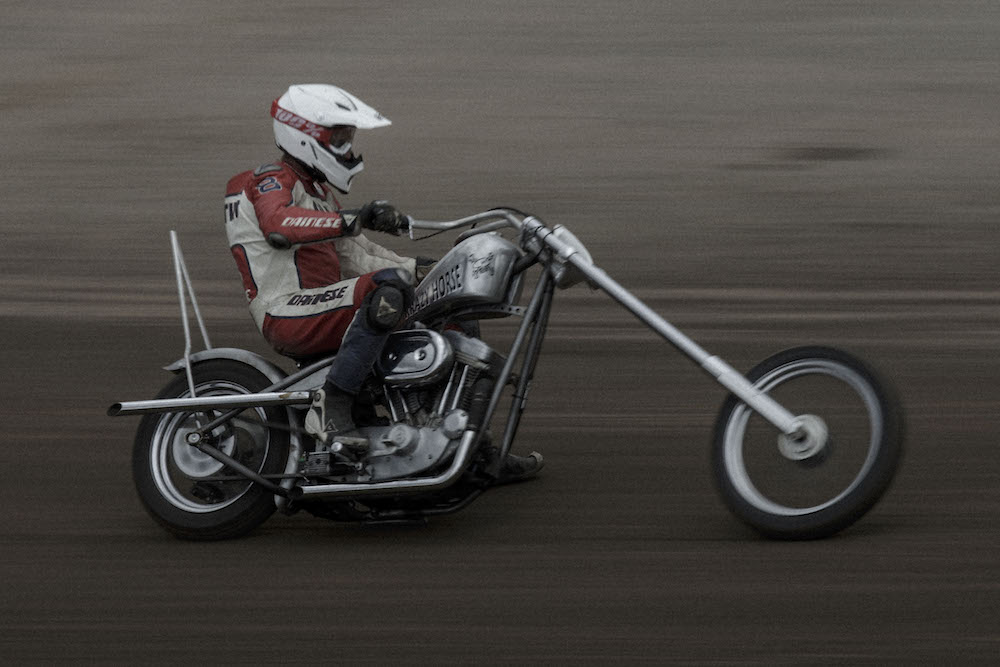 Chopper class is always the best to watch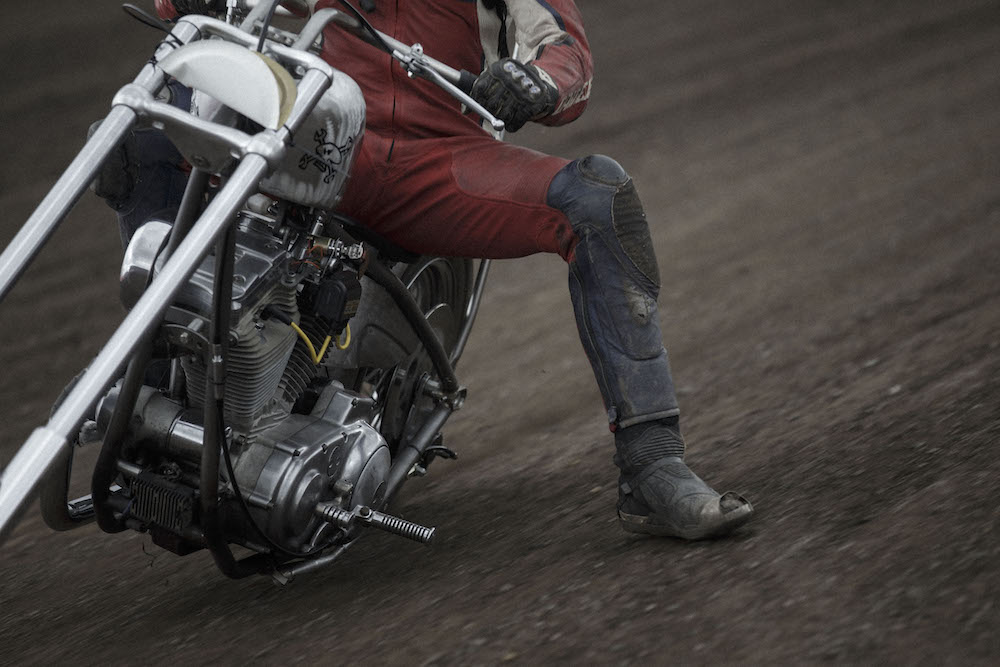 In between heats, some fixed the loose bits others relaxed, coasting along the pits trying to find something to keep their idling fun. The ambience was  cool and full of charm and our monkey was making his way up the ramp.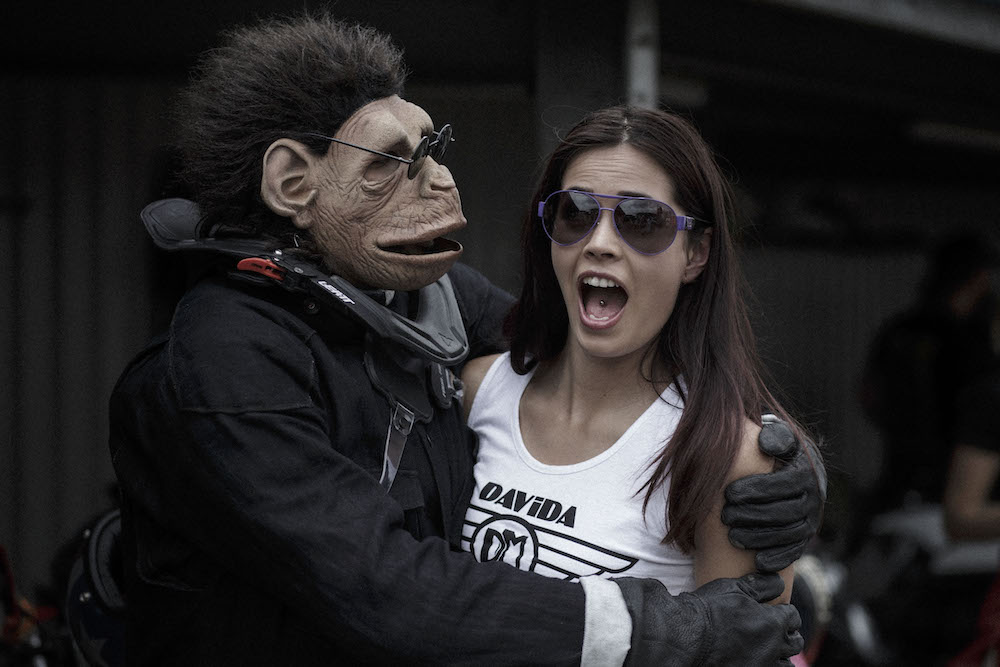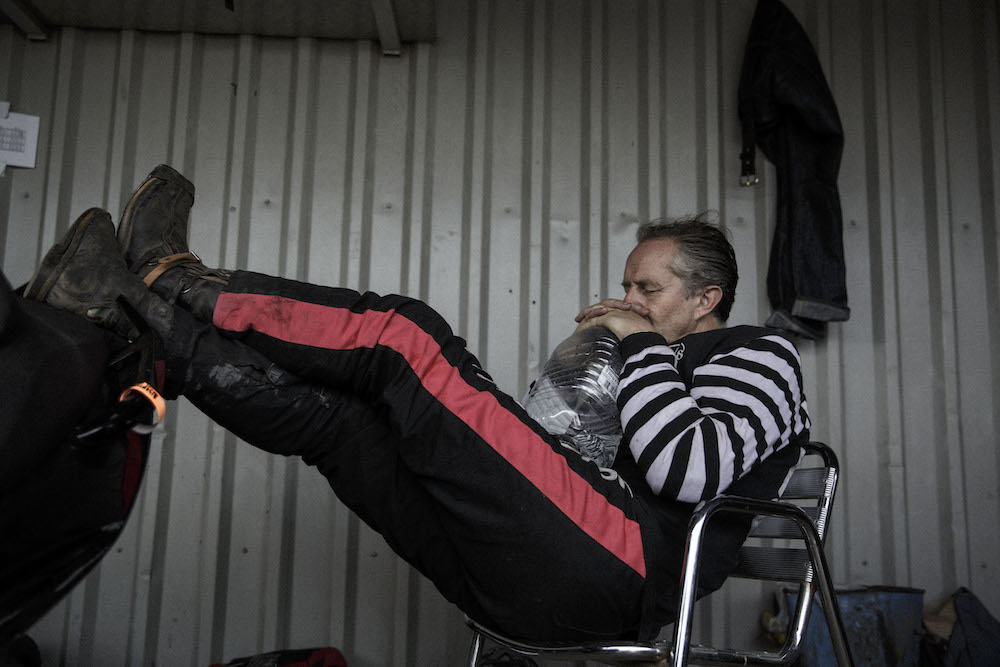 Nick Ashley trying to think how to push harder at the exit of the corners in his london bike, a powerful T-Max, which was a delight to watch dancing from side to side on the track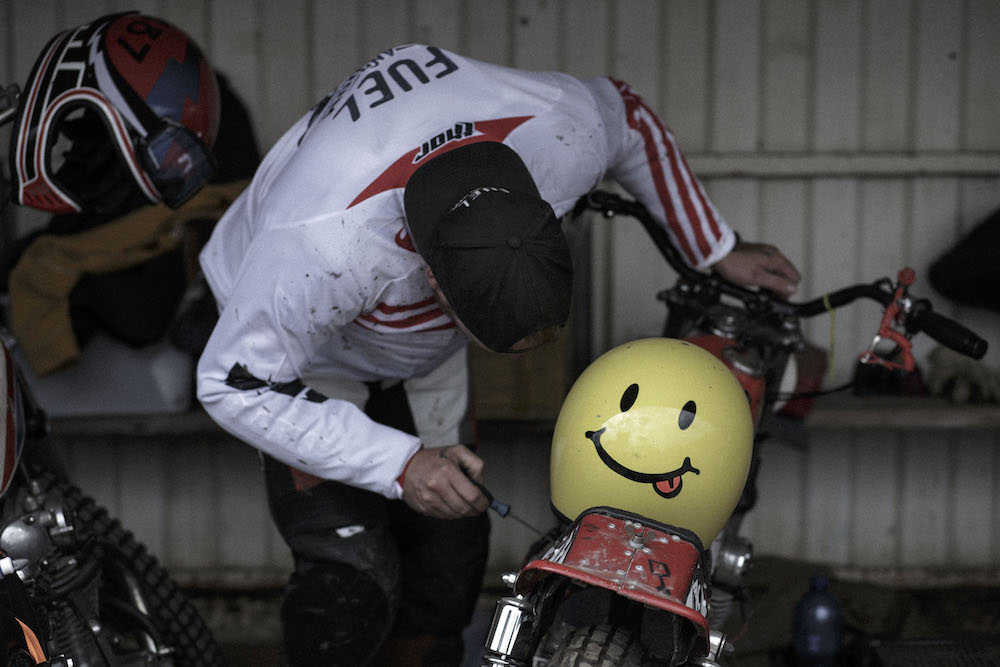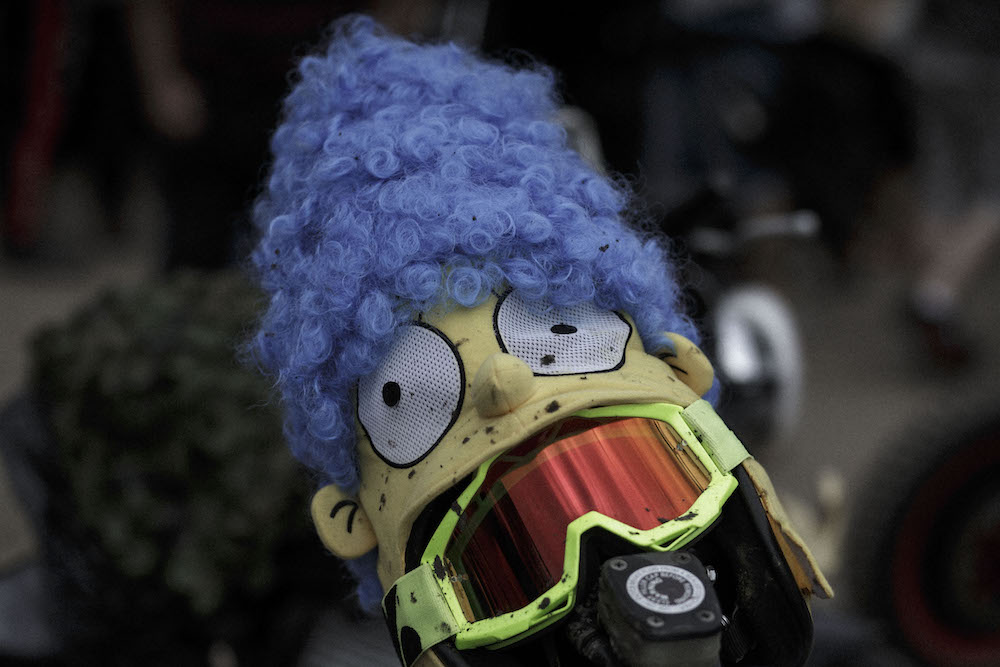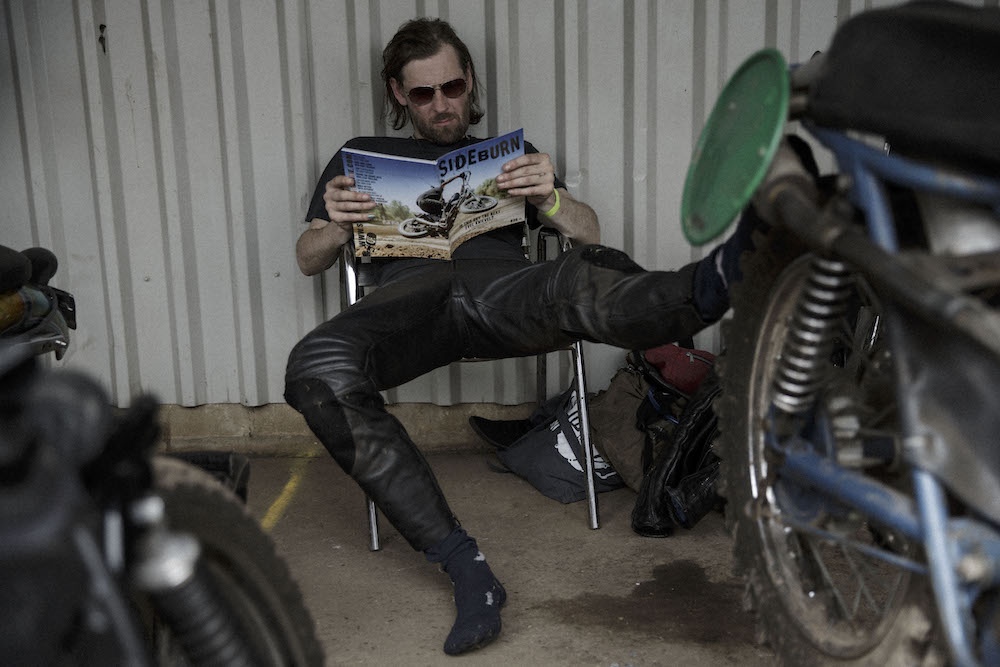 Trying to improve your go fast, turn left skills? Sideburn magazine is the way to start and Jules Watts knows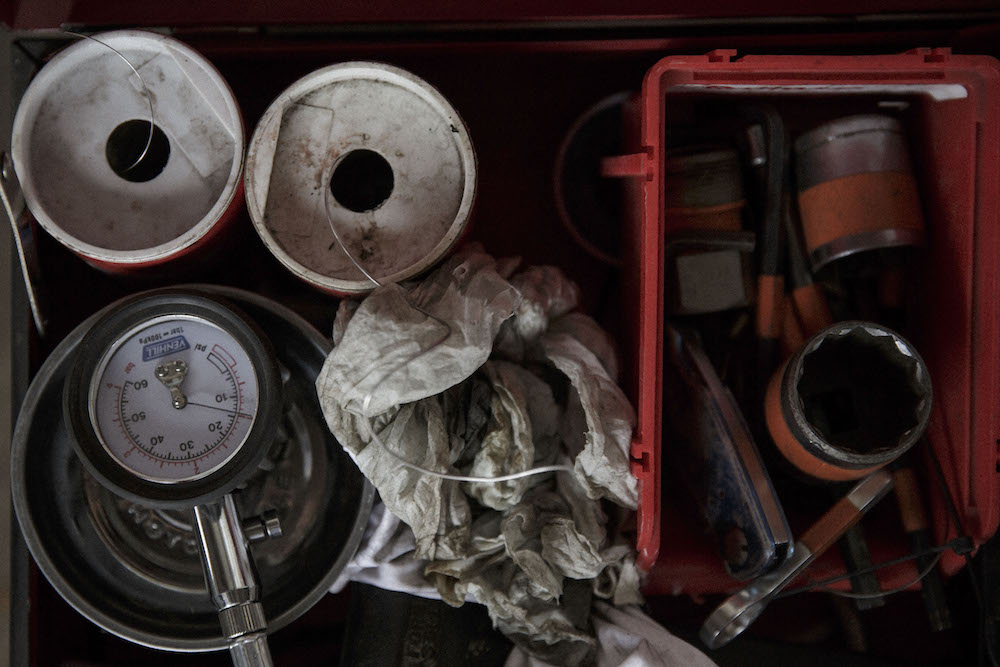 Race shit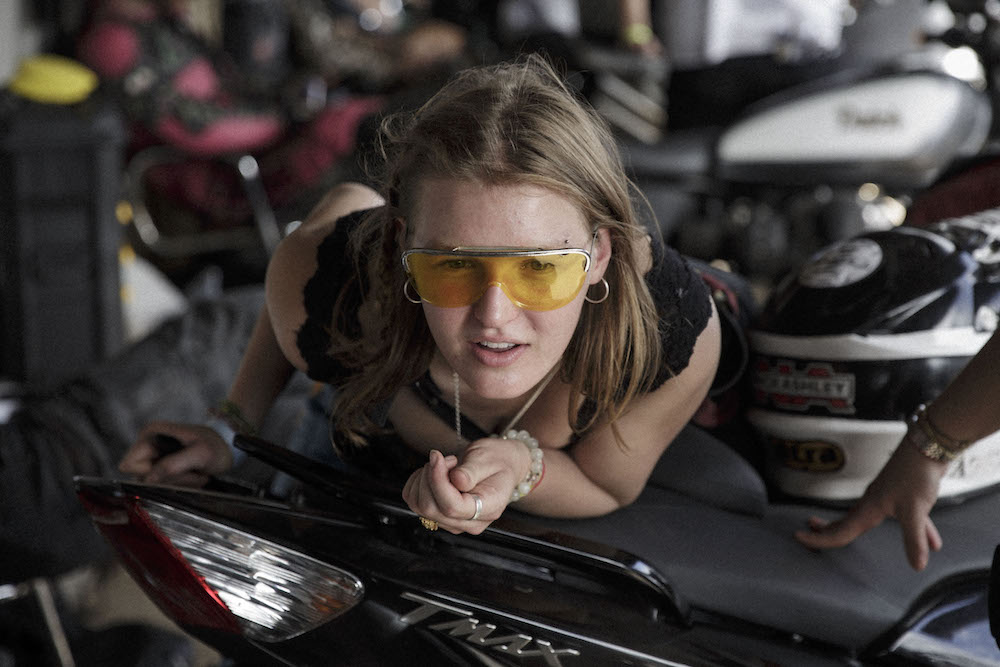 Eddie Ashley  on her father's T-Max. Last year's winner in Ladies Class on the Bud Ekins Cheney Triumph. This year she was racing a Yamaha 125 Scooter that left her stranded with a fuel pump failure but we had other plans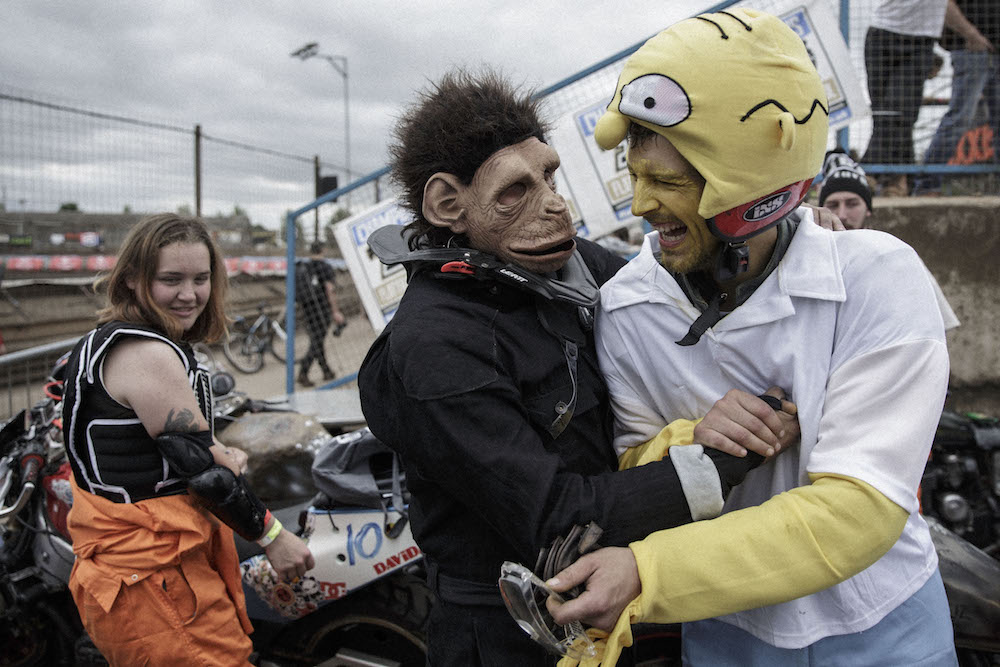 #Evenamonkeycouldoit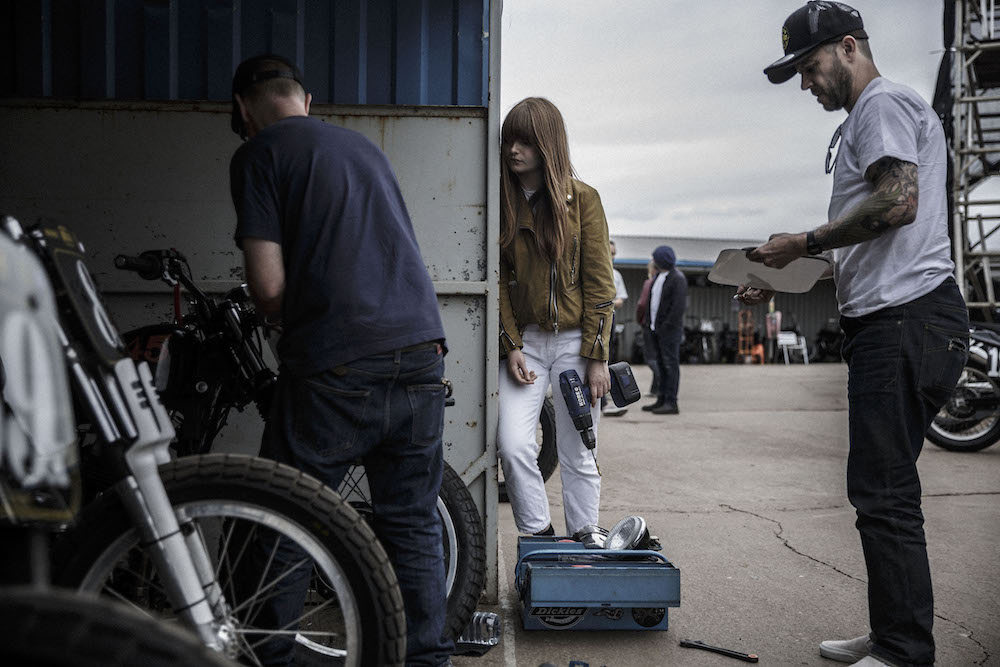 Adam is always the cool cat with the best vibes. Missing the Zorro Williams in this great family pic.
Fid the Lid and his surprise box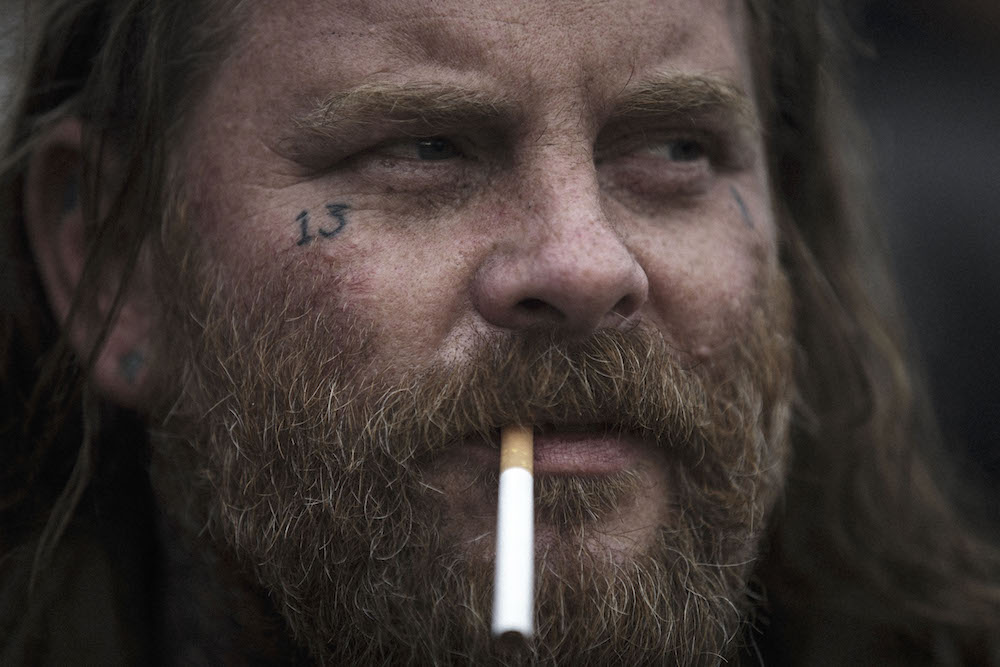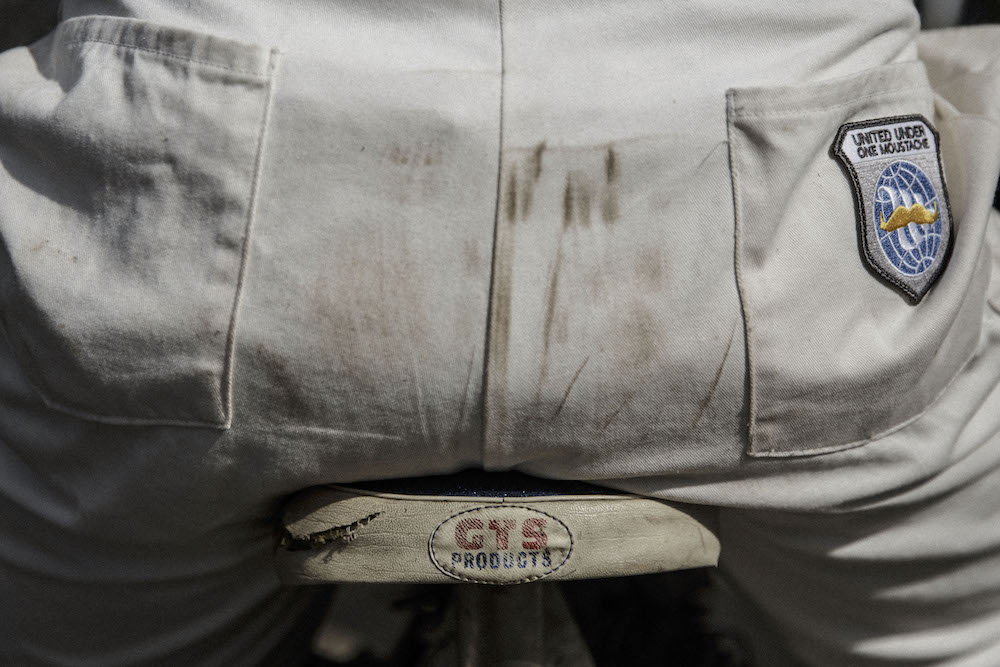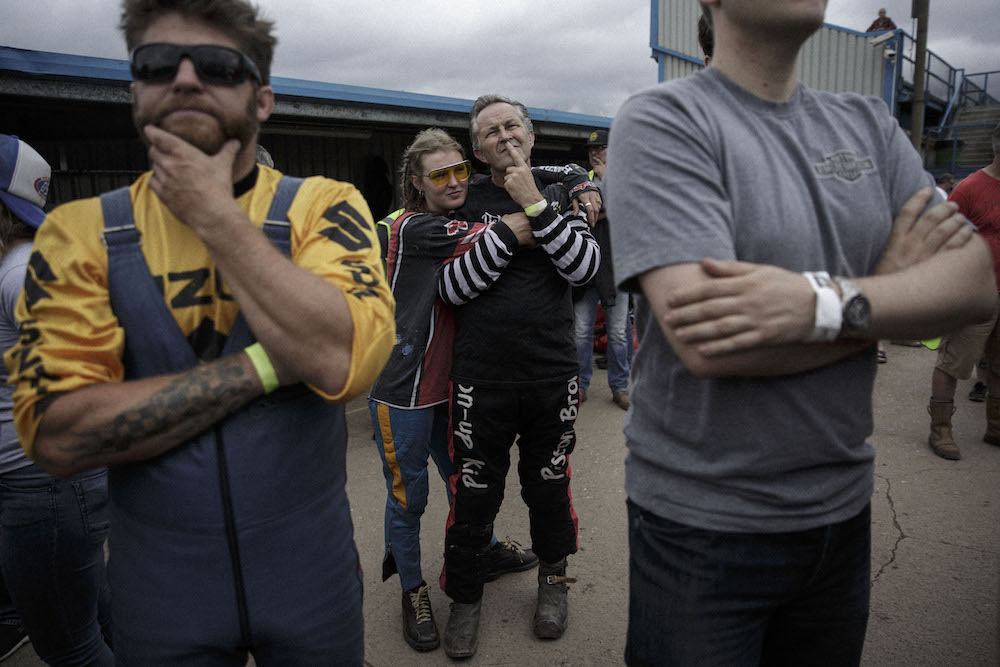 Father & Daughter listen to the briefing
Ladies Class is growing  year after year into a better show. Women are raising the bar and showing up at the races with some of the coolest and painteresque machines in the Arena, and built by themselves! This year, a few participants lost their machines to their debauchery and E. S. Pluto, who seemed to be very attracted to girls, ended up having tow goes with an stellar role in the final race, confirming the Pink No. 1 on her cyclops face.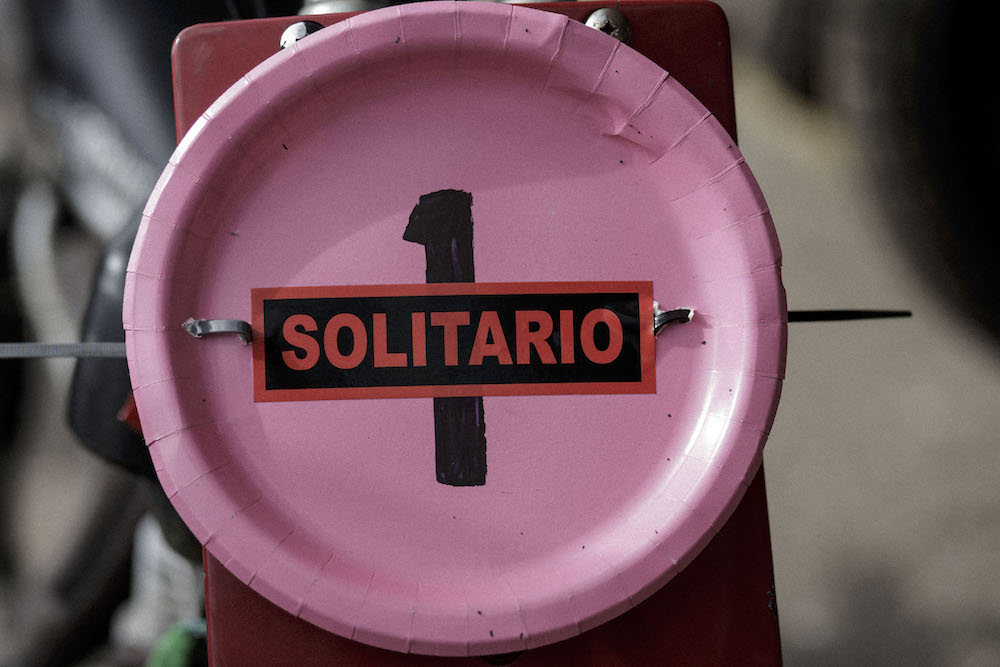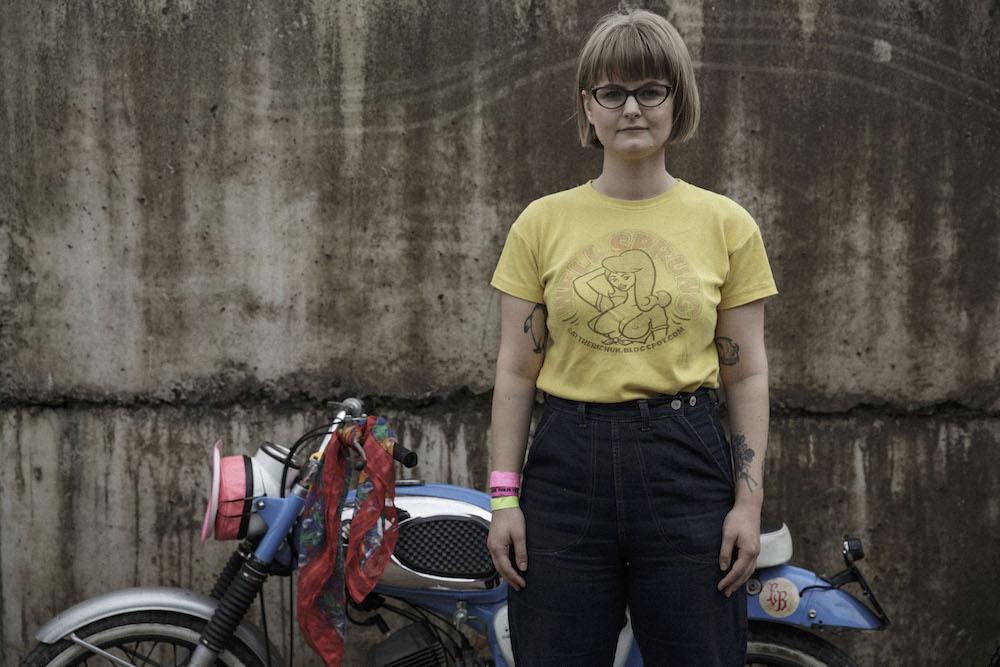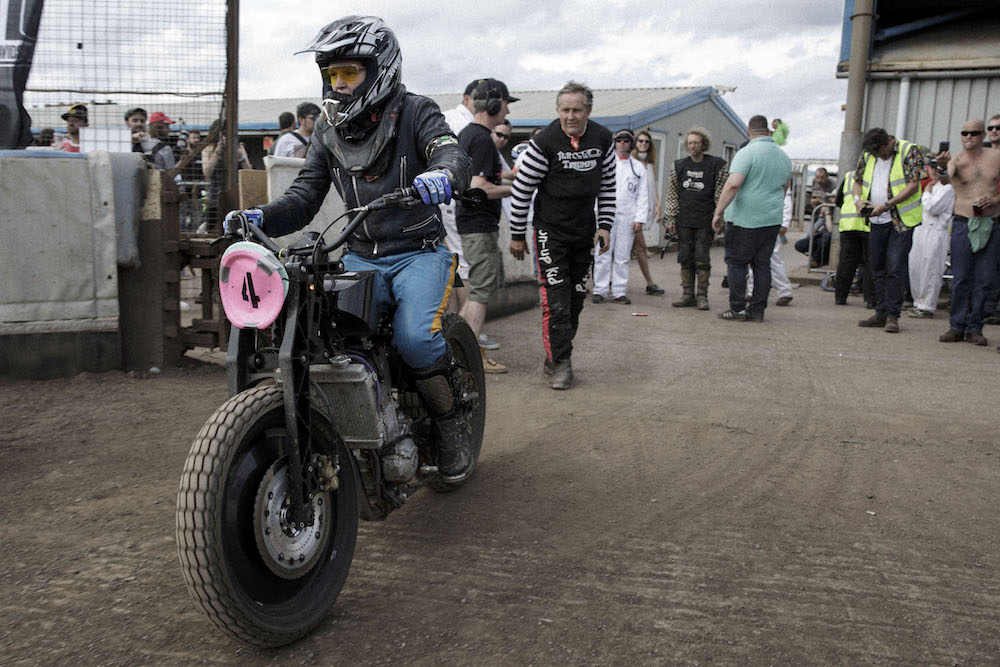 After Eddie's scooter died, she had a go on the Zaeta under the attentive sight of his dad. Unfortunately fast Eddie over did it on a corner and kissed the track, loosing her position on the final. Next year girl!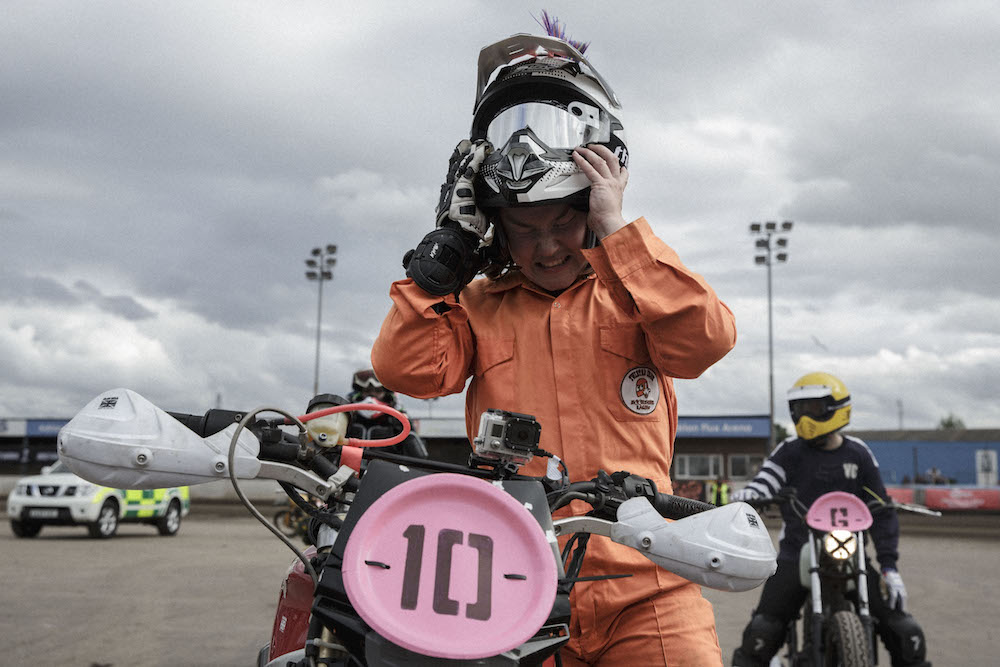 Managing this ZXR750 on the track didn't seem easy and she did it totally fine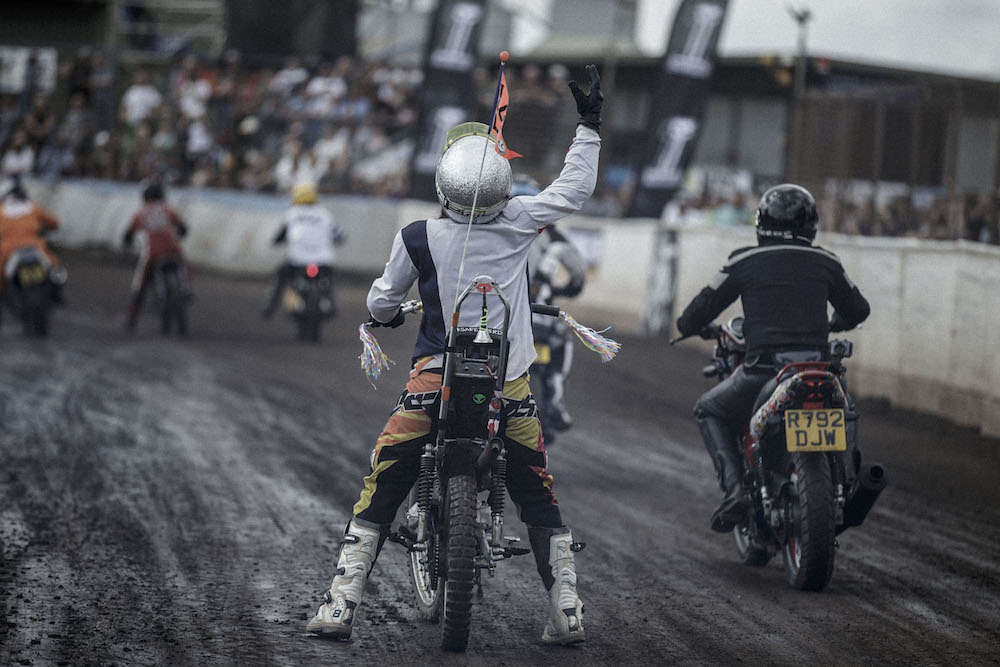 The moment Kiki's shit-awesome lil' bike AKA: The #Breaksit, AKA: The #ChipChopChump, failed. By far one of our favorite rides in the pits, She acquired this crap chinese mini ride for just 50 Quid, and customized it with the help of her friends, 3 days before the race.   Sounds like a cliche but this is how it was. Chopping, wrenching grinding and recycling this little piece of junk ended up super fresh. #KikiforMayor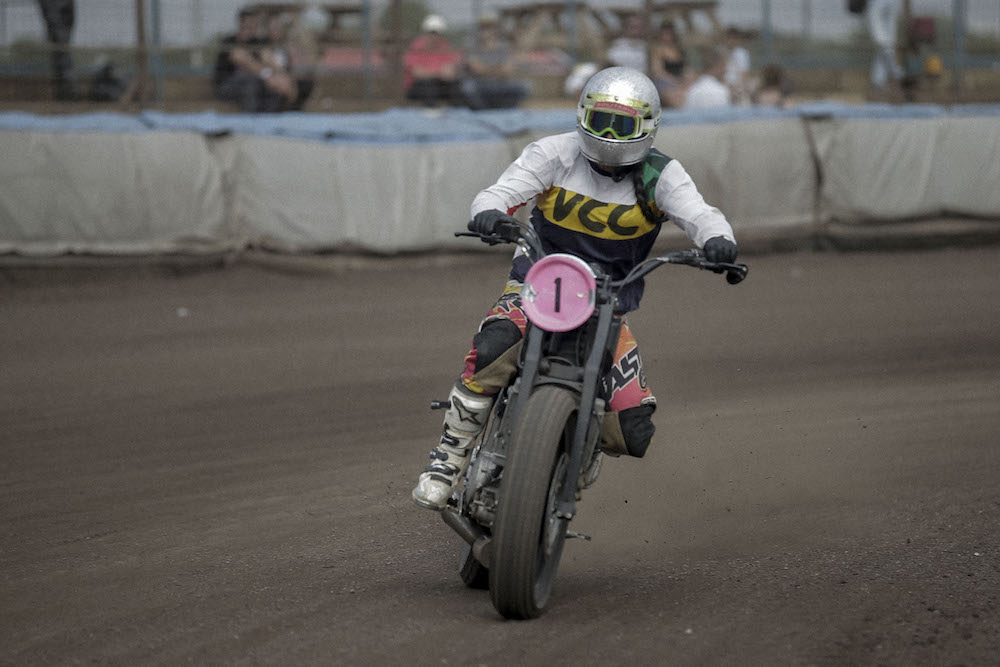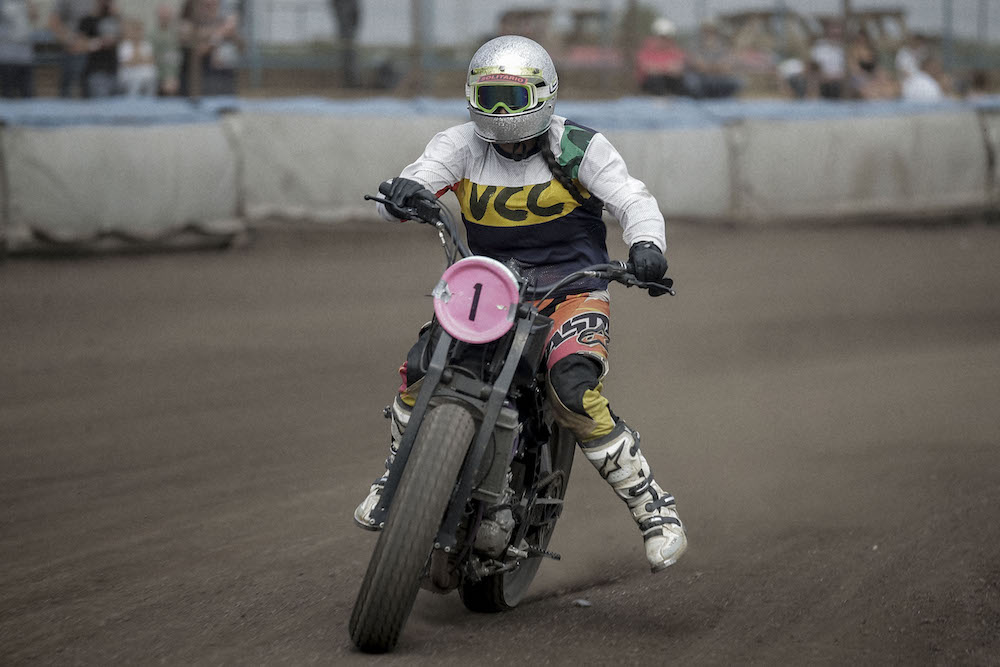 Struggling to tame the Zaeta and dodging her way out of a sure airborne , Kiki managed little by little, in a breathtaking final to cross the finish line in first place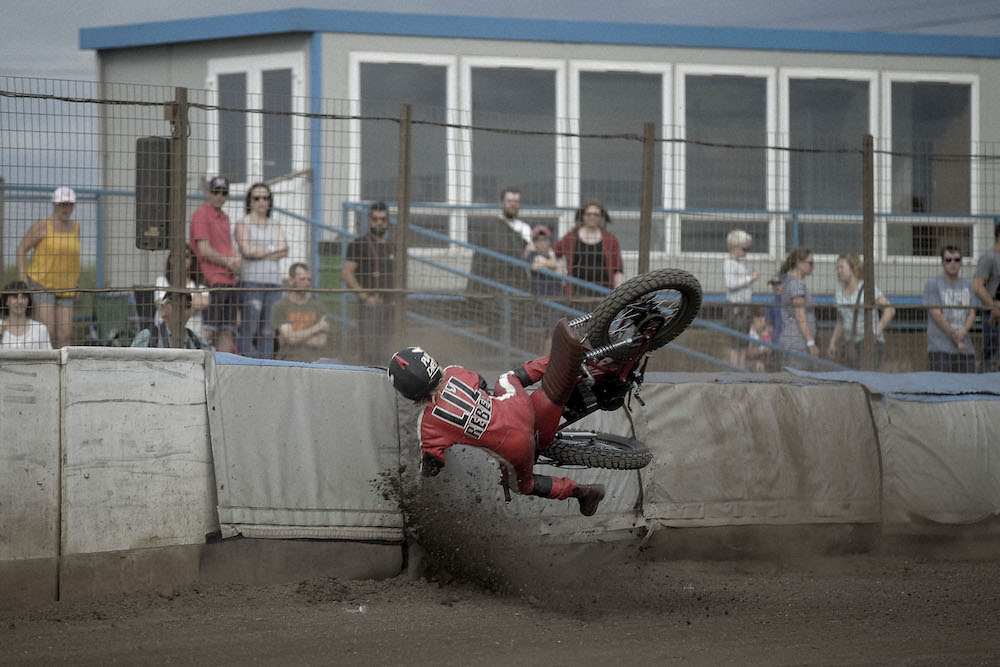 Caylee Hankins "Lil Rebel" suffered a spectacular wipe out that left everybody cold, fortunately with no consequences beyond the cares of Ibuprofen and some tiger balm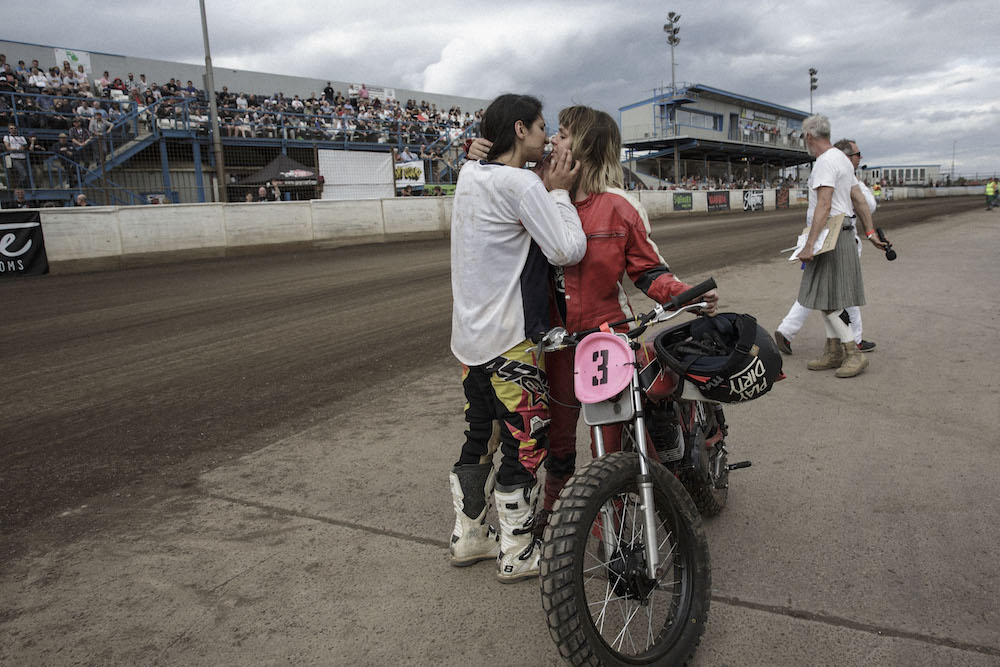 Kiki to Cay: "OMG my baby, if I saw that  I would've fucking lost my shit and picked you of the ground, put you on the back of El Solitario bike and gone through the finish line together!!! Fuuuuuuuckin'ell!!!"  #CAYKIKI #BRUISEDNOTBROKEN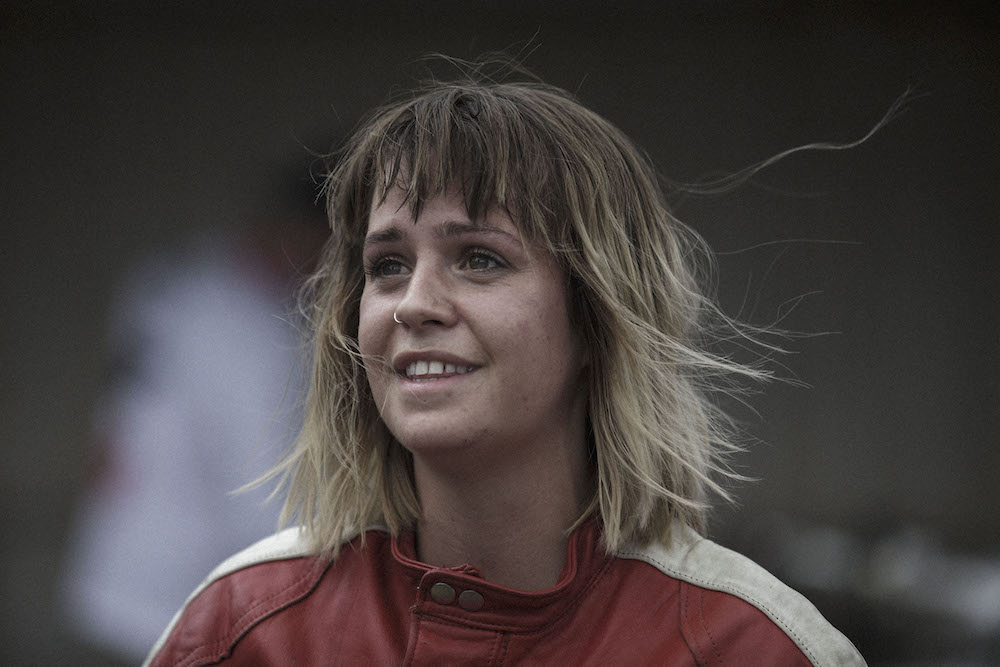 Hero smile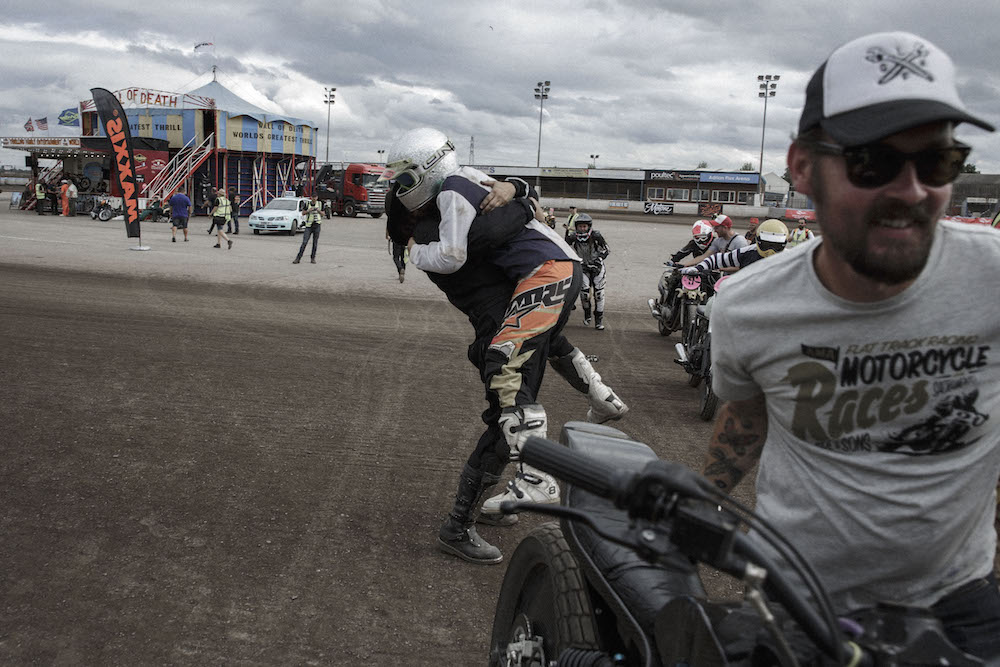 Special thanks to the fastest man (on all terrains) Frank Chatokhine for taking care of us and the awesome Race TLC®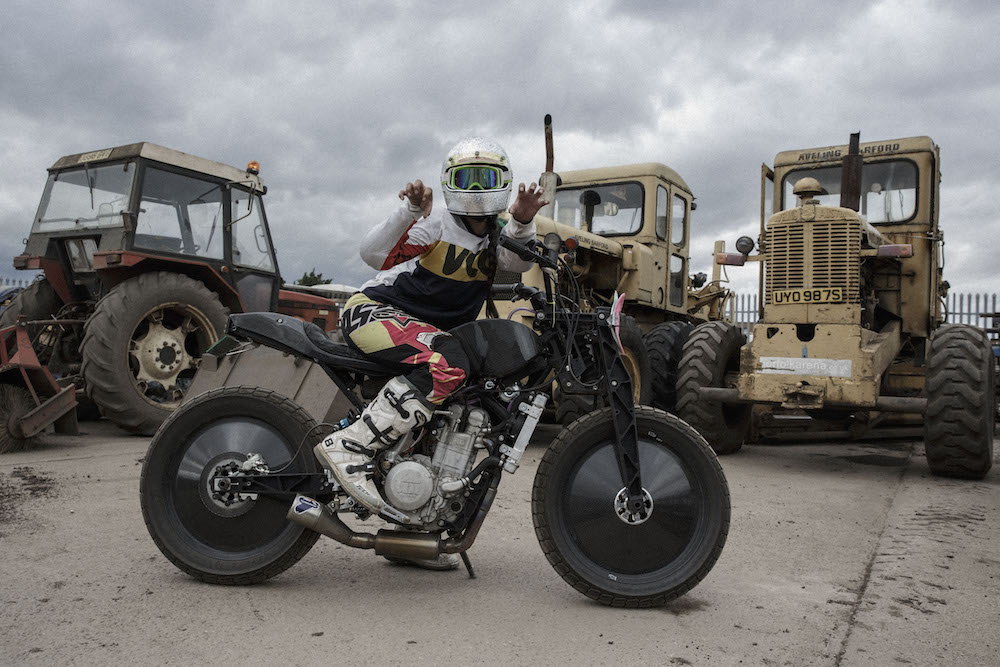 Who stole the 1st place? #plutogirls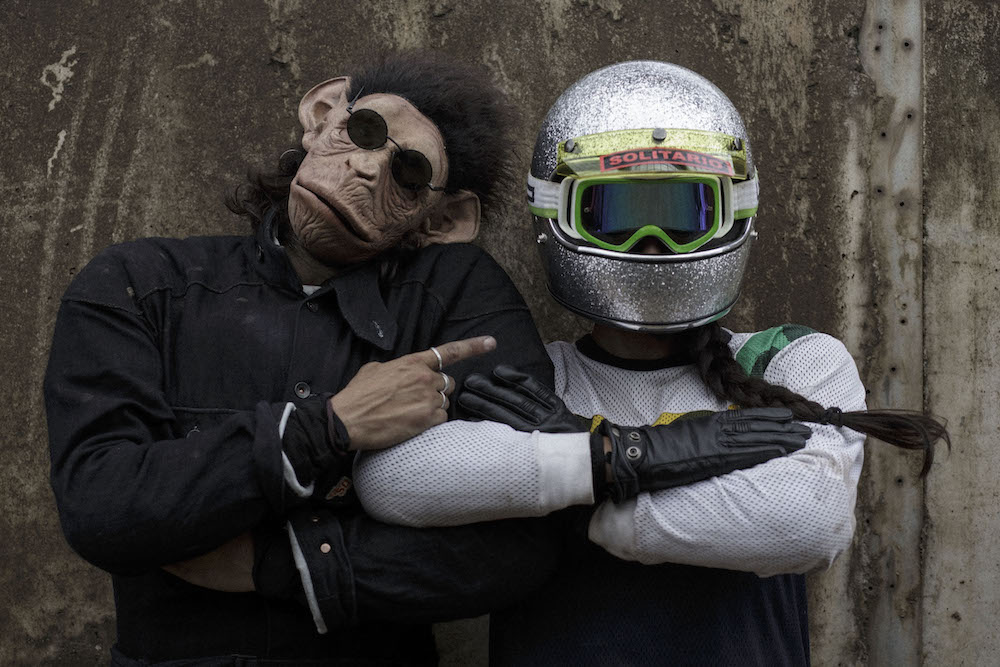 #MonKiki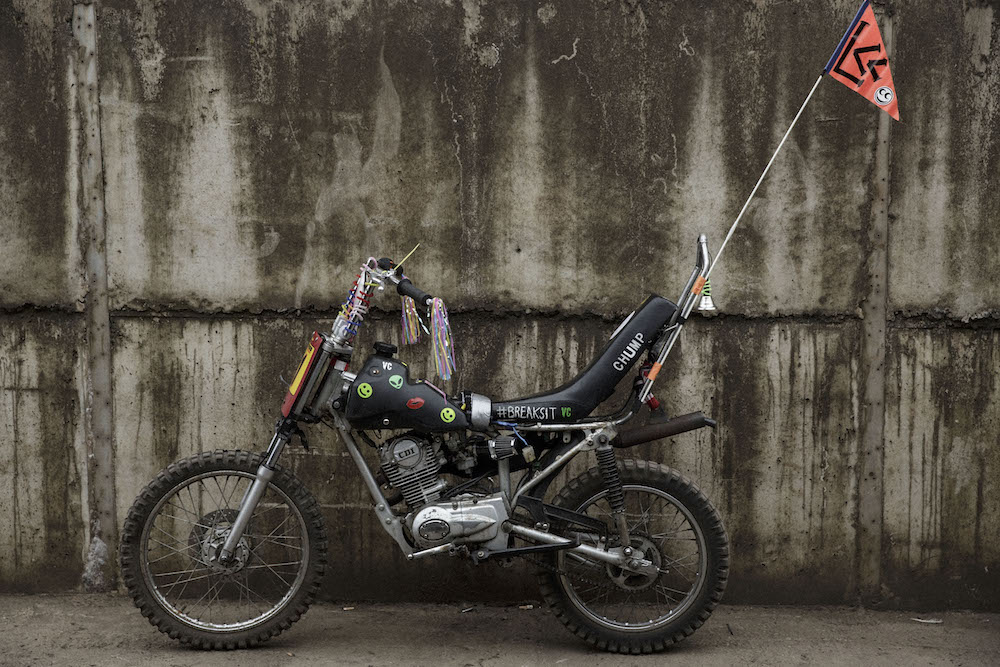 This kind of improvised exercises totally hit the mark in our house, as we love the immediacy and the no fucks given attitude that takes to build these bikes. Triple XXX cool shit indeed #safety3rd
In the Final in Street Tracker Class lap times were fucking fast & everybody had a knife between their teeth making it difficult to hang on in the front. With Carl Fogarty (7 times WSBK Champion) at the helm, Pluto still made a good start and hanged there in 4th position until fucking Marge Simpson stole our monkey's wallet leaving us 5th. But God and even Lucifer know that our rippin' ape was having unforgettable fun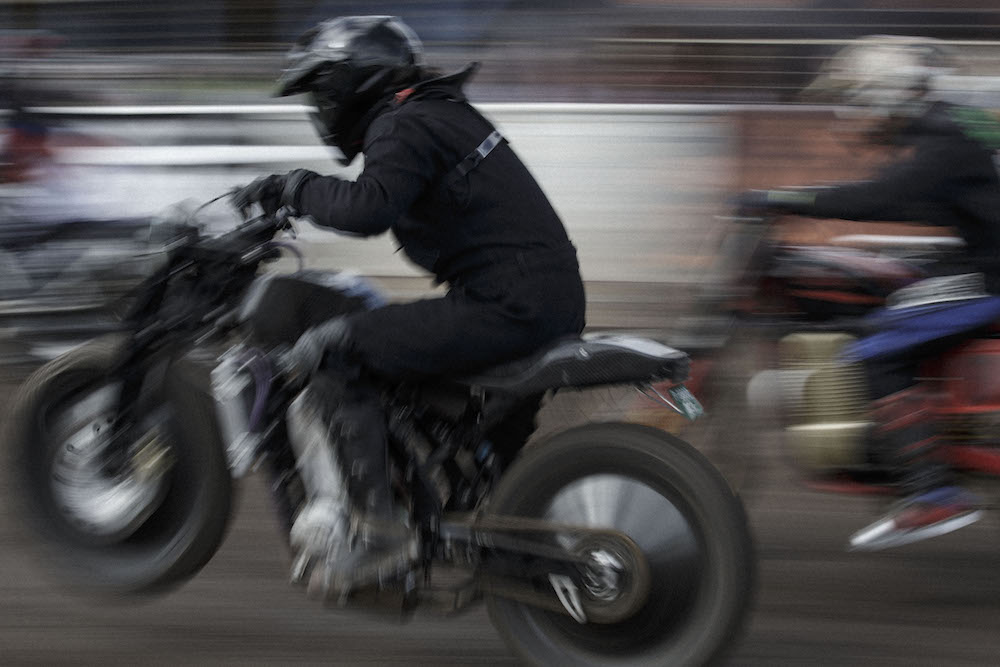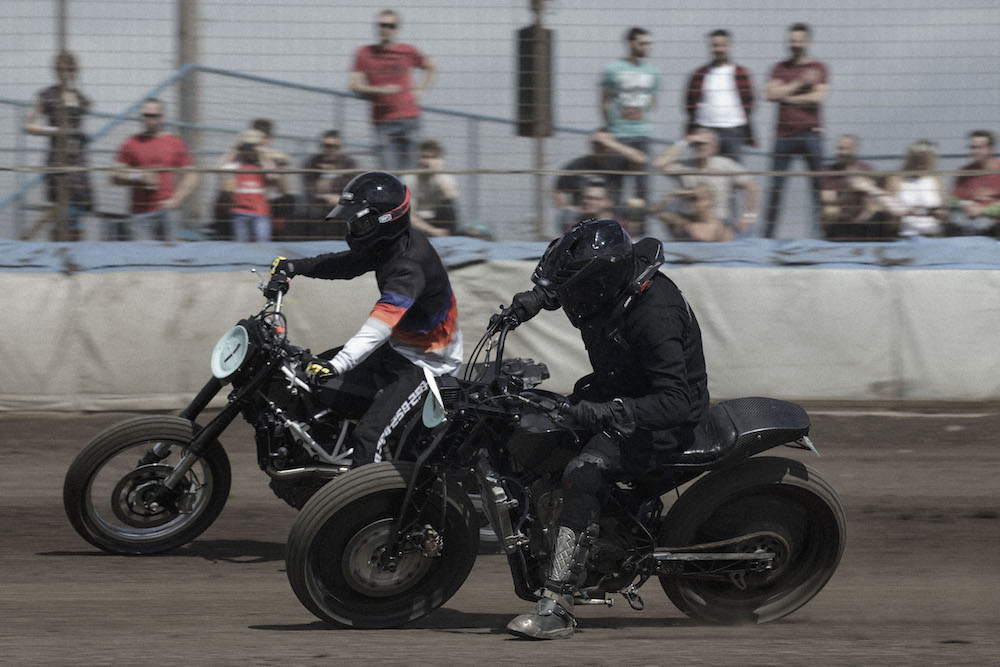 Calum from Debolex took the win stealing it from "Foggie"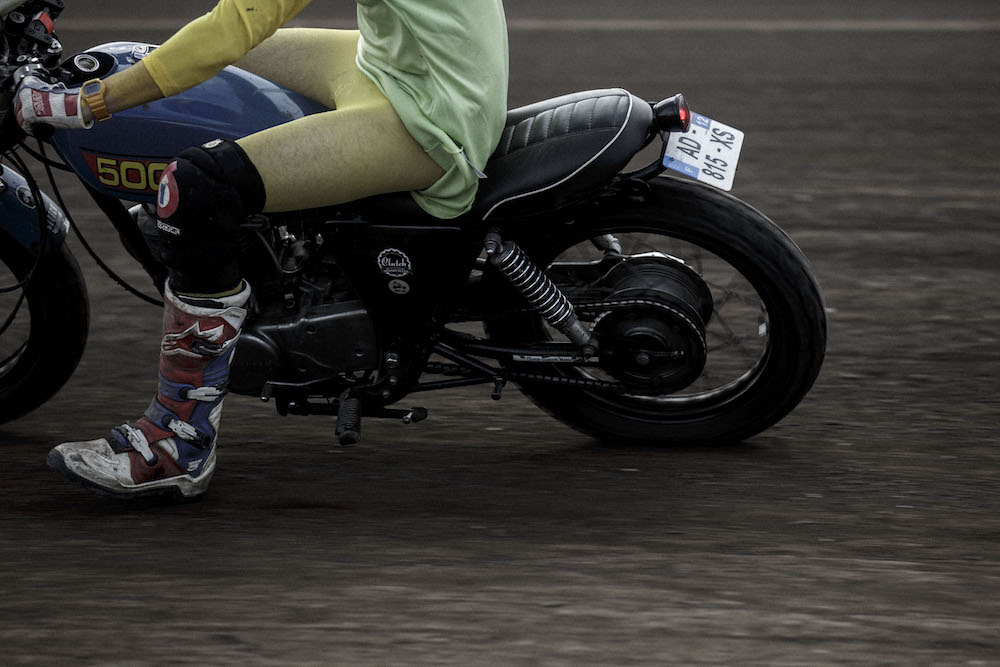 Marge Simpson pushed us hard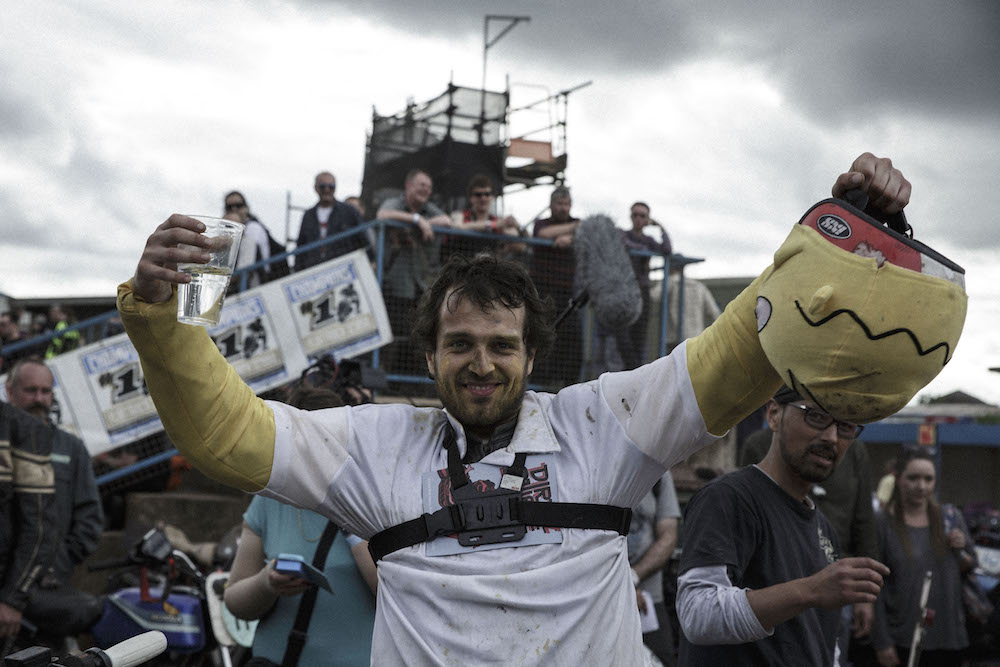 Everybody is a winner in Dirt Quake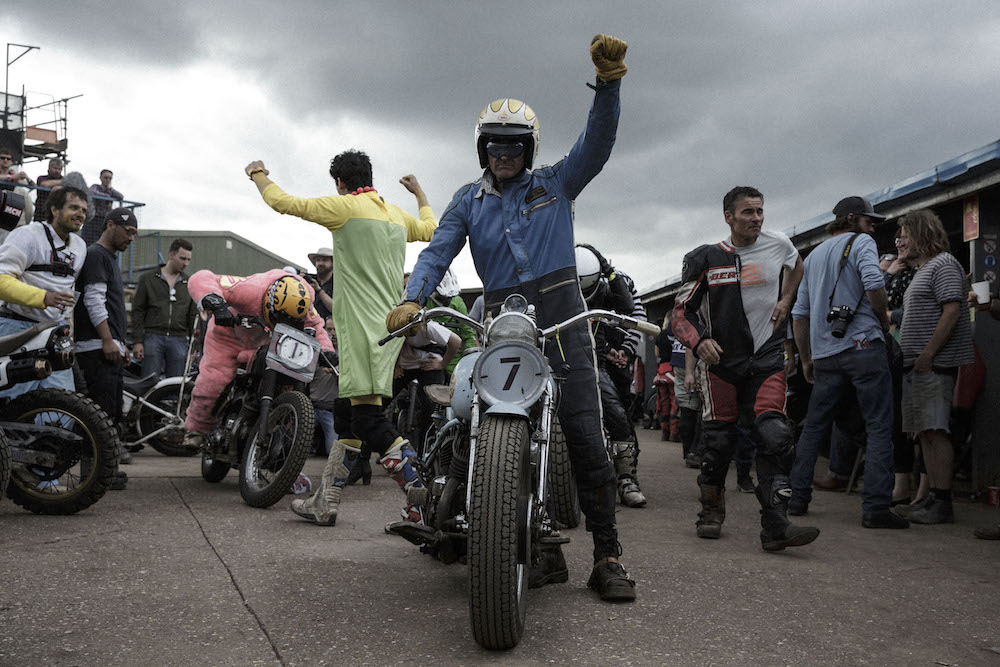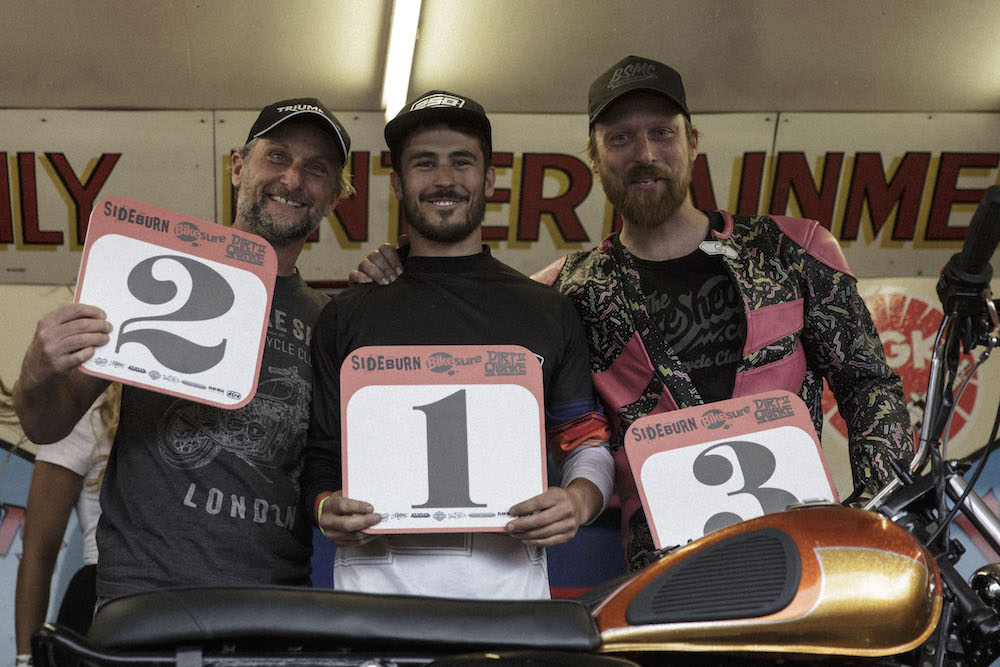 Street Tracker Podium: Calum Pryce-Tidd, Carl motherfucking Fogarty & Ross Sharp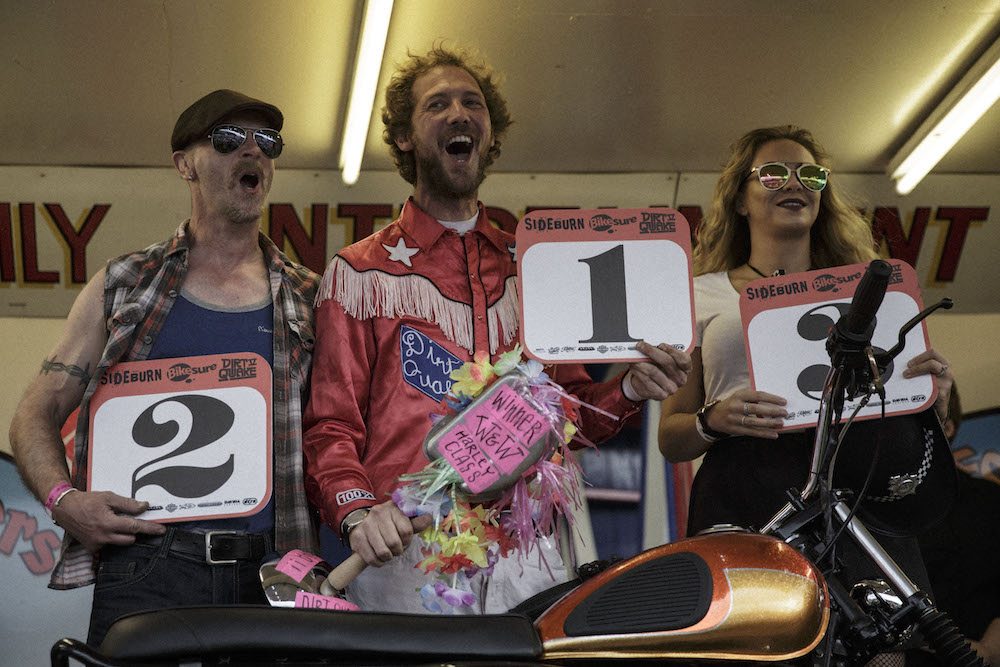 Bad tongues say that Roland Sands gave some secret tip to Dimitri  to avoid crashing and that pushed him on to the top place at the final on Harley Class. Shame on you Roland!@#$ #Dimitriscrasheswerethecoolest #winningisforlosers #crowdpleaser #itsathrottlenotalightswitch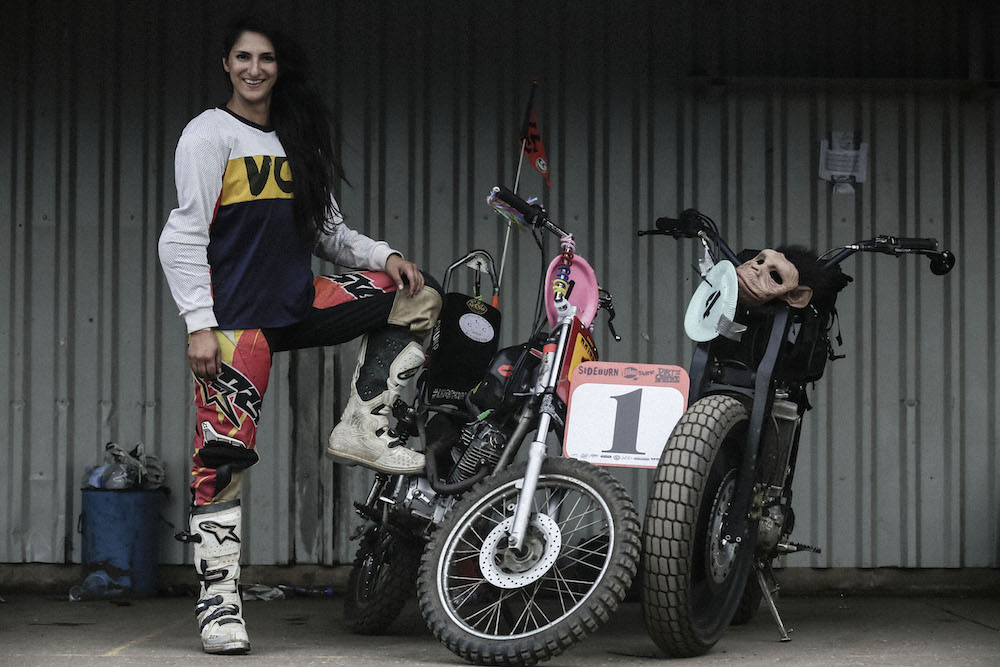 Go win! The monkey said. Right after, he succinctly explained her the basic operation of the Zaeta and hell yeh she got it right. Kiki made this house proud, ripping it till she managed a well fought 1st place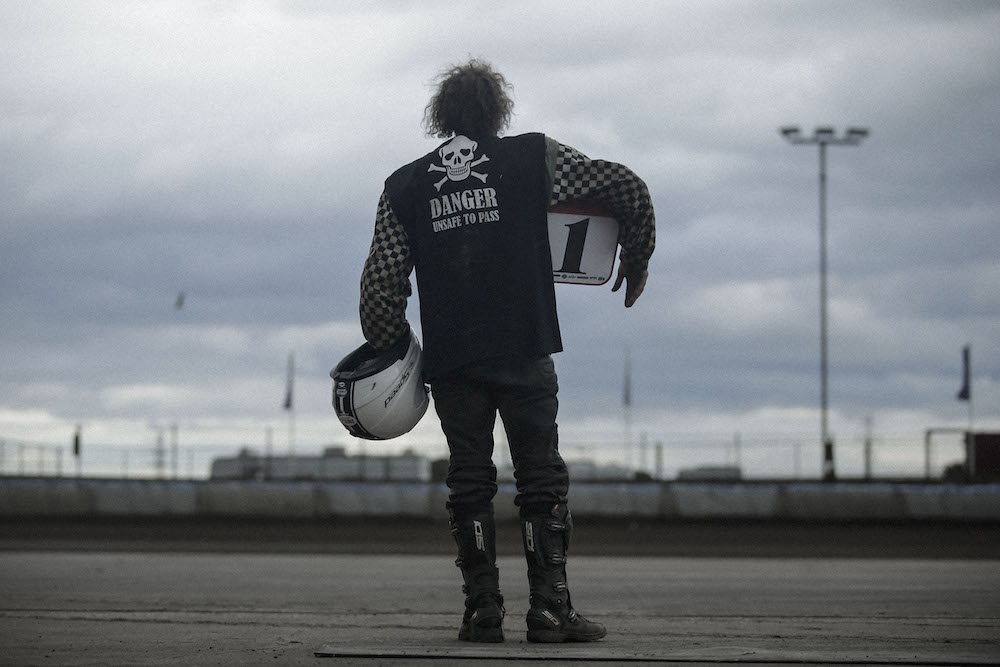 Cool cat Odgie Danaan took the 1st in Chopper class in a memorable fight with Guy Martin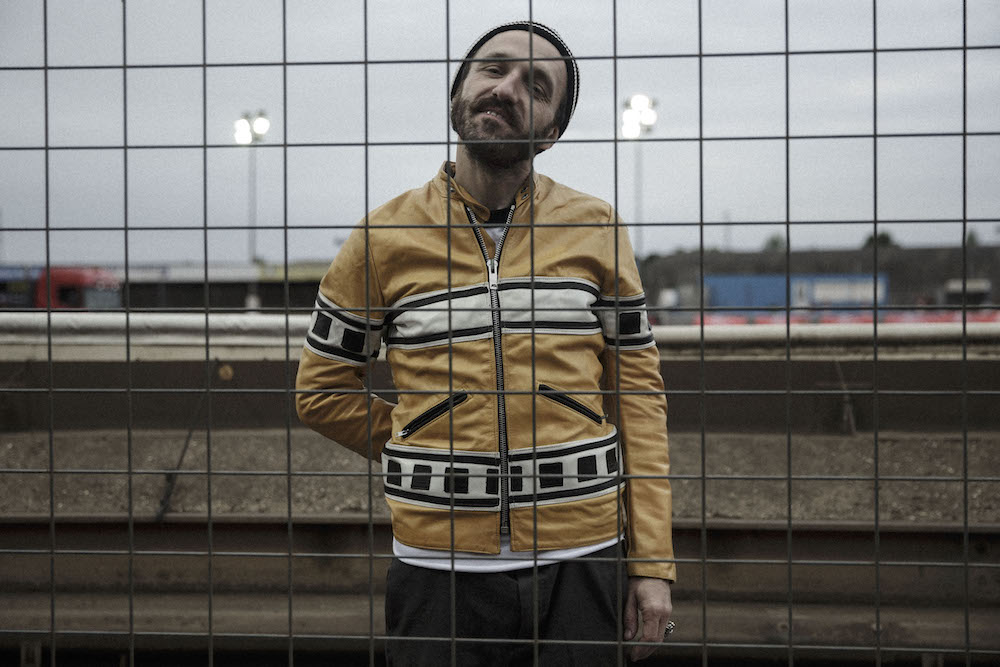 Yellow Christi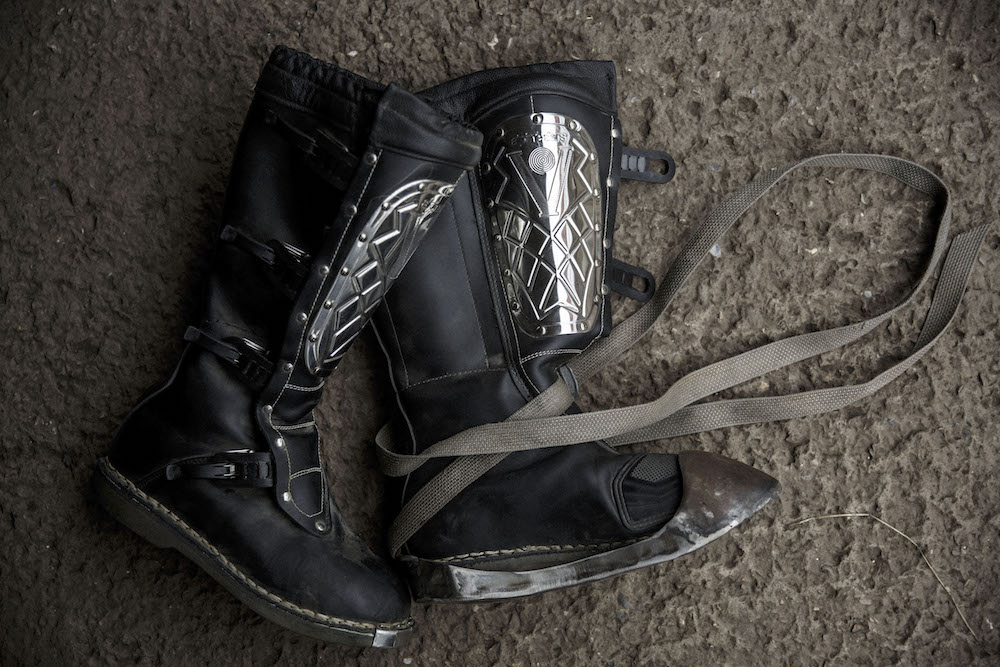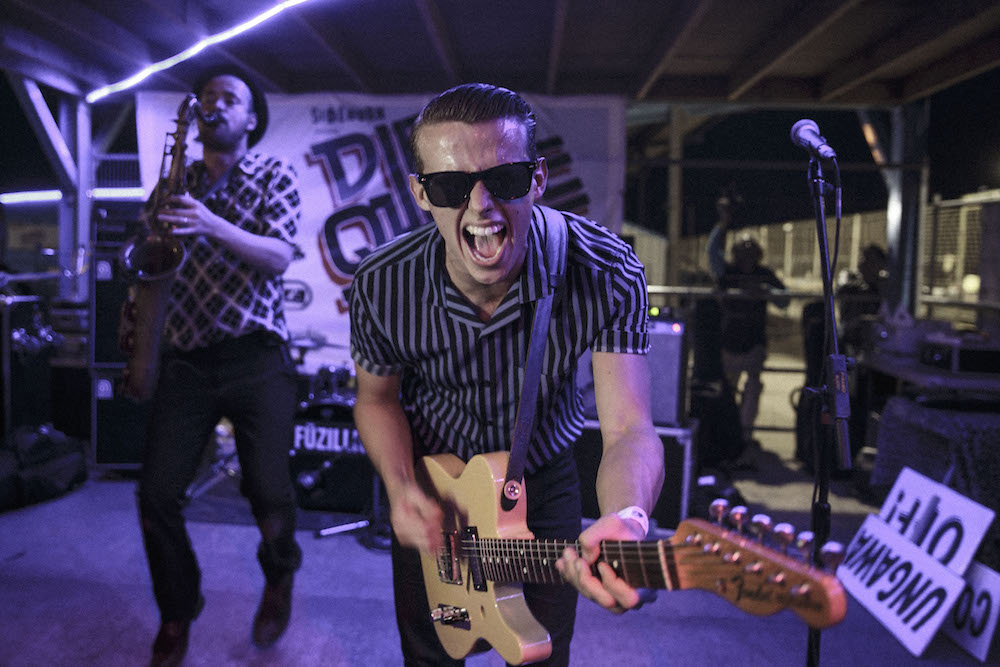 Then it got really messy till the sun came up, but that is another story…
Photography by Gonzalo Arroyo
El Solitario wants to special thank:
Our devote Monkey & all our friends that fuel and power this lovely scene.
#BRAAAAAAAAAAP
#EVENAMONKEYCOULDOIT