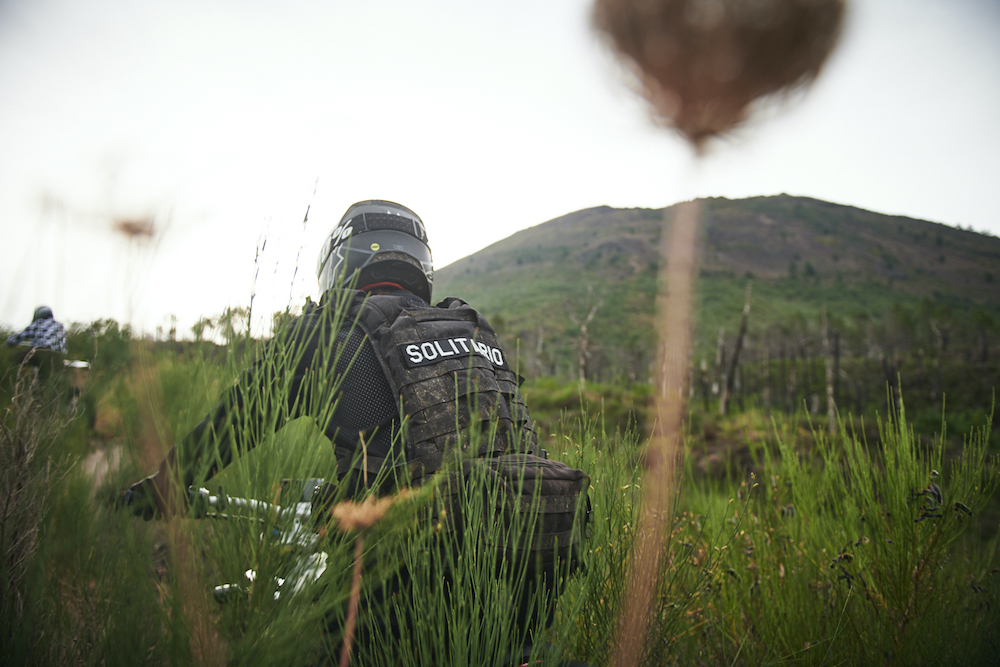 Trying an electric motorcycle for the first time is something like your first taste of Marmite. You think it's a kind of jam, but hoo boy, you aren't ready for what's coming! But while with the infamous sticky paste it's often an immediate love or hate, with electric motorcycles it's a process, yet the first impact of riding an electric is exactly the same…WTF?!
The purists will say they cannot get on with it, there is no sound and it feels wrong, while the more adventurous will say they love the immediate torque, the lack of vibrations and in fact even the lack of sound. Because for as disconcerting this lack of sound may be at first, then it can become damn good to be exploited. Like casually riding past police checkpoints, or in our case, in the backcountry without even waking up the sheppards' dogs or their beloved herd.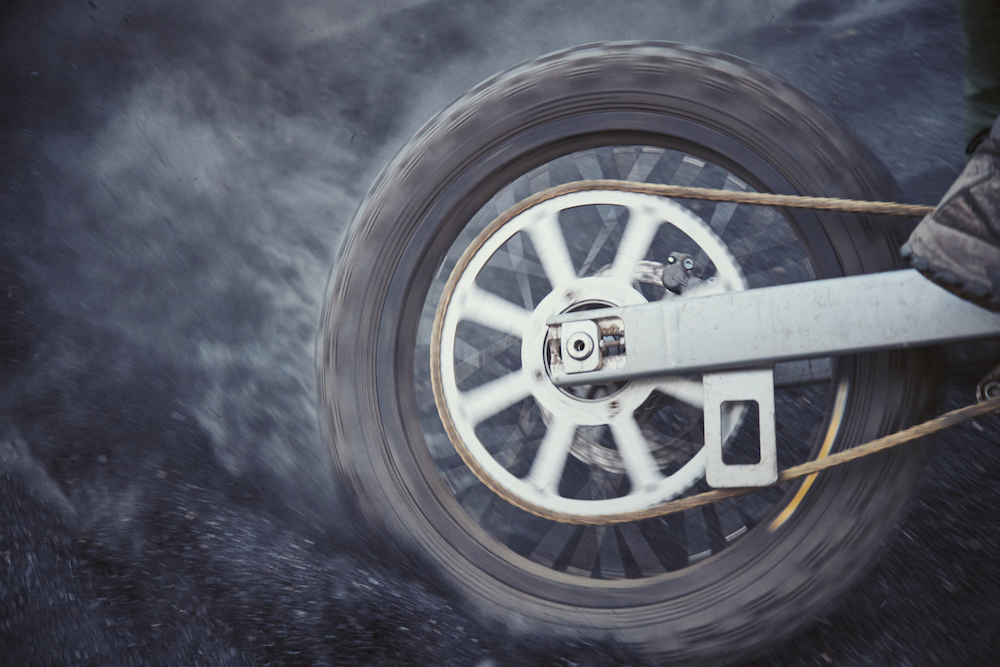 It was this mix of emotions and thoughts, together with a never ending desire to push the boundaries and go off on an adventure with rad pals, that lit the bulb for me. Why not take some electric offroad motorcycles on an overland unauthorised adventure? That's right, unauthorised…because of the official absurdity of the idea, its unlikeliness of smooth success, and because we aren't gonna ask any permits to ride. Unauthorised because the Cosmo (well…the technology) didn't give the all safe and tested green light yet. Care not. We'll pass the red light and ignore today's paranoid system where everything must be carefully planned, controlled and safe. Screw that. It's a gamble, sure, but what better way to electrify a life so badly sedated and alienated by the Covid craze?!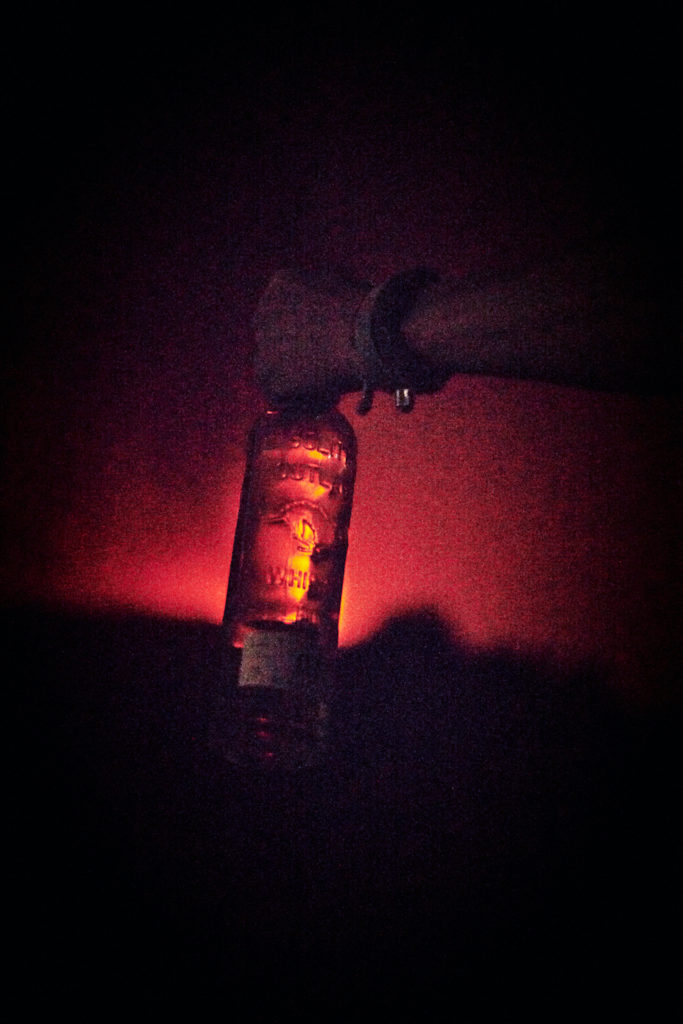 I've never been a fan of obedience; my good father waiting for me in the saddle of the afterworld shall sorely confirm. So if 'Only outlaws will be free' means anything, it means I'm going to give this a shot, even if we'll have to do things differently, no matter what! 
'Powered by Solar' begins to take shape in my mind sometime in October 2020, after attending the first edition of Elektrafuture, the new electric offroad motorcycle festival in St. Tropez. Trying the electric Cakes is exhilarating and opens up all sort of ideas and possibilities in my mind that's always ready for the next challenge, so why wait for the world to be ready? But where to charge? Where is the 150-250km daily range? And what's the point to do an electric journey, to see how new technology can improve our suffering planet, if we then plug into the mains grid or into a portable generator? Wouldn't it be better to try and harness the power of the sun to charge the bikes? Wouldn't that close the loop of 'solar-electric motors-offroad riding-natural world glory!?
Still, I'm not Ewan, none of my pals are called Charlie, and I'm not equipped for miracles yet. No one is gonna install solar panels with bike chargers in the middle of the back country for us, at least not yet! (Now, imagine a future like that, maybe with cold beers while you wait!?!). Yet how do we know what's possible unless we reach the limit and try and break it?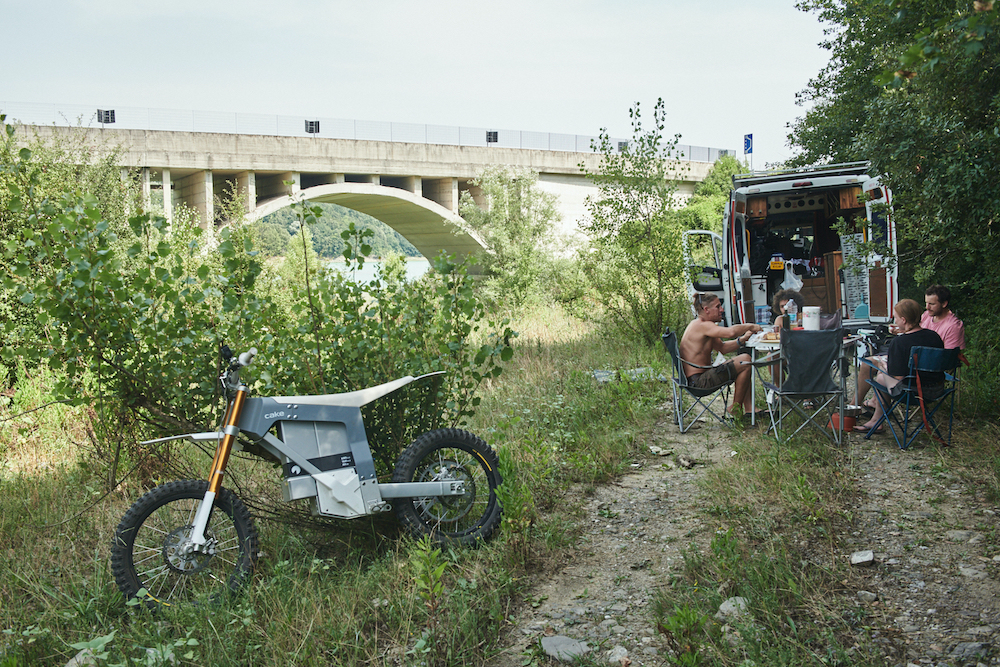 In the spirit of returning to wild mother earth and reviving our deprived freedoms, we'll go offgrid as much as e can, riding offroad between the two most dangerous and still live volcanoes of Europe: Vesuvius near Naples, and Etna near Catania, Sicily, freecamping and charging two Cake electric motorcycles and their spare batteries off Ambo, the British ambulance I just finished converting into a motovan equipped with solar and DC2DC power systems. A bonkers idea, right! But who likes normality?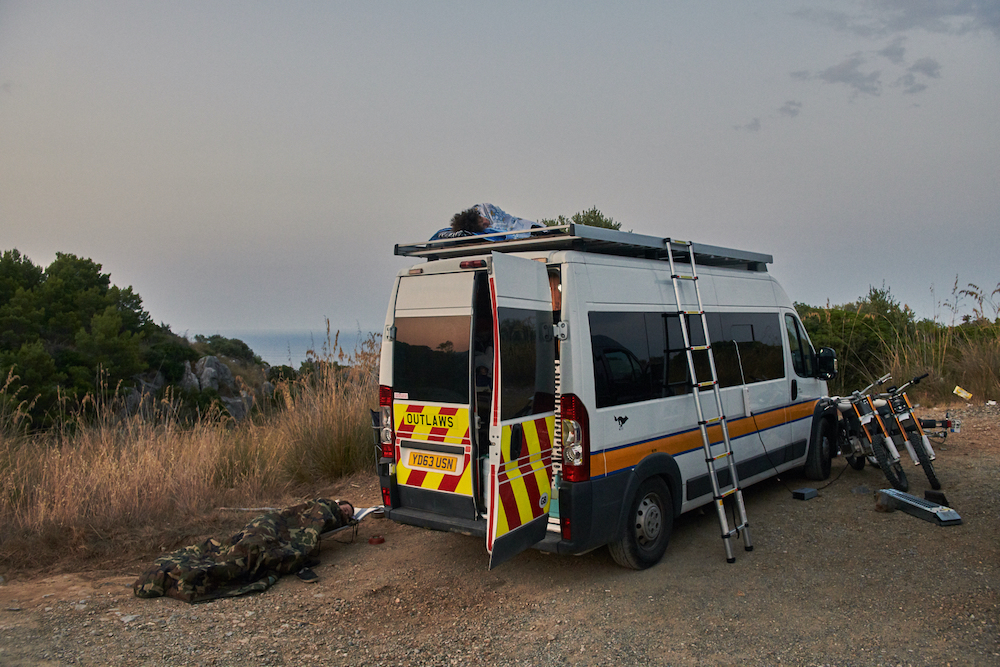 I call a few daring friends and the trusty brands who I know would support such a crackers project, and the excitement is immediate. Alas, bloody Covid restrictions and positive tests mean I have to juggle team and dates for a good 6 months until finally all chips are in for the last week of July! Here is the plan…bud and rad rider Adelio and I will be on Cake bikes, Malaka, Lesley and Mia the wolfdog will be in the van, supporting with shooting and keeping us alive with amazing Italian food, frozen beers and local wines. Then at the last minute a third Cake bike comes available and the temptation is too much to resist growing the project, so now my pal Jose will also join from Spain. Jose and Adelio are both great riders and serious troupers, so it'll be rad to shoot them on the Cakes. It's a mission because we don't know if we'll be able to charge 3 bikes on rotation (probably not) form the van, but it's worth the shot. Worse come to worse we'll just use the extra batteries, and anyway we're also bringing my Honda XR600R as a rescue offroad mule.
We are lucky some of the best brands in the game are supporting us with bad ass gear…El Solitario sent us some real cool clothing, hardwearing MX shirts and even one of the exclusive Outlaws whiskey collection bottles. Luggage experts Kriega sent their awesome Trail 18 Adventure Backpacks with 3L hydration packs, plus their latest OS-6 Adventure bags to strap to the bikes. Communication experts Sena provided two of their 10C Evo intercoms with camera, an SFR mesh device and an Expand boom, so we'll stay connected and also move faster while shooting. And of course the Cake bikes! Two Kalk& and one Kalk OR Race, one spare battery each, and a bunch of replacement parts we'll probably brake. I wish we had two spare batteries per bike so we could ride longer everyday, but that's what we could get and we'll make it work.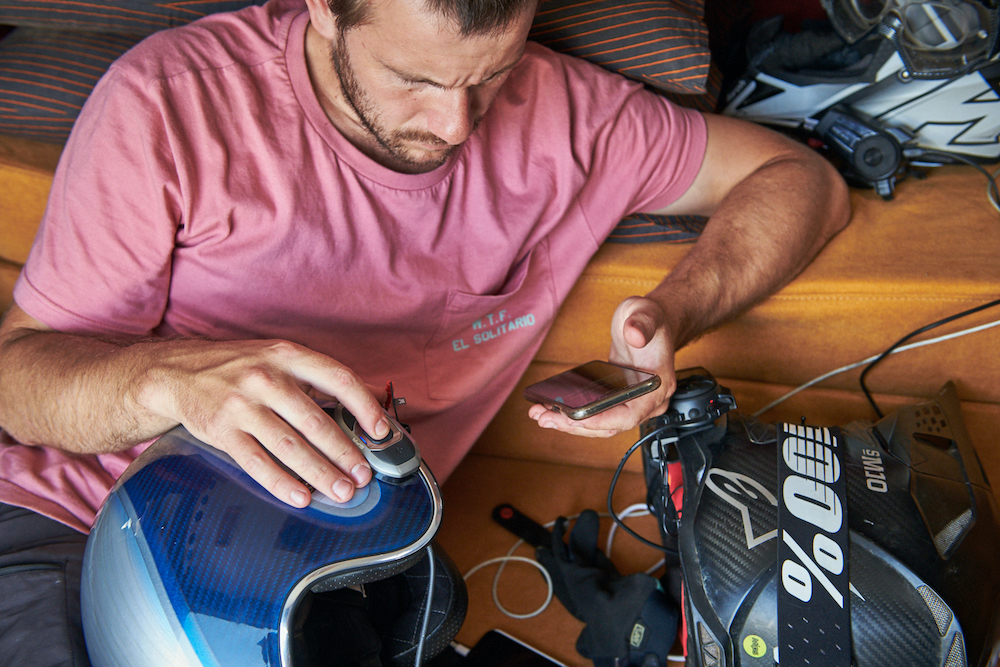 With amazing tracks by friend and enduro expert Ugo Filosa (www.offroaditalia.it), I've prepared a tentative schedule with shorter sections more suitable to electric bikes. It would be impossible to do the same routes or miles of a petrol bike, so I map out the best tracks, planning the van meeting points to swap batteries, charge, and make camp at night with alternative options and rescue routes just in case. After all, with range depending on routes and riding style, we don't know how far we can go yet, but we'll figure that out! 
The bikes are coming form Barcelona in Malaka's van and he's only arriving in Naples at about 2am before our morning departure, bless him. There is no time to test or prep the bikes, but thankfully I've tested charging the Cakes off Ambo a month ago and then beefed up the electric system with a second 30A DC to DC charger, and an additional 195W 24V solar panel. So the whole system now has 60A at 13V off the running engine, and 25A at 13V from the solar panels. This, together with a 1000W pure sine wave inverter and 200AH of Lifepo4 batteries will be enough to always charge one Cake battery at the time. The bike chargers consume about 75A at 13V, so those lithium batteries will have a good workout. Charging the Cakes to 80-90% should be about 3 hours, so plugging them in on rotation should work, cross fingers.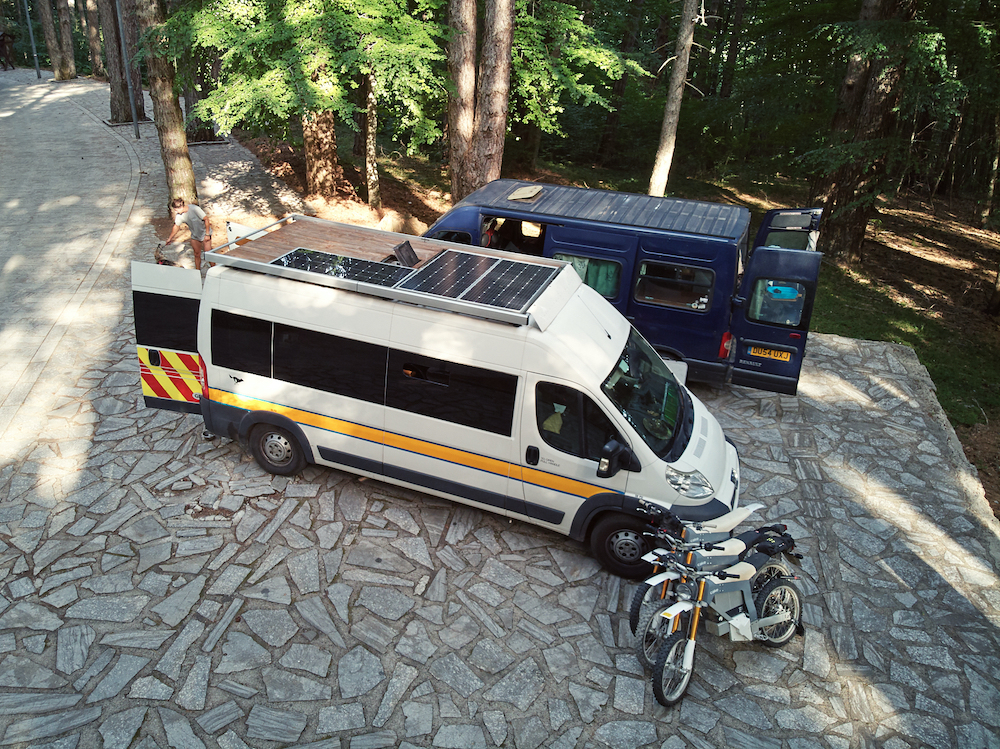 Monday – Vesuvius to Palinuto
Last night Jose and I did the final checks on the Vesuvius and the parking staff told us they rock up with the police at 7.30am. Unfazed, we went on celebrating the start with a fat dinner of seafood and local white wine until the late hours, slept 4, and this morning we're driving up the volcano at 6am to catch sunrise on the summit. The old 30km hiking route from Vesuvius down to village Somma Vesuviana has been closed off for a while now, but we're up for the challenge of sneaking in. We ride fluid on a clear path good enough a Landy could go by, but soon it becomes like a Thai wild jungle, the trail completely enveloped by thorny branches and fallen trees, and the adrenaline kicks in. I wish we took a machete with us, but our Solitario MX shirts are pretty hardwearing, and we push through the impossible branches like kids getting away with scoffing all the candies. Riding connected with intercom is also amazing and in the thick of the forest it makes it feel like we're a squad out on a mission. The Sena speakers are HD and the quality is just brilliant. At a push of a button you can even play your Spotify playlists while still connected with the others! 
We rise and then descend a little until we reach the side of mountain Somma where the path really gets sketchy with major landslides and makeshift rotten bridges. So light and nimble, the Cakes are a game changer here…the XR would be rolling downhill by itself by now.
At 7.30am it's enduro haven up on this mountain, and we press on with a cheeky grin on our faces and no idea of what will come next. 
Meanwhile, Lesley, Malaka and Mia already reached our arrival point via road and are waiting for us with cold beers to load the bikes, start charging, and hit the tarmac for the next track.
It's 1pm and the Southern Italian sun is in full rage when we reach a massive water reservoir at the edge of the Cilento mountains near Ostignano. We are happy, but hot and worn at this point and decide to make camp to swim, eat and have a siesta for the hottest part of the day (after all we got up at 5am with Malaka even pulling an all nighter to get to Naples on time). We could do another 130km of tracks today, but it's now 5pm and decide to skip the 80km middle route and just ride the last 30km stretch to the beautiful seaside town of Palinuro so we can camp early and be ready for a harder day tomorrow. Unfortunately, luck is not with us and after 10 minutes climbing a rocky path Adelio gets a puncture at his rear. Jose jumps right in to fix the problem, but after more than an hour finding a can of foam, figuring the nipple has a crack, and loading away the bike for the day, there is no other option than unleashing the old tractor (the XR) for the 3 of us to squeeze one more track out the day. It was better riding to the silnce of the Cakes as now we attract the attention of the local farmers, but with the sun dropping fast we just keep going, riding through seaside hills and farmlands, crossing shallow streams and climbing postcard views of the seacoast, all the way into pitch darkness. 
In the end, we set up camp atop Palinuto lighthouse cliff, eating Italian sausage pasta, fixing bikes and drinking wine, totally taking over what turns out to be the local love spot for couples (sorry guys, not tonight 🙂 until we hit the sack, with Mia protecting us from the occasional unidentified animal coming close at night.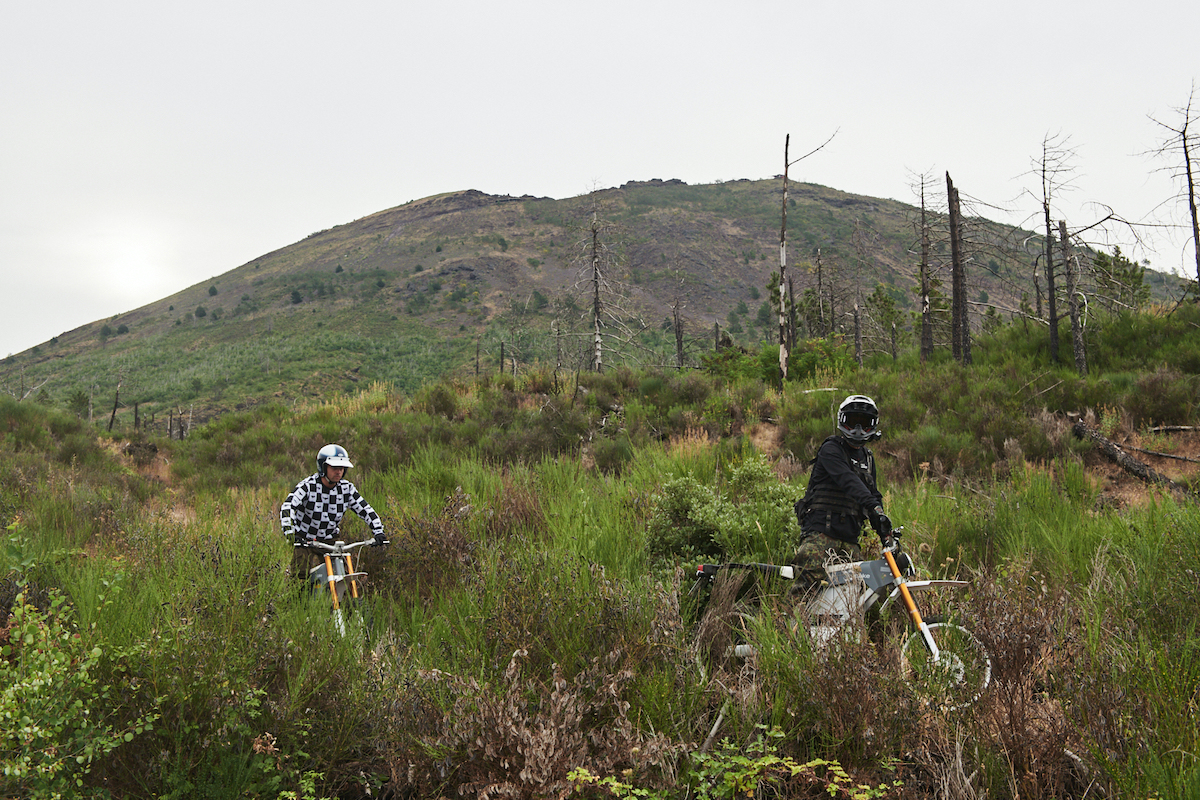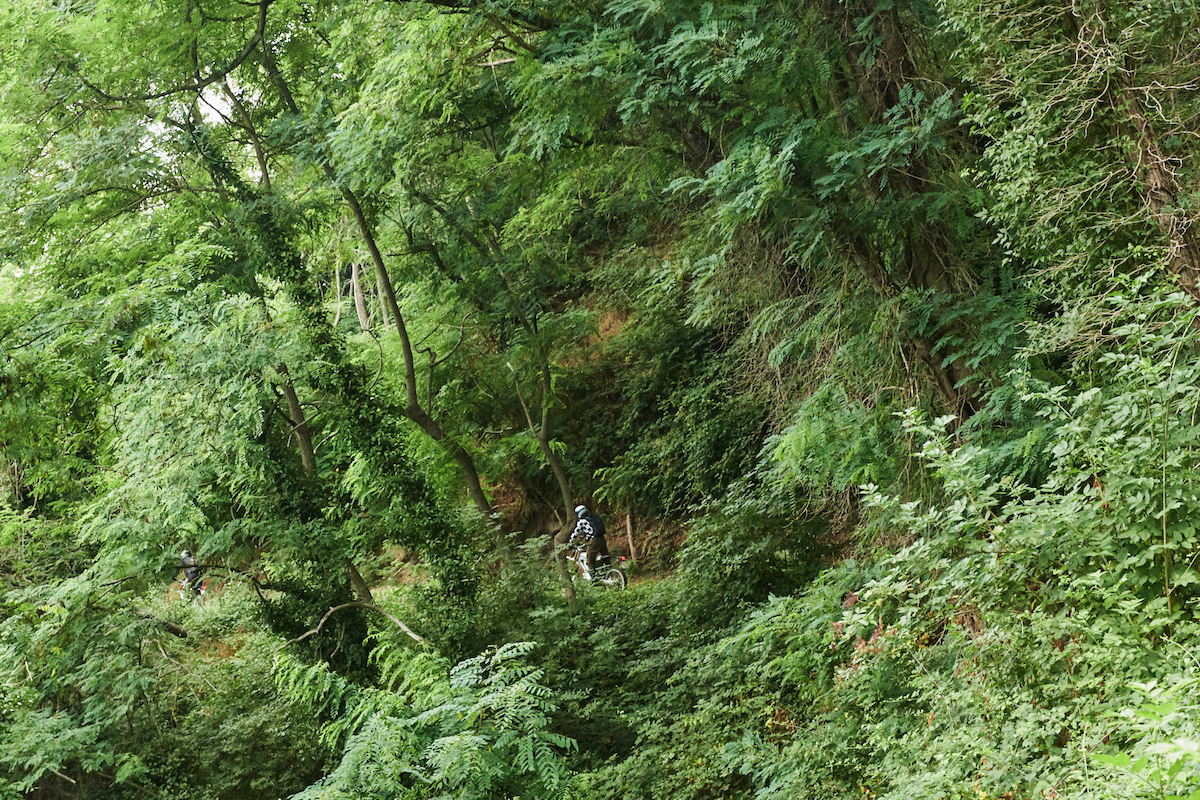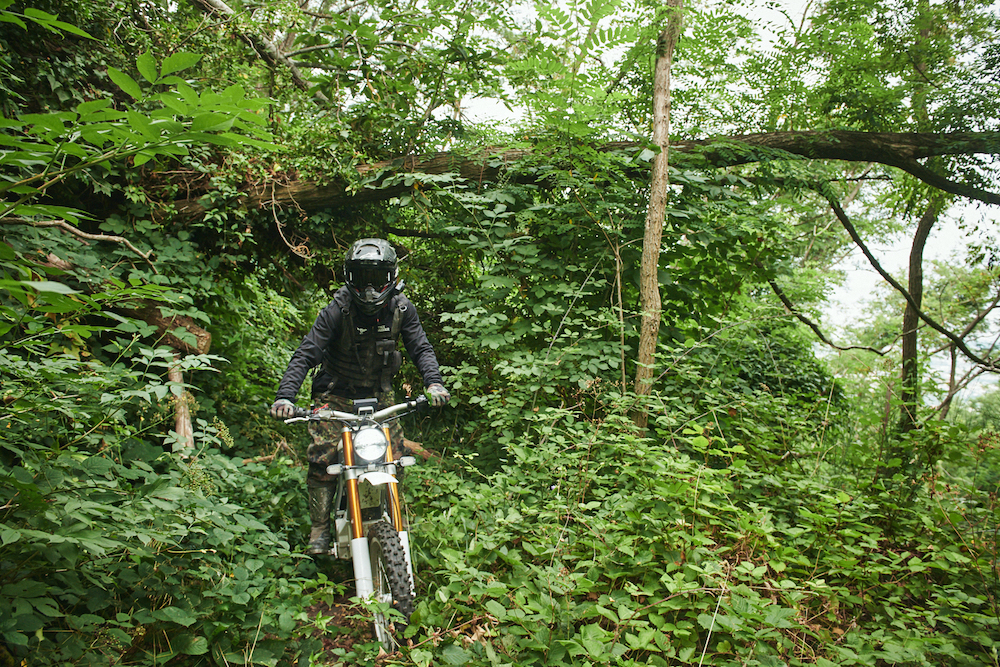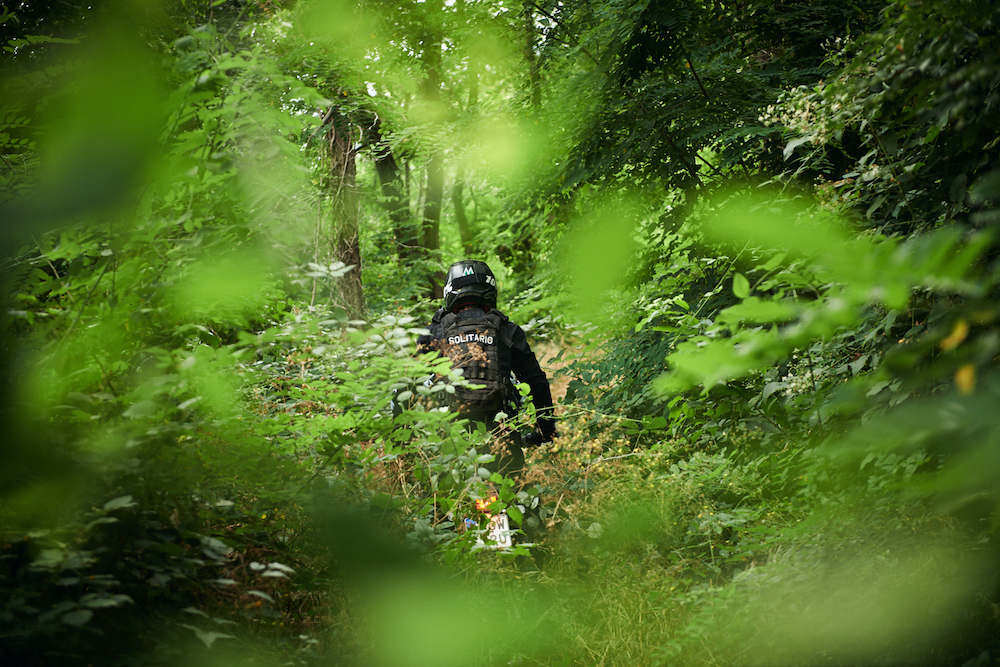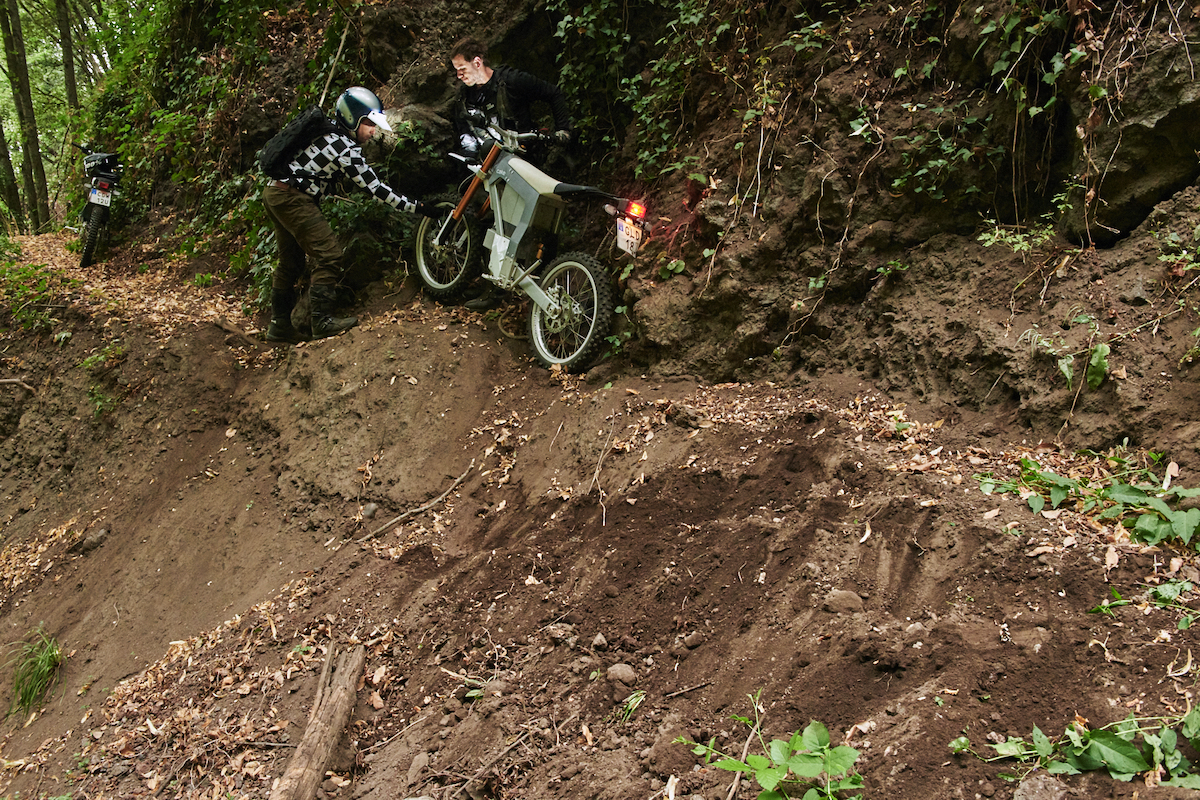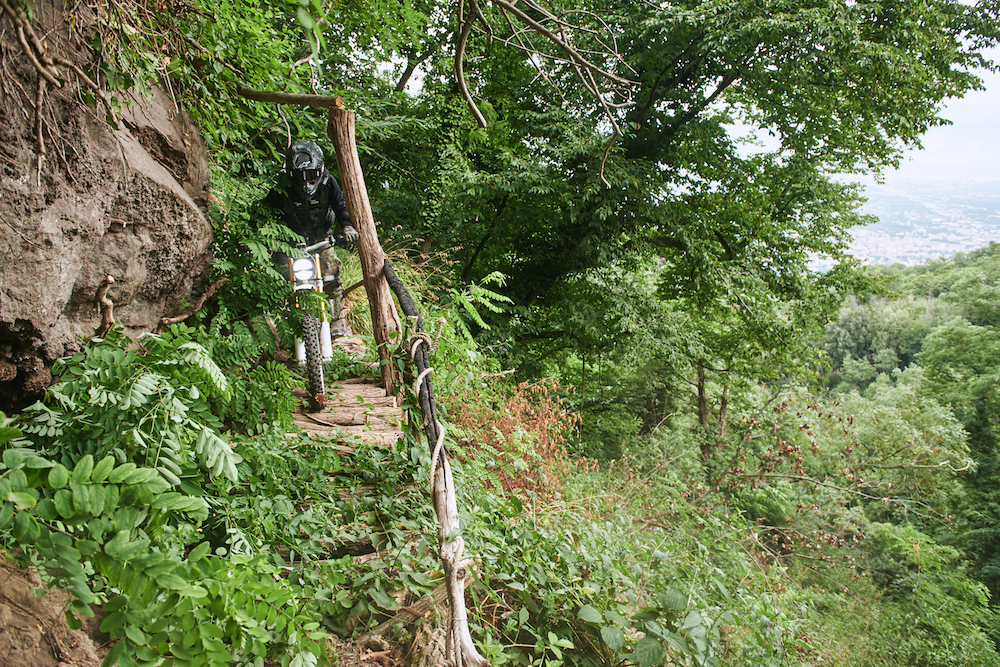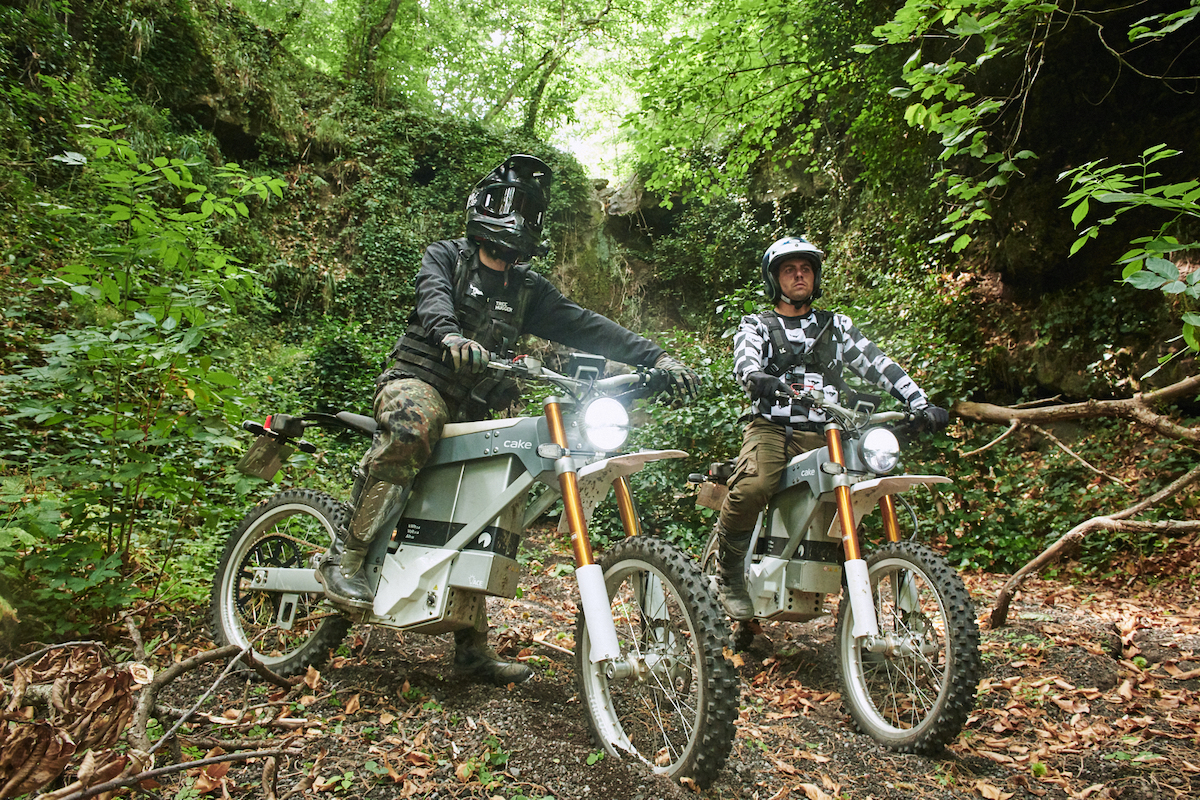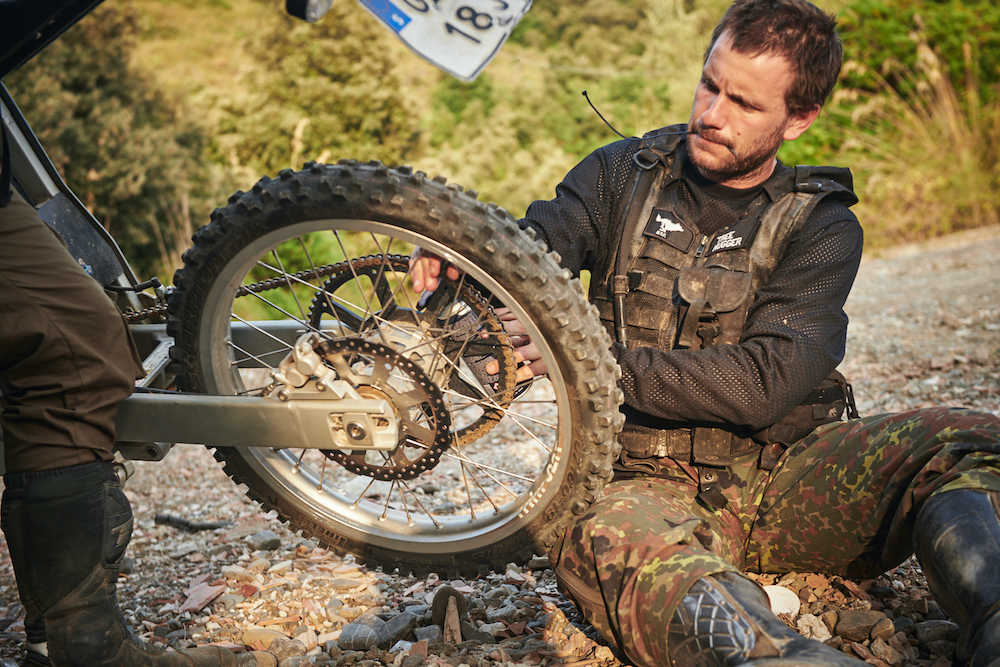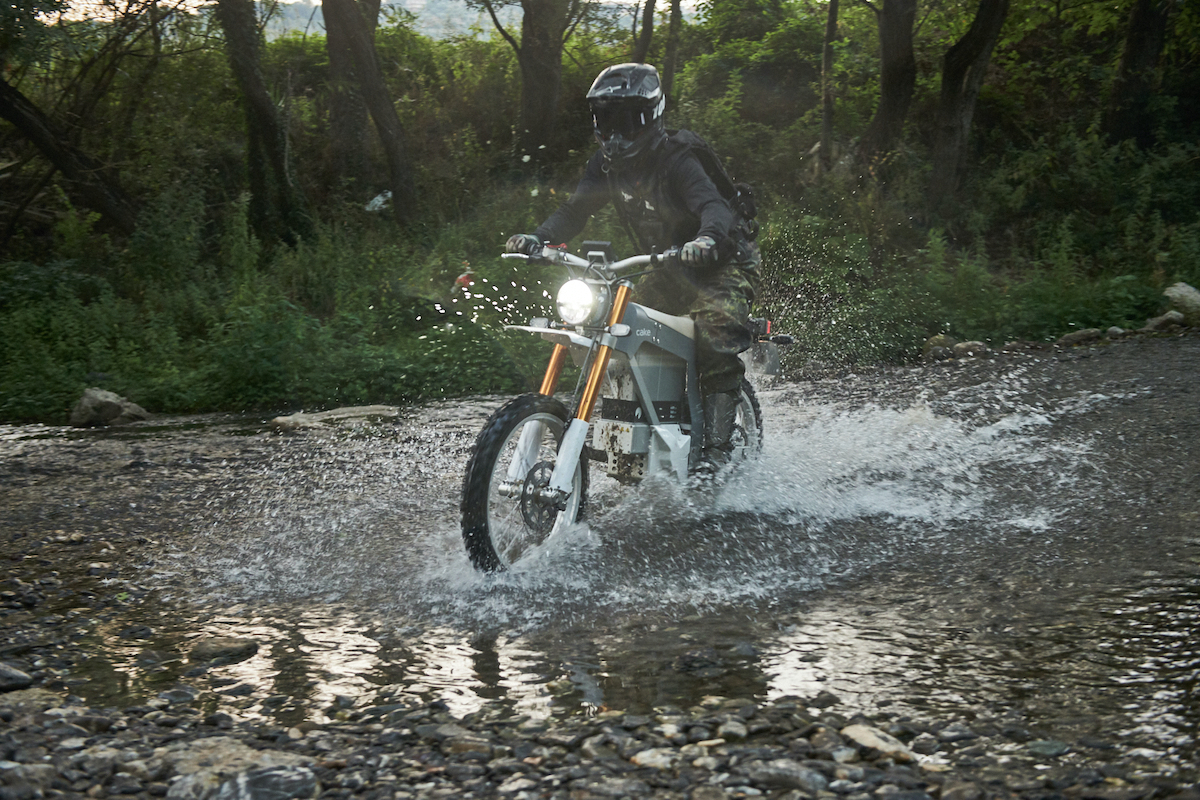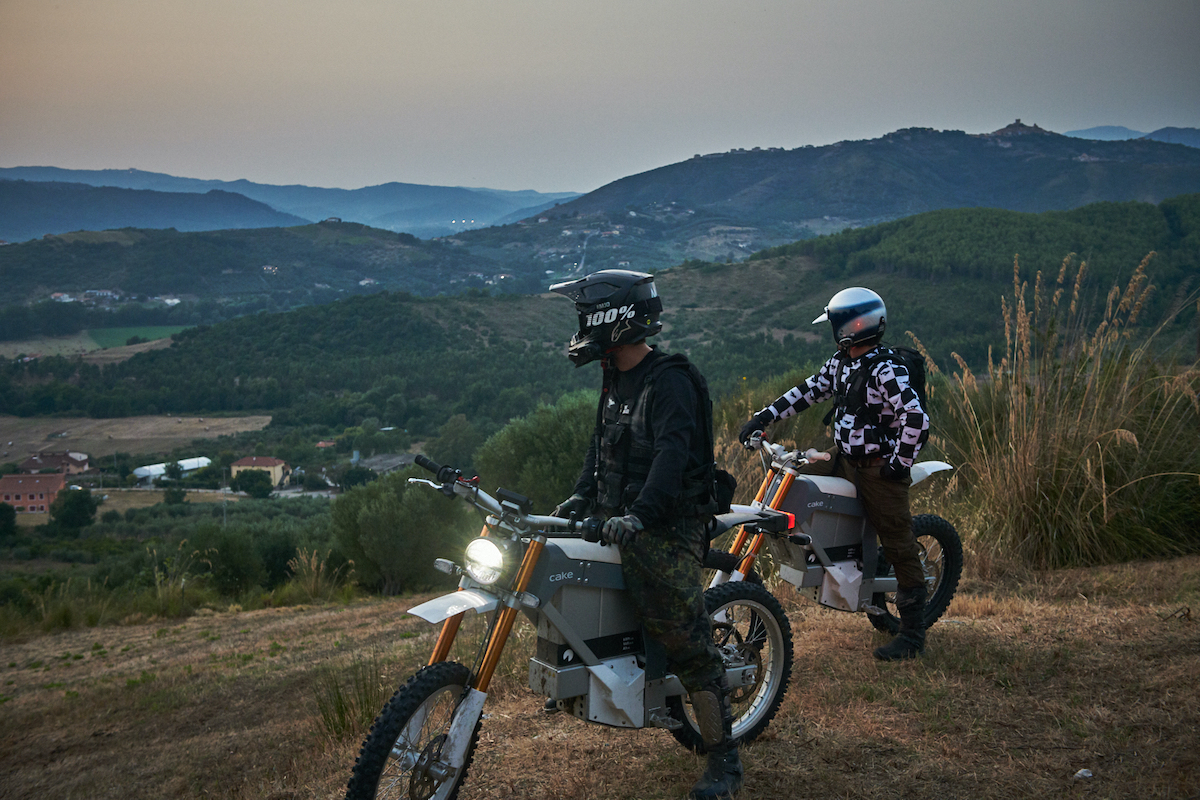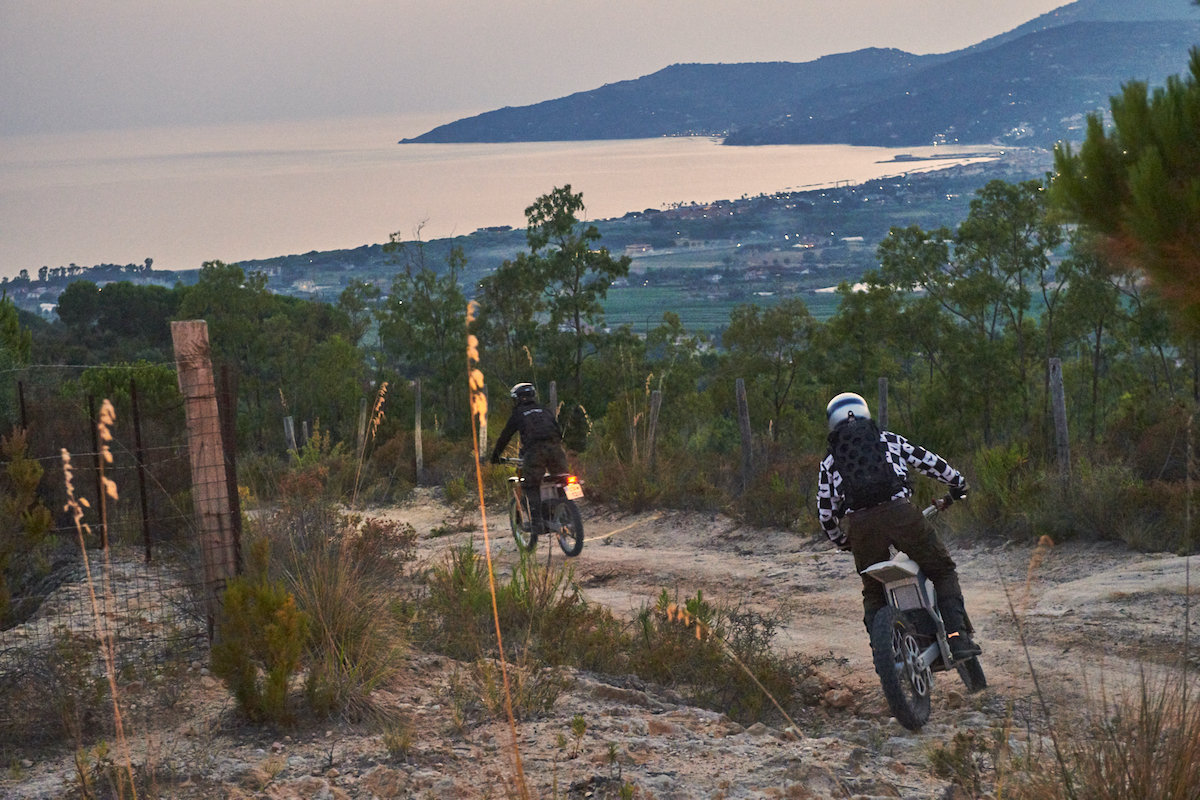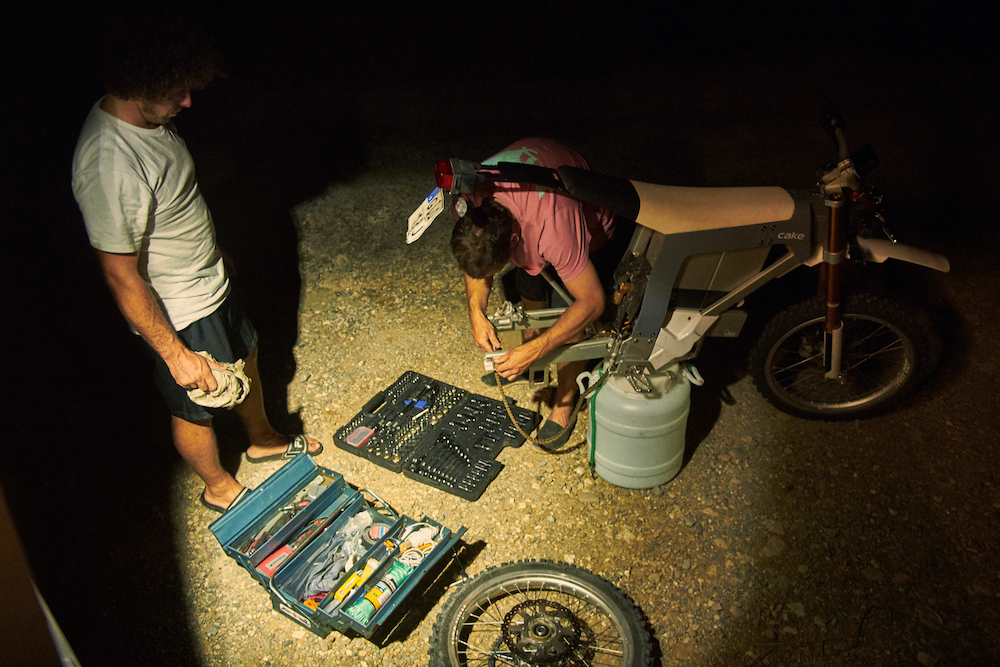 Tuesday – Palinuro to Belvedere Marittimo
At sunrise from the top of the cliff you can just hear people still partying down at the beach below, shouting and singing what's probably been a rowdy night. For us, it's the day to properly test the bikes, but first we have to find a tyre shop to fit a new tube, and why not, go swim by the Ascea natural arch, one of the recommended stops of the trip. The arch's supposed to be fenced off and in fact it is, but you know Italians…The fence is broken and plenty people are lounging on the beach below the dubious arch. I hoped it'd be more private, but it's good enough for a refreshing splash, shower, and cold beer before hitting the super twisty roads back into the mountains again. 
At around noon we take off on the first track of the day and the heat is beginning to be serious. We ride some farmland hills and too much tarmac through small villages until we reach some rocky climbs and then an exciting white quarry that's a bit of fun. We've just done over 30km via pretty villages and paved roads and our batteries are down to half, but range is exactly what we're testing. Finally, at the beginning of the mountain trails, we've got to choose if to go ahead or back to to the vans to change batteries. A quick chat on the intercom and without even stopping we spin off for our make or break test. After all, if we don't ride until the last drop of power we'll never know how to adjust for the rest of the journey. They say 'you've got to reach the bottom to see how far you can go!', and it looks like we will, knowing that one or all of us may run out of juice at a difficult point. And so we hit the fun route, up and up, through buffalo's pastures and small valleys, all the way to the top until the view across the small Alps is insane. Riding up here to the silence of the Cakes is just incredible. Then just as it looks like we made it to the highest point, two out of three bikes go from one notch to a flashing red warning, and we start descending pushed by gravity and the occasional boot kick – fingers crossed for no more climbs or we'll sweat our arses off under the savage Mediterranean sun! 
Down at the revised meeting point by a sleepy place called First of May Village, it's 4pm, uber hot, and we haven't eaten anything, so we crack a cold beer, eat a fruit, and load the bikes into the vans for a break until the next track. We've left Salento and are now driving the Calabrian coast on our right, with a huge glaring sun dropping fast towards the sea. The air is so hot and humid it's borderline breathable, and we know it's only gonna get hotter as we continue further south. 
When Adelio gets a call about a big family emergency everybody's mood and energies go right down. There is no way I'm gonna ask him to ride more today. Exhausted by the whole situation and having worked out our riding style allows for 45-50km per pack, we decide it's a good idea to cut the final track of today to recharge body, mind and batteries, and enjoy steak and tinto de verano (red wine spritz) before our third day tomorrow. We have to rework the tracks now, based on our 2 battery per bike allowance (90km). Now, if it takes 5 days of 250-300km a day for combustion bikes to get from Vesuvius to Etna in total offroad (that's Ugo's tour), with electric bikes and photo and video shooting our trip should be at least 10+ days. But we haven't got this luxury, we must get to Etna by Friday evening as Adelio has to leave on Saturday for a job. Six days and six batteries is what we've got and we'll make it work, without stressing or rushing, because after all this is not a rally, but a bunch of friends on an adventure riding across the South of Italy.
Stopping at the beach for a sunset swim, in the end we decide it's a good idea to use the nearby camping and its facilities. It looks as if some of us could do with some settling tonight, and anyway, we are now far form any areas good for free camping that's also officially illegal in Italy. The high temperature has been tough on Ambo's charging system too, and we now we have 3 fully discharged batteries to refill. So, with heart in hand and the determination of who wants to continue riding the best tracks up to Etna, we decide to recharge off the mains overnight so we can carry on with all 3 electric bikes.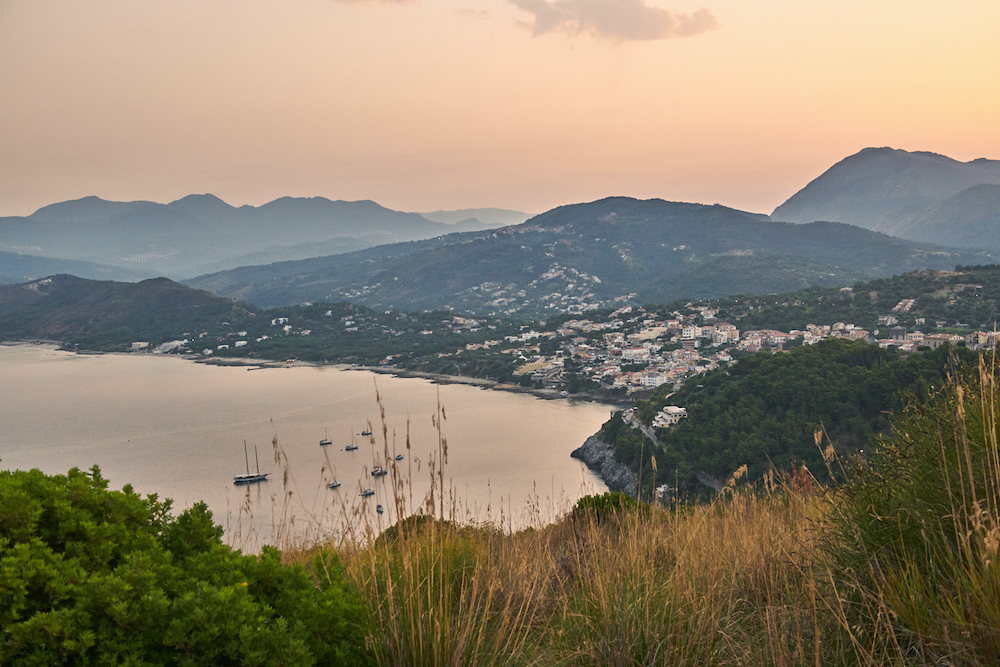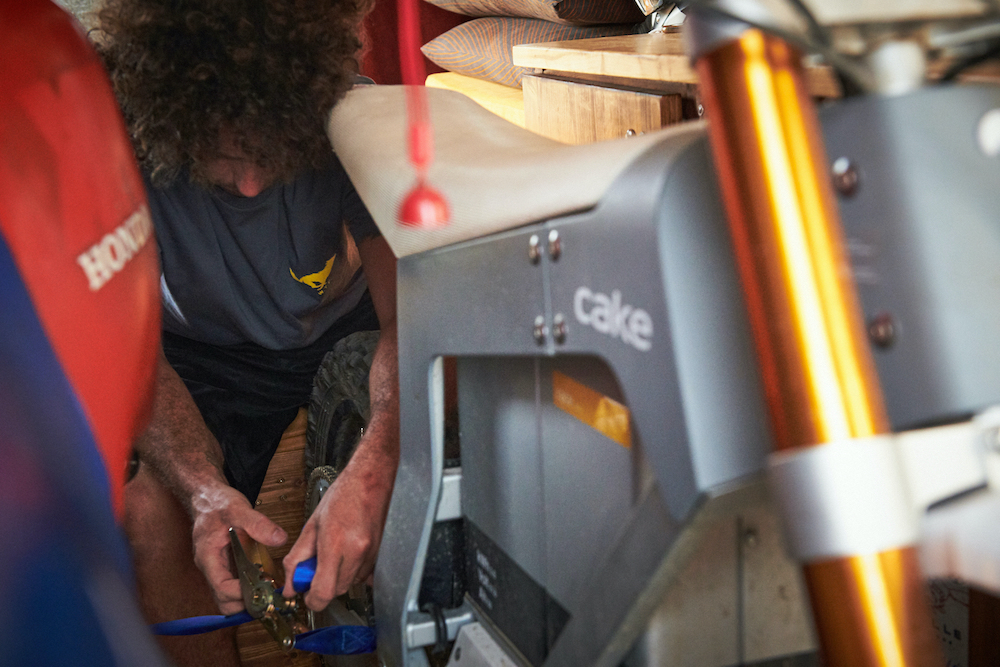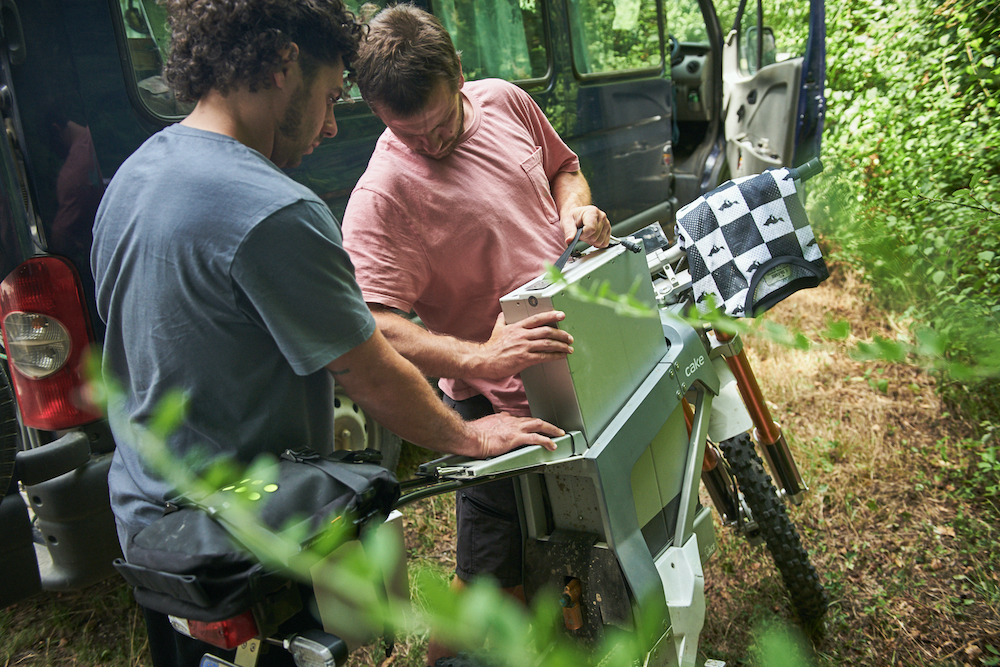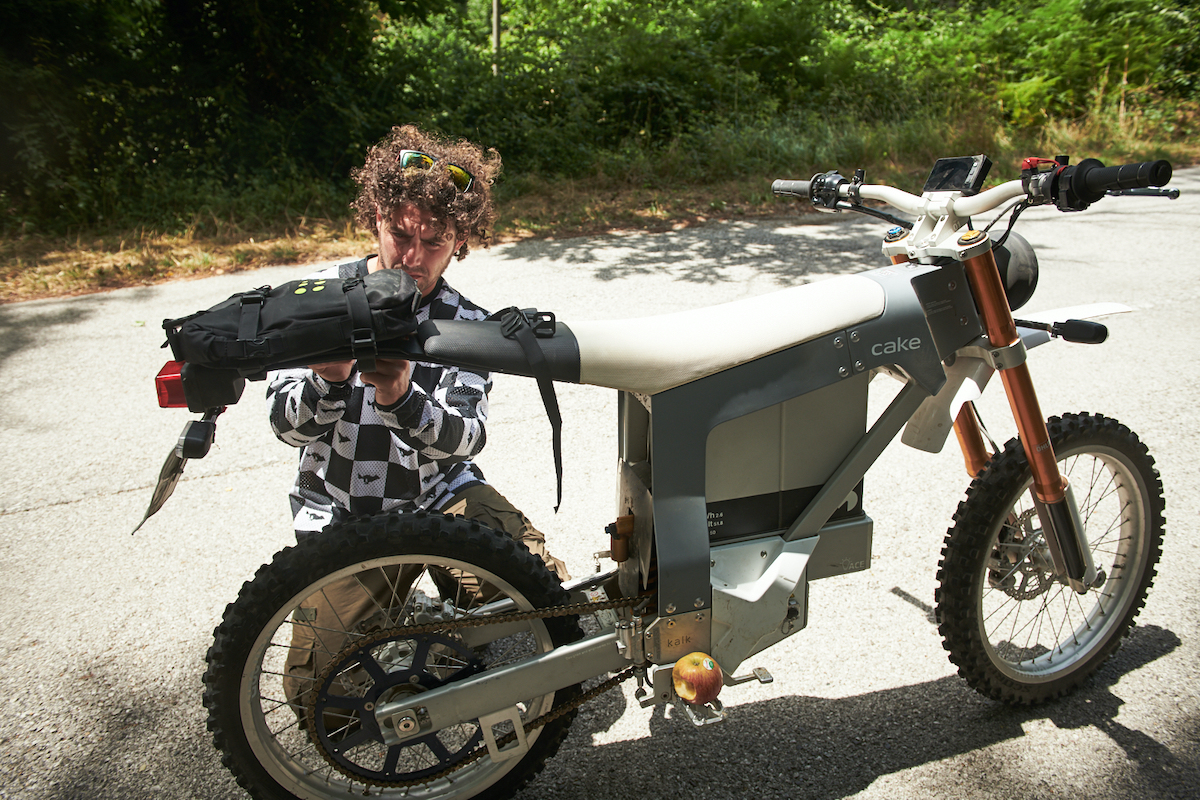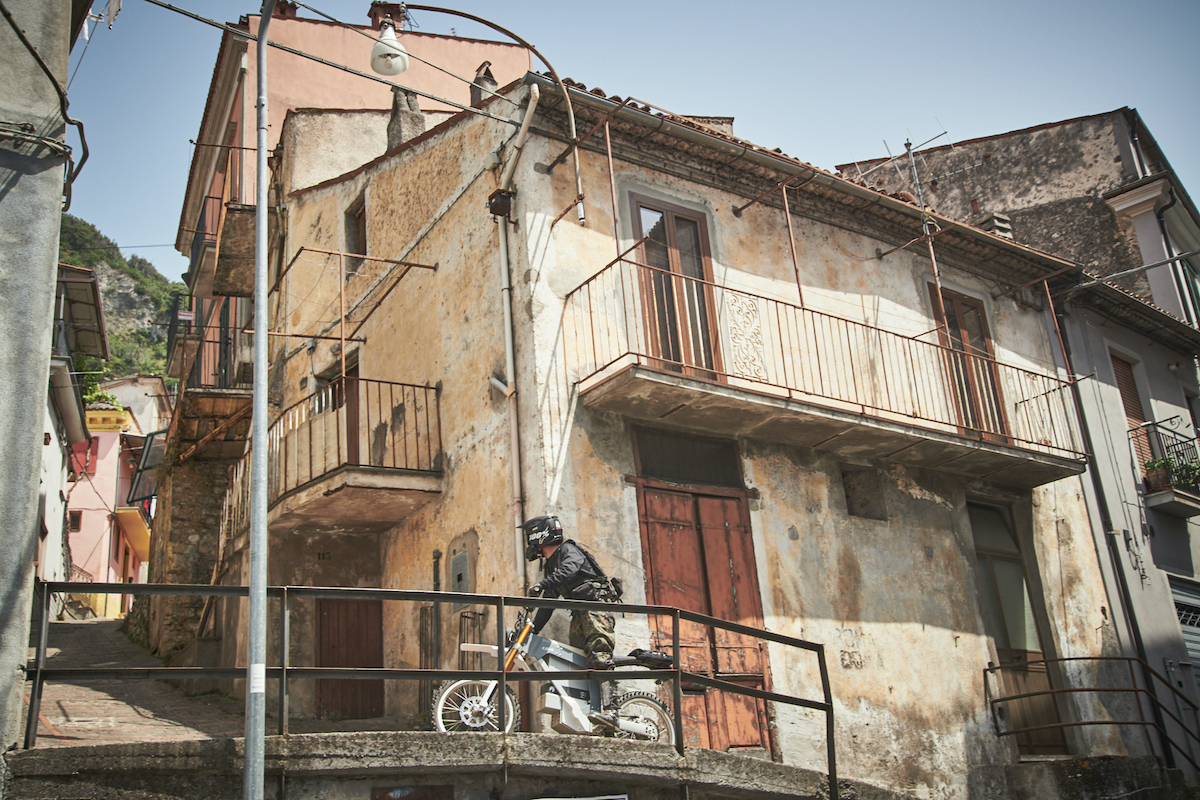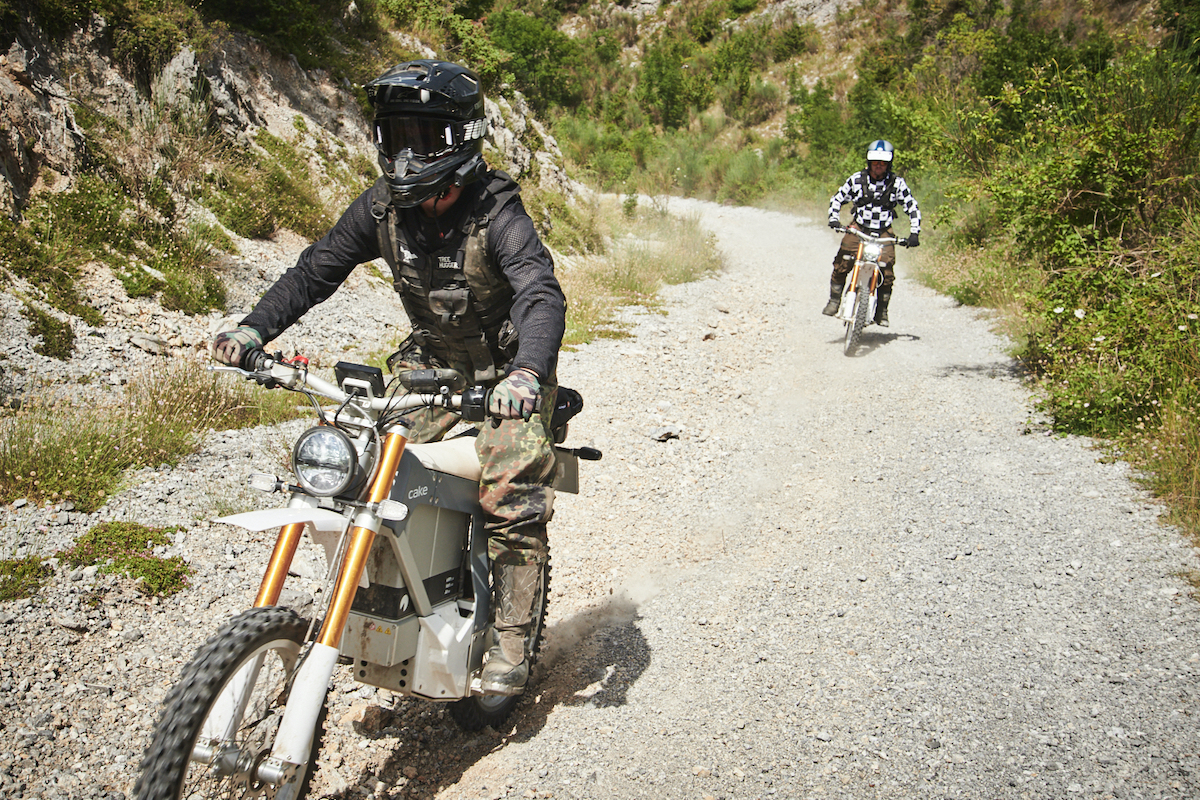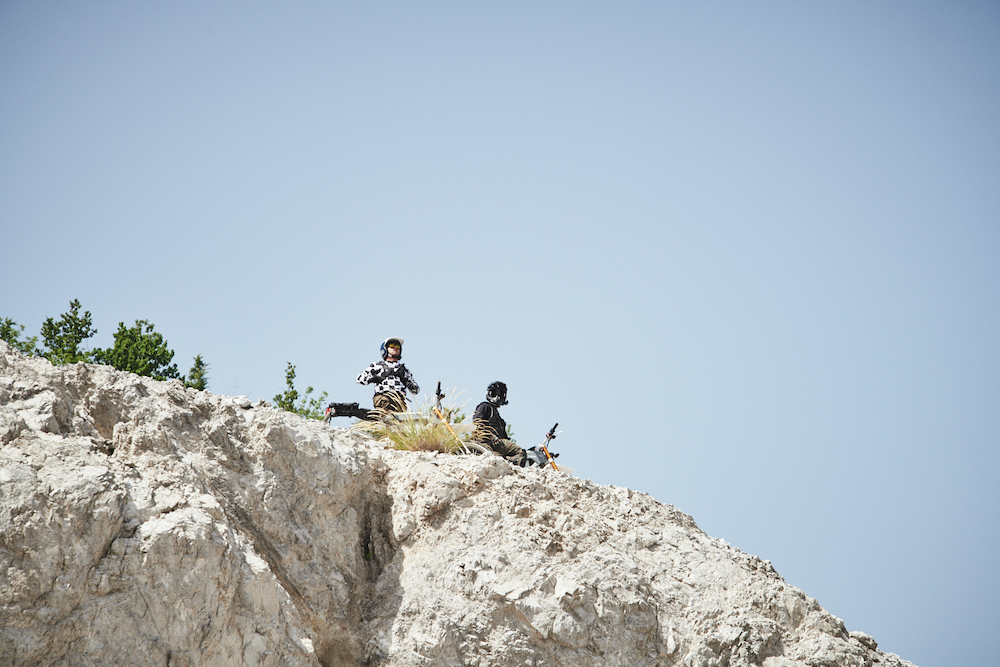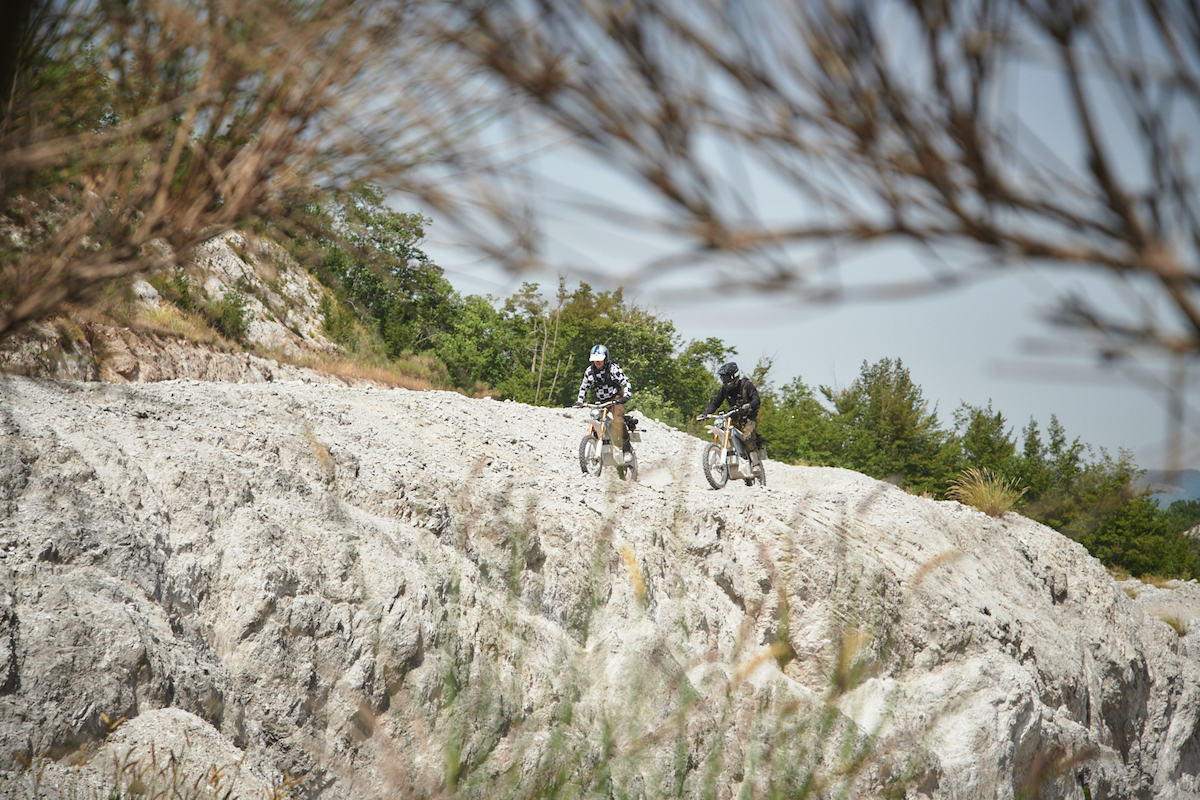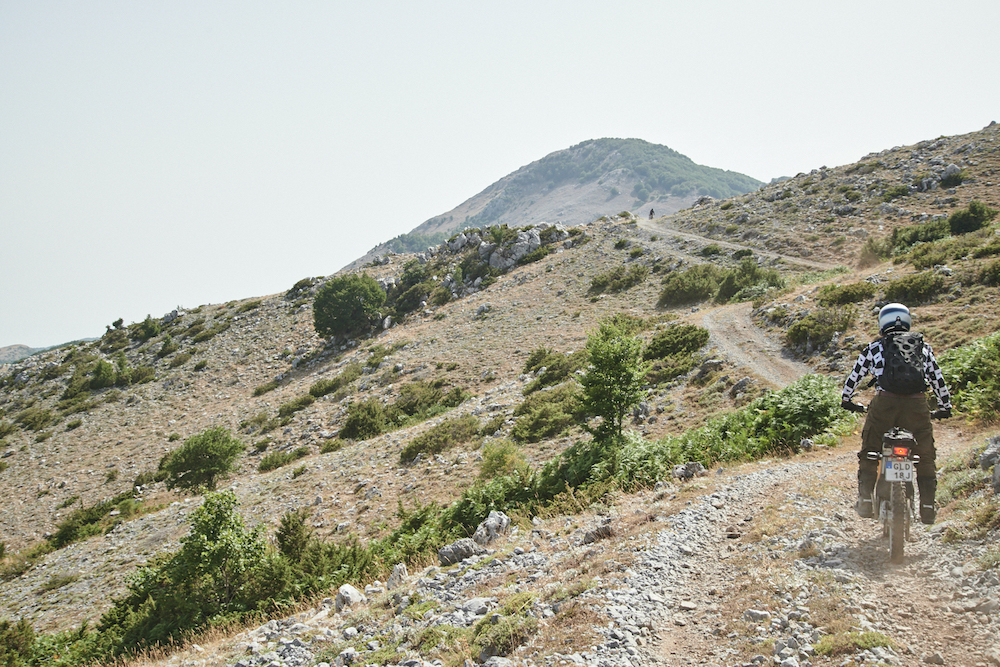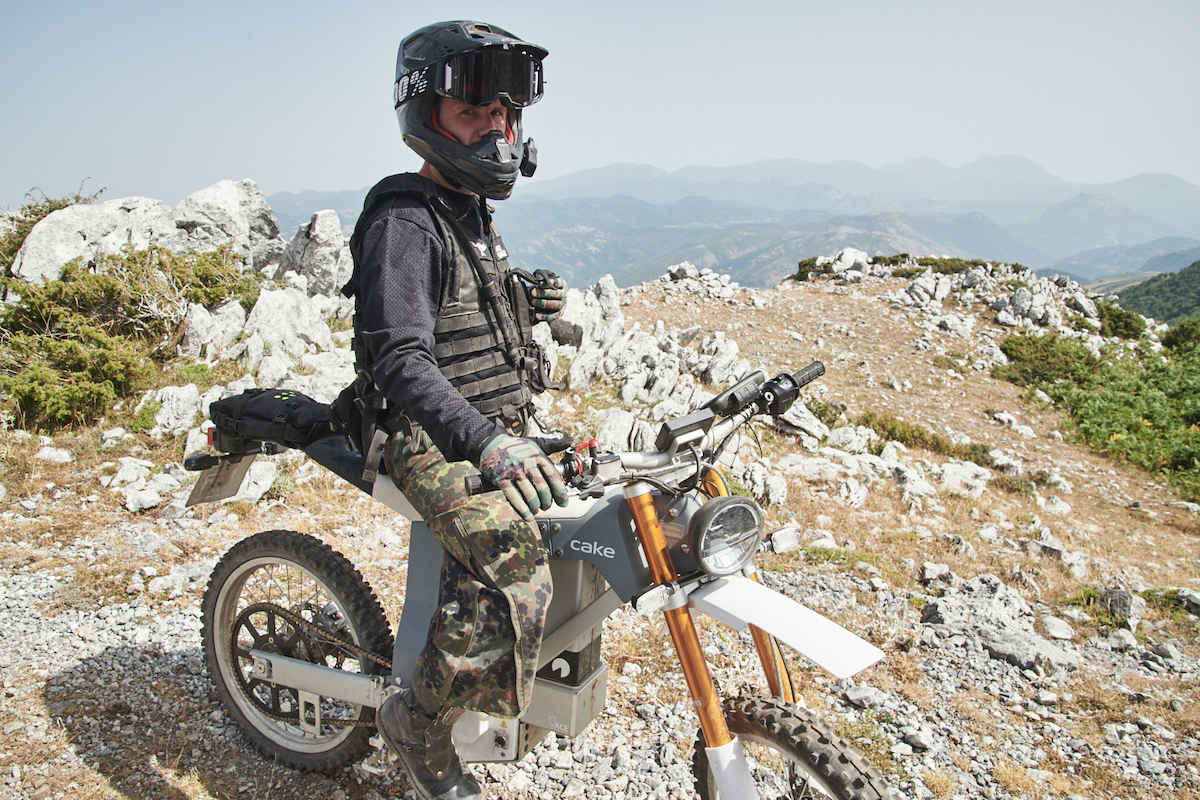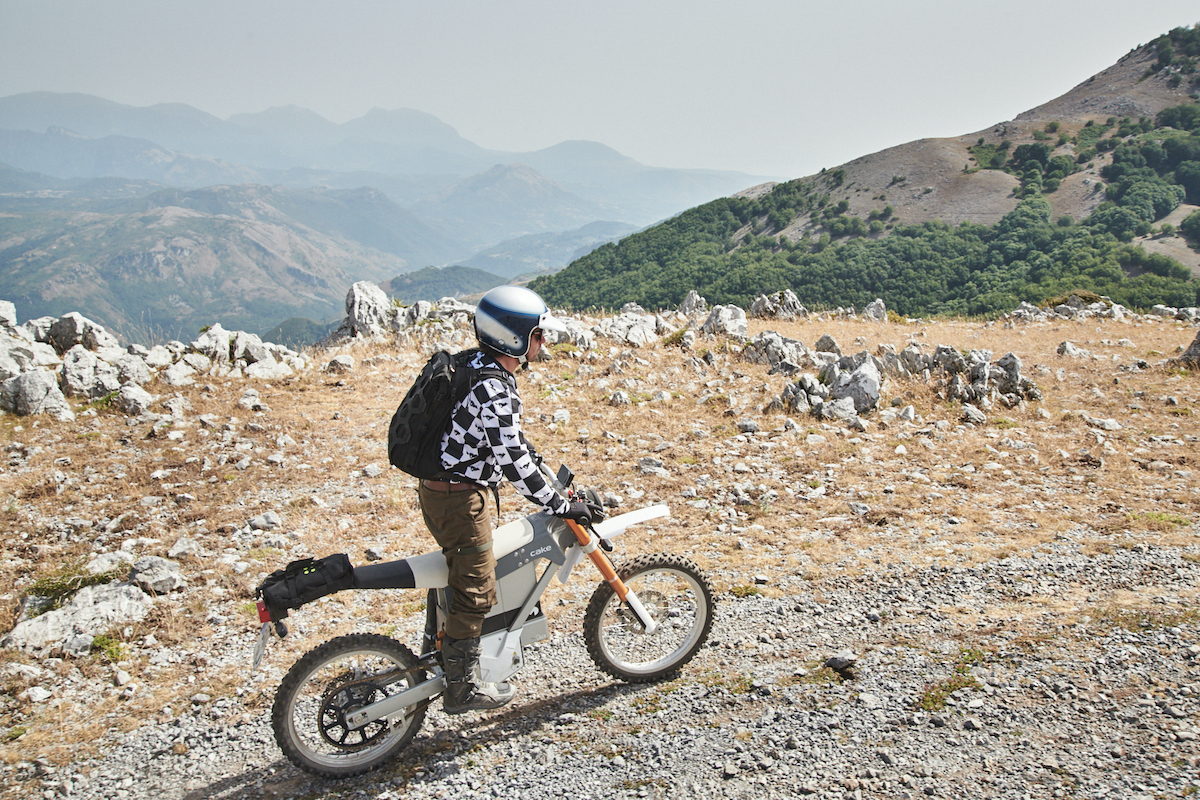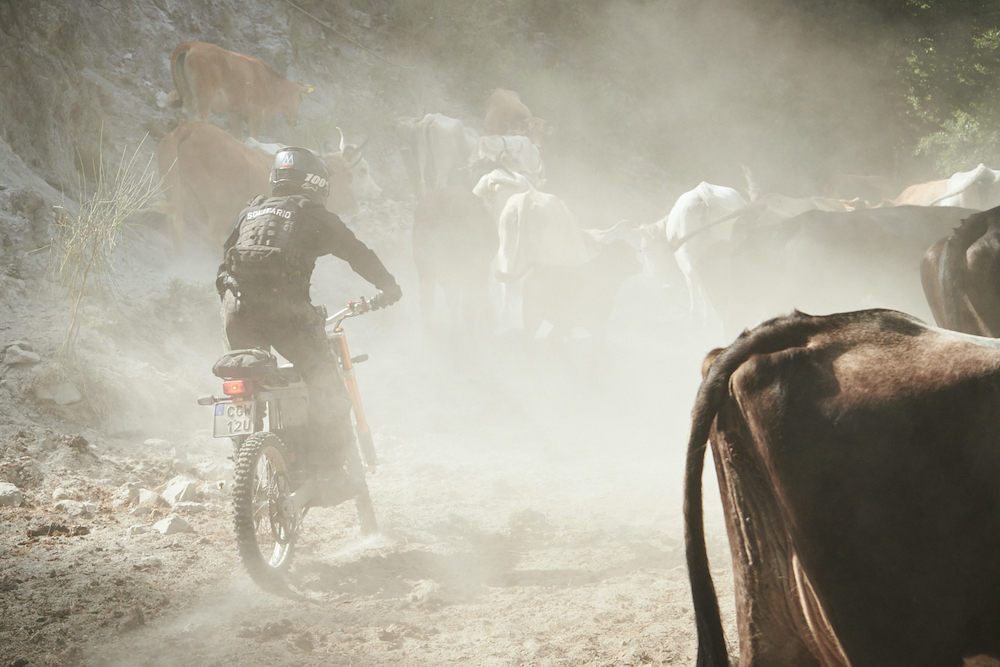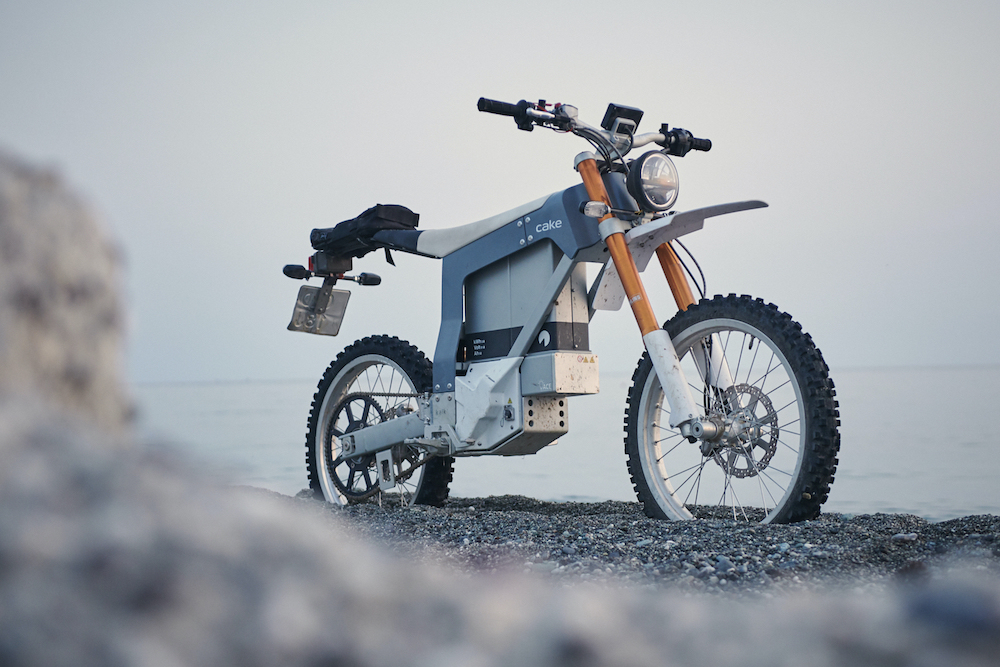 Wednesday – Paola to Lamezia Terme
The tiny stretch of sand by the small and empty campsite is deserted in the morning and the perfect spot for a skinny dip before setting off. It's so quite we decide to take a spin by the coast but are quickly told off by the camp owner. It takes a small explanation of the project to get the guy's excitement up and turn him into our best friend, with the promise of a starling review for his campers parking lot. 
Unfortunately, Adelio's situation back home has got worse, so to everybody's sadness we agree he should go back to his family where he belongs at this time.
We rise again onto the Small Alps through some mental twisty roads and finally me and Jose are ready to ride again. It's a shame Adelio had to leave, he's such a cool guy and rad rider, but perhaps we can now ride and recharge the Cakes for longer as we don't have to arrive by Friday at all costs. 
7Km into the mountains and I get a puncture riding too fast through some real tricky rocks, pinching the tube and damaging the nipple again! What a bummer! We are too far off the main road for Lesley or Malaka to come with a van, they could never drive here, and so I end up pushing the bike for about 4km to the nearest road. Thank god the Cake only weights some 90 kg. Once again, it's Lesley and Mia coming to our rescue up on the beautiful mountain forest road, but I feel bad having her (and Malaka) drive the vans up and down, back and forth to us, all the while we enjoy riding the mountains, so I take her on the back of my Cake for a quick glance of the nearby water spring. 
Jose and I ride fast and fluid now, communicating effortlessly with our Senas C10s, so much so that we almost miss our big highlight on this track, Monte Cocuzzo, the highest peak around the whole region. From a real thick pine forest we start climbing a super steep path of destroyed tarmac and rocks that again is pretty sketchy for our tyres, until we reach the most amazing view of nearby mountains, villages and even sea in the far distance.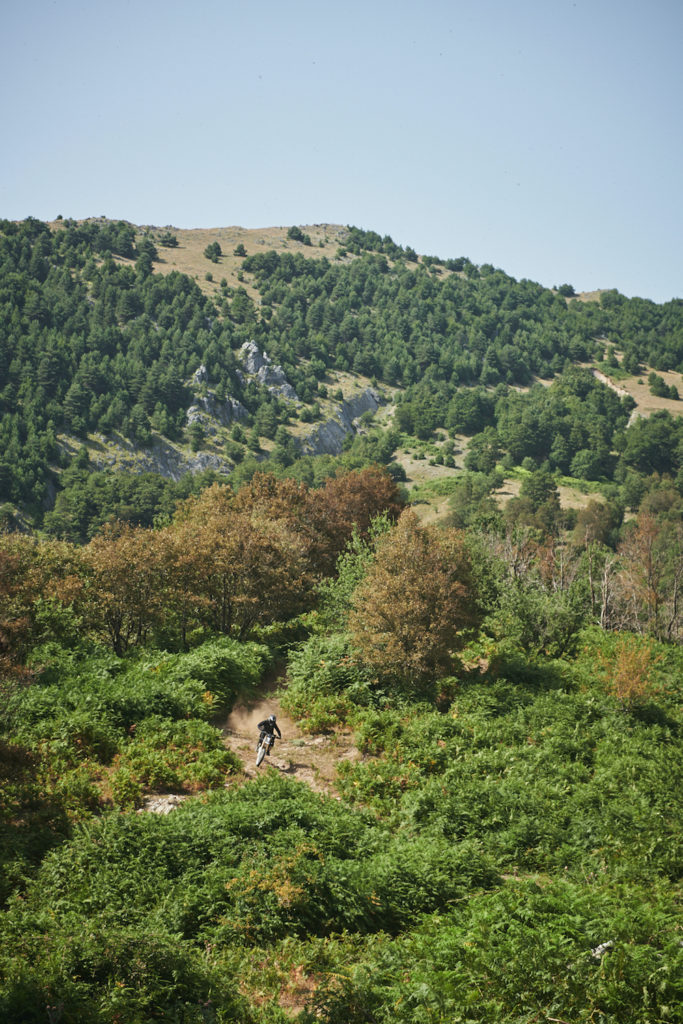 Back down at the meeting point, we want to swap batteries and just keep riding, but a scan of the GPX track reveals we now have a fair bit of tarmac again. To save battery for dirt riding we jump in the vans and head to the next track, but before we know it's 6pm and it is general consensus we should freecamp at a nearby huge and deserted beach for one last time, before getting back into the thick of the Calabrese mountains tomorrow. It's full moon, and we'll finally open the Outlaws Whiskey El Solitario sent us!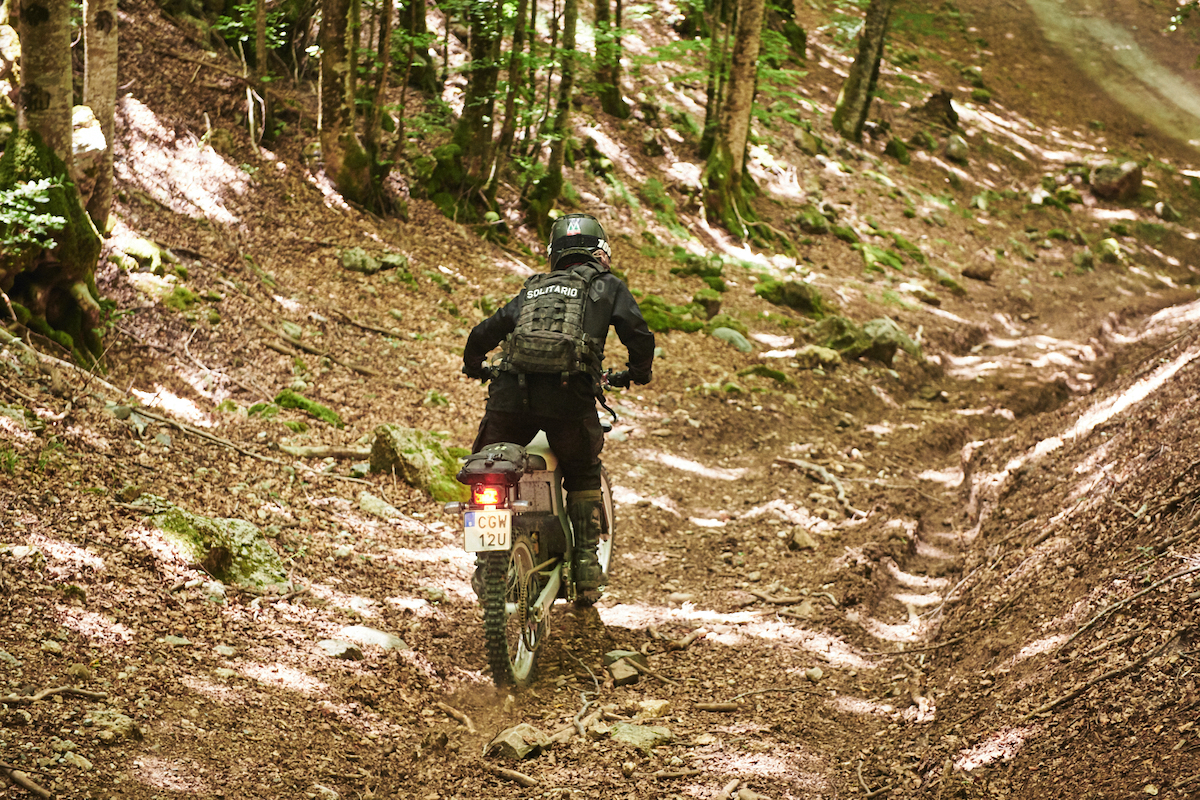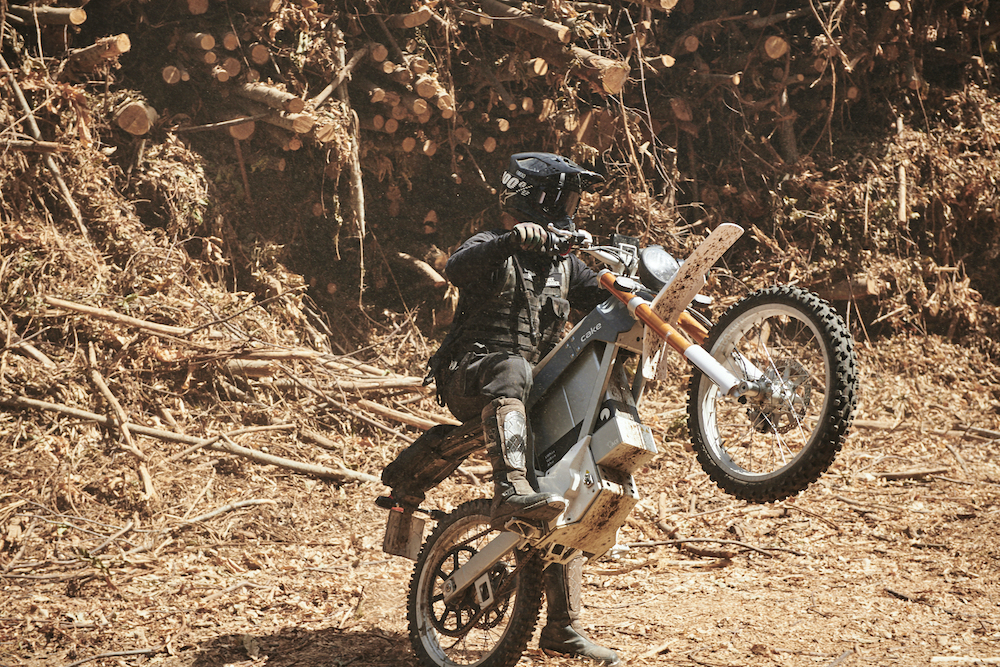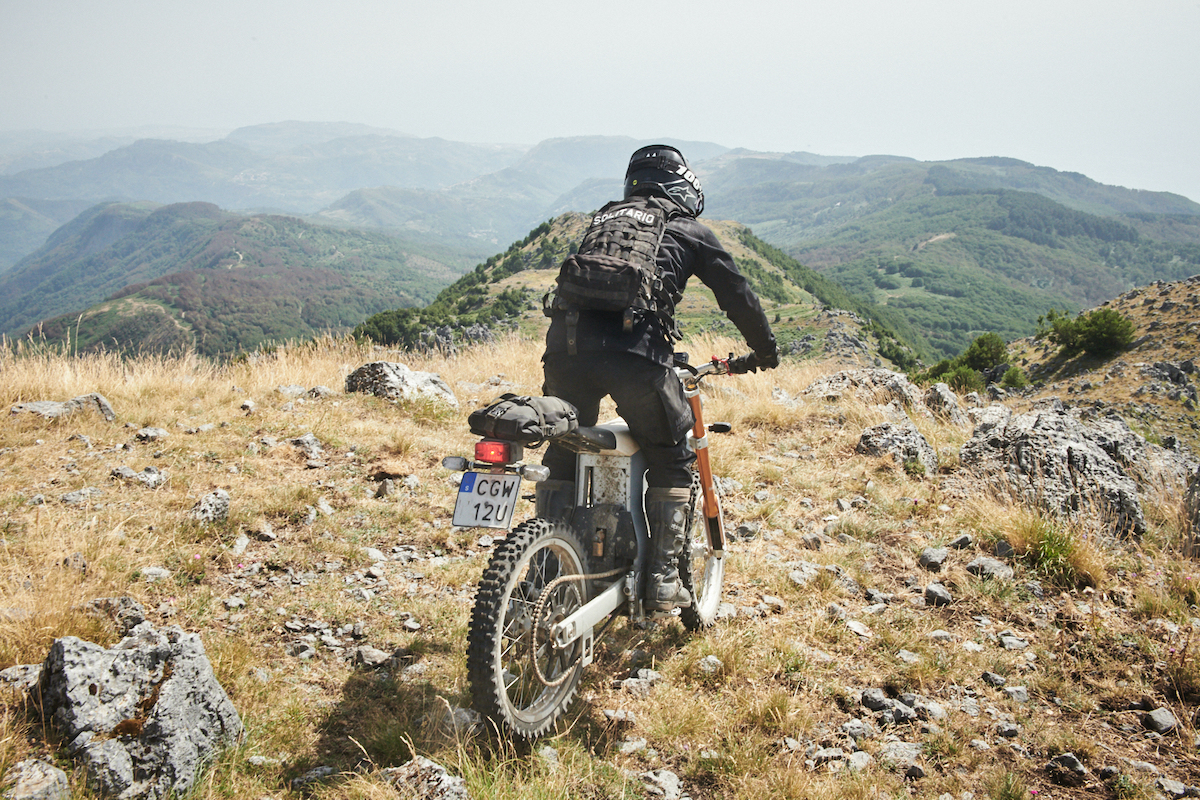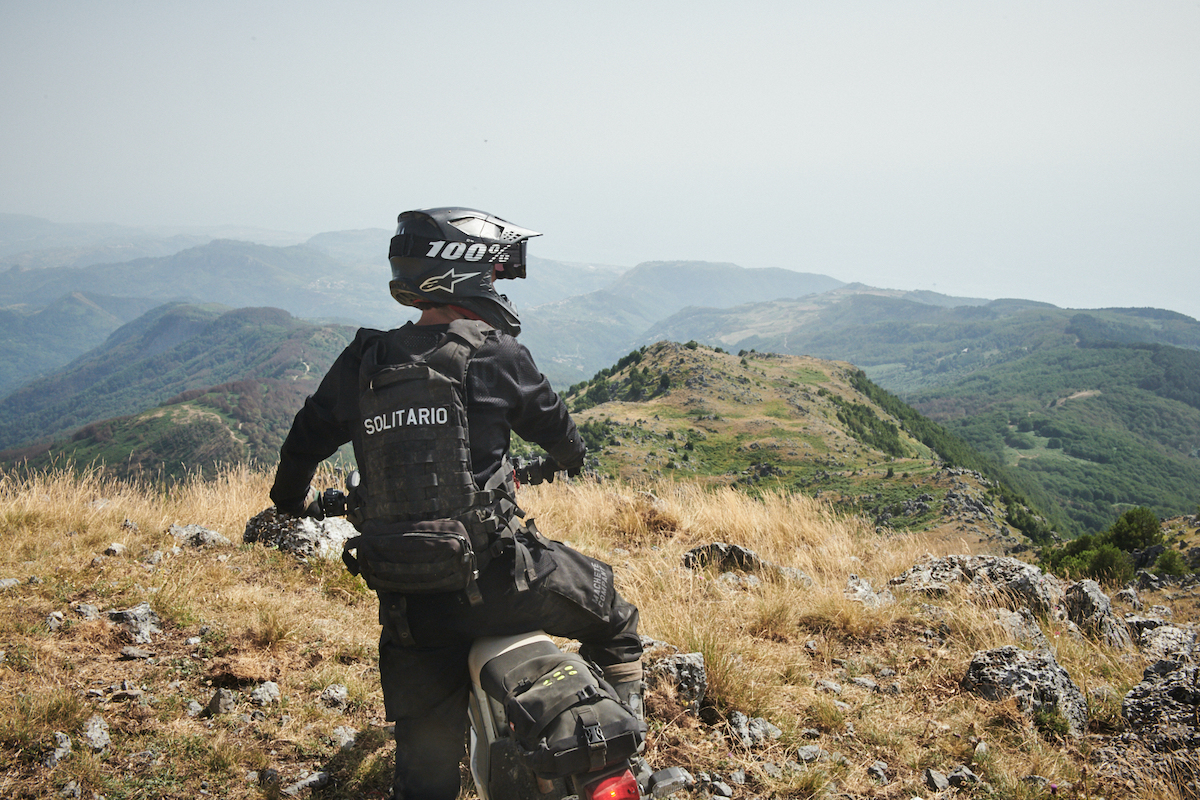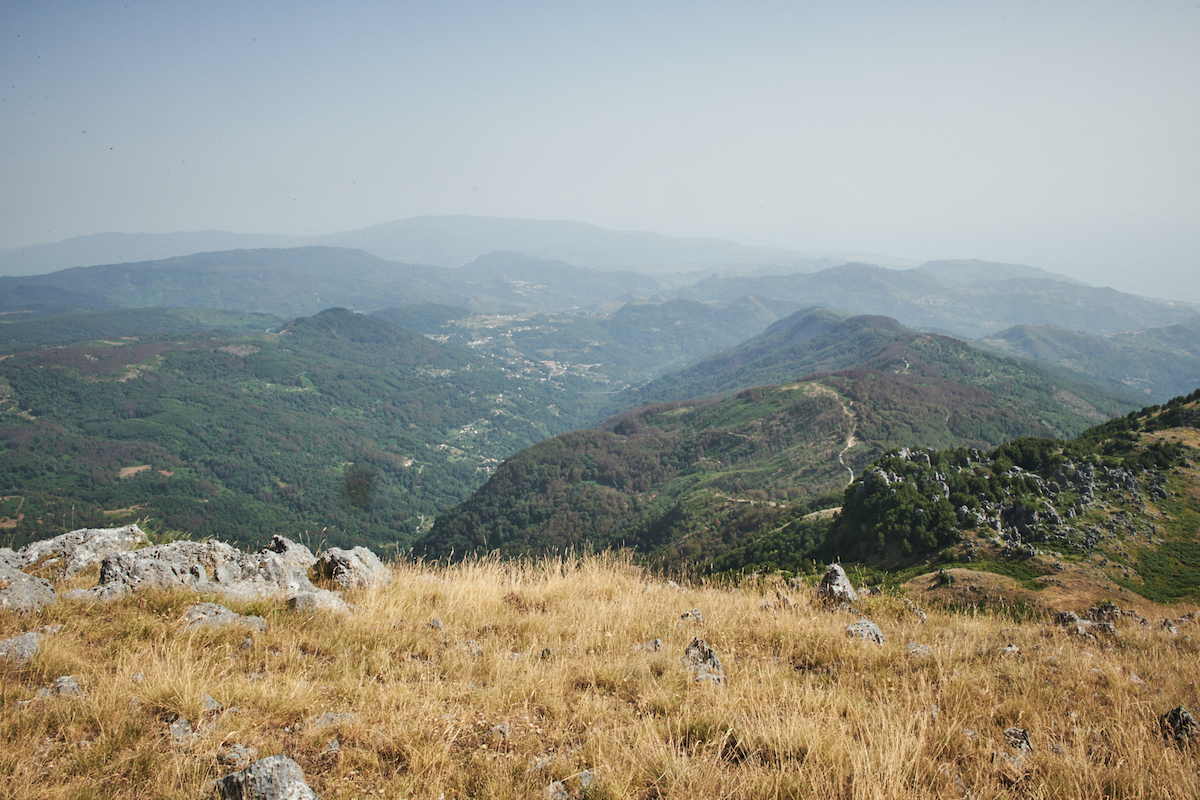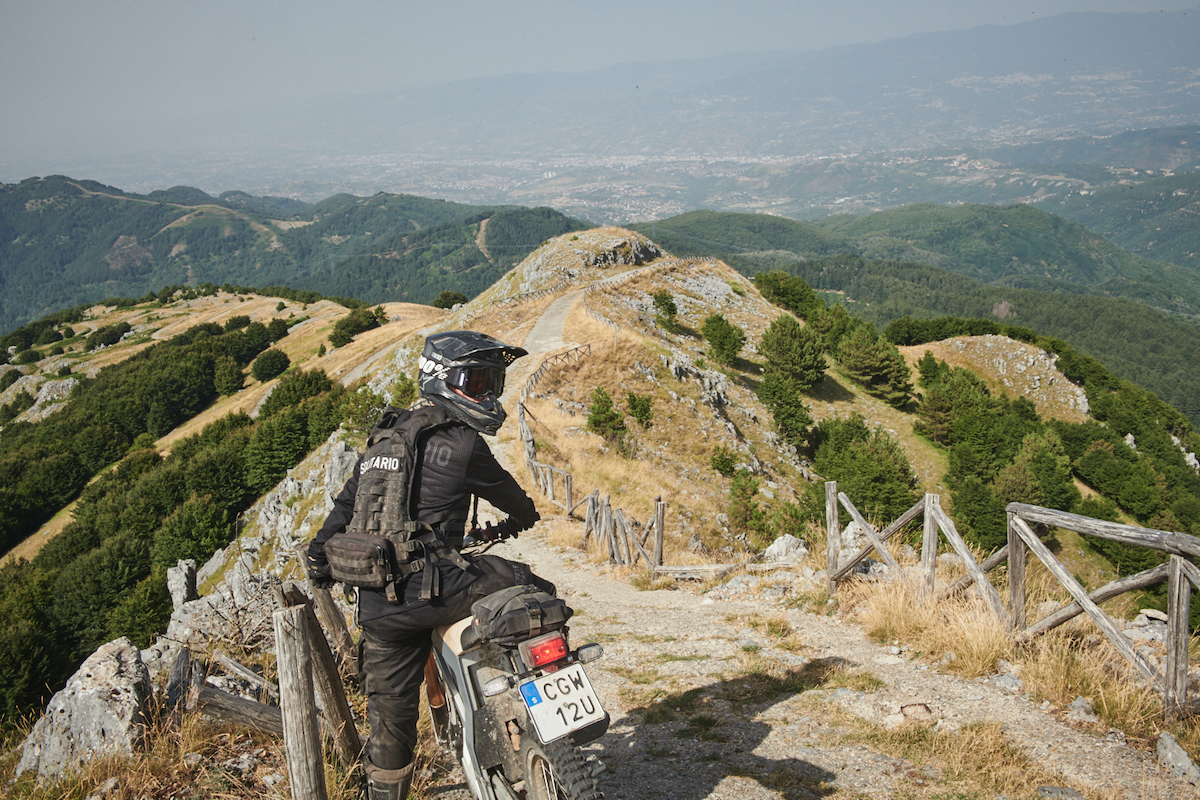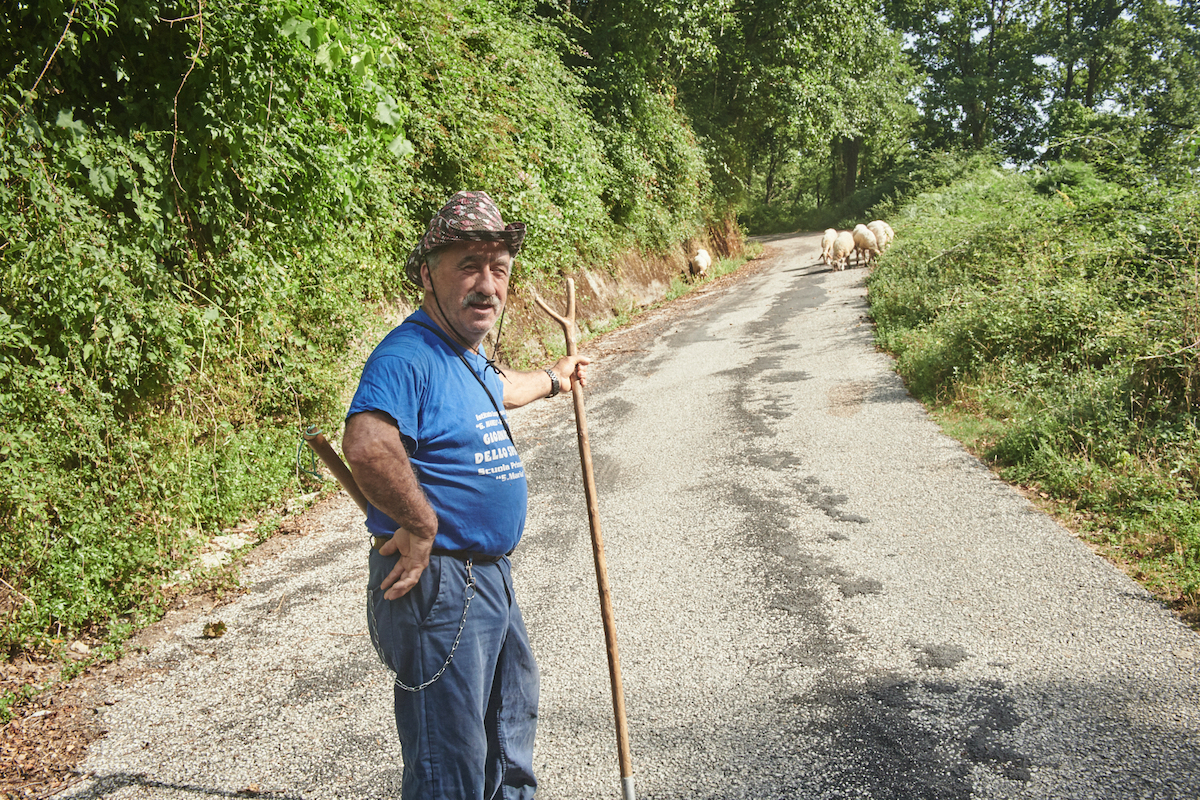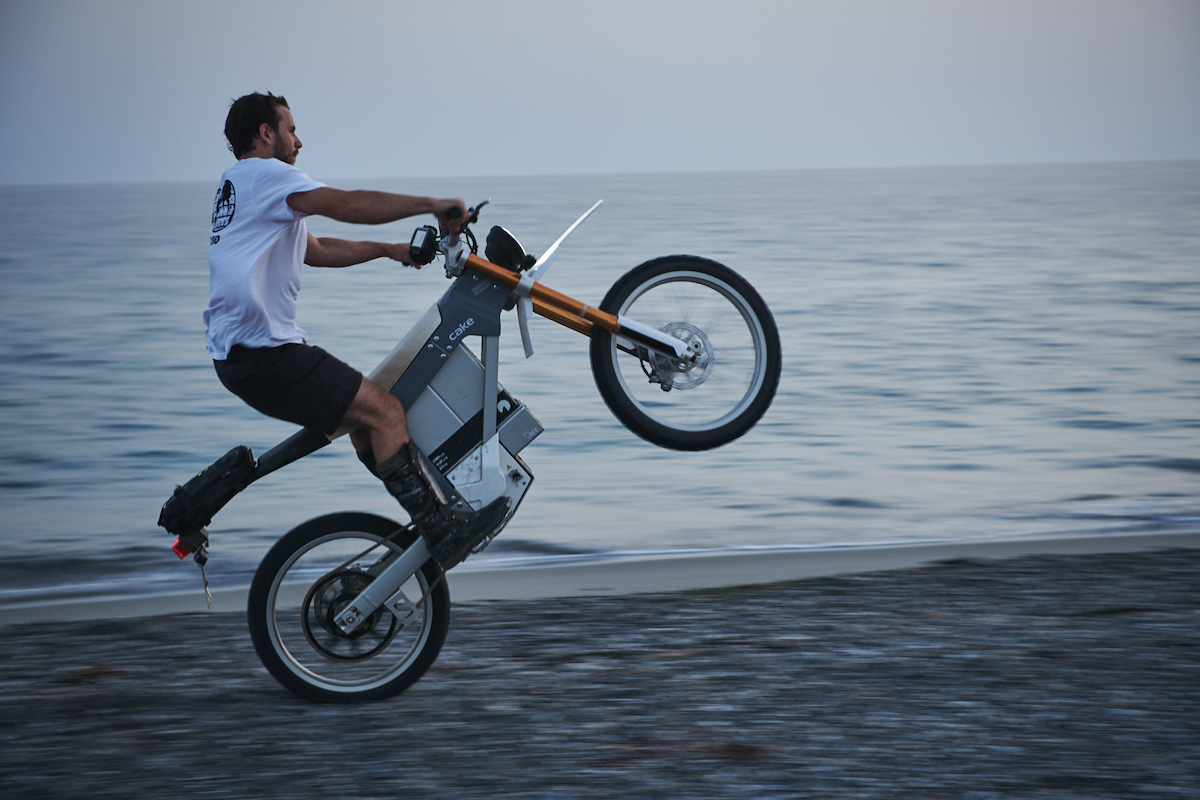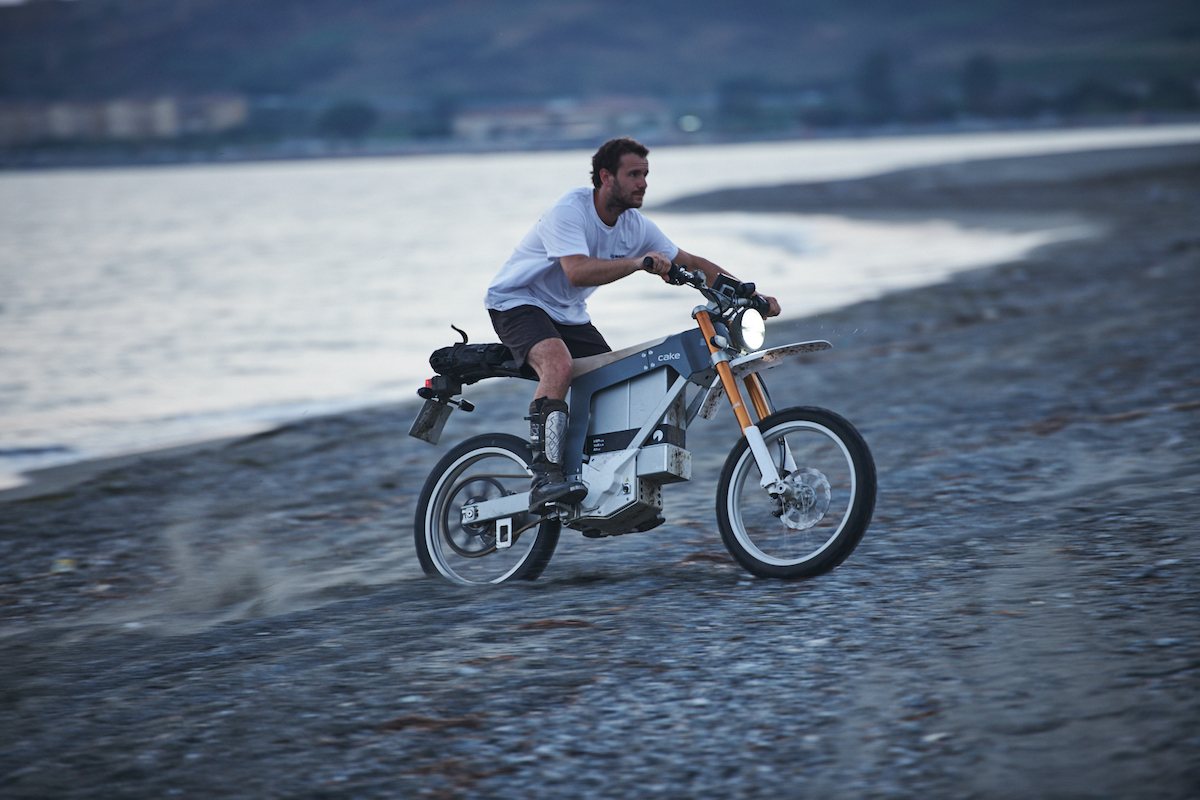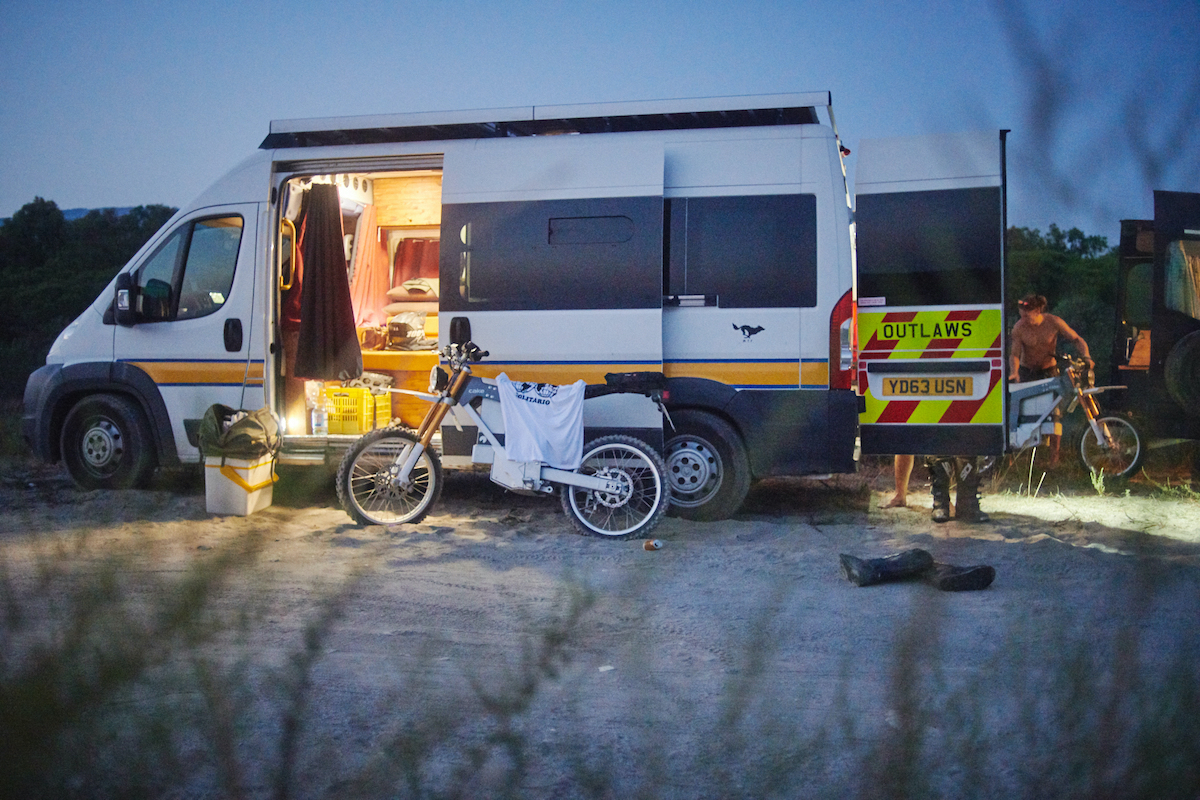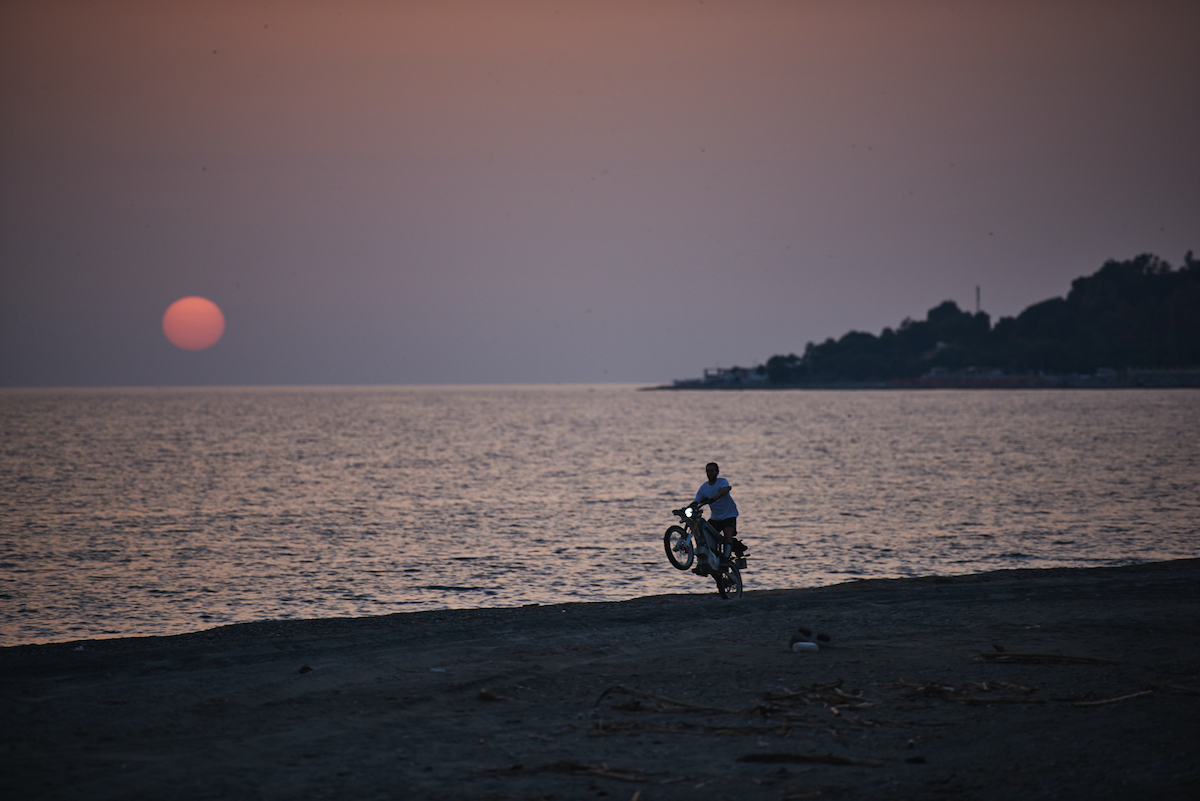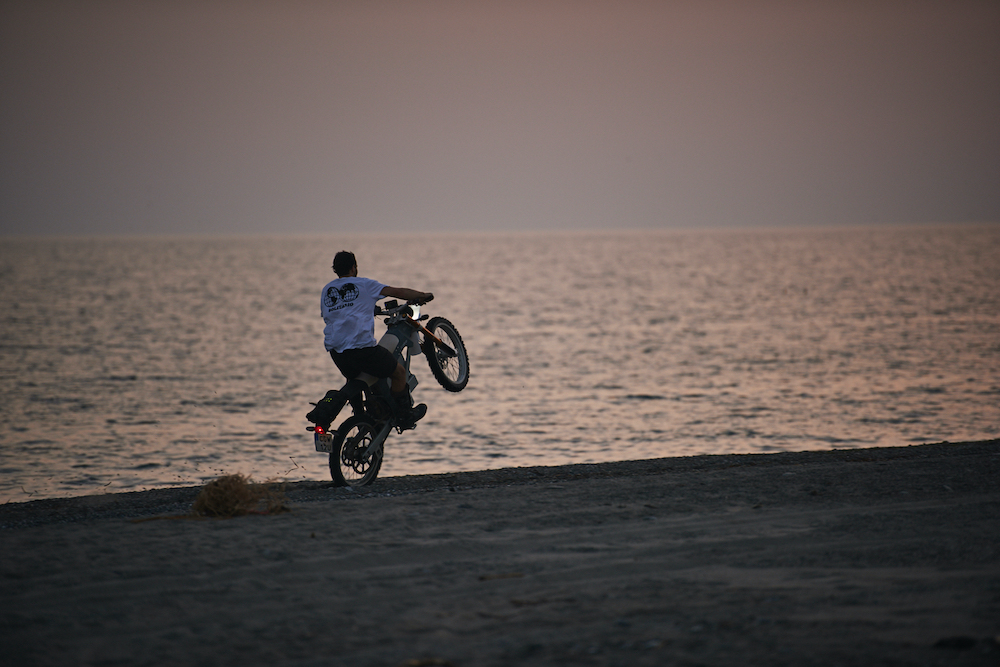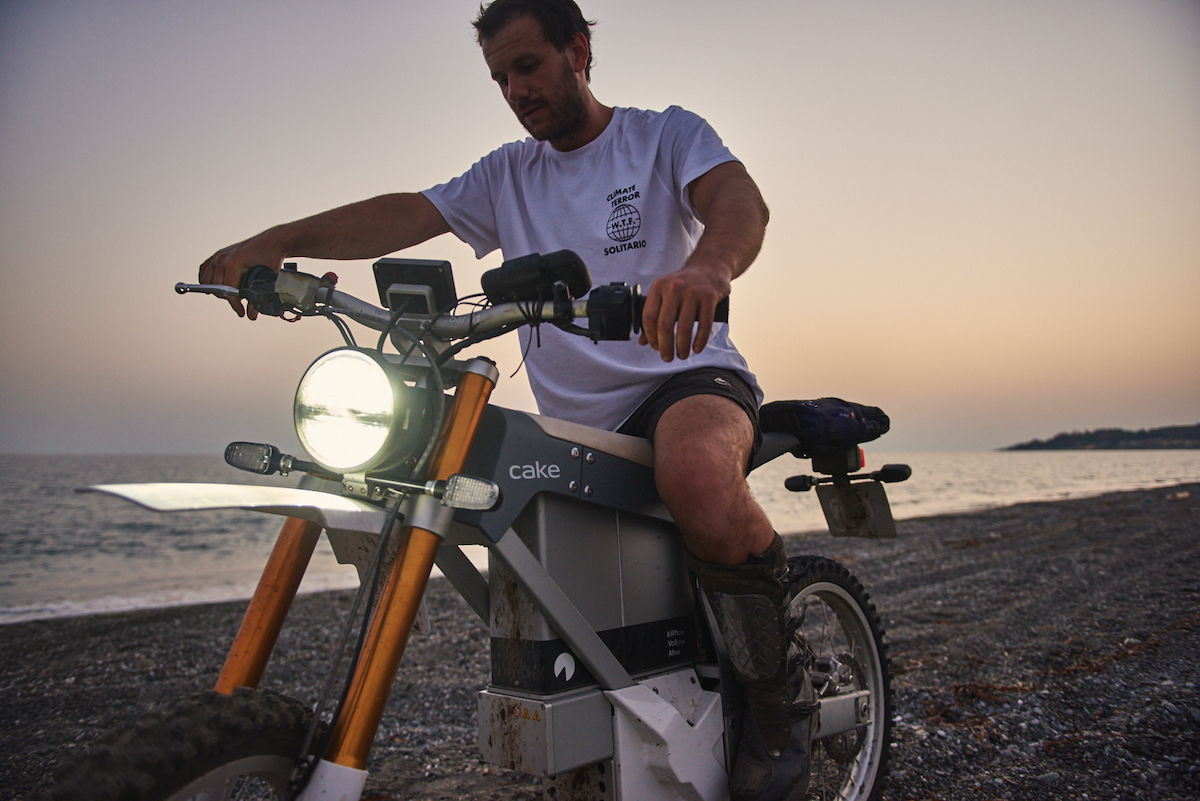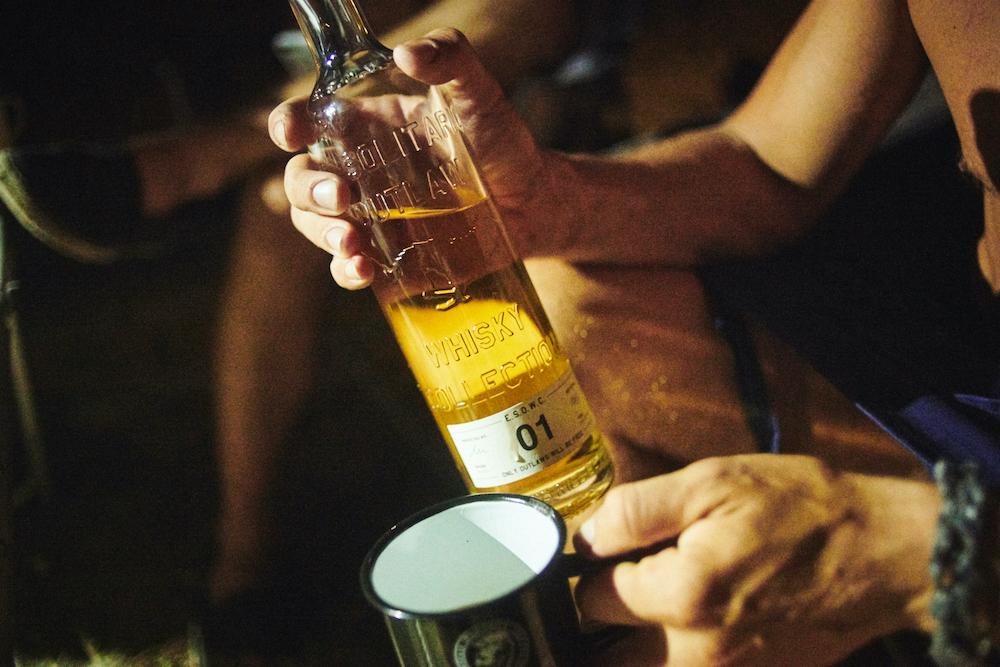 Thursday – Mortilla to Aspromonte
As I wake up and get off the van, to my surprise I see Jose has packed his bags and is ready to leave. He hoped there would be much more riding and since an old friend of his is sailing by, he's suddenly decided to jump boat. I certainly wasn't expecting that, more so after loosing Adelio for some serious stuff. True, we haven't been riding tonnes, but we rode as much as it was possible to, with everybody's needs always on board. Saddened and shocked, there is nothing else but to take Jose to the station as he wishes. It was cool to have him join, a great rider and man of many skills, but freedom is the most important thing we have, and everyone must balance that with their own values and priorities. So now 3 of us have 2 vans, 1 crazy worfdog puppy, 3 electric bikes, one petrol bike and a strong reluctance to fail. Difficulty level has just gone up some 10 fold, but this journey was never intended as a strictly planned enduro tour where you know what you get, rather an adventure full of surprises, and they keep coming! We rode, free camped, swam, drank, eat and travelled spontaneously so far, adapting as we could, and we'll keep doing that. We'll get up to Mount Etna one way or another. Malaka and Lesley are super keen to finally get their arses on the Cakes, and so be it!
All of a sudden a moment of lucidity wipes out the taste of disappointment. What if we drove to a spot in between tracks and rode both ways? Certainly we won't be able to do the whole route, but we would make the best of being here and now. 
And so we say goodbye to the beach for one last time on this trip, and head back into the Calabrese Small Alps to feed our thirst for riding. 
Near a spot called La Fossa del Lupo (the wolf den) we set up camp on a hidden path, with Malaka's van in the shade and solar powered Ambo in the sun. One thing noone tells you about solar power is you have to keep your vehicle always in the sun until it becomes a roasting oven! Leaving wolfdog Mia guarding the cool van, we set off with Lesley and Malaka on the Cakes, me on the XR (just in case). Riding the smooth trails of this thick forest is a great beginning for them. He has never ridden enduro, and she can't exactly reach the floor from the saddle, but the Cakes are super easy and fun and they are both as happy as a clam. If this isn't proof Cakes are perfect for different terrains and different skills riders, I don't know what it is. The ride slowly gets more intense and the terrain wilder, but the tall trees protect us from the mean sun and we just keep going.
Back at the camp it's time to eat and drink ice cold beers off Ambo's fridge (Malaka and Lesley have been rocking the food on this trip!), before relocating atop the Aspromonte national park, notorious back in the day as a hiding place for Ndrangheta (regional Mafia) kidnappers. The road up is super tight and crazy steep, with the vans just about negotiating the numerous 180 degrees' bends. Reaching the remote and solitary top forest in complete darkness, we are filled with awe by the vastness and incredible sound experience. With 2 mt visibility, strange animals singing (or crying, whatever the preference), and Mia occasionally howling in hyper alert mode, we set up a surreal dinner experience that's more like a Blair witch Project set.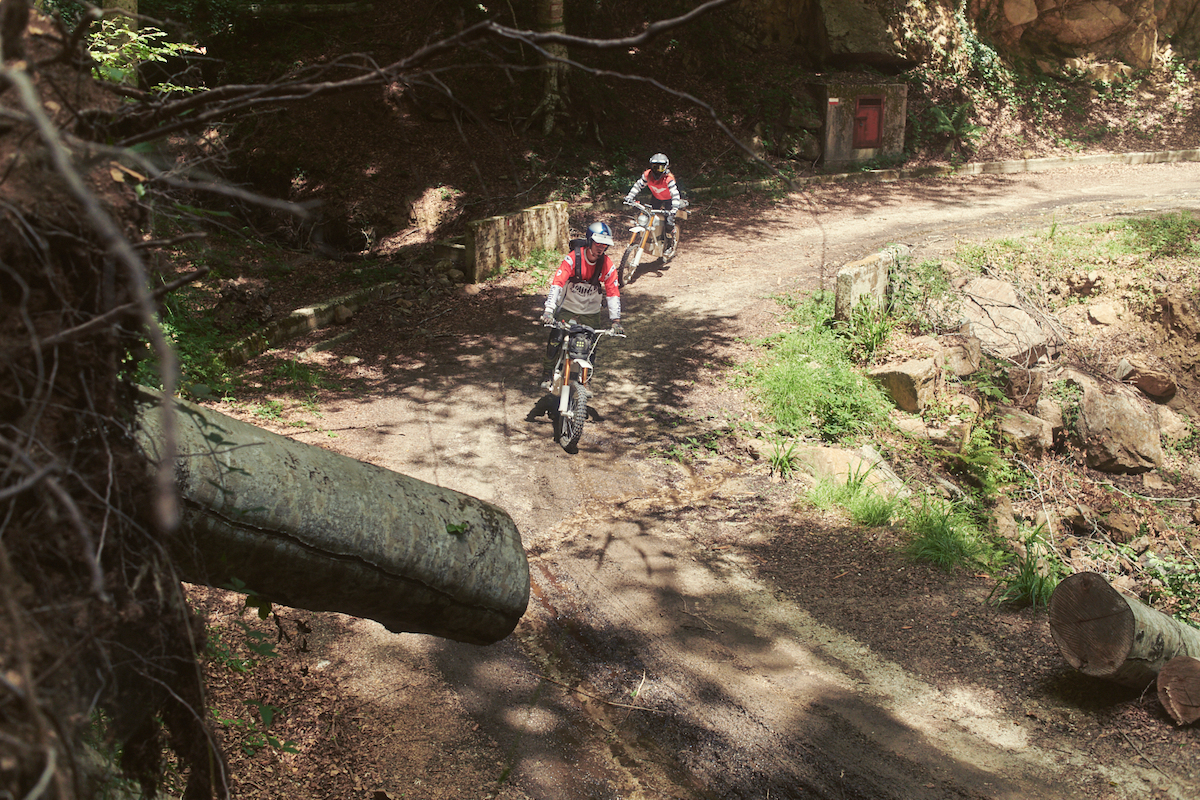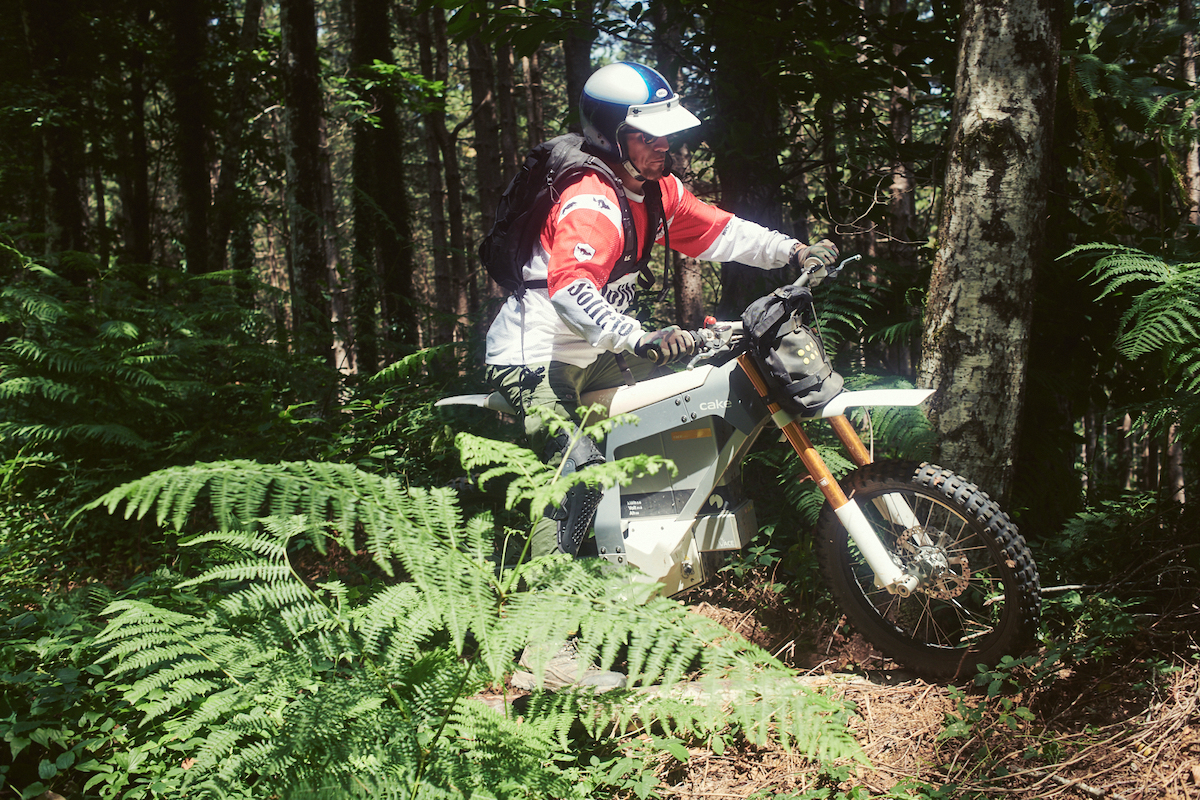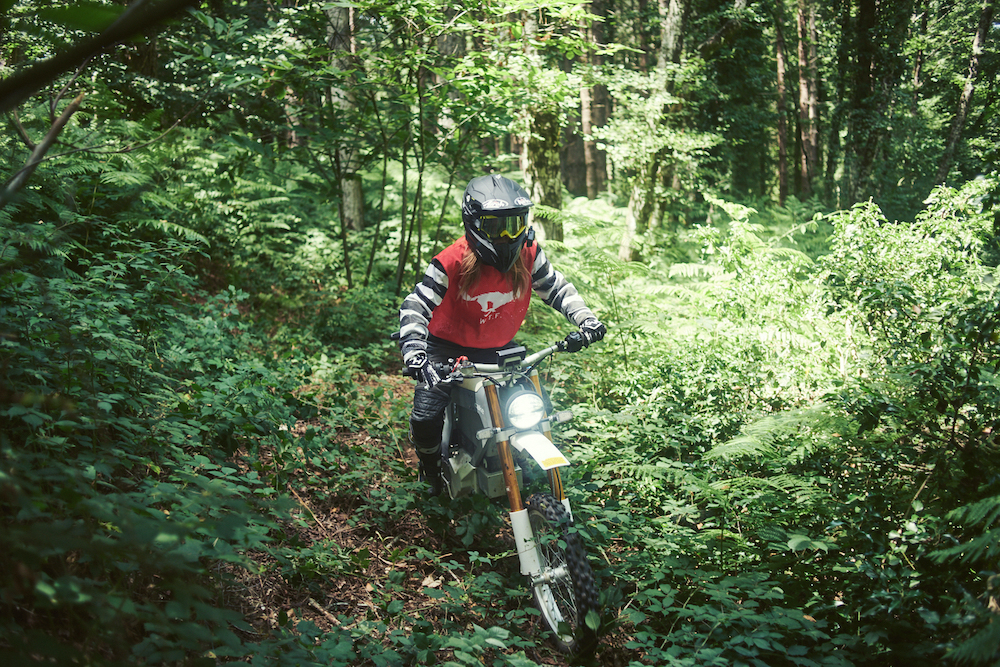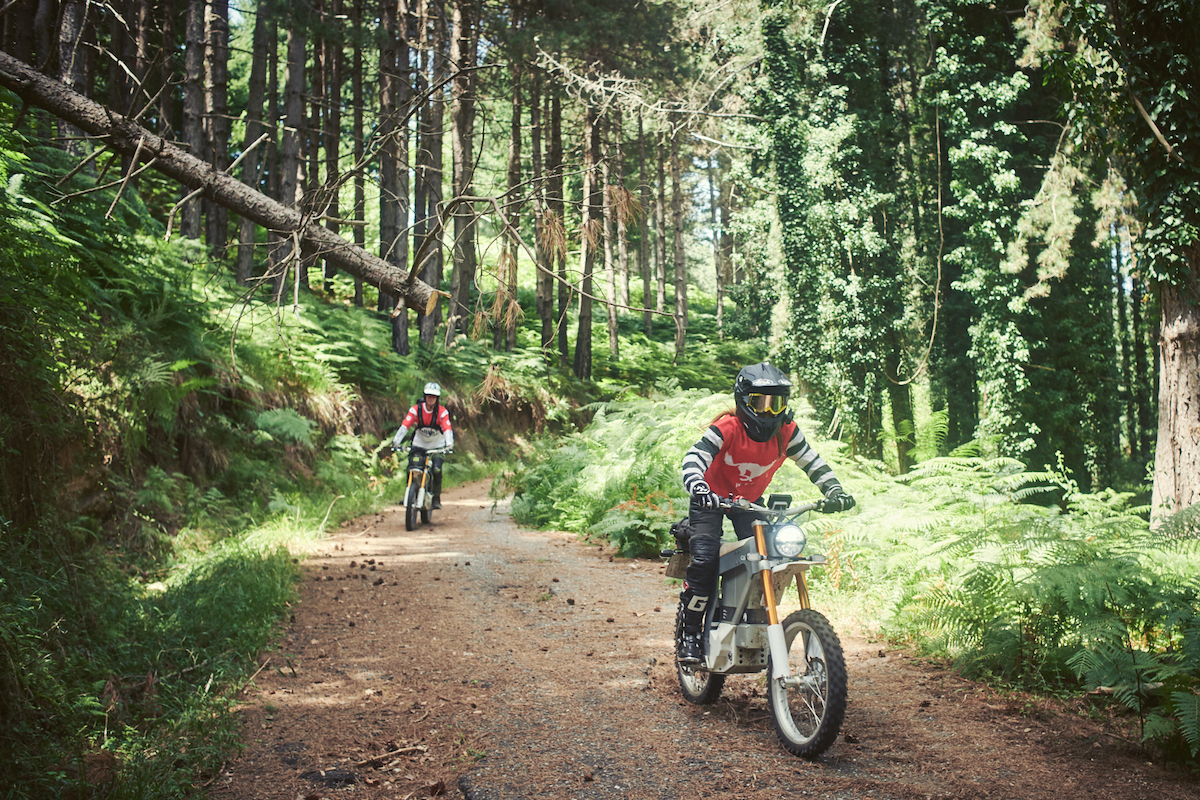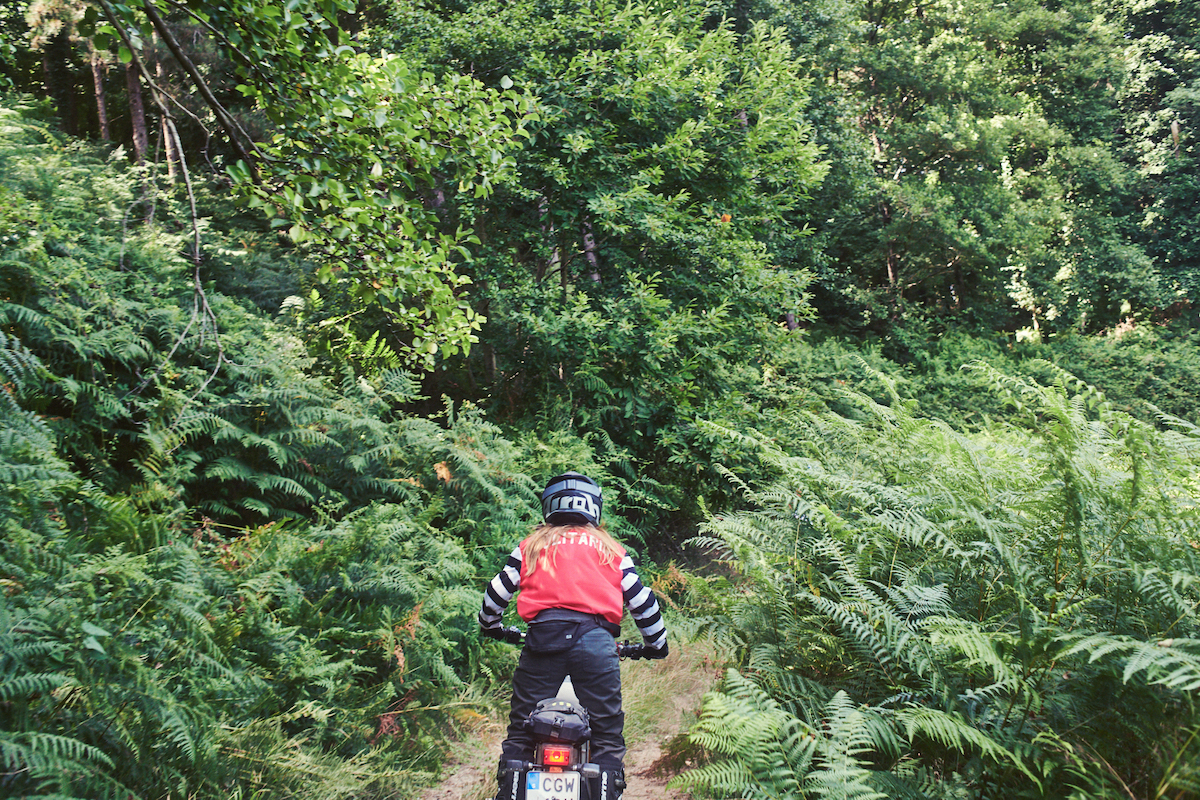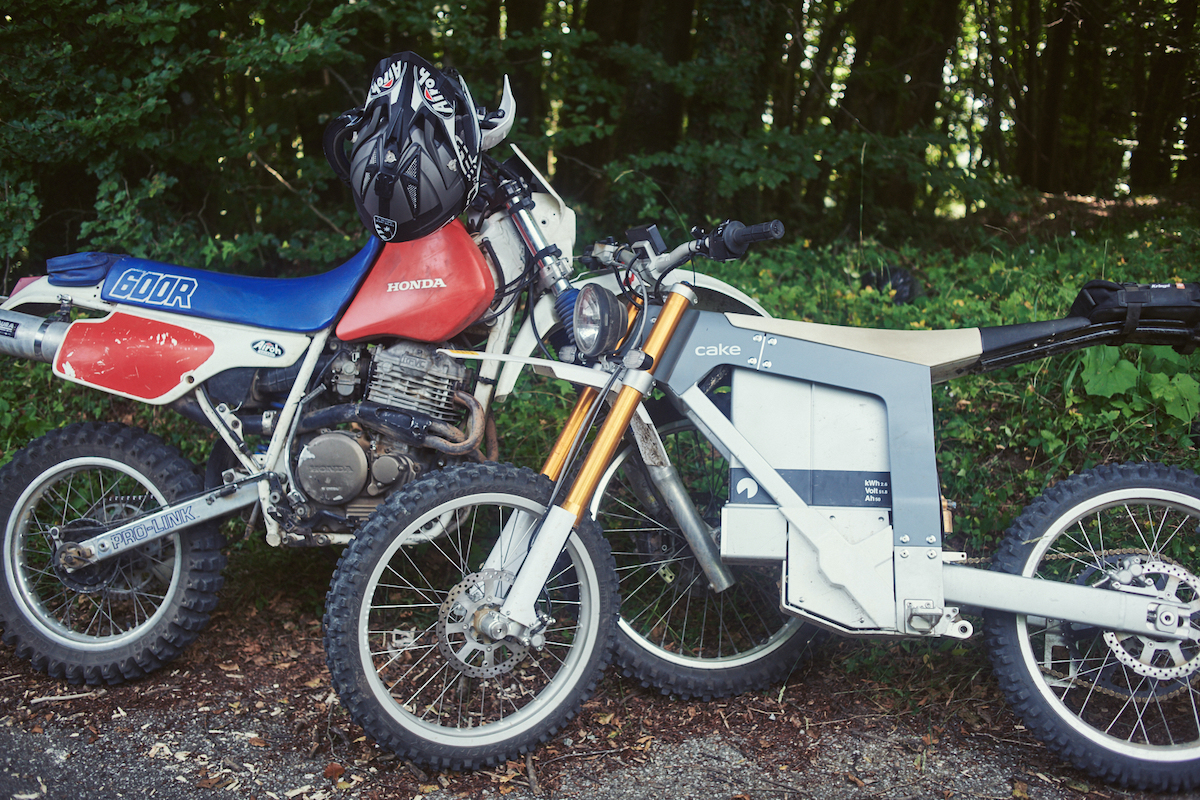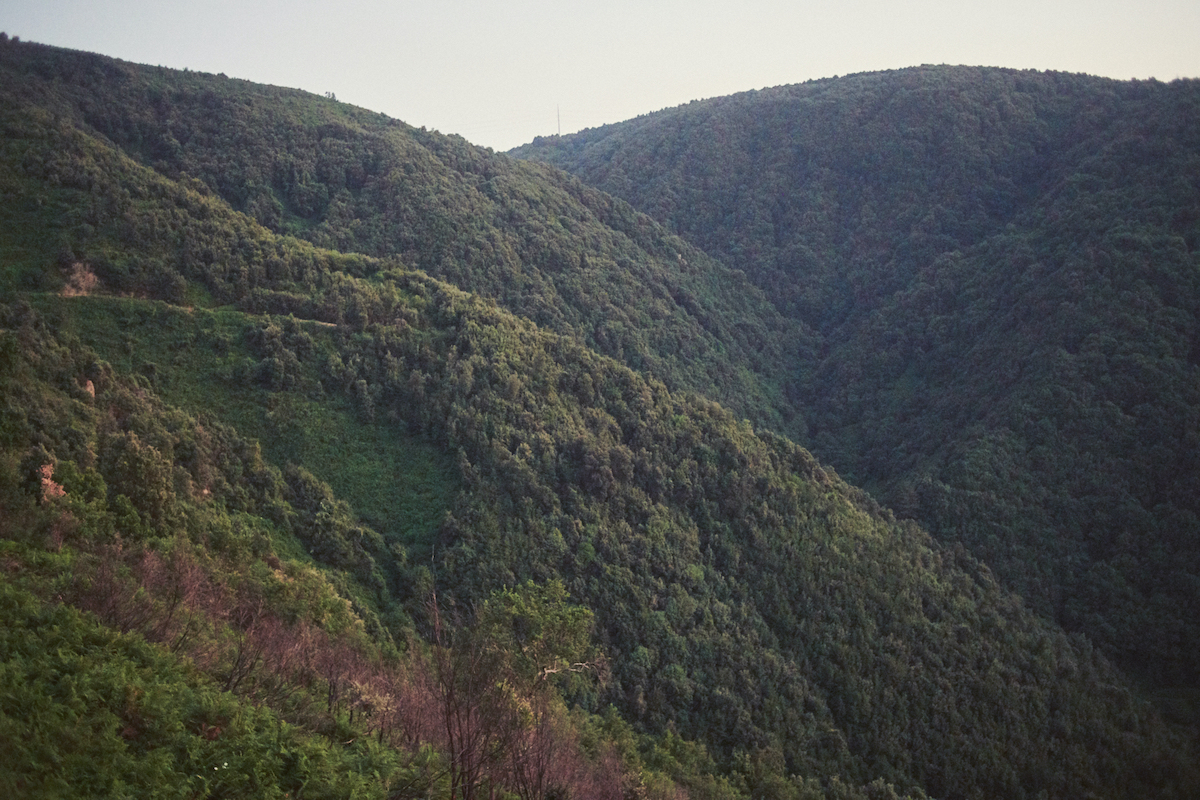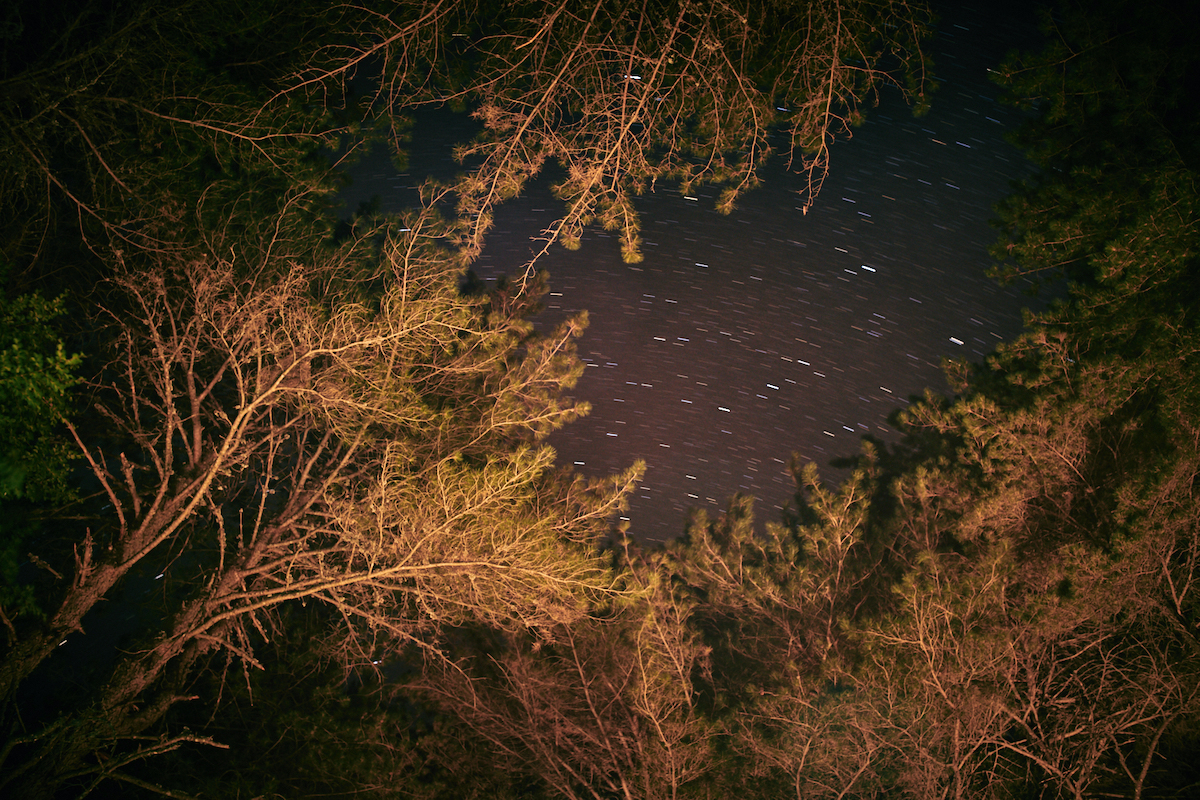 Friday – Aspromonte to Mandanici
As we wake up on the Aspromonte park, what the previous night seemed a haunting movie this morning seems the promised land of adventuring. We are at the top of a real thick and tall pine tree forest, with small trails and offroad wild pistes going in many directions. It's now time to take the guys out of their comfort zone. Excited at the view of a slightly wilder path that may cut through the trail, I lead them onto a path off the gpx track for a rocky downhill of thicker and thicker vegetation until we reach a climb that's just too hard for them. But how to know your limit until you reach it? 
Racing the mysterious and wonderful forest without a single other soul around all morning, we arrive back at base camp to realize Malaka's van has a flat tyre. He's got a spare attached to the rear door but for the life of me he hasn't removed this in about 8 years and it just won't come off. I just got my riding gear off and I'm in my underwear banging a hammer on the spare tyre pivot like a crazy man when a small car with 3 locals stops by. Surprised and somewhat shocked by my look, Massimo, Angleo and a kid named Franco, who are on their way to look for mushrooms, ask if we're alright and offer to call their pals for help, only after I put more clothes on… "as people around here are quite traditional". They call some friends running an emergency tyre service for buses who arrive to us on the mountain top some 3 hours later. Coming here from downtown is not a small task, yet these amazing dudes accept no money for their work, offering one of a kind hospitality and even beers while we wait! What a service!
As we finally descend towards Villa San Giovanni to get the ferry over to Sicily, we see the spectacular island in the distant sea mist and start savouring the taste of victory.
From the top deck of the half hour boat to Messina, Lesley, Mia, Malaka and I see for the first time the several mountain fires savaging the epic island. Somewhat concerned and excited, we get on the road to reach our spot for the night, hoping it's not on fire, but once again climbing the most ridiculous one laners through tiny villages along the eastern coast, we reach this place in the Natural Reserve of Fiumendisi and realise our spot on the GPX is right across from a small but quick fire. We are some 1000 mt high and the lively wind is blowing hot and smoky air our way, but Lesley is a fire safety expert and after a scan of the surrounding area decides our night spot is safe – as the the fire won't be able to descend the mountain and cross the dry riverbed to reach us on the other side. We set up camp and have dinner in front of the craziest and most unbelievable spectacle.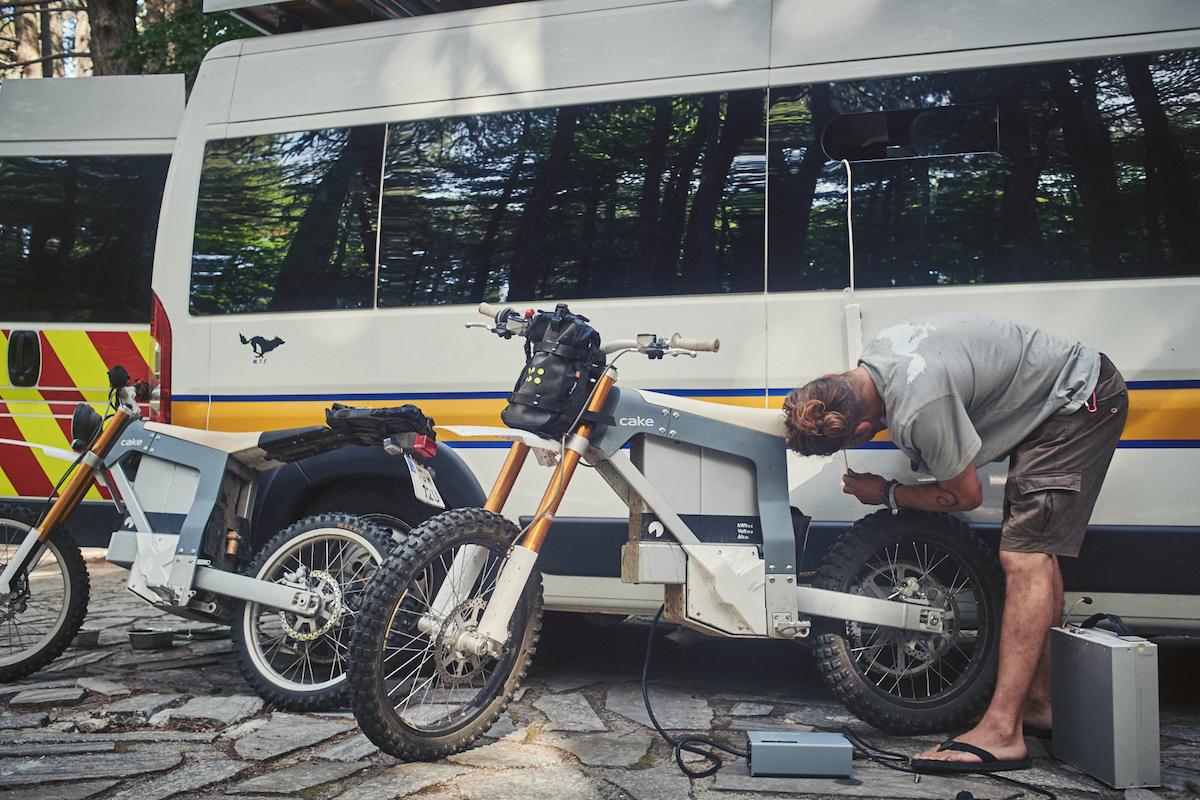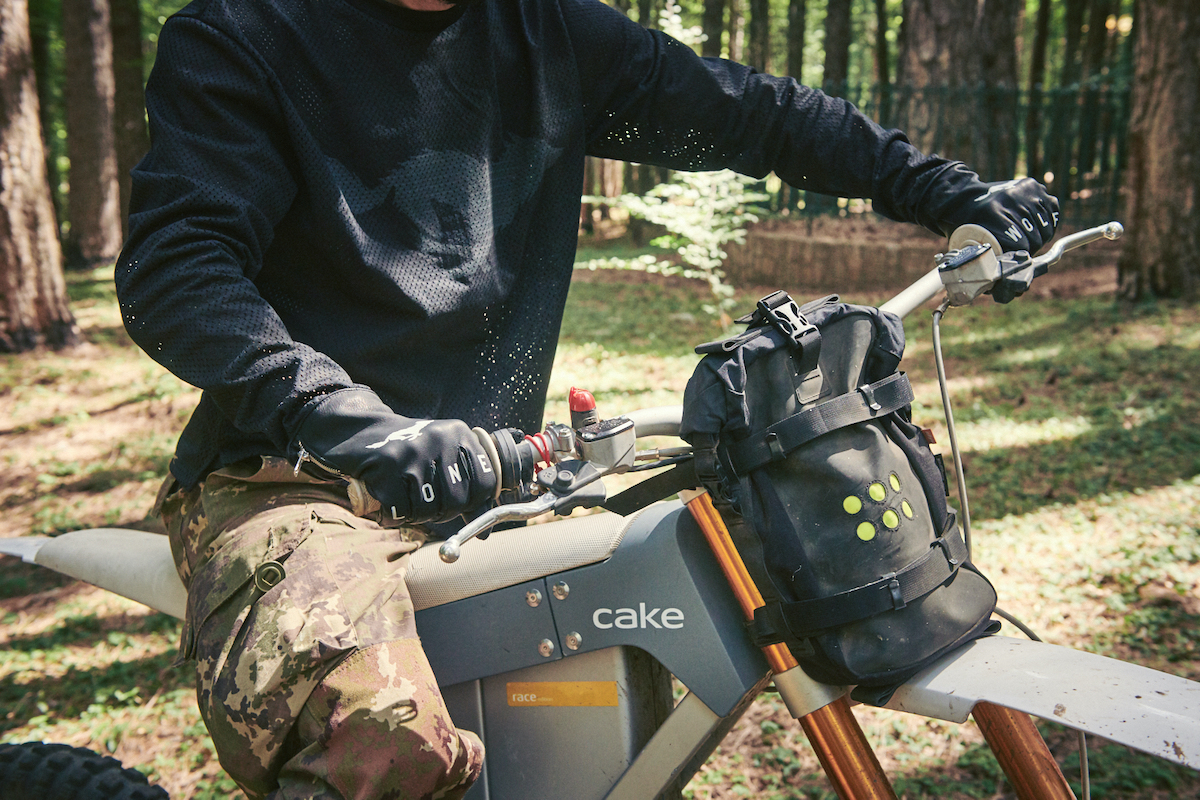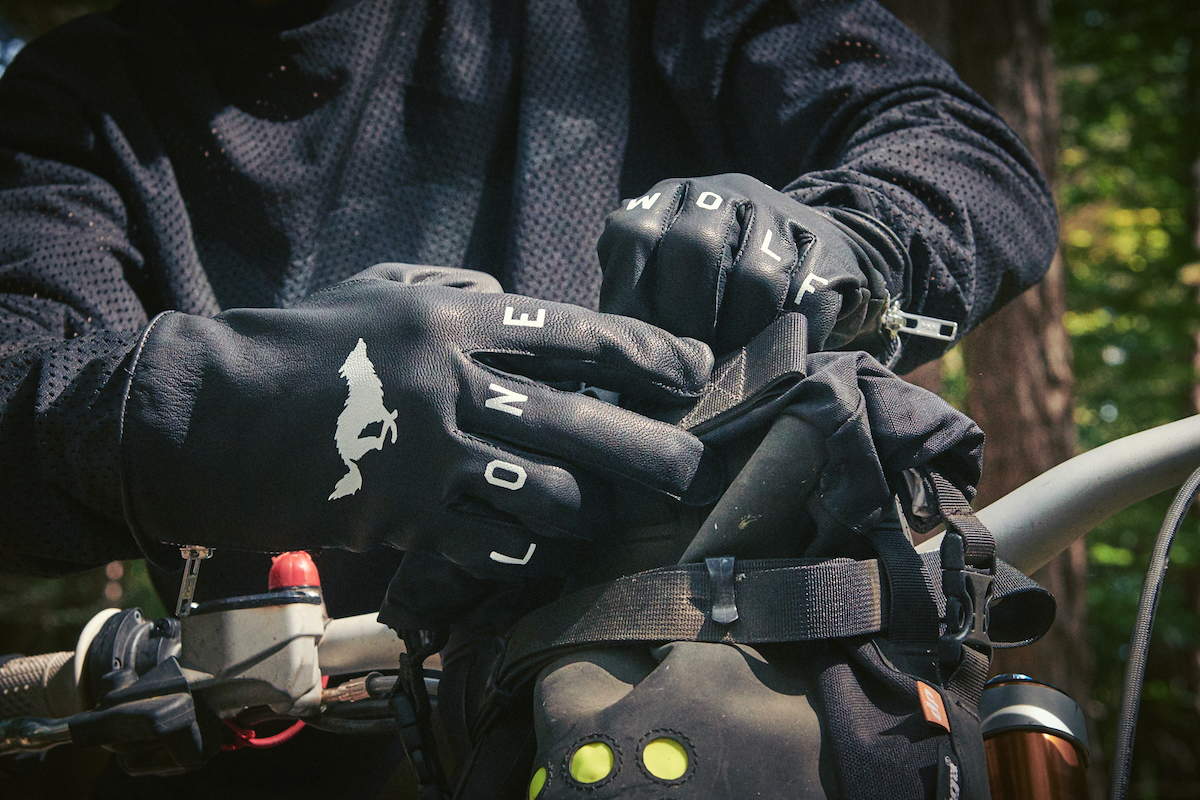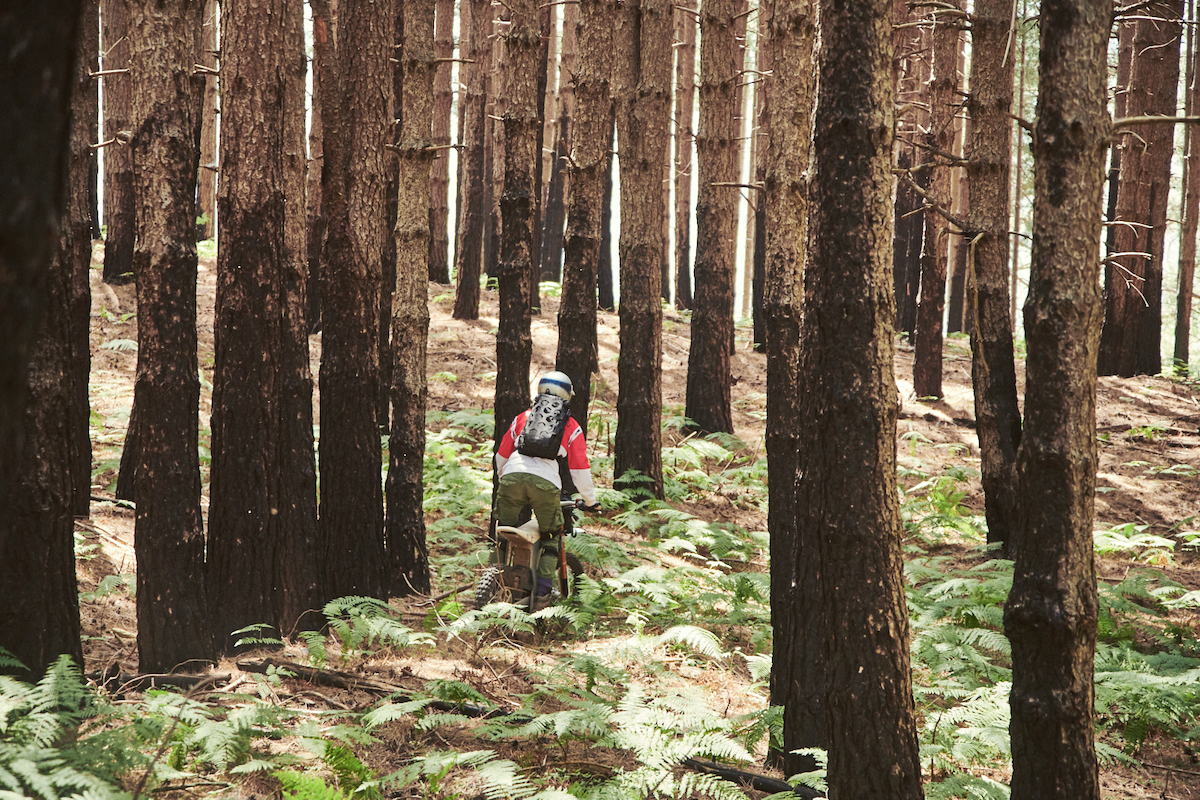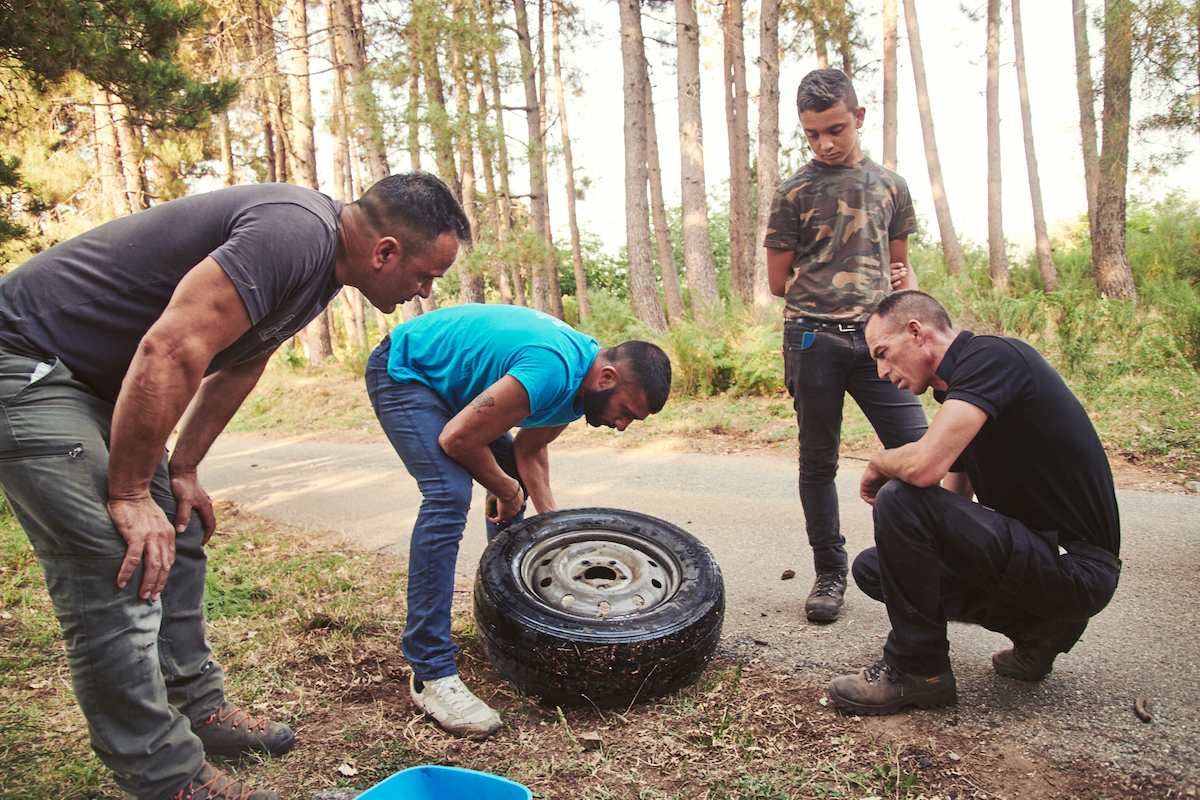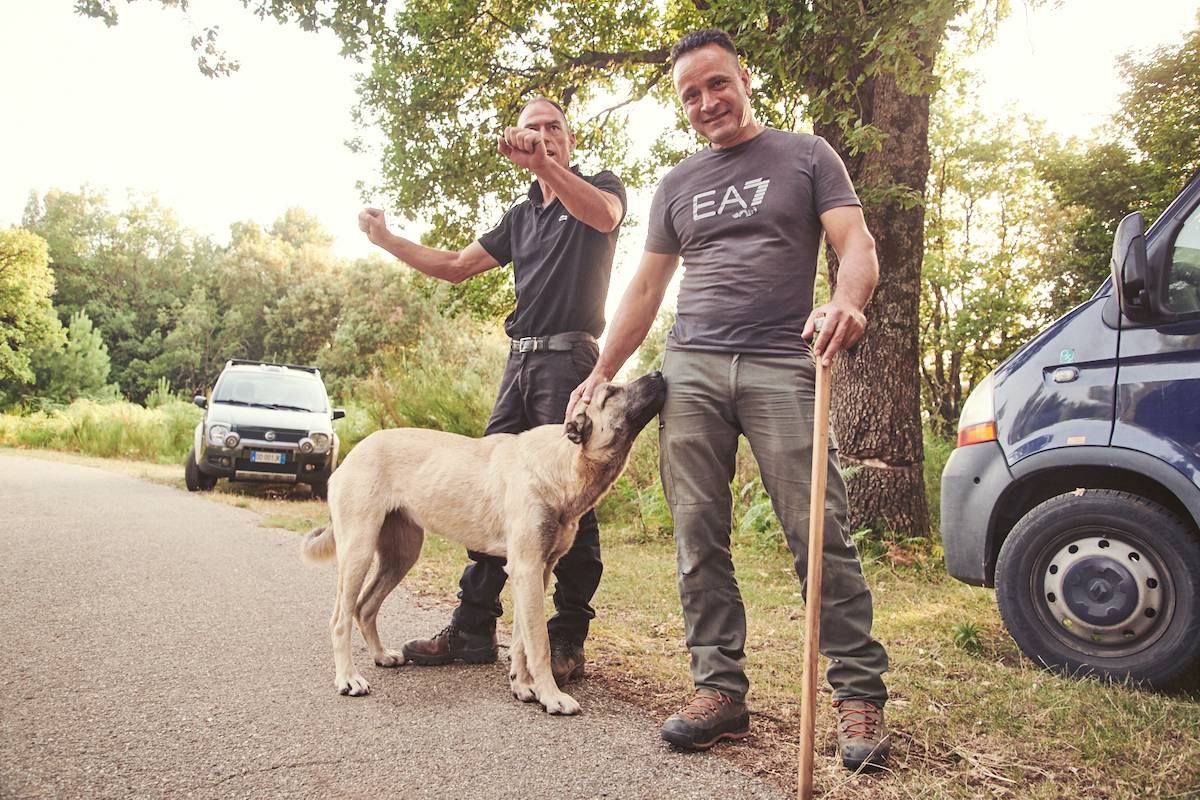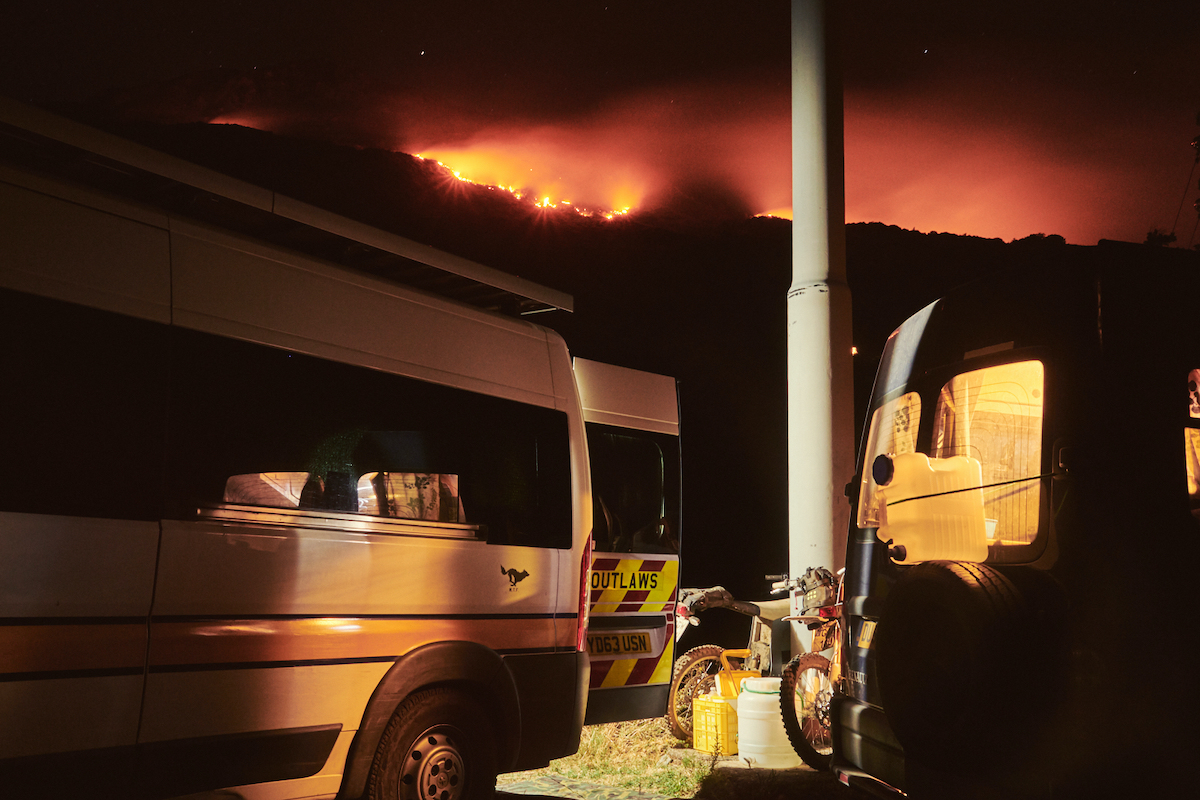 Saturday – Mandanici to Linguaglossa
Waking up to a strong smell of burnt woods, we realise the fire has moved more than expected, and it's now about to reach some nearby houses, but it cannot reach the vans, so we get ready and jump on the bikes to go survey the damage. We ride up the mountain by a bunch of locals shouting at us not to go further, but we continue and reach a key spot with forest police and fire brigades at work. Sicily is probably the only place in Italy where the authorities are nice to you and will even wave at you riding in the national park. Coming from a totally different reality, this is a welcome experience for us, even if the present situation stinks. They must know 'Enduro is not a crime'! We chat about our trip, their work, and the bloody fires, until they wish us good luck and we take off for next door mountains and some amazing trails to the top. Thankfully the fire doesn't cross our route so we can keep going up and up through rocky paths and amazing views, passing lazy cows and even looking over the mountains on fire, until the bike batteries go below half, and it's time to go back to Mia who's been patiently waiting for us in the van. With windows open and top fan on, she must have sensed danger was around the corner and is crazy happy to see us return.
Driving on the coast by the beautiful and busy Taormina, we're finally heading towards our final destination to find a camp spot on the side of the huge Mount Etna. A little scouting of the national park dirt lanes and we find a wonderful flat spot not too far from the main road, yet well hidden in between the green, partly shaded, and just perfect to camp without being noticed. We are thrilled to be here as it seems unreal we've actually made it this far with all the misadventures we've been through. Everybody know it's not the destination that counts but the journey, but this destination is damn cool and just the cherry on the Cake. The sun is still up and it's probably the first time on the whole trip we make camp before sunset. We've even ridden all morning! Well hyped, we ditch any lunch ideas and jump on the bikes for a first ride on the black mountain. With soft sand and small rocks on top + solid rock underneath, the terrain here is super grippy and just amazing, and it's crazy fun to ride fast through the trails with quick jumps and countless up and downhill twisties. 
Finally, back at camp we're in real high spirit and get on with toasting beer and wine. We've made it this far with enough spare Cake batteries to have a fat ride tomorrow too, and we party to a great sense of releif and comradery. But the night is far form over. Sipping homemade Limoncello after dinner, up in the darkness of the formidable volcano, Malaka spots Etna erupting. It's unbelievable. Until yesterday it was sleeping, and it seems this Sicilian giant just woke up for us. Totally overexcited we decide we must immediately ride to the top to check this out, me and Lesley on the XR, Malaka on an almost empty (battery) Cake. We ride tarmac for 10 minutes with our headlights on, when all of a sudden I realise I'm riding just to my dim old school bulb, Malaka's gone. He's run out of battery, but we can't stop half way. We didn't so far and we won't now. Giving up in the face of aversions is obviously not our style, so joining two Kriega spare straps we carry in the tail bag and tying the two bikes together, we continue the climb with the old tractor pulling us all atop. It's a dark and hilarious ride, but at last we make it to the furthermost view point where some kids ecstatically playing football (after all it's Saturday right!?).  They have probably seen this scene countless times before, but none of us has ever witnessed a live eruption, least of all at the end of such an amazing journey. We are completely amazed by the scene and walk away from the kids' noise to sit together, marvel at the the power of the earth, and make future bonkers plans to the last drop of El Solitario Outlaws whiskey.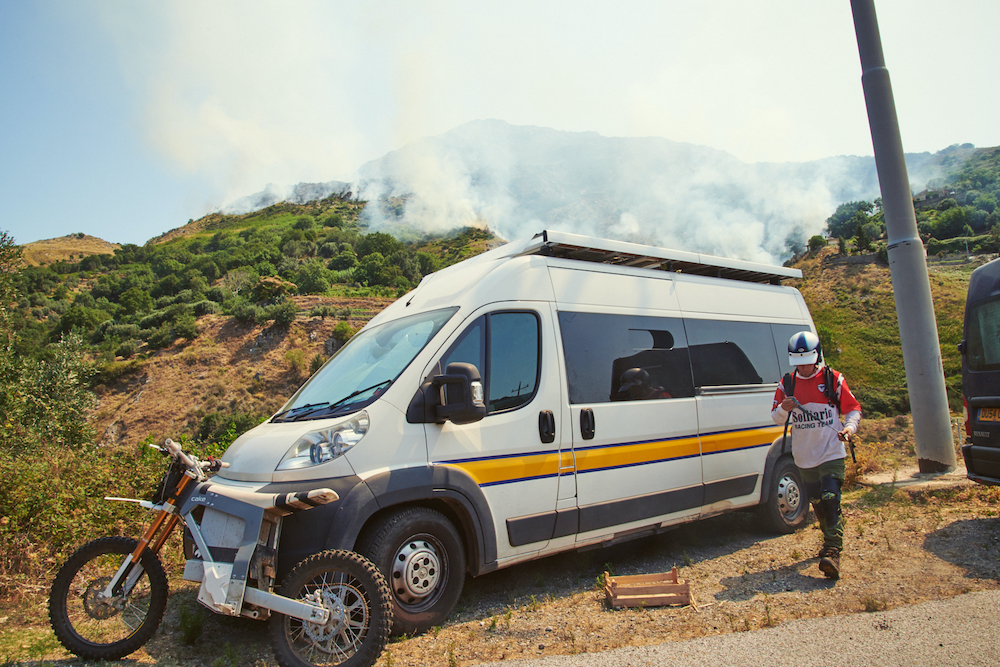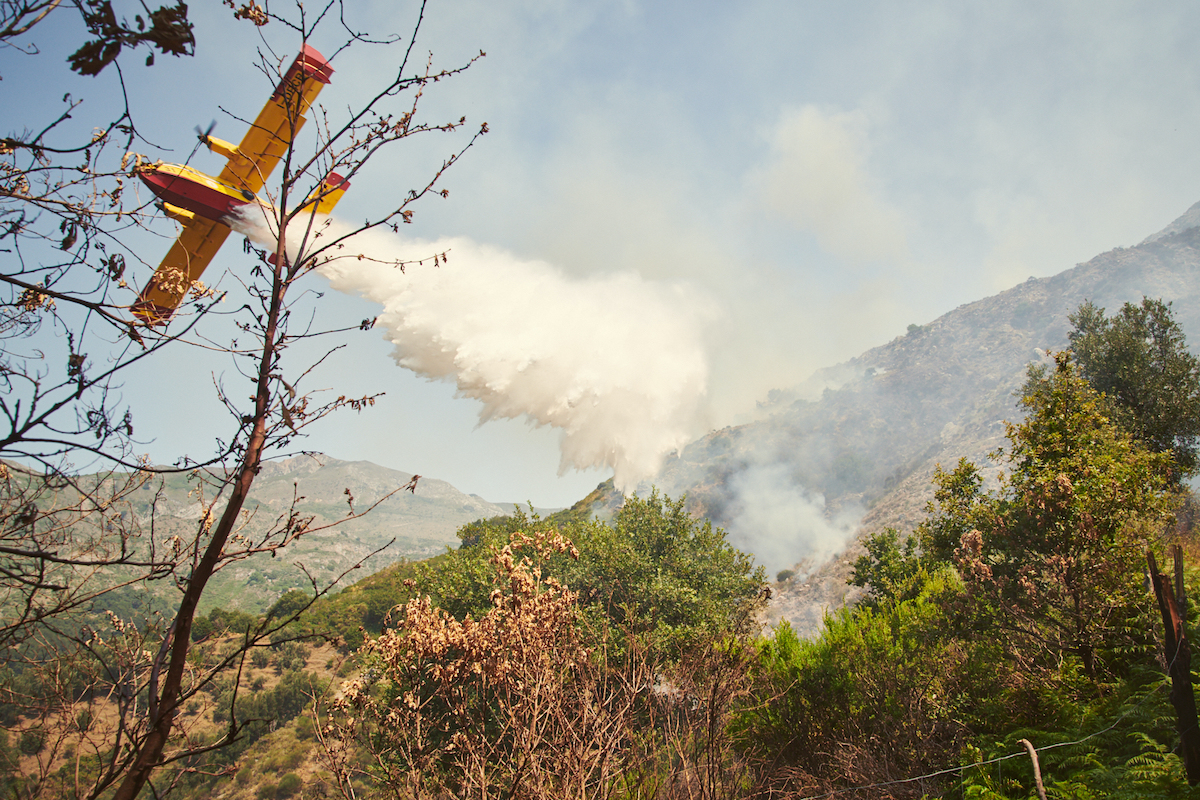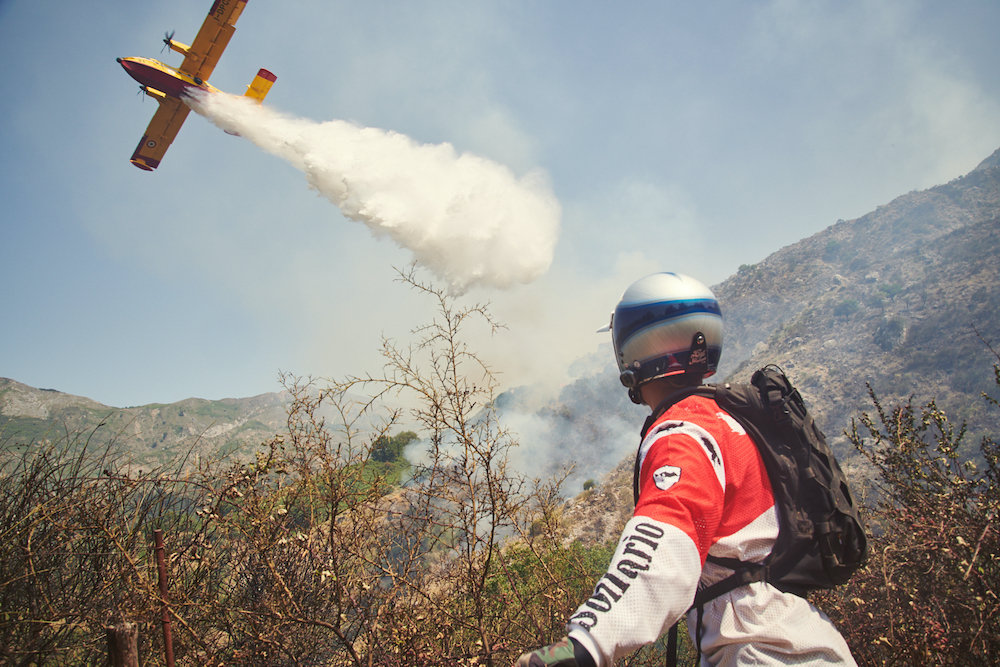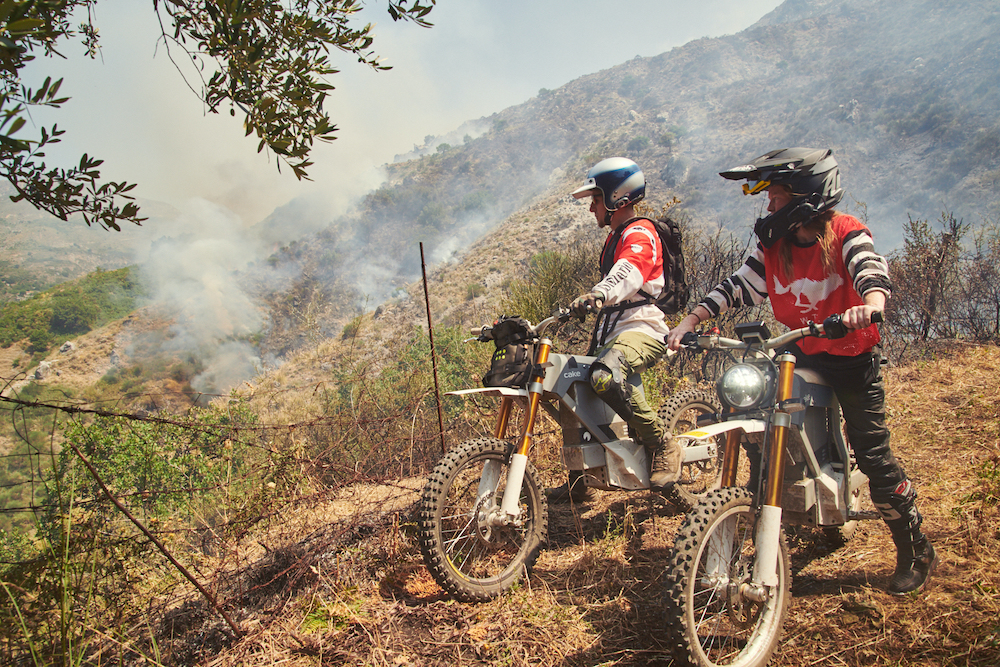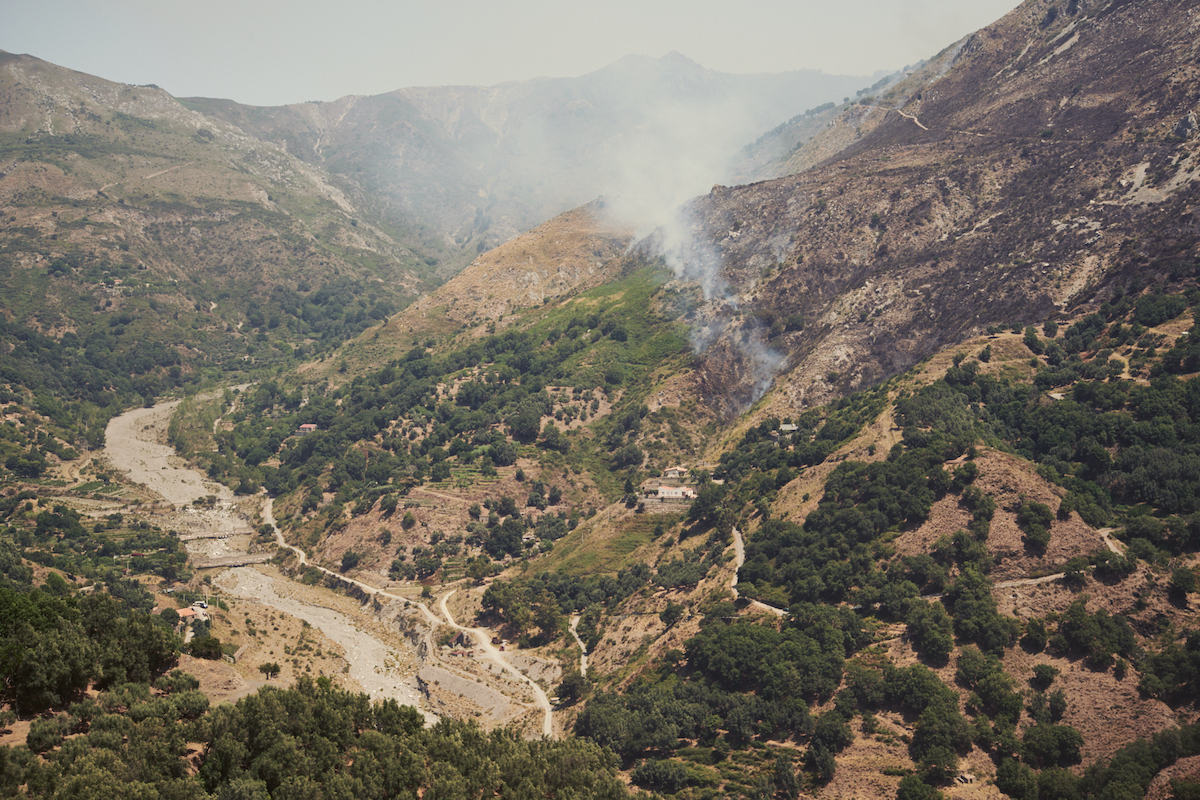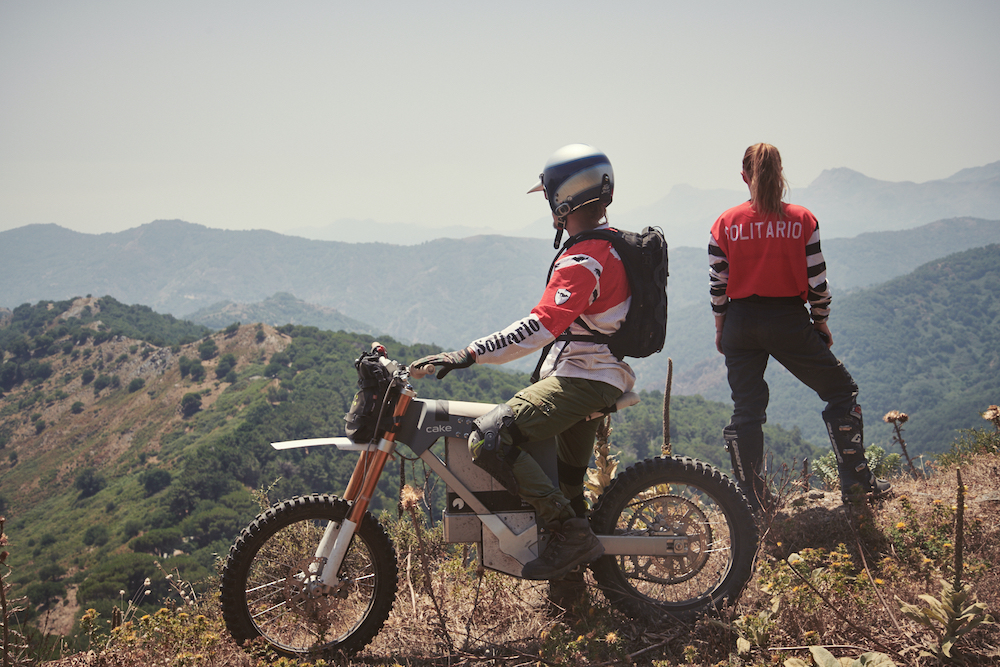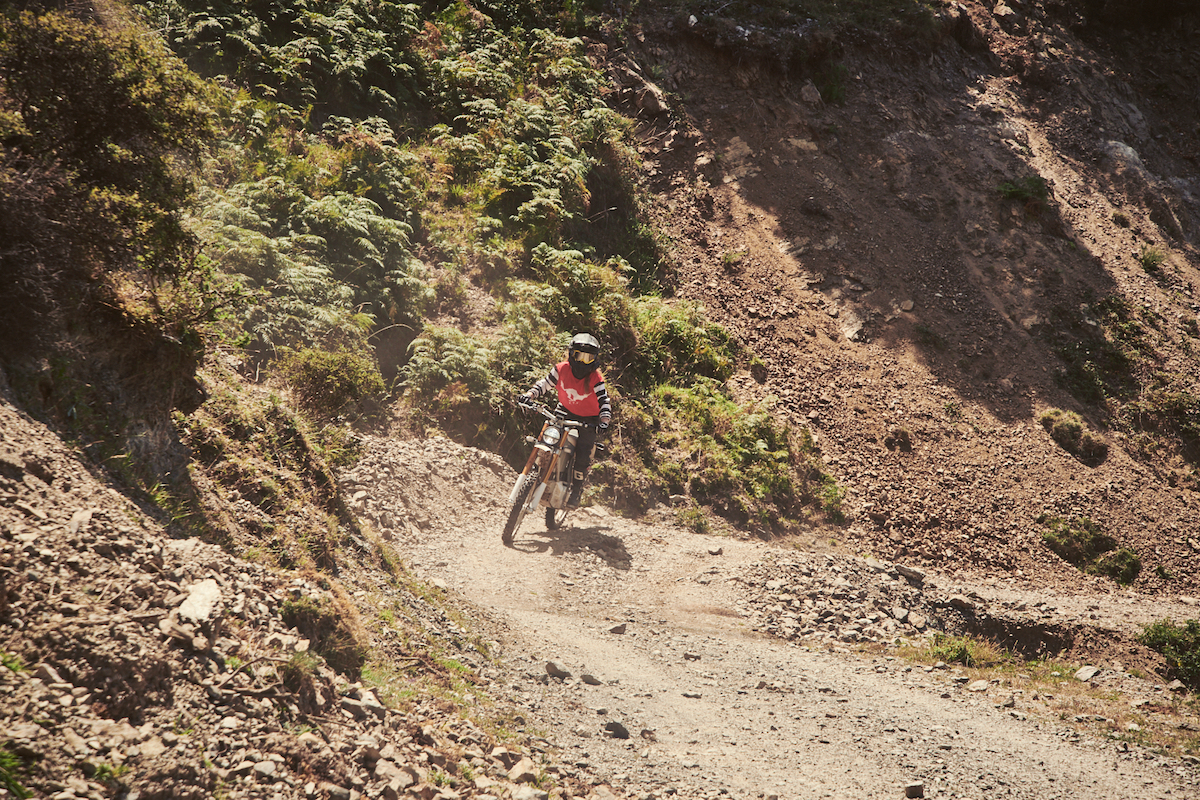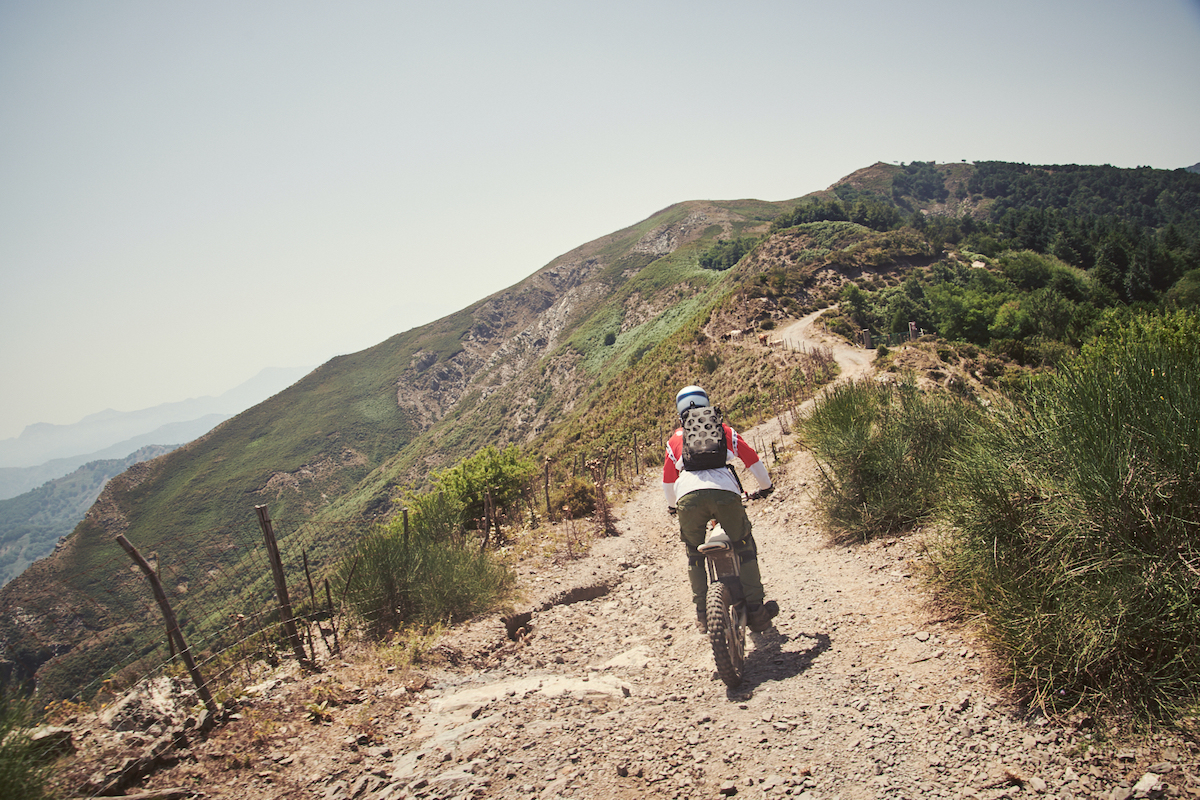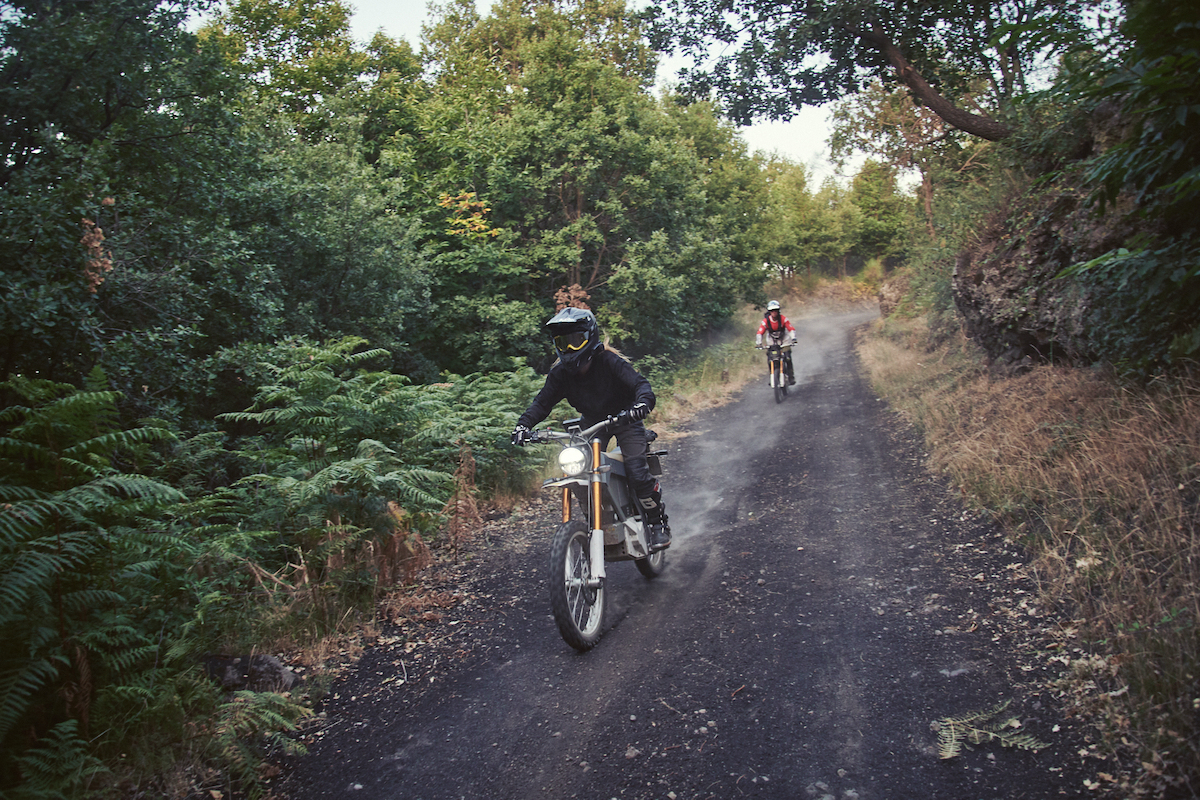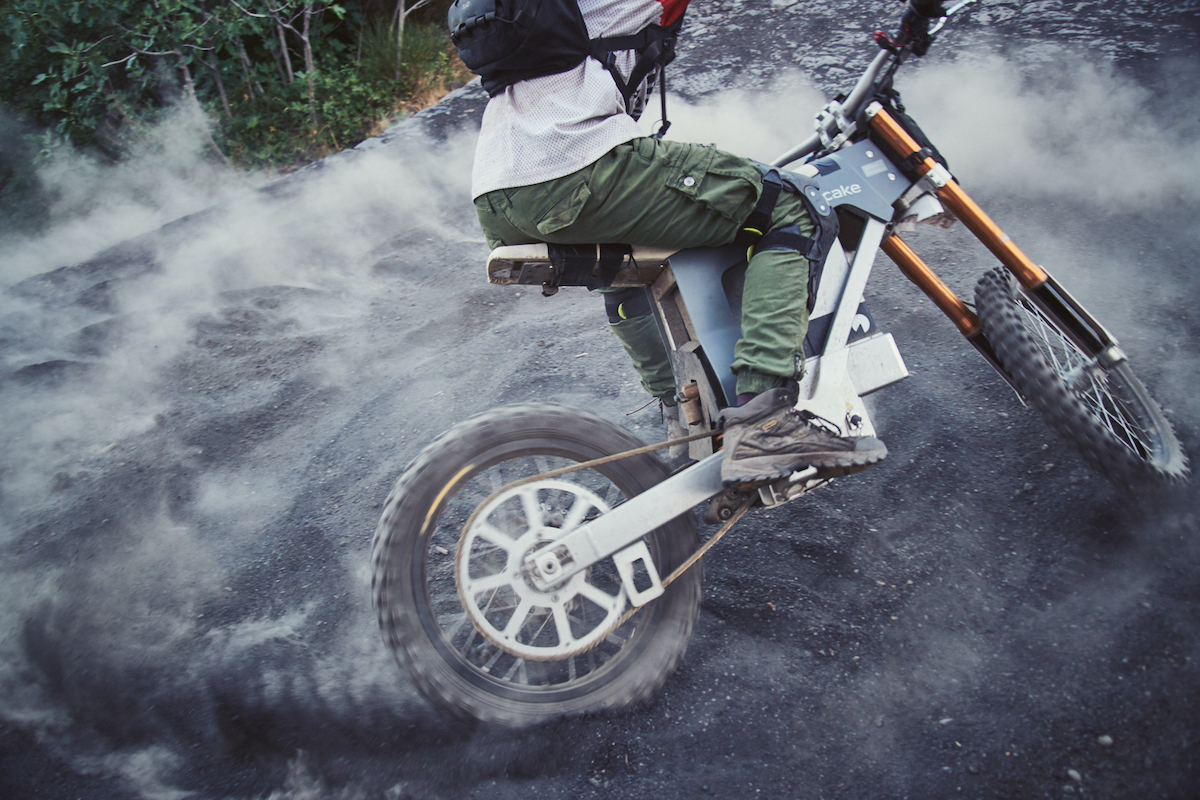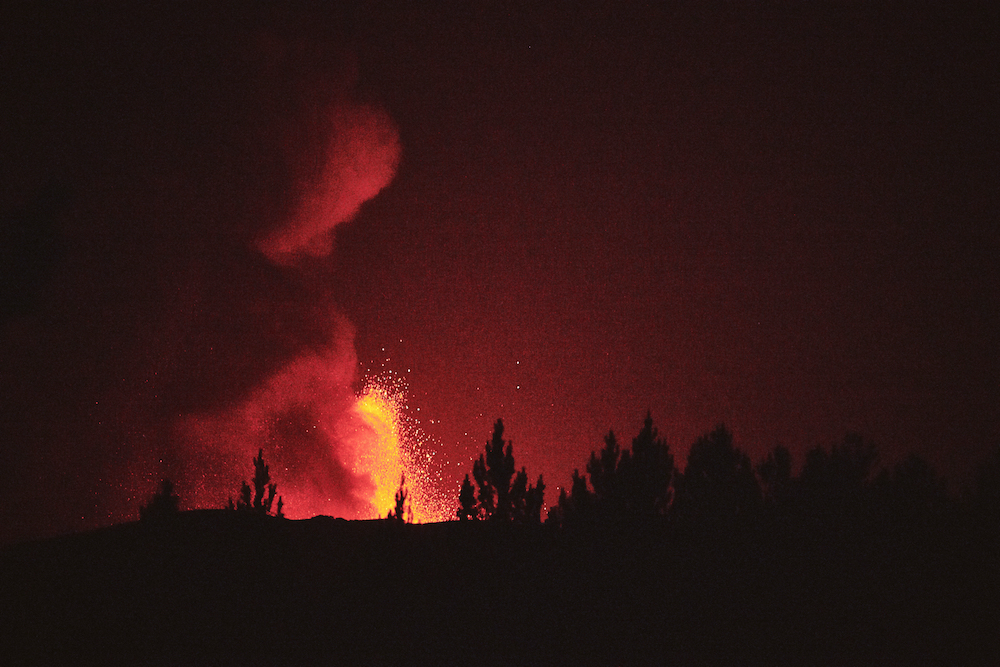 Sunday – Linguaglossa to San Marco beach
Waking up still cloudy from last night drinks and excitement, we indulge in a full fat breakfast to clear our minds and celebrate the last ride. It's Sunday, and hikers with their kids set off Mia's protective barking. Thankfully, the one or two families we encounter on the trails seem pretty chilled at the sight of us whizzing past. Riding fast on the black volcanic sand is exhilarating, even if the sweating is off the chart. Etna is now dormant again after last night shenanigans, but still smoking hot in disguise between high clouds and fog. This mix of wild forest, black rocks and hot and muggy air with smoke in the distance is incredible, at times looking as if we are on a different planet or a sci-fi movie. Sicilian heat, especially at higher altitudes, is not to be underestimated! At the beginning of August we are roasting, but so lucky to be here. Finally reaching a cooler area of thick green vegetation, it looks as if it's gonna be easier, but the grippy sand is replaced by a fat layer of slippery leaves. Even this is absolutely different from what we encountered so far across the south of Italy. We rode similar woods where leaves were gone from the trails, but this is just wilder and untouched. Here it's sketchier and we really need to focus, but the Cakes have been great bikes on all sorts of terrains even for fresh riders like Lesley and Malaka. Thrown in the deep end, they did absolutely amazing, and that's proof right here that these Cakes can be much better than petrol bikes, even if they have less range. Where in the world would someone without experience be able to ride enduro on the spot?? Lighter and nimbler, the bikes are amazingly easy to control, and you can even ride past cyclists or hikers without being shouted at. You can lift the bike onto walls or impossible obstacles, taking more chances and pushing your skills, agility and confidence to the next level. You may not be able to do the 150km you're used with a four stroke, but they are a game changer and I'd gladly keep one into my van as exploration ride.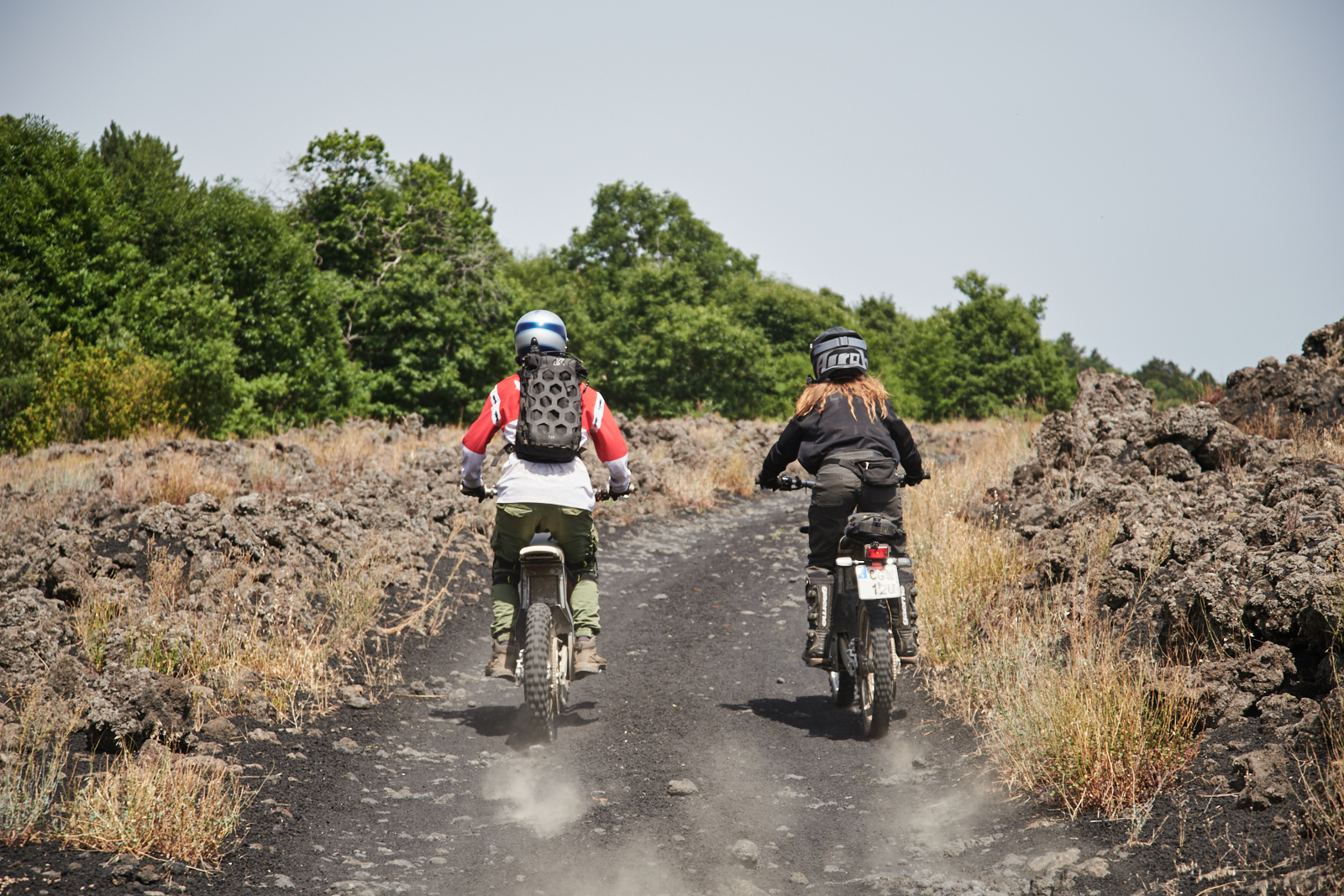 Driving off Mount Etna to go camp at the beach for one last splash, we pass by a wonderful and picturesque town called Linguaglossa (somehow meaning 'big and smooth tongue'). With beautiful buildings and roads made of stones, it looks like this amazing and lively town has been here for centuries, its people forever fearless of their destiny in the hands of the earth. Just like for the people living on and around Vesuvius, life goes on, humble at the court of Mother Nature. Now, I don't believe in written destiny, but just like most riders out there, I'm open one way or another to what the future may bring me. Whatever will be will be. And that's exactly the point of this Vesuvius2Etna journey. To reconnect to earth and ourselves and see what would happen, to try and push the limits and feel bloody free while doing it. If there is one thing that's important, it's accepting every day as it comes, free form the roadblocks that may be in our minds, or the ones of others imposed on us. During a surreal world pandemic where you can't even go visit your family, we came together and went on a trip that gave us manumission from a fucked up system. It was difficult of course, but boy was it worth doing!?! And while we could have taken the known path of riding our old bikes for some 250km a day, we chose the new and different path of electric, challenging technology, our minds and expectations so we could finally feel alive again.