Who hasn't succumbed to the radness of TAMIYA© Model Kits? For the wolves this awesome Japanese brand was the genesis of our deep love and understanding of all motorized artifacts and the fire starter of our wildest dreams.
Whether building models of WWII bombers or an 80's muscle bike, scale model building always provided a unique opportunity to dive into the history of the vehicle you were building and to know everything about its mechanical insides whatever your age. With experience came skill, but at the start, organization and focus to follow the instructions, were always the key. With no right or wrong ways to build a model, it's all up to your personal preference and what you hope to get out it. But dreams always accompany as you embrace the machine!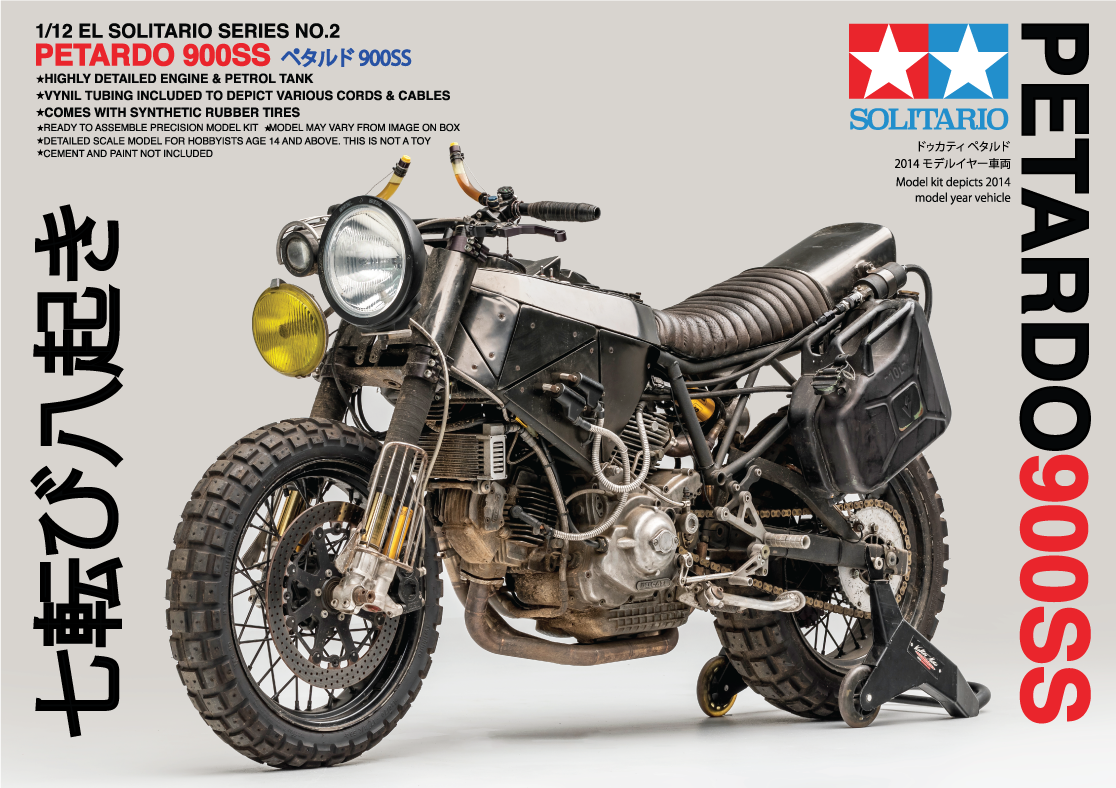 Because of our love and respect for the TAMIYA© brand and the good times its given to our families we wanted to make this lil' homage to the japanese brand, envisioning what it would look like if they made a 1/12 scale model kit of our dearest wolf El Solitario Petardo.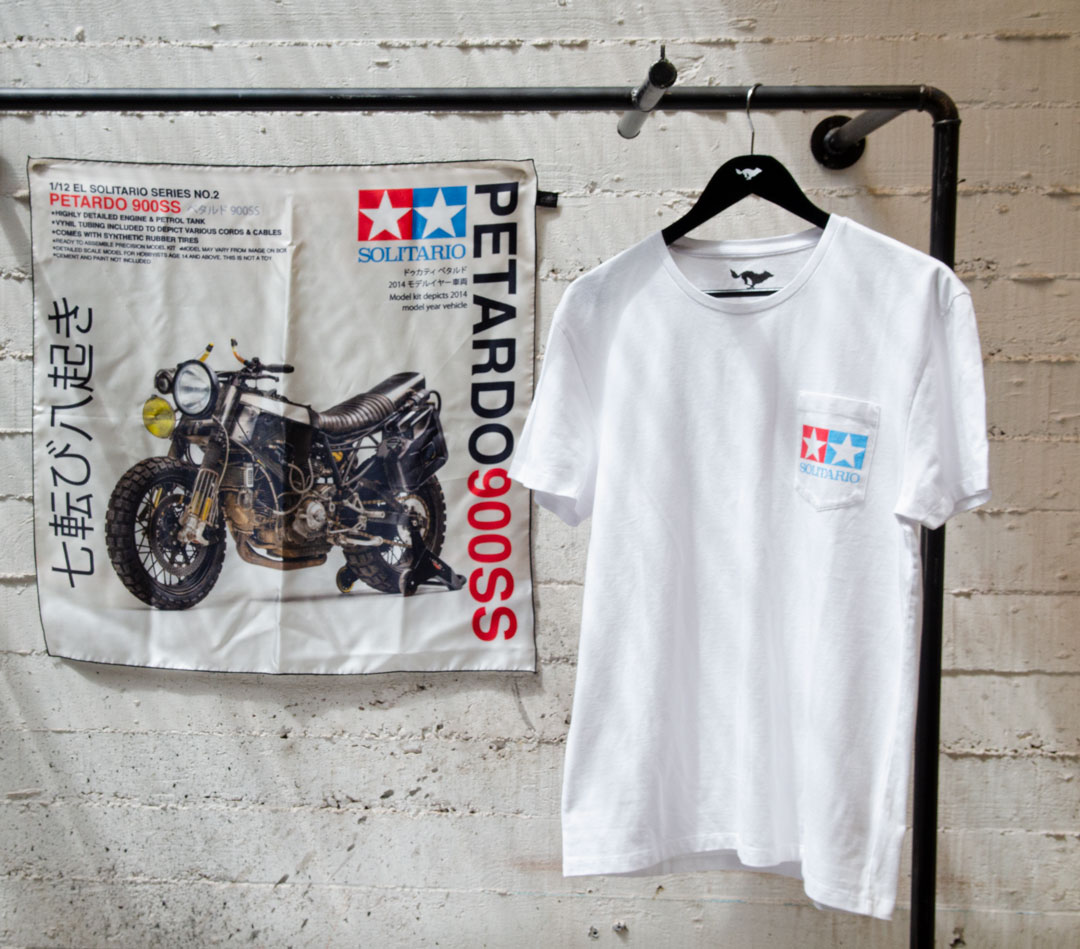 While El Sol built many explicitly "nya-nya" bikes before the "Petardo" (2014), this machine marked a turning point as their first to ignore the worldwide conversation on Alt.Customs and strike off into the woods. "Petardo" ("firecracker" in Spanish) is the least recognizable Ducati ever built; that it was based on a 1994 900SS is completely irrelevant, although the slim L-twin motor and trellis chassis provided a suitably narrow platform around which to build a concept motorcycle. Rather than take the usual path for a pared-down and hungry café racer, the "Petardo" is a celebration of complexity, revealed function, and vulnerability. It's a reaction against minimalism, a bike essentially turned inside-out to reveal its vital organs. "We wanted to embrace the veins and arteries that move the body!"
Paul D'Orleans for the Custom Revolution Exhibition at the Petersen Museum in Los Angeles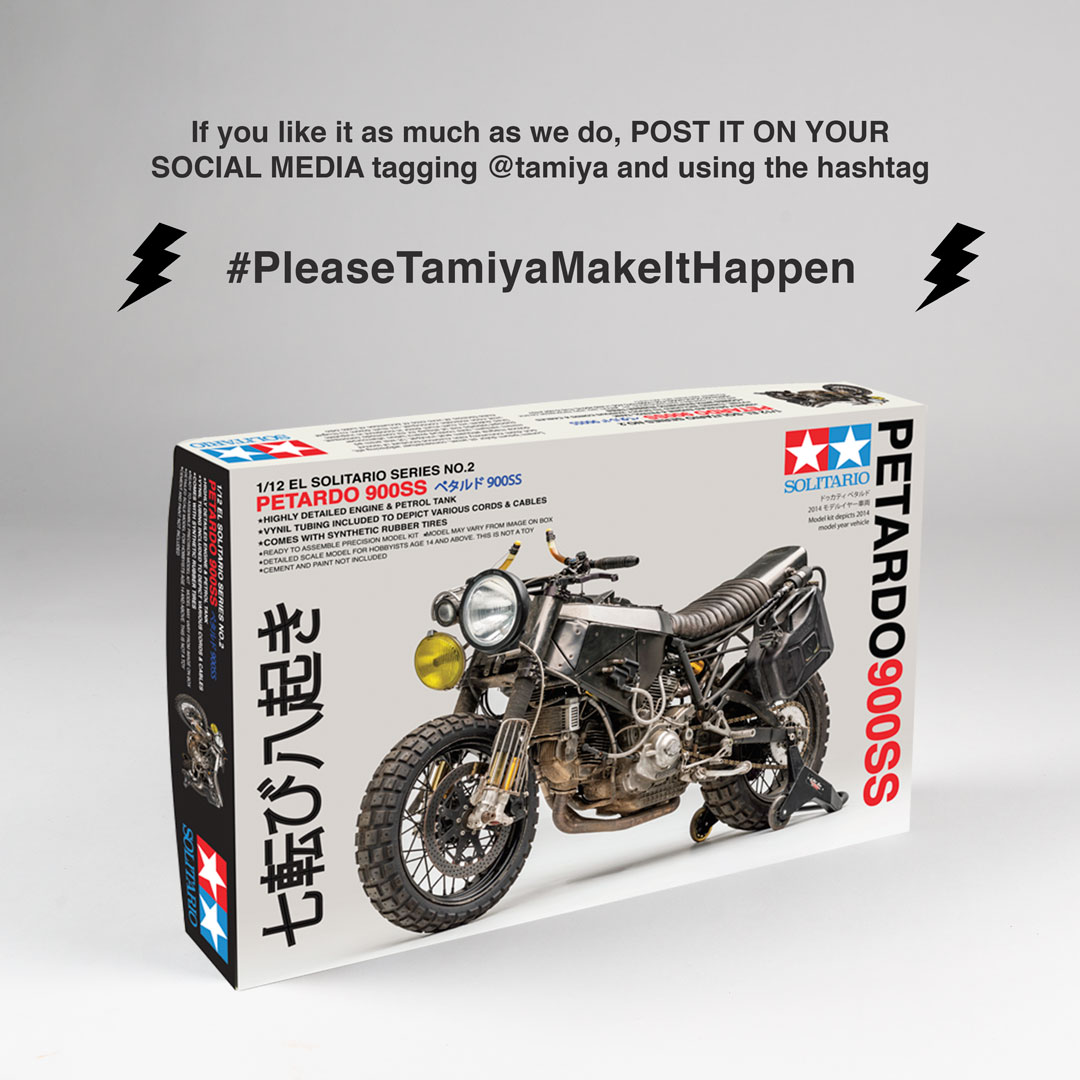 If you want this model to actually become a reality as much as we do, POST THIS PHOTO ON YOUR SOCIAL MEDIA tagging @tamiya and using the hashtag: #PleaseTamiyaMakeItHappen.

Who knows maybe we're lucky and our dreams become true!@#
SHOP THE TRIBUTE MODEL KIT TEE OR SCARF ON OUR STORE CLICKING HERE OR ON THE PHOTOS BELOW