El Solitario has a crush for racing, it is not a secret, but we have a very idiosyncratic approach to the subject. Winning is alright but it is not what drives us. It is riding vividly and the camaraderie you find in "informal" racing what thrives us. In the last 7 years at the helm of El Solitario,  for us, road riding has become more and more difficult, turning almost illegal due to our insubordinate individuality Vs. politician's lack of empathy and police control. In response, we have raced motorcycles in almost all elements present on earth – Mind the gap for our buddy Robie Madison's stunts – grass, tarmac, salt or ice… it is been under our wheels.
We've flirted with Motocross, Road Racing, Land Speed or Flat Track, meeting some awesome and highly motivated individuals on the way, that enjoyed an awesome life. But in the end we realized it wasn't for us. Racing takes a high toll. It is hard work and very physical and capital intensive. It has to be adopted as a way of life otherwise it will just drag you. And why not admit it? Repeating laps confined in a race track is not our idea of motorcycle nirvana.
It wasn't until our trip to the Sahara Desert on board 3x Harley Davidson Roadsters we heavily customized for the task, that we finally opened our eyes. Yes we like racing but even more traveling and discovering new grounds. After this journey we were so attracted to riding fast in the desert that we were immediately thrown at the gates of the Off Road Rally Demi Gods. Not that we want to win the Dakar but we know we still have a chance to at least be among the last and of course do it in style, something long time ago forgotten in this far away terrains.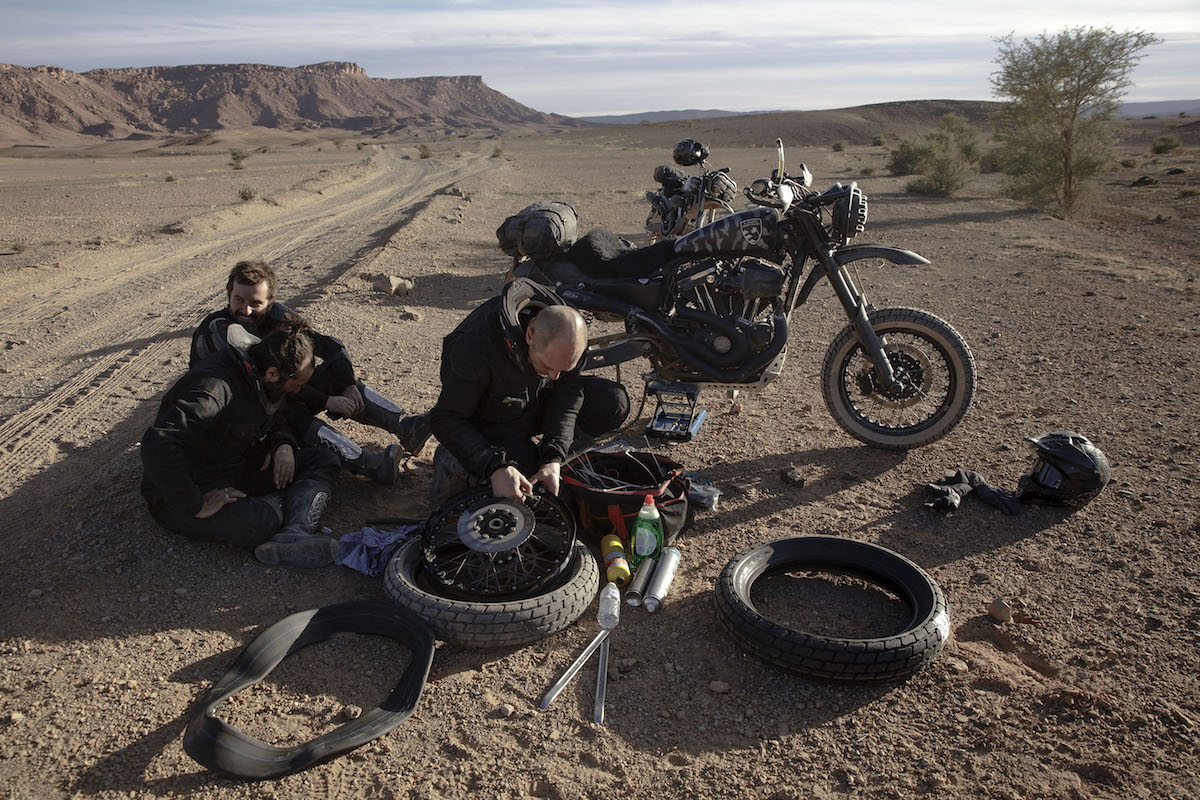 A lot of El Solitario off road mayhem will come in the next months but as for now I leave you with this cool article by Dakar rider Jordi Viladoms around what it feels to be on a Dakar Rally Bike.
In off road we trust!
In an event as long, demanding (mentally and physically) and exhausting as the Dakar Rally, it's essential to have a machine that's stocked with the best technology available to assist competitors.
Jordi Viladoms is a seasoned Dakar pro, so knows his way around the event. Even for him, the demands of the Dakar can stretch the limits, and getting lost is not only a fear for competitors but a real danger too.
The Spanish rider gave us full access to his KTM Rally 450 to find out just what it's packing.
Mission Control: The Panel
Jordi Viladoms: The KTM 450 Rally instrument panel contains lots of instruments to help us to reach our destination. There's a trip meter, a device to show CAP headings with digital compass directions, a roadbook, a Sentinel system and a second tripometer.
But if you want to be able to read it while riding off road at 150kph, then you have to take the time to familiarise yourself with it, so you know the panel back to front.
Sentinel: Top-level safety
JV: The GPS has different functions. It helps you to get to all the waypoints, and also stops you breaking the speed limits. It also gives the CAP headings that show the direction you're heading.
The Sentinel is very important because it warns you of any upcoming danger, for instance if there's another vehicle about to overtake you, or if you're getting too close to another vehicle.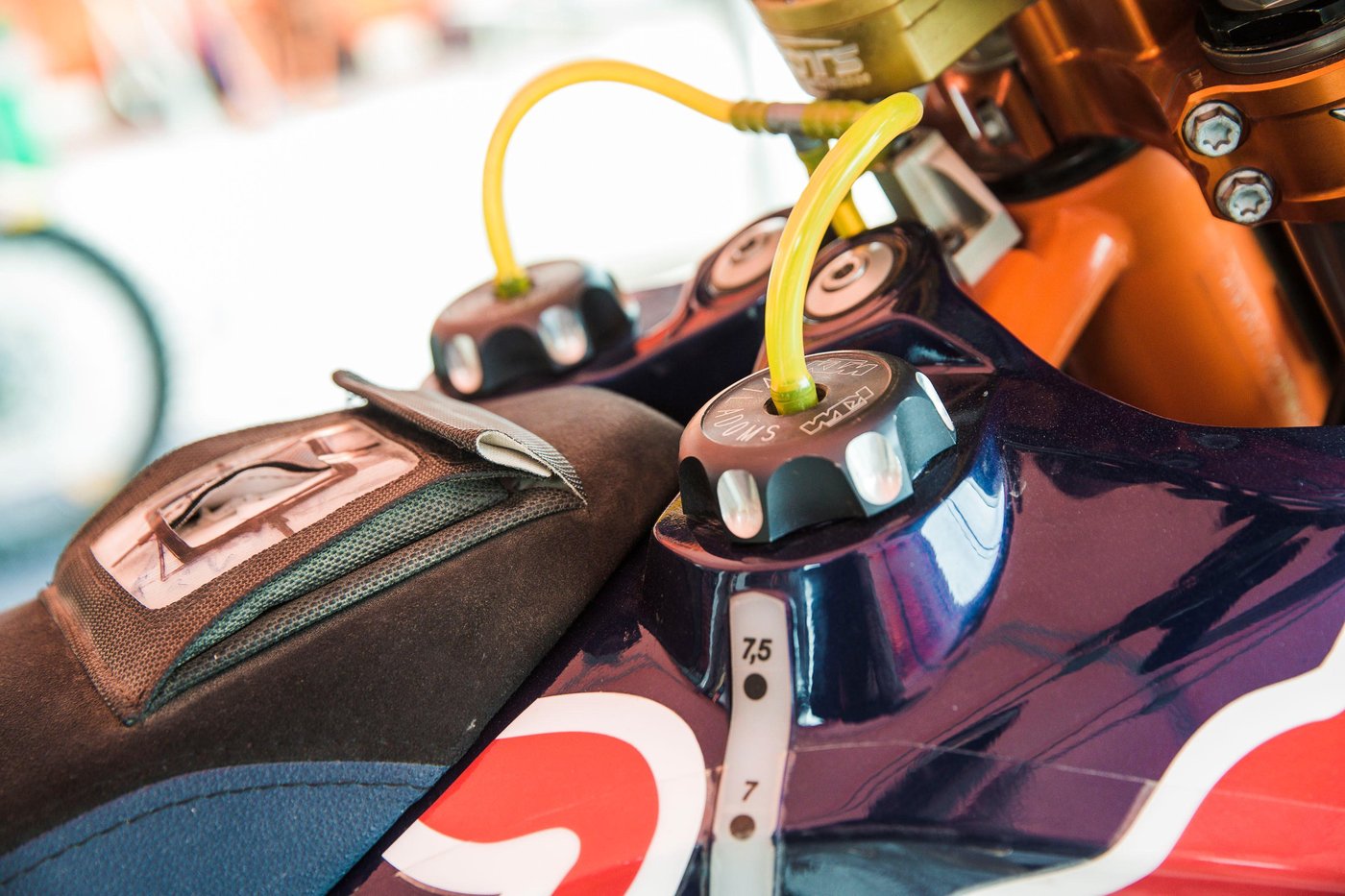 Fuel: Keeping plenty of juice in the tank
JV: The KTM 450 Rally has two fuel tanks – one in front and one in the tail, which helps to distribute the weight of the 34 litres of gas evenly around the bike.
On top of the petrol tanks, there is a compartment to keep the roadmap with the checkpoint stamps.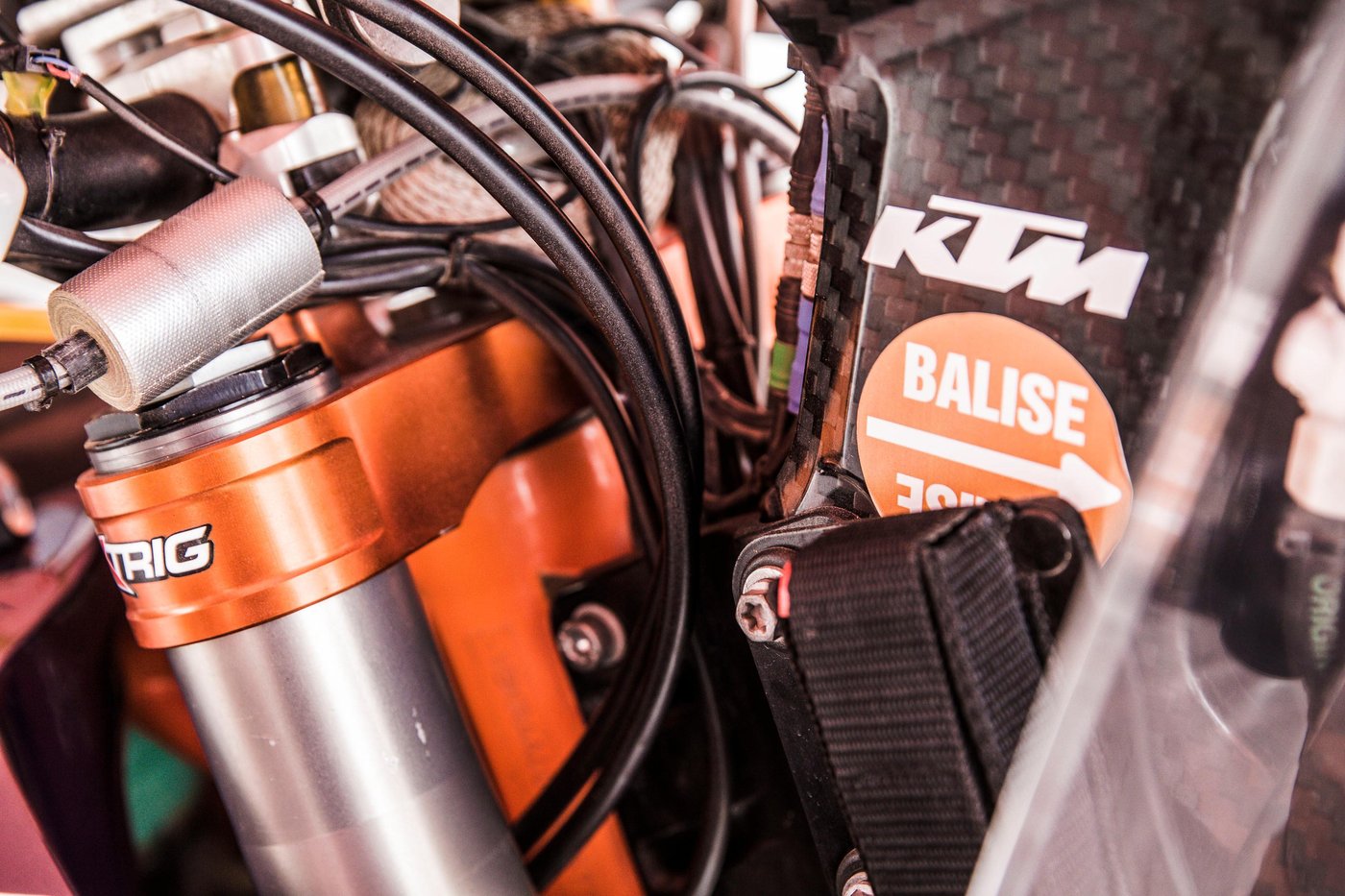 Digital 911: In case of emergency
JV: This decal shows the housing of your distress beacon [Balise] and the Iritrack, which both live inside this carbon fibre piece. These are your two most important safety instruments.
The distress beacon must only be used in the event of a real emergency, such as when the rider's health is at stake.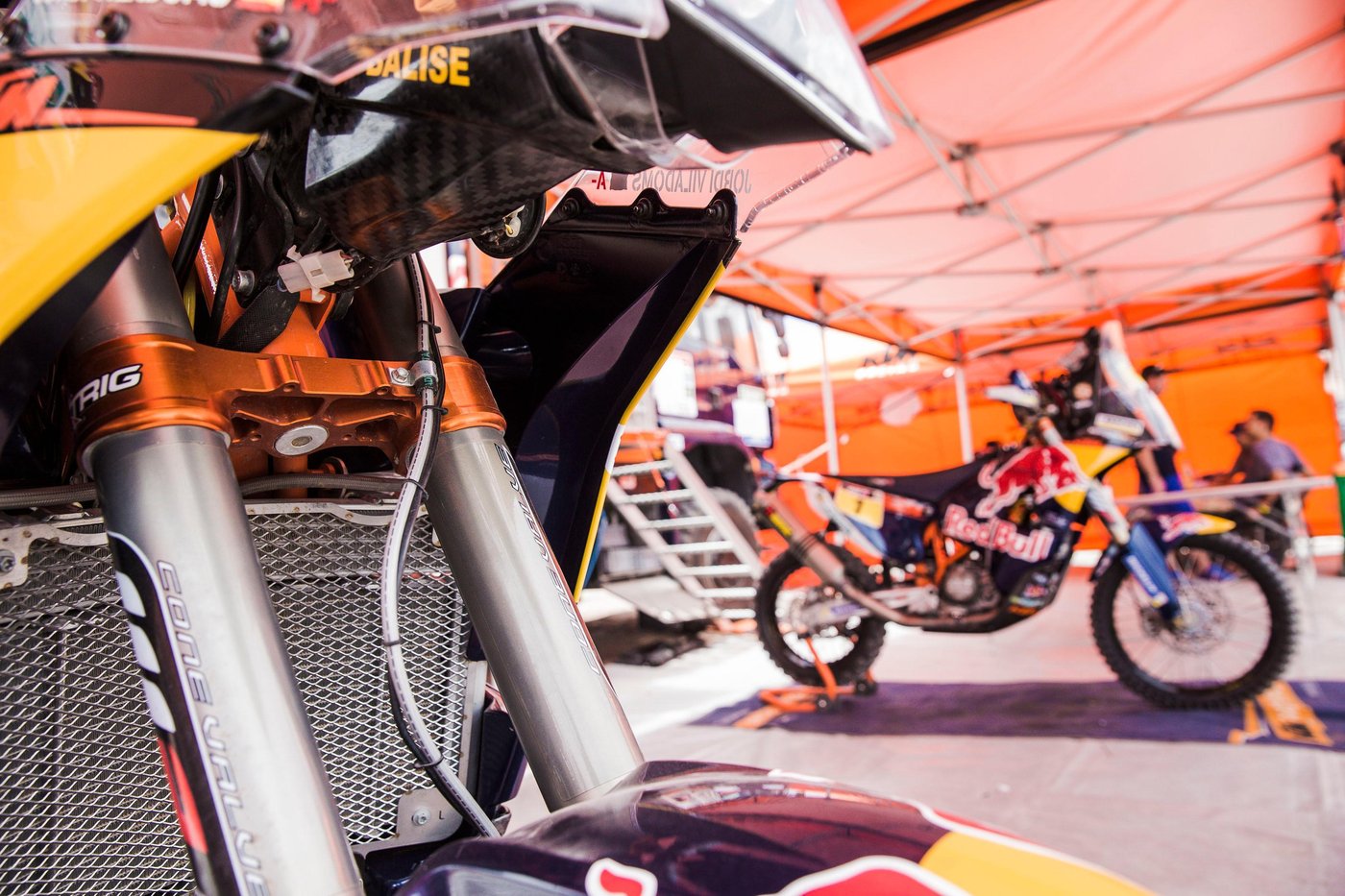 Radio control: Do you read me?
JV: The Iritrack not only provides real-time monitoring of riders, the organisers can also use it to speak directly to the rider. If the rider stops unexpectedly, they can contact him to ask if he's OK.
If it takes the rider more than three minutes to respond, the organisers can alert the emergency rescue team. Also, if the rider crashes, Iritrack triggers an alert automatically.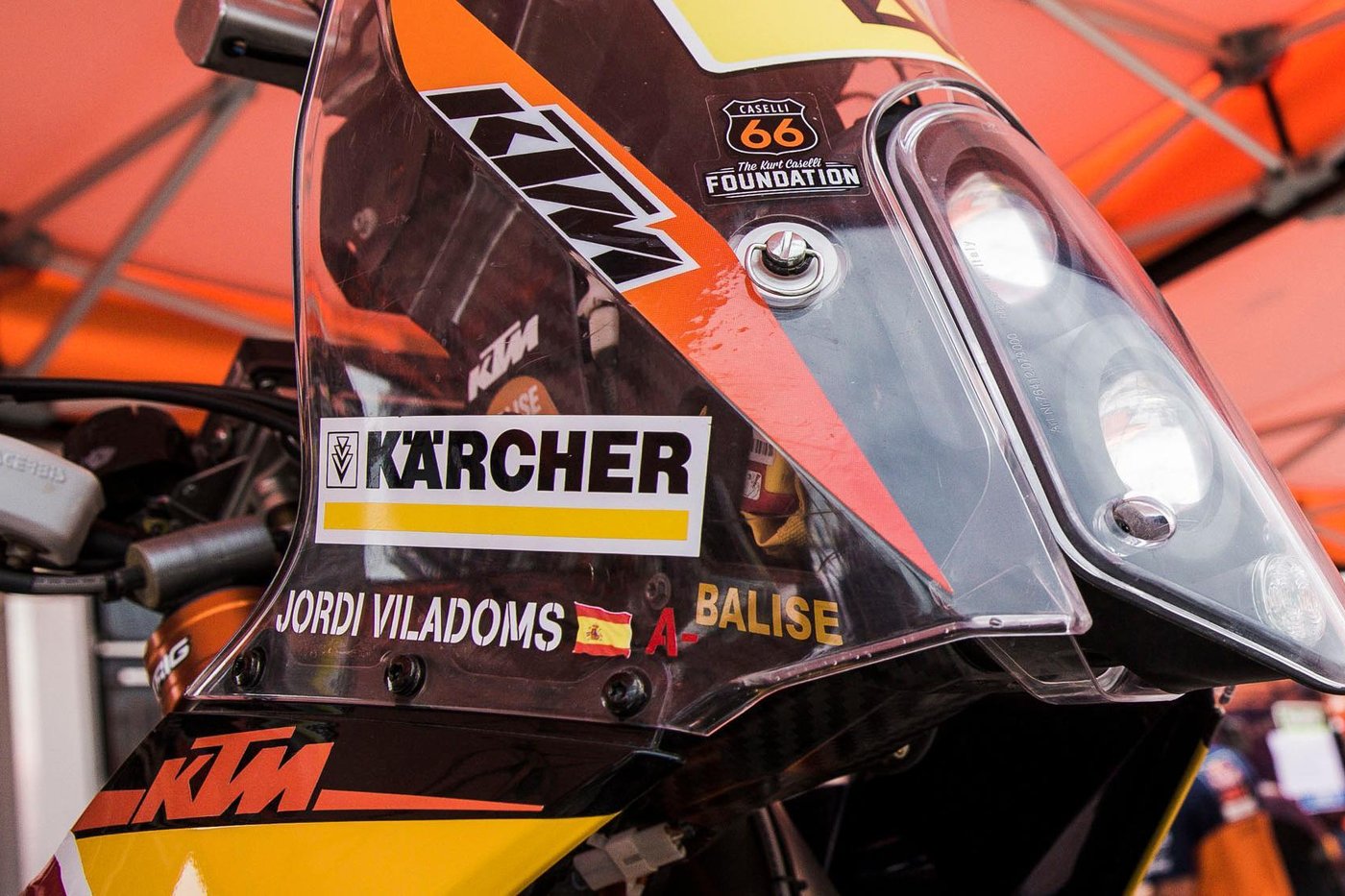 Vital stats: Key info that can prove critical
JV: The KTM 450 Rally has a decal on the fairing with some valuable information in case of an accident. It shows the rider's name, nationality and blood type. In case the fairing is destroyed in a crash, the same information is written on your helmet.