We're known for preferring to ride & build vintage sustainable iron over modern ubiquity, but to have the opportunity to work over a brand spanking new Zaeta 530 is simply a long dream come true. This hand made Italian Stallion is the child of our dear friend Paolo Chiaia. A crazy enough man, to invest in the creation of a Steet-Legal-Pure-Flat-Track-Race-Bike.  The ultimate bike for Urban Rebels as he refers to it.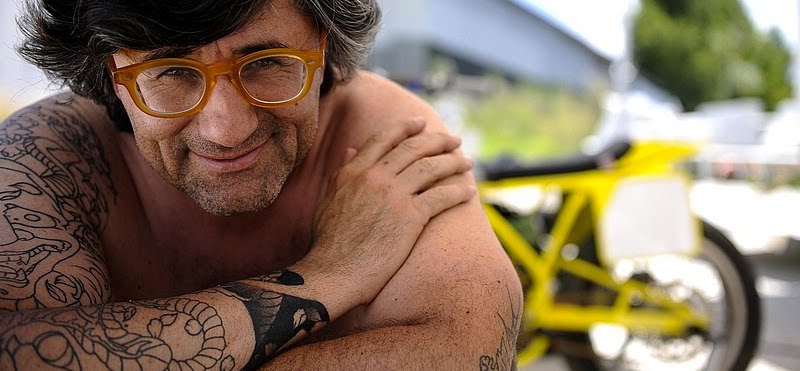 When asking Paolo about the origins of the Zaeta he recalls: "Zaeta was born in the seventies when, in Valpolicella, I used to ride around a field on Piaggio Ciao moped, trying to drift the back wheel. The joy of precarious balance is a primitive one and is linked to some of the earliest challenges of youth as far back as a child's first steps. Then, in December 2008, a meeting with Graziano Rossi gave the project the spark of life. Graziano and I found ourselves talking about a motorcycle that didn't exist. He spoke of a lightweight bike that could be drifted through both left and right turns and be used for training MotoGP riders. I was talking about a light, simple bike that could be ridden on the dirt or the road.
We were both speaking about Zaeta……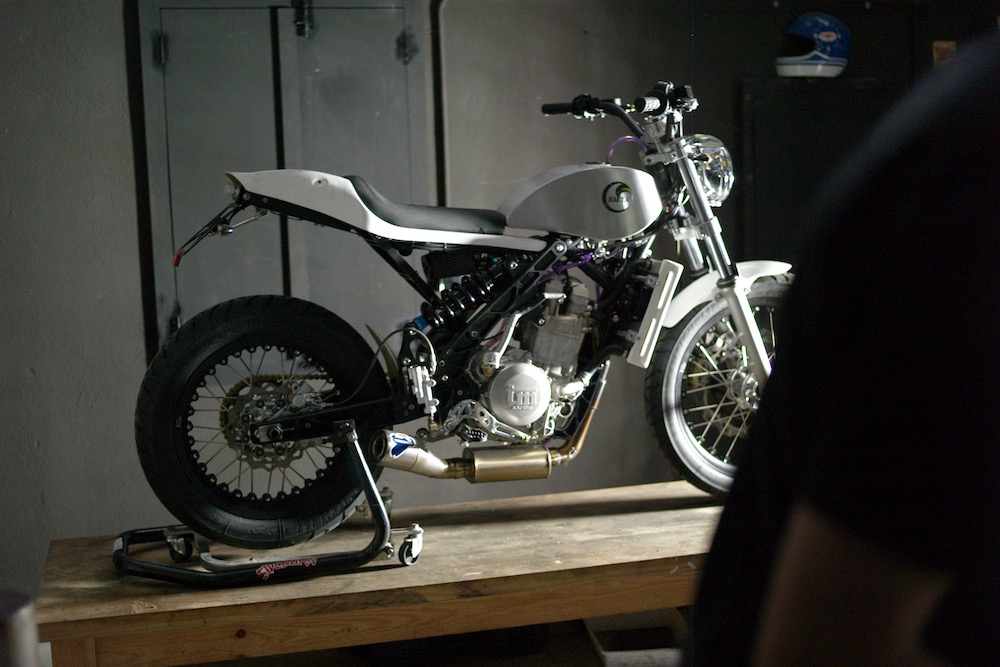 As soon as the machine arrived to our Studio, we knew we were into something big! If asked to define El Solitario style in just five words, they will be Eclectic, One-Of-A-Kind, Bold, Anthropomorphic and Heritage. Each Solitario Special, is the product of our experiences and it will never be repeated. Nature's own engineering is what inspires us most and thus what we try to emulate in our garage. We adore patina and respect rust or grease when it doesn't affect performance. We're not big fans of paint, loving the honesty of bare metal forms. We are always searching for the rarest vintage parts, when we are not fabricating our own to make our Specials stand out. We believe that character is more appealing than metrics so that is what we search for in our exercises. We defend you can make a big difference by the use of traditional craftsmanship and an obsessive care for small details. Our Zaeta under the nomenclature Pluto will be no different and will proudly shine in all its glory!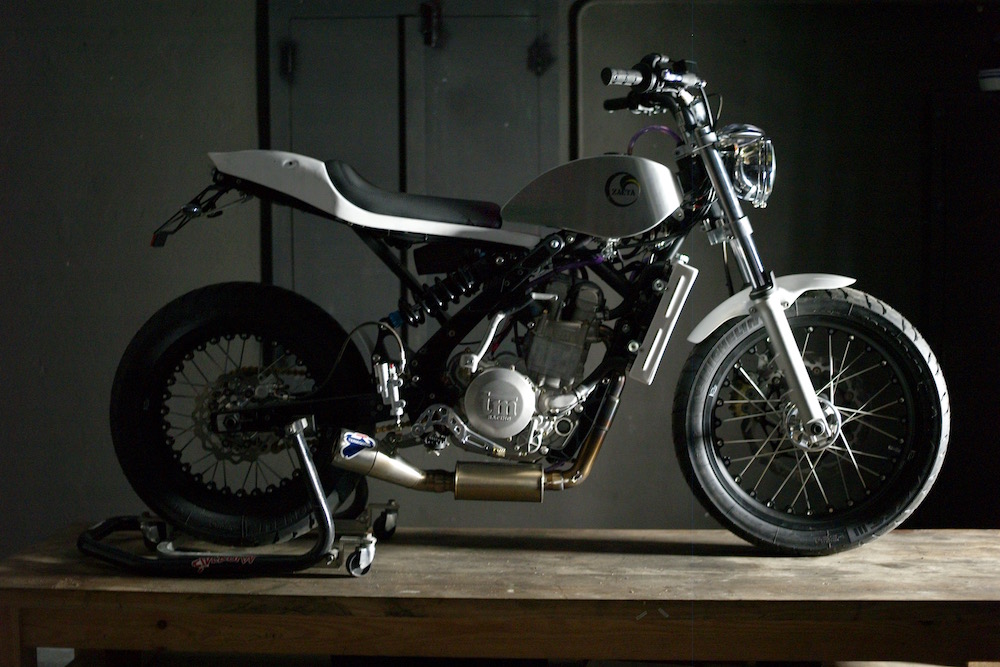 With only 115kg, 528cc and 55HP, delivered from its flat slide – Racing Only – Keihin Carb, our darkest satanic treatment and the best parts available on the market carefully married by the fast guys at Classic Co. this machine will be a killer whatever your riding standards might be.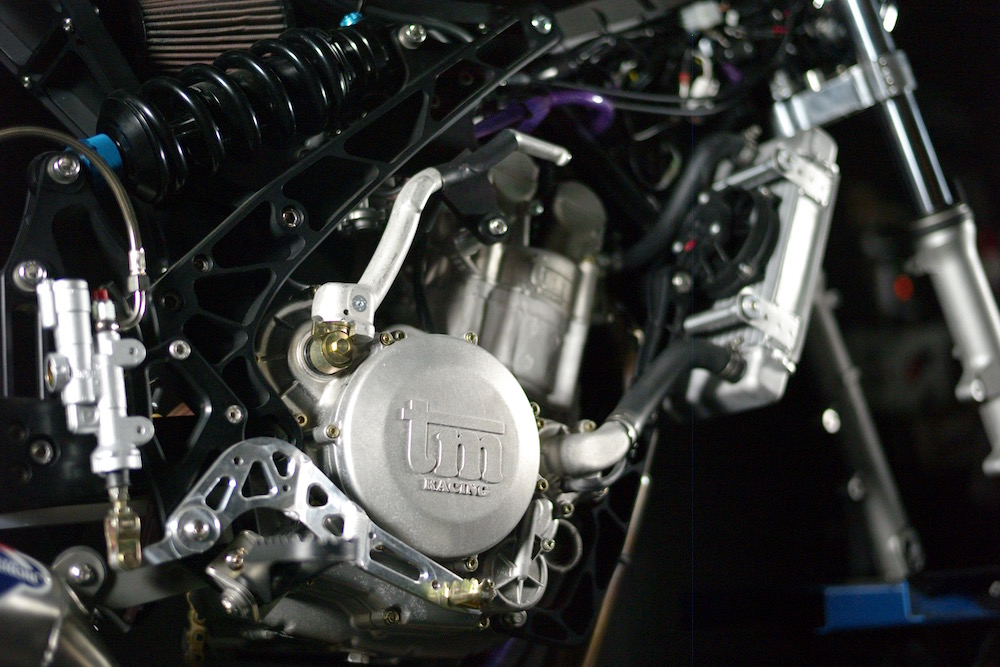 Our Custom Zaeta will be unveiled at Wheels & Waves and raced open wide and sideways in El Rollo Flat Track Race which will take place under the umbrella of Wheels and Waves and co-hosted with the lads of Sideburn Magazine on Wednesday June 8th in the Hippodrome of San Sebastian.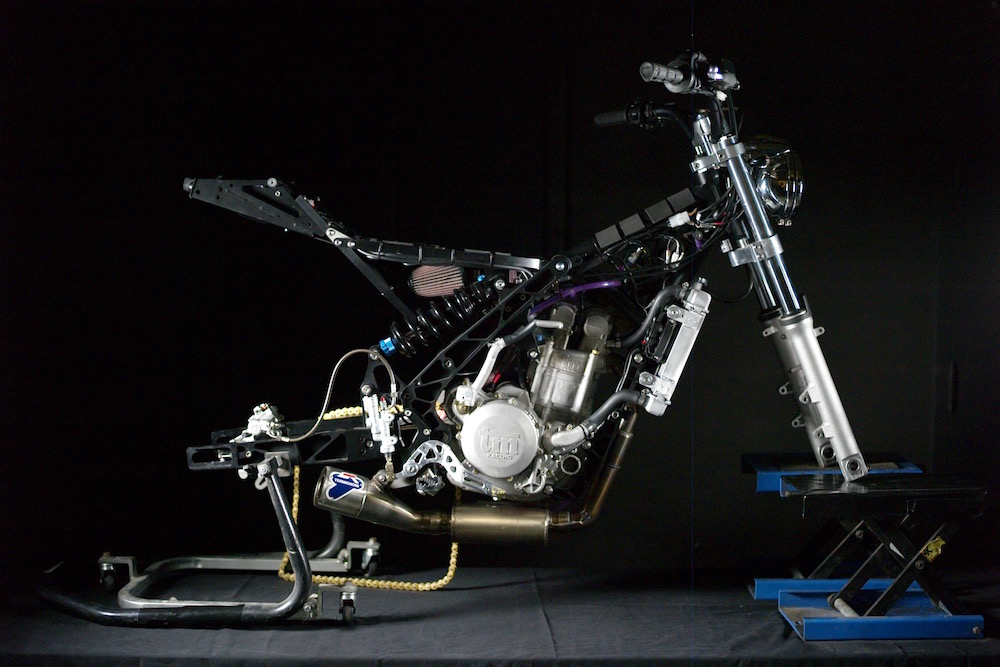 Now Street legal in Europe and in North America, with its just four tubes, two wheels and a powerful engine, the small, arrogant and ultra-light El Solitario Pluto will be smashing and, by its own right, a stand alone piece of fast turn left art.