Words by Paul D'Orleans
It's difficult to picture now, but five years ago David Borras wore a suit and a clean shave while striding the glass corridors of a globo-corporate netherworld. In his free time, he collected and rode vintage bikes and, like thousands of others, watched the Internet change motorcycling via blogs and websites.
"When we started five years ago, blogs were alive, and I met lots of people, and there was magic and collaboration," Borras says. "Blogs were fantastic; that's how I met you, Paul, and everyone. It was really fast; you got to know these guys through comments. It was a super-accurate relationship planner."
Borras penned the Southsiders MC into his datebook in June 2010, joining a now-legendary ride through the mountains near Toulouse, France, which planted the seeds of the Wheels and Waves festival in Biarritz and a major career shift for Borras.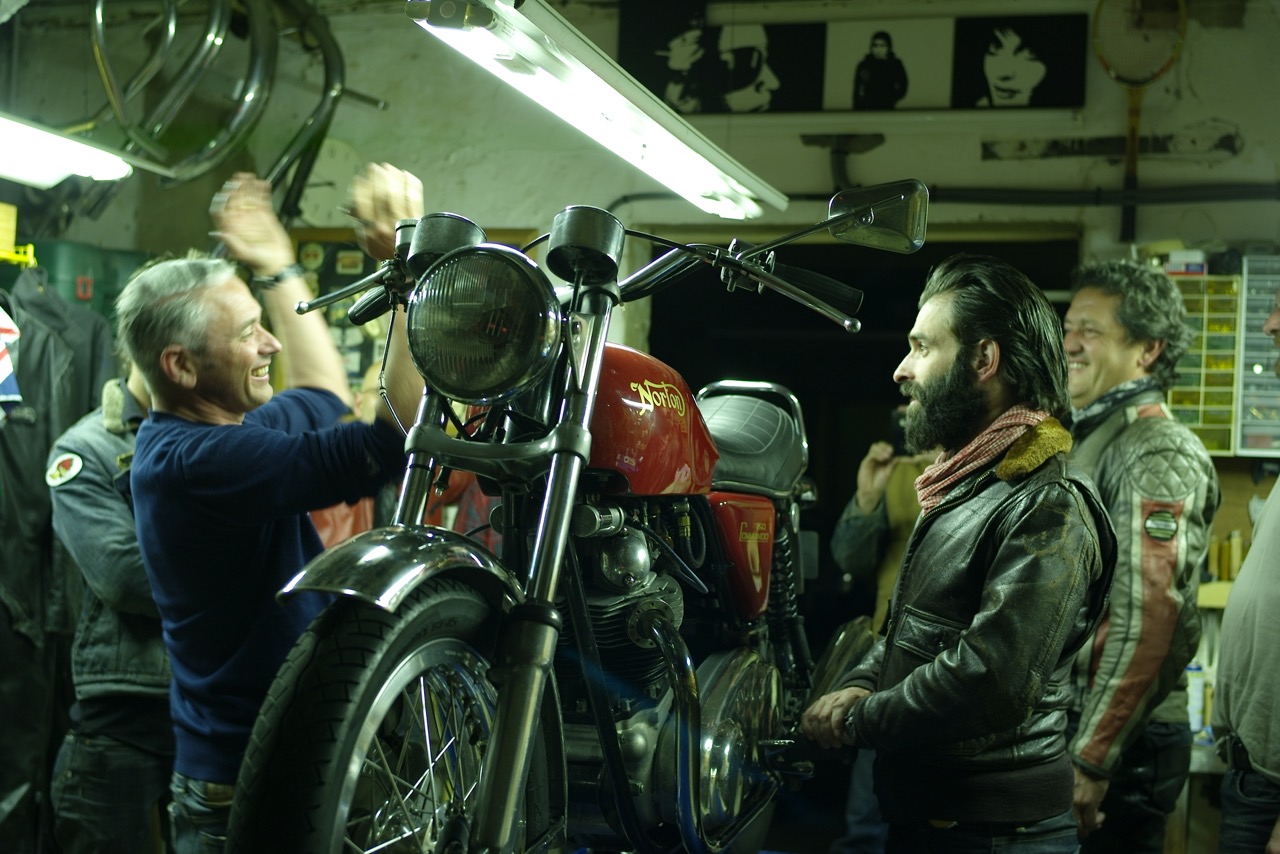 The Southsiders Anniversary in Toulouse was the origin of Wheels and Waves
He'd never built a motorcycle before, but as one of the most intelligent and articulate fellows you're likely to meet, he'd soon convinced the right artisans to join him on the adventure known as El Solitario Motorcycle Club. Within a year he'd built some now-legendary bikes, like the "La Sal del Diablo" Triumph (painted up by artist Ornamental Conifer), the "Baula" BMW cruiser (February 2013), and the "Winning Loser," a rigid Yamaha SR250 with twin cylindrical tanks, dragster style. That's a lot of building in one year from a tiny shop, but Borras has no shortage of energy.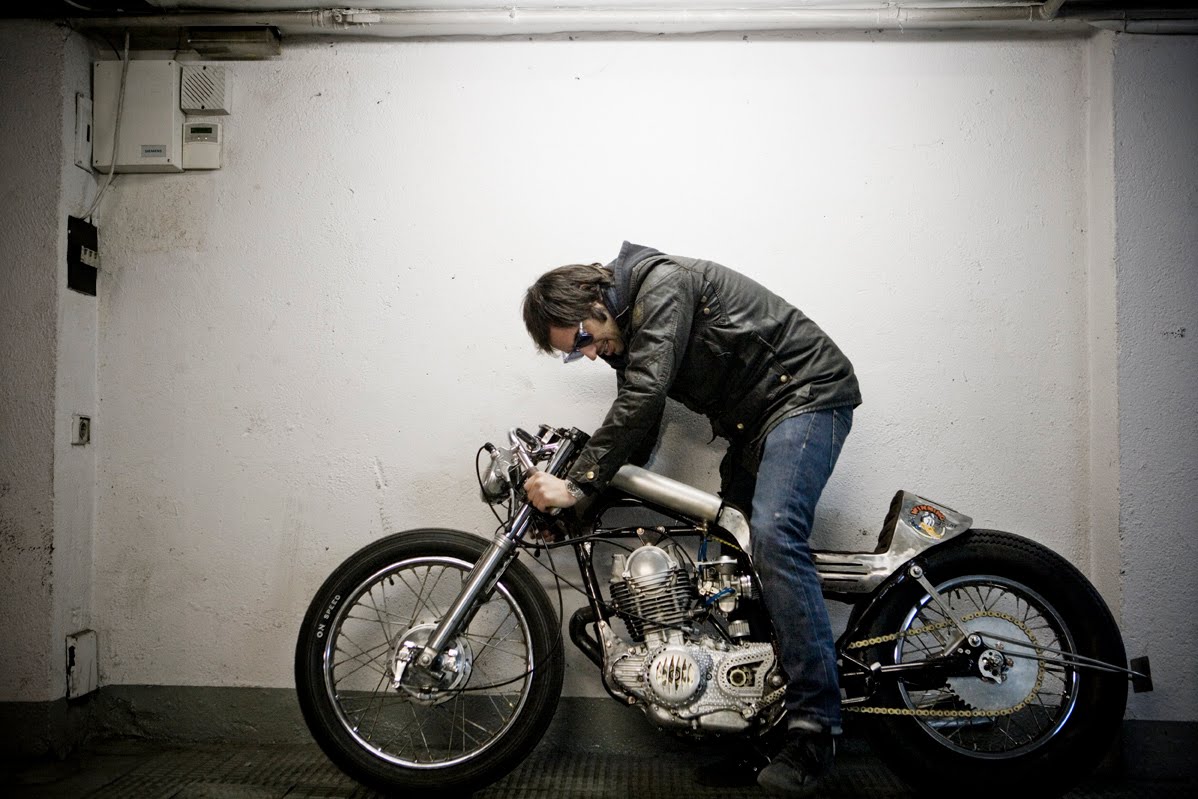 El Solitario Winning Loser built in 2010 was El Sol's first ever bike built totally in house
In that same period he'd successfully branded his gang of co-creators as something of a pirate ship, building bikes without concern for what was trendy in the Alt.Custom scene, nor for what might actually sell. Each "signature" machine that emerged from their Galician workshop in northwestern Spain was idiosyncratic, to put it mildly, with their Impostor BMW R nineT (October 2013)—"the shopping cart dropped from a freeway overpass," dubbed "the most hated motorcycle in the world" by us in these very pages—an impressive achievement even in a web scene spitting vitriol willy-nilly.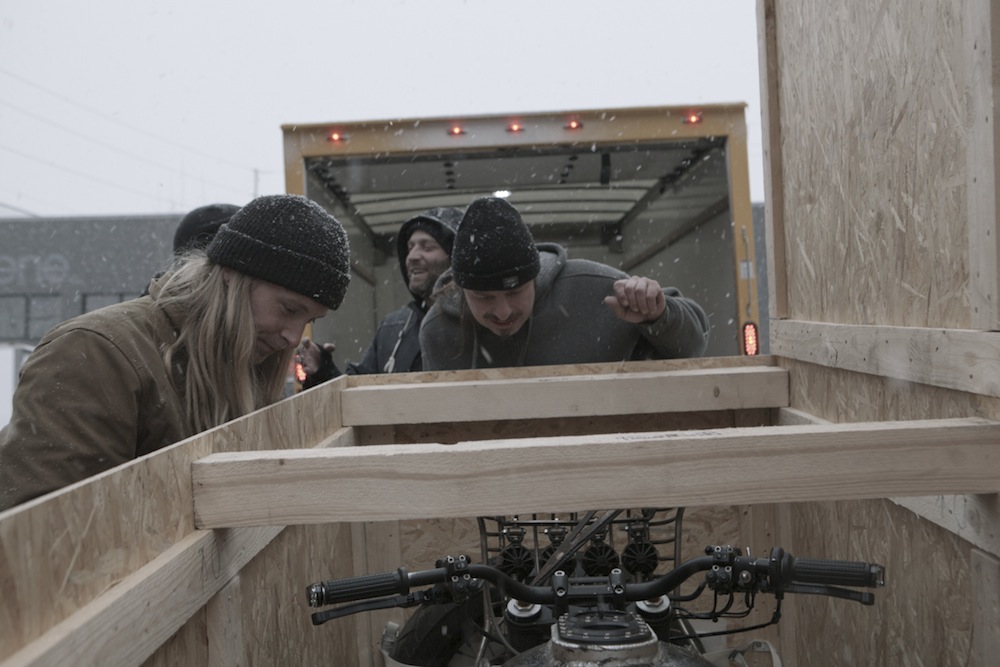 El Solitario Impostor arriving at the ONE Show in Portland, USA
The latest, and claimed last, El Solitario signature build is the "Big Bad Wolf," a new Yamaha XJR1300 crafted for the factory's Yard Built program. Although character rich, the BBW is a departure for this gang of self-described "Galician cannibals," with road performance the actual goal and almost all the construction subcontracted to esteemed fabricators and tuners. With many other hands building it, is this still an El Solitario motorcycle? "I can answer your question this way," Borras says. "I was in Berlin recently and visited with my father. We went to the Philharmonic for some Beethoven, with Sir Simon Rattle conducting. If you'd asked Rattle how he kept his identity conducting the symphony, he wouldn't have kicked you out the back door—he'd have kicked you out the front door! Nobody moves a f—king stone at El Sol without me setting the tempo!"
Okay, it's David's bike. But after BMW's PR disaster with the Impostor, why did Yamaha stoke El Solitario's campfire?
"Regarding the Big Bad Wolf, there's an amazing photograph with Shun Miyazawa and me at the Lighthouse in Biarritz [at the 2014 Wheels and Waves festival]. I was quite drunk, and the Impostor is in front of us. We're sitting in the sunset, and he was asking me, 'Please, David, you'd put me in trouble if you build something like this.' In a very personal way he made me promise him I wouldn't go really crazy on this exercise."
Borras was offered any bike in the Yamaha catalog and passed over the SR series ("too many of them") and the plastic-clad race replicas, preferring the everyman quality of the venerable four-cylinder XJ series. Still, he'd never previously considered a four. "When the bike was delivered, I really hated it," Borras says. "I don't understand four-cylinder bikes—to ride or to look at. They're just a frame with a big motor in it. But I wanted to work with Yamaha and a company rather than customers—I don't get along with customers. The XJR1300 was the least complicated bike of their catalog, but what do I do with this?"
What he did was ignore it for six months.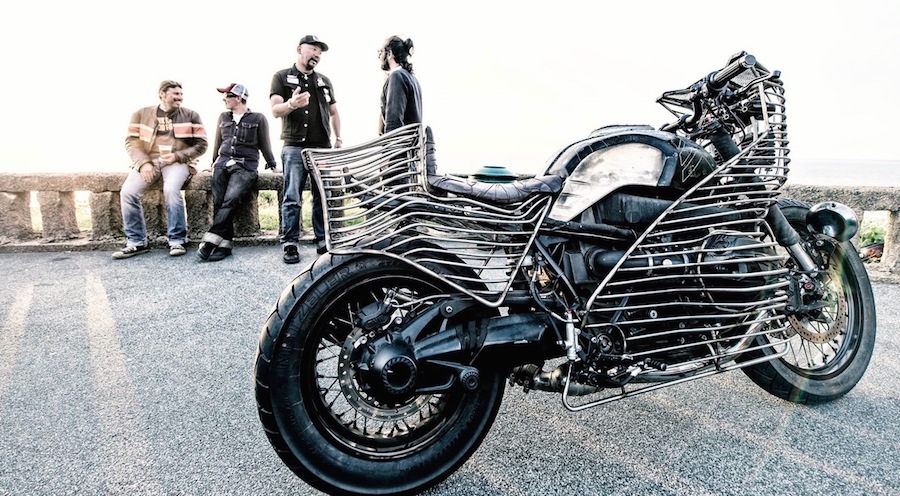 Shun Miyazawa, Product Manager of Yamaha Europe bewildered by the Impostor 
"The bike stayed untouched from October through last April," he explains. "I hadn't done anything, had destroyed all my drawings, nothing sat with me. So ultimately I thought, 'Let's do a racing bike. Let's do something different.' I don't know anything about racing—this gave me an opportunity to learn. So I called Mauro Abbadini [of Classic Co. in Spain]. He'd organized the Deccla six-hour endurance race in Cartagena, he's won roadraces and endurance championships, he's the most respected classic race guy in Spain, and he's an engineer and one of the only guys from the old school who always liked what I did. I called him and he said yes."
While it's common in custom circles to farm out engines, paint jobs, metalwork, and frame mods to the experts, El Sol had always hammered, welded, and tattooed its machines at home on the farm while grandma notoriously beheaded chickens with a dull ax for their daily meal. The environment makes for potent and slightly raw machines. How is BBW different?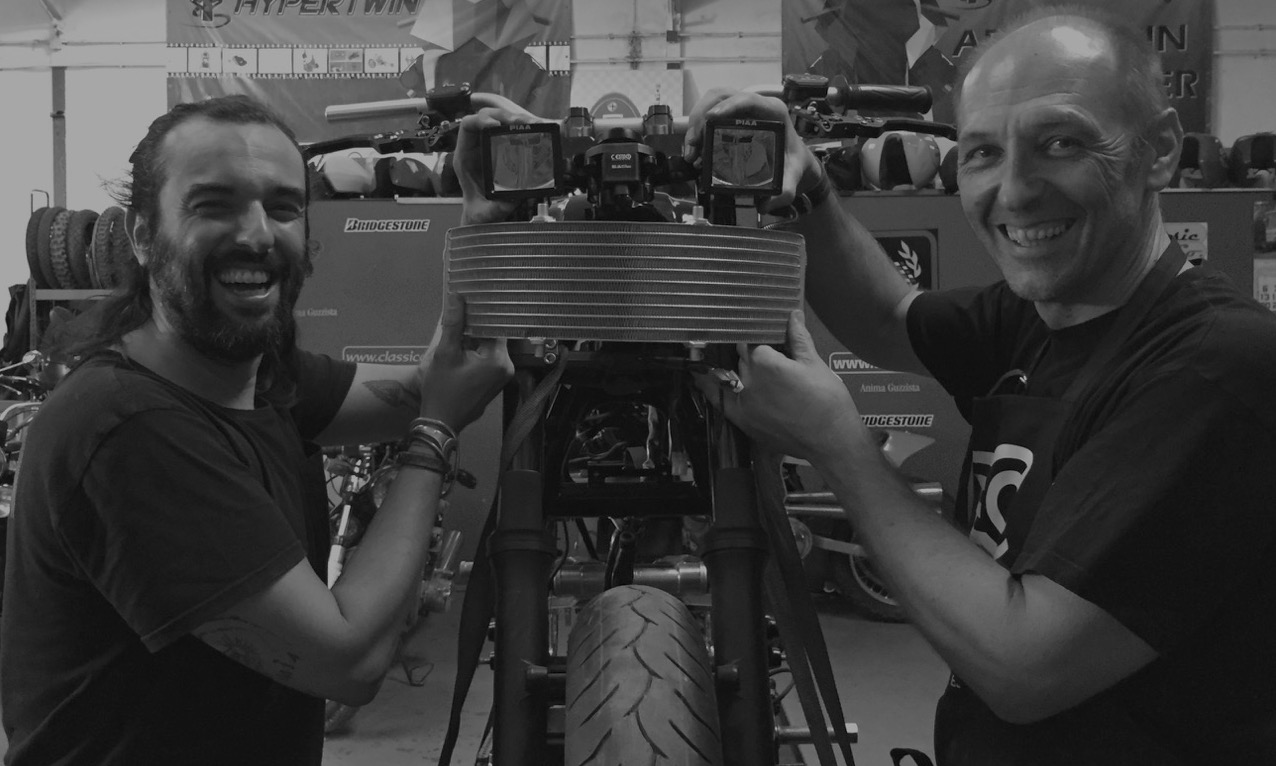 Mauro Abbadini & D.B. play with The Big Bad Wolf
"If you look at the Big Bad Wolf, you can see I didn't make it physically," Borras explains. "My typical mess is not for the expensive guys; they like a slickness, which for me is boring, even if it's very difficult. I chose Mauro because he's like Dr. Death—everything he touches is surgical, totally perfect, and spotless. I designed the shapes, took the bike apart, and sent him the motor. He put in titanium rods and ported the heads, and bought Lectron carbs. Everyone from Dynatec to Roland Sands said, 'Don't use Lectron carbs. They're impossible!' But Mauro insisted because he wins races with them."
With the motor away, Borras shaped the tailsection and bellypan, which were replicated in carbon fiber at Classic Co., and sorted the overall look of this uncharacteristically muscular beast.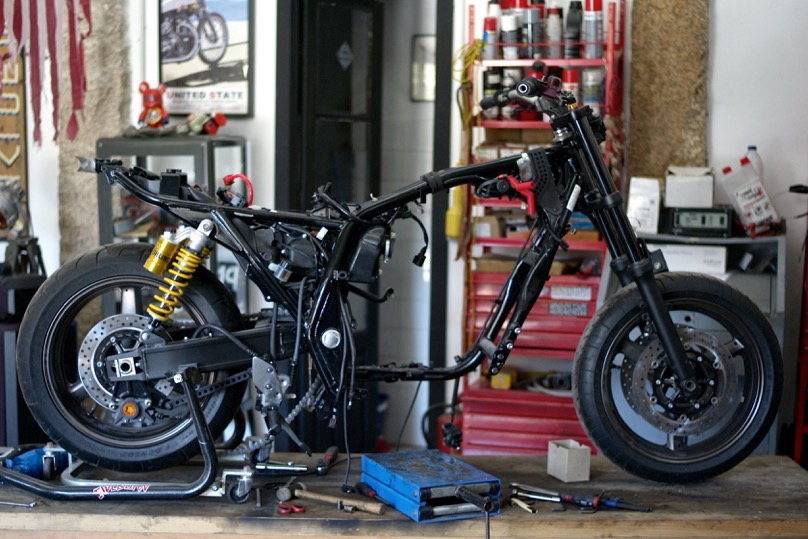 The start of the project
"I spent three months 24/7 on this bike; this was the biggest project I've done by far!" Borras says. "We spent 3,000 euros on FedEx alone. I got almost everyone, like 20 companies, to work on it just for the passion, and that took a lot of emails. In the end we used custom everything, all of it super cool and the best available."
BBW was meant to be finished for the 2015 Wheels and Waves festival, but that extended sit in the corner meant June passed right by. The next possible run-what-ya-brung Alt.Custom dragrace was Glemseck 101, a three-day motofest near Stuttgart, and El Solitario's principal competition would be a pair of purpose-built dragsters: the Lucky Cat Garage Sprintbeemer and the Young Guns Speed Shop Moto Guzzi. "Miraculously, our bike won; that was super cool," Borras says.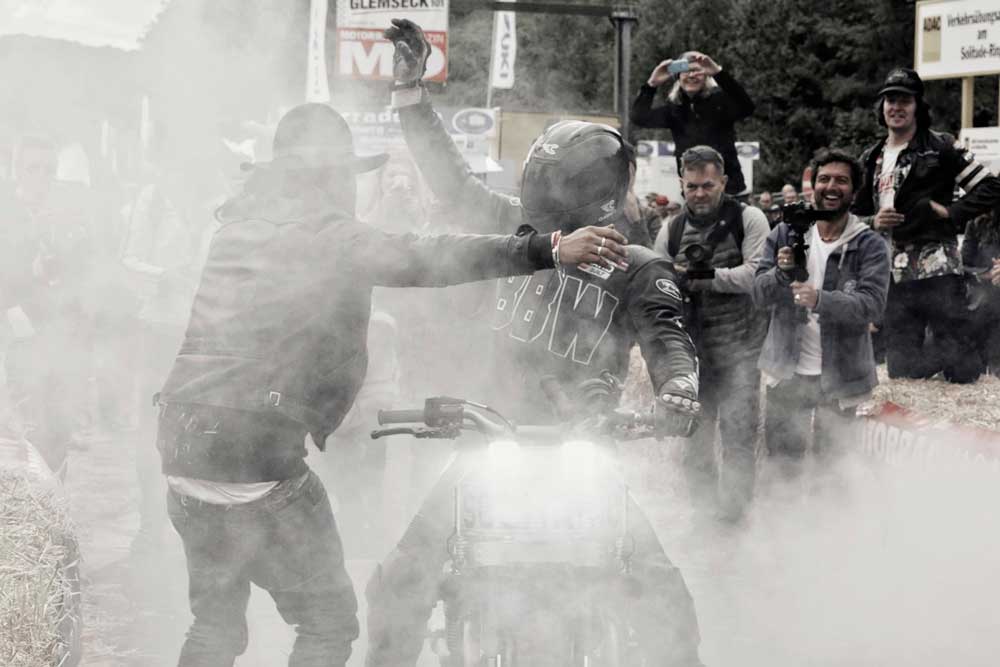 The celebration of Victory after so much hard work was an unforgettable moment
The Big Bad Wolf was publicly debuted a month after winning its run at Glemseck, with the new-normal barrage of photos and video accompanying an Alt.Custom/factory collaboration. Nobody trashed the bike (beside the usual iHaters), as the BBW is beautifully built and oozes the kind of character one expects from El Sol. The Wolf is more like a rap star's bulldog, with a Jaws-y aluminum grille created by that one-off curved oil cooler (by Madrid's Taleo Tecnoracing). Death Spray Customs, arguably the world's most innovative paint shop at the moment, made the trippy-Tron graphics and wrapped sponsor logos around the bellypan, the kind of thank-you/FU sentiment we expect from our Galician friends. While the Wolf's scale is beefy, a mix of carbon (bodywork, Dymag wheels), titanium (Asahina Racing exhaust), and aluminum (Over Racing swingarm and rearsets, custom bracketry by Classic Co.) keep the weight a fighting-trim 403 pounds. The suspension is top-notch K-Tech/Novatech, and the amazing six-pot front calipers, rotors, rear brakes, and hand controls are Swedish ISR bits. It's a proper race mix, which Borras notes is a bit over the top: "We just spent a shit-load of money to make a slow bike fast, instead of starting with a fast bike. As usual with El Solitario, it's totally stupid."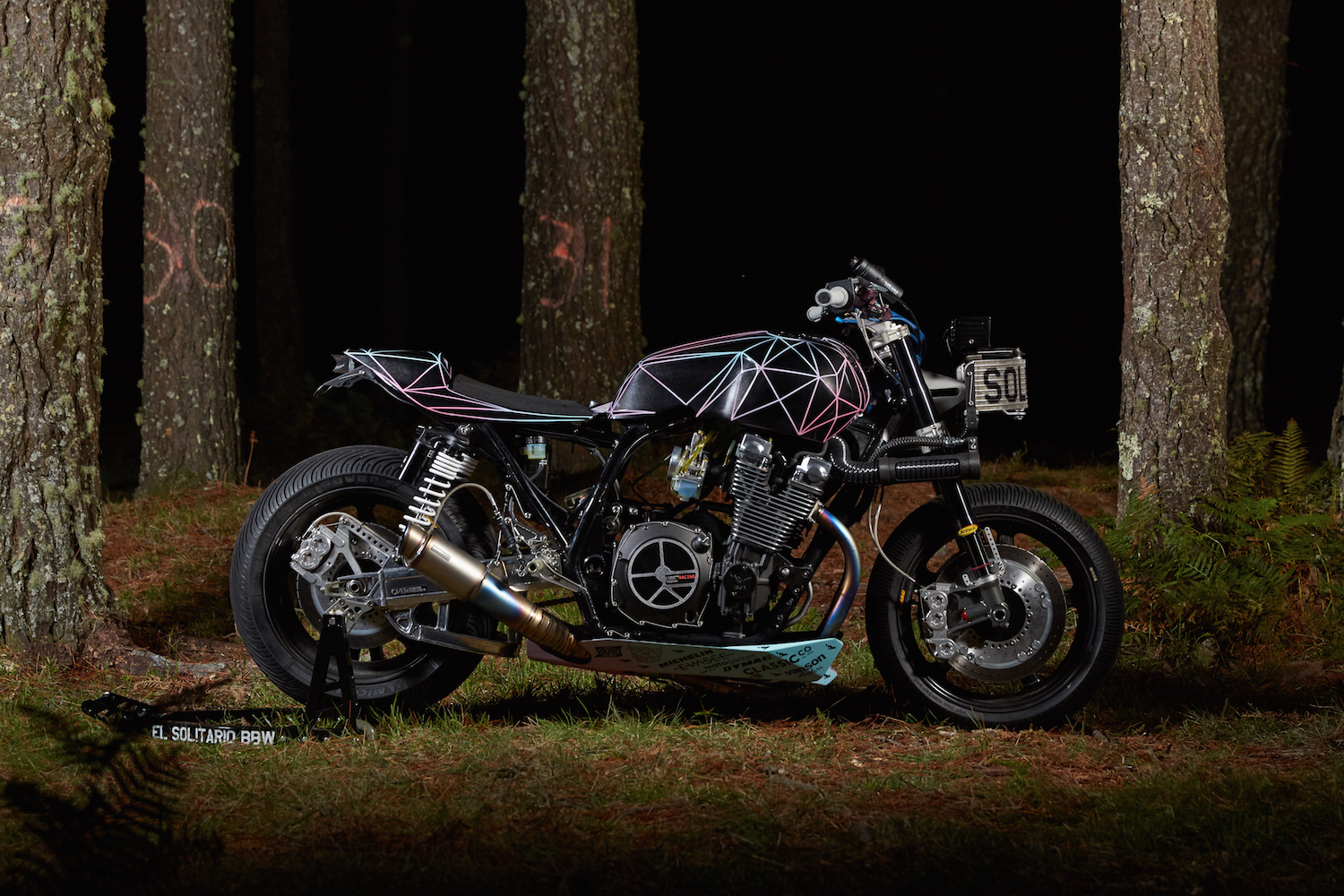 The net result when Yamaha's press machine combined with the global Alt.Custom media? According to Borras, pretty much nada. "The life of the Big Bad Wolf press release was just two days," he says. "The explosion of custom builders today is a super-pollution. The category is so crowded, the odds are heavily stacked against brands. It's good in a way that there's so much activity, and this is good for El Solitario as a company but not for high-stakes signature creations. For us to amortize a three-month build, which only lasts three days on the interwebs, means we are wasting resources. So I'm quitting building 'signature' bikes for a while, as I need some perspective. I should have quit after the Impostor, but collaborating to create the Big Bad Wolf showed me a new path. Learning how to collaborate has changed everything. I'm hoping we can do the same in the clothing industry."
El Solitario isn't finished with bikes; two wheels roll way too deep in their souls. But David Borras notes that every serious custom builder he knows doesn't have time to ride. "So I'm concentrating on riding more, and traveling, and writing, as well as designing motorcycle clothes and parts. And…cars! We're gonna open a whole new world. Provocation doesn't have to be constrained to a motorcycle, so let's push the boundaries a little more."
So we'll see even more denim and ultra-cool riding gear from El Sol it seems, and there's no doubt we'll see the pirate flag flying over new Galician custom bikes too. But we might see a really scary 4×4 first, complete with fourth-generation Spanish anarchists in rabbit masks hurling smoke bombs. Keep your video camera handy.