El Solitario is proud to present <<REWIND, a new series of interviews with the people that rock our Moto-World®, centered around the music that shaped their lives. Music is a moral law. It gives soul to the universe, wings to the mind, flight to the imagination, and charm and gaiety to life and to everything.
For this first <<REWIND we have shared some moments with Chris hunter, the man behind the most influential custom motorcycle website, BikeExif.com. Chris, like many of us, is a family man that one day looked back on his successful career as an advertising executive and decided to pack up and move from Sydney to a farm in New Zealand following his heart.
Enjoy!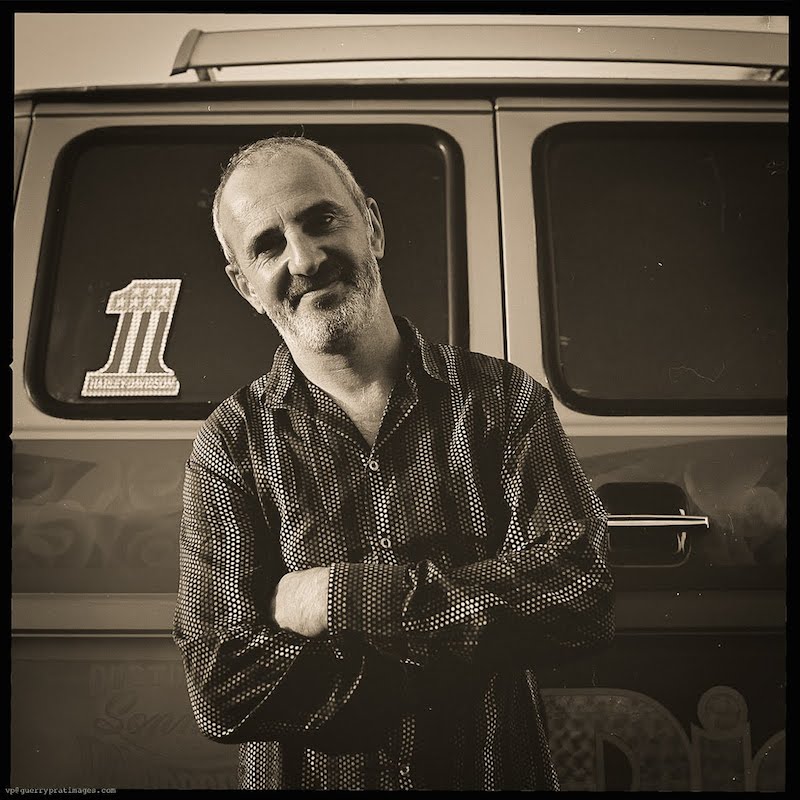 Hi ESMC,
I tend to love music that has become associated with memories … like these pieces.
Holed up in the library of Trinity & All Saints College, Leeds on a rainy day, doing film studies in the 1980s. I discovered the work of Jean Jacques Beineix, and Diva blew my mind. The opera segments still kill me every time I listen to them. 
Chill Out: The KLF
Early 90s, south London: Coming down hard as the sun rises, staggering home from the club through grey, deserted streets. Shivering in the cold, head tucked deep into silver Daniel Poole puffa jacket.
Nevermind: Nirvana
State of shock waking up one morning in '94 and hearing that Kurt Cobain was dead. That was my JFK moment. I had tickets to an upcoming gig at the Brixton Academy: it was never to be.
Tino Rossi
Sitting in a harbor bar in Ajaccio, on my favorite island of Corsica, watching life stroll by, listening to "J'attendrai" … an amazing voice.
Leftism: Leftfield
Seeing Leftfield close the show at the Tribal Gathering festival in 1996 was a mindfuck of the highest order. My hearing still hasn't recovered. 
Non Stop: Carl Cox
Because it reminds me of a crazy 72-hour party weekend in Berlin, mostly spent in the basement of the late, great Tresor club. Weird fact of the day: Robert Klanten, CEO of my publisher Gestalten, was working at Tresor at the same time I visited.
The Boatman's Call: Nick Cave
A toss-up between this album, Murder Ballards and No More Shall We Part. But the song "Into My Arms" sways it—forever associated with my wife and our wedding day. 
Everybody Loves A Filter: Fatboy Slim
August '97: Dancing drunkenly on the kitchen table of a huge, ancient chateau in the south of France with my gorgeous new wife, her sister, and my best friend. One of the best holidays ever. That remix became the soundtrack to our summer.
Siamese Dream: Smashing Pumpkins
Summer 2001: a misty dawn on the rugged Coromandel coast, New Zealand. Getting up at sunrise for a long solo drive in the Porsche 964, hammering through the switchbacks and over the mountains back to work in Auckland. Volume turned to 11 on the Becker stereo: "Today is the greatest / Day I've ever known / Can't live for tomorrow."  
Harvest Moon: Neil Young
Cool, moon-lit nights with friends on a 380-acre horse-riding ranch in the middle of New South Wales, Australia. It was our weekend escape from the heat of the city … lazy days of riding horses, mountain bikes and motorbikes. In the evenings we'd all settle around a blazing fire with wine and fine whisky, staring at the incredible starfield above. The guitars and mandolins would come out, and Neil Young was invariably on the song list. The highlight for me was always "One Of These Days." 
Thx Chris!@#$
Next <<REWIND with Vincent Prat. Stay tuned!