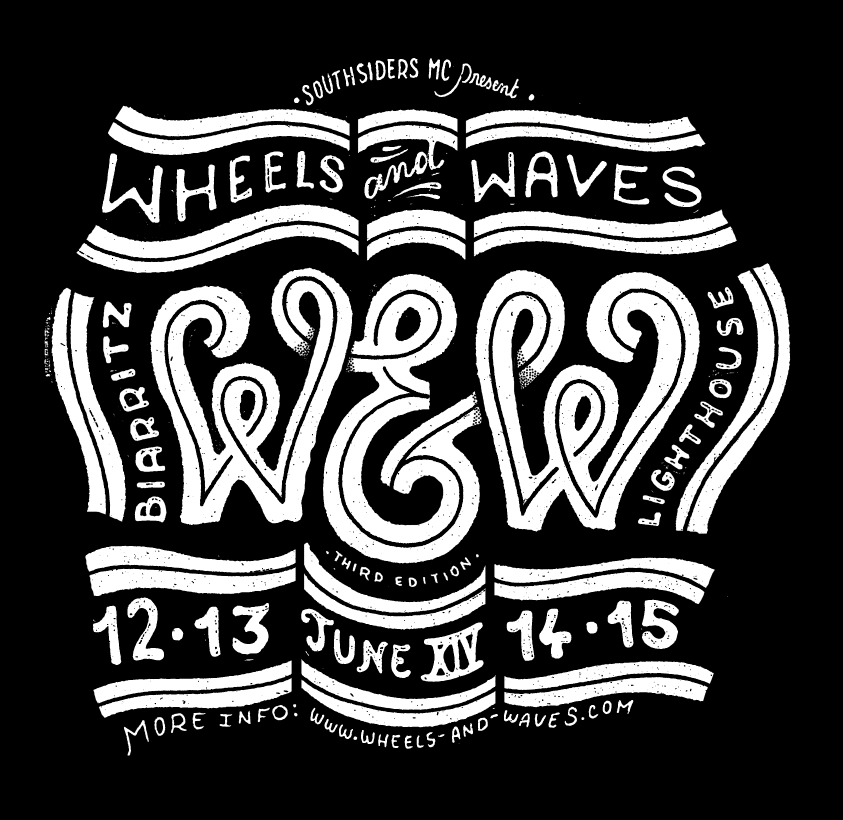 Excitation is at its peak as the crew Southsiders announces the return of the event WHEELS and WAVES in Biarritz, from Thursday 12th of June 2014 to Sunday the 15th ! And what a big news this year : the third chapter of this beautiful adventure is now extended to 4 days instead of 3. Exactly what was needed to fully enjoy a program that keeps up with its level of quality and diversity.
With its fine blend of mechanics, vintage, surfing, art and music, WHEELS and WAVES has become one of the most anticipated events in the custom motocycling scene in only just a few years. A place where today's top builders and manufacturers, along with other major actors of this new wave scene come from all over the world, to meet and share their common passion. But moreover, a festival where the public gets to discover the inside-outs of this new "RIDE" culture that we see growing amongst many markets.
Standing as a crossover event, this year's festival comes back with the introduction of new activities including an amateur surf contest fuelled by the retro spirit of the 70's, but also a new site called "studio denim", commissioned by Nick Clements, which will gather heritage clothing brands that have been inspired by the motorcycling culture for decades. The main village located at the bottom of the Biarritz lighthouse will remain the meeting point during the event, with many unique pieces for the public to admire, along with a diversity of rare old machines.There, builders and brands will also be unveiling their latest creations and exclusive collabs.
Amongst the highlights of the event, a new multi-artistic art exhibition will open the festival, in an old garage, a 1000 sqm place with walls covered by many artworks inspired by wheels and waves. The crew Southsiders will soon reveal the list of artists, and we can assure you that the public will be not the less stunned.
But back to the main focus where strong sensations, adrenaline, freedom and noise are celebrated. A demo Hill Race will take place at the top of a breathtaking mountain. Pilotes driving machines from the 30's to the 70's will be racing on a scenic road between the ocean and the mountain. Photographers will be rushing on that day; along with media as this is set to be the highlight of the weekend.
Hell of a yes, the anticipated 250km ride is also on the agenda with a new itinerary that will be announced very shortly.
The crew is putting together new monthly newsletters that you should subsribe to in order to receive all the updates about WHEELS and WAVES 2014, so feel free to register HERE to get the latest news !
stay tuned, save the date and get excited!
More info here: www.wheels-and-waves.com