In the 1990s, Hassan Hajjaj assisted on a magazine photo shoot in Marrakesh when he had a realization: All the models, the photographer and even the clothes were from another country. Morocco, the country he grew up in, was simply the backdrop.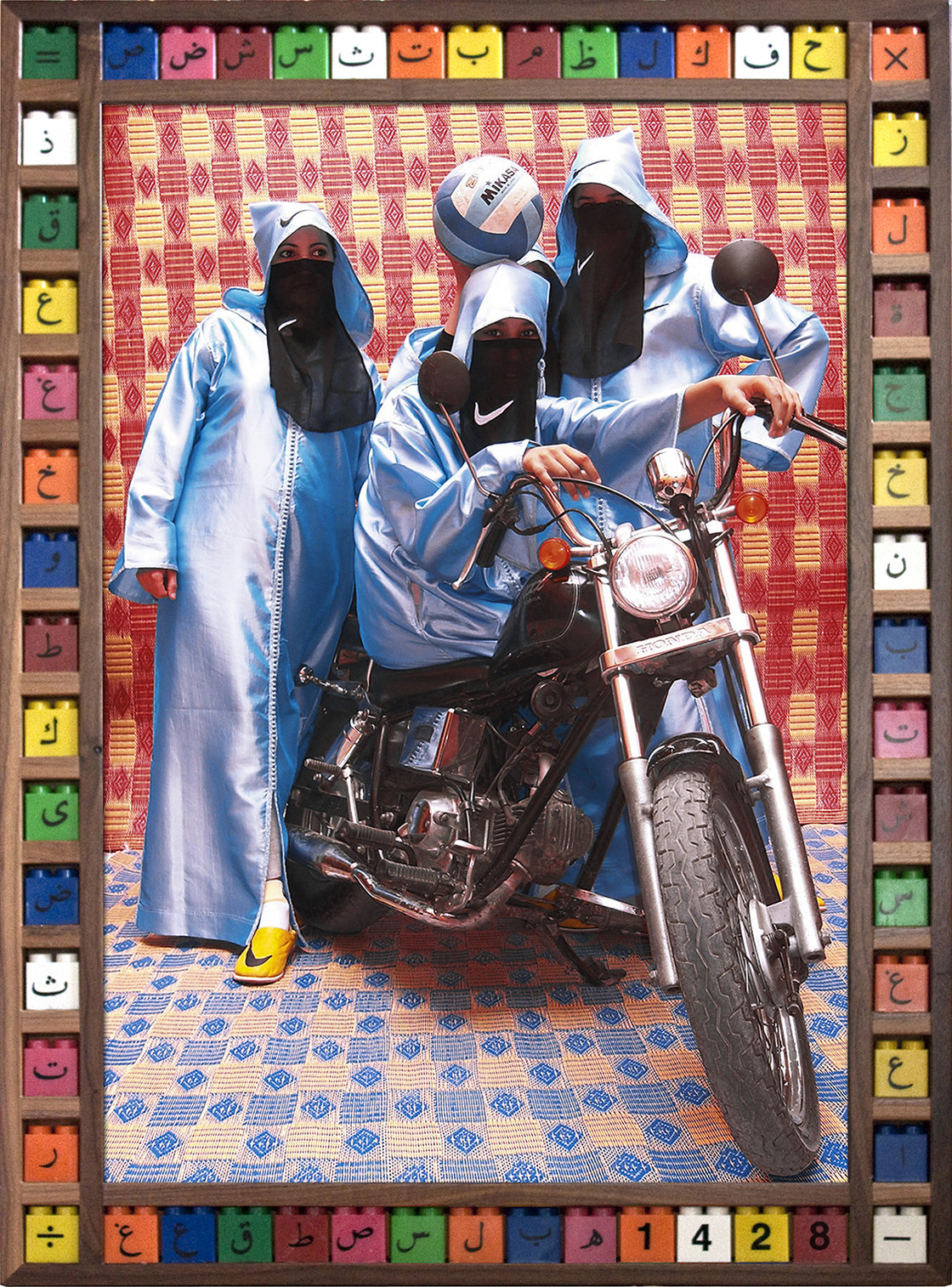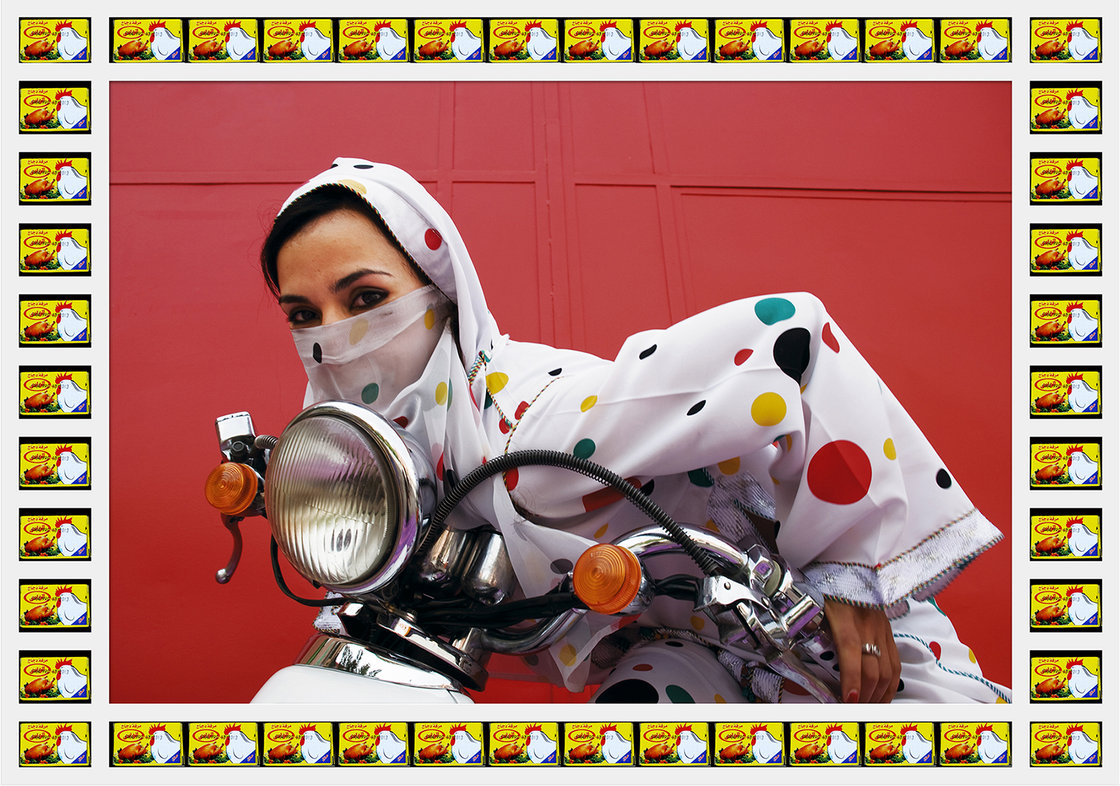 "From then I said it'd be great to present my people in their environment in their kind of way of dressing," he says in an interview on NPR's Morning Edition, "and play with it in that fashion way."
So Hajjaj began photographing his friends — savvy, smart women who live and work in his neighborhood in Marrakesh — for his playfully titled photo series "Kesh Angels." He photographs them dressed in veils and traditional robes, called djellabahs, poised atop motorcycles and smiling behind stylish sunglasses.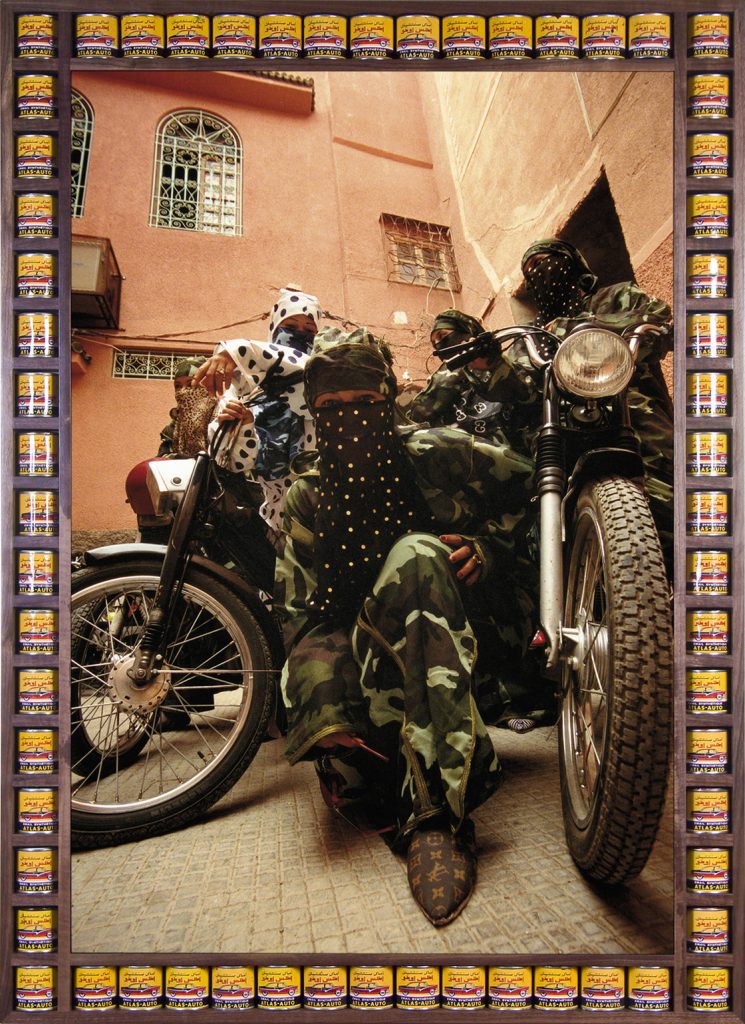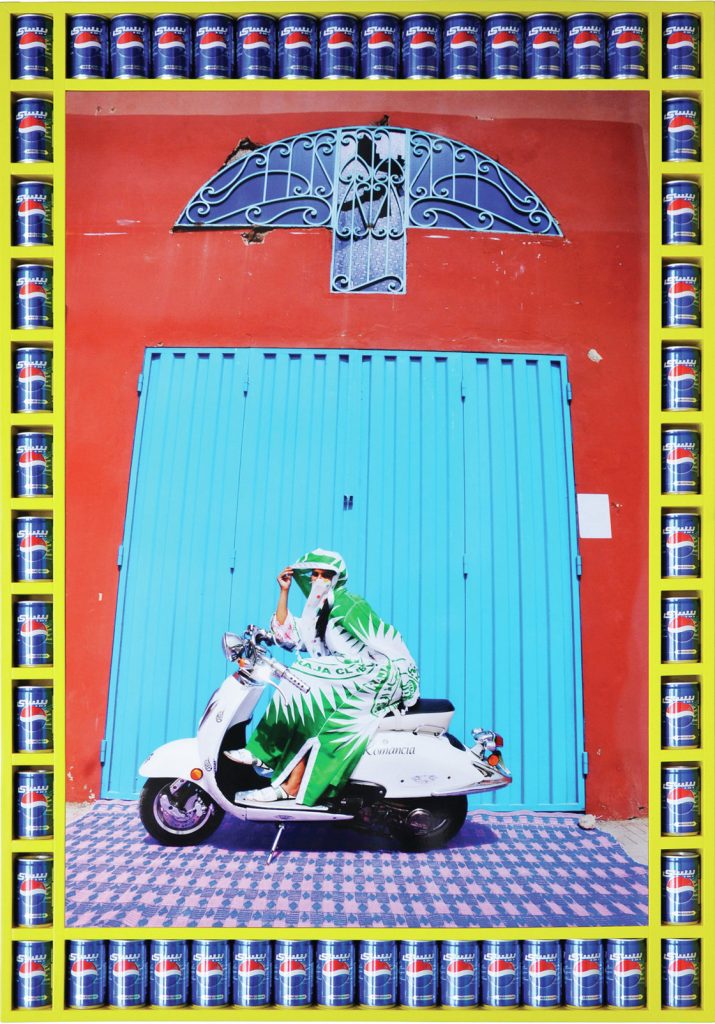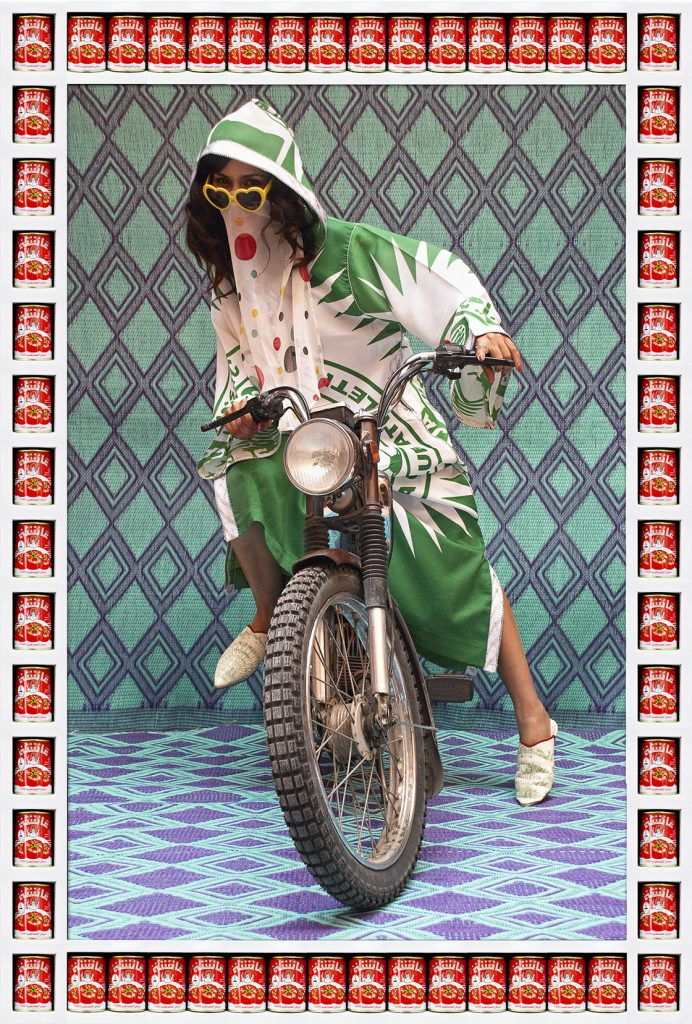 He says he combines the influences around him, including hip-hop, motorcycle culture — and the friendly, familiar feel of brands like Fanta and Nike — to introduce viewers to the less-familiar sight of Marrakesh bike culture.
According to Hajjaj, motorcycles are just another part of life in Marrakesh. Everyone uses them to get around, including the women he photographs.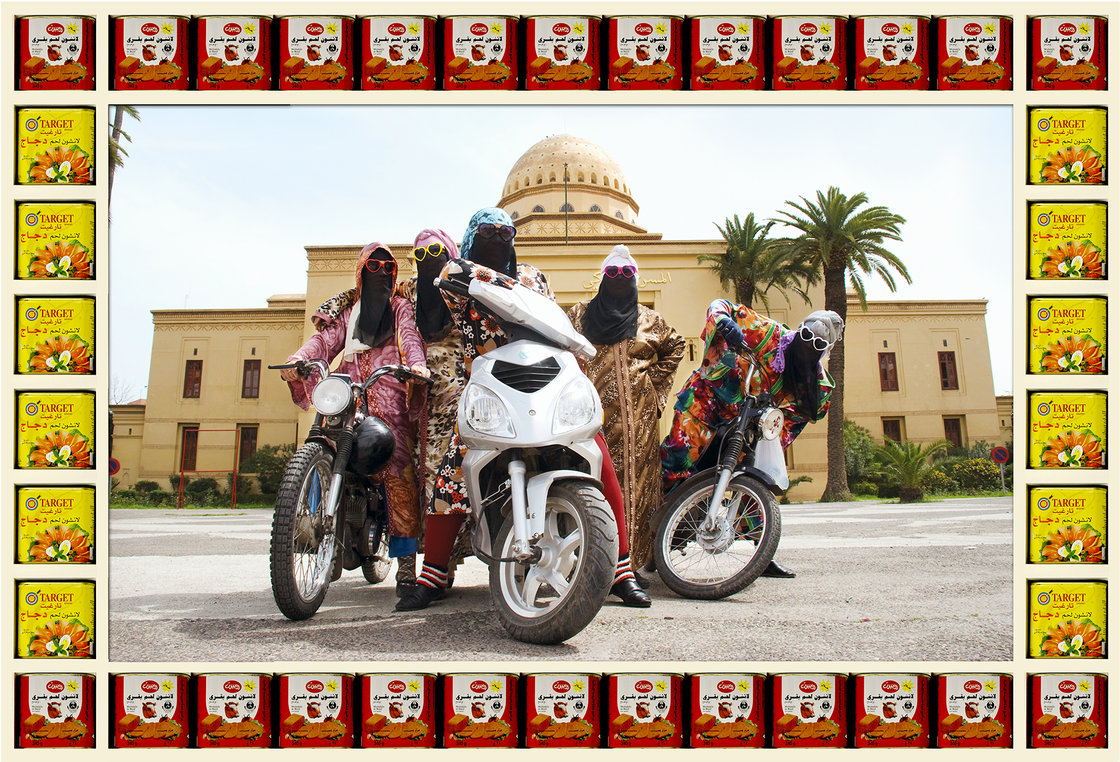 Hajjaj, who moved to London as a teenager, attributes his visual style to nostalgia for the place he grew up: Bright, contrasting color, bold textiles, and even the brand repetition around the frame, which he says is a nod to Moroccan mosaics.
"All those elements I take and try to rebrand them," he says. "I'm just highlighting my culture with the bike culture."
Hajjaj's work is currently on exhibit at the Taymour Grahne Gallery in New York and the Gusford Gallery in Los Angeles. His other work will be housed at the Marrakech Museum for Photography and Visual Art (MMPVA), opening in 2016. MMPVA will be the biggest photography museum in Africa, according to Hajjaj. He is one of 10 Moroccan photographers whose work was chosen for the MMPVA collection.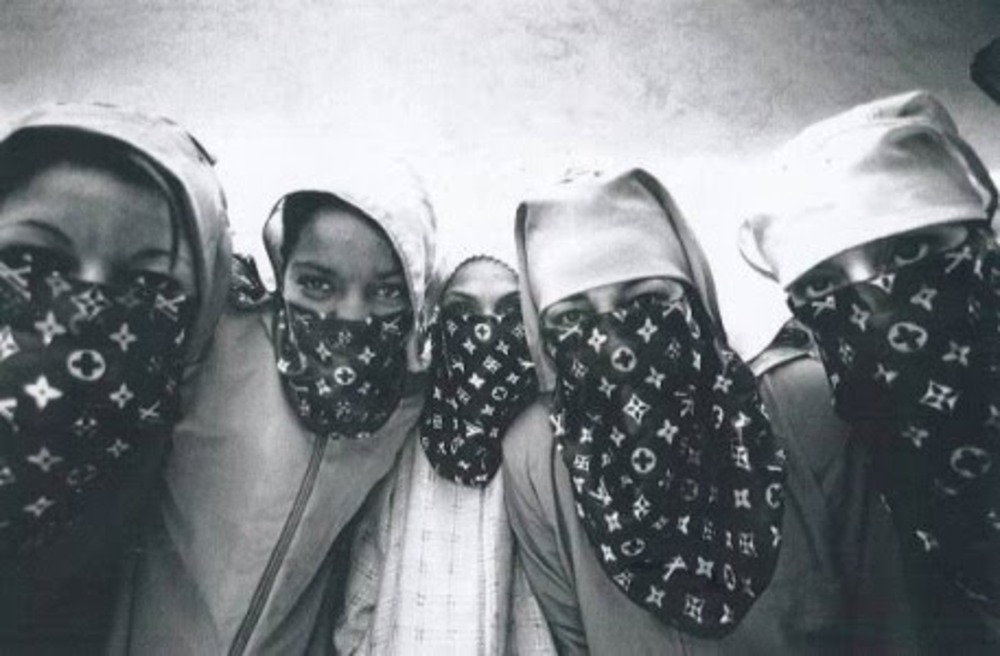 Born in Larache, Morocco, in 1961, Hassan Hajjaj left Morocco for London at an early age. Heavily influence by the club, hip-hop, and reggae scenes of London as well as by his North African heritage, Hajjaj is a self-taught and thoroughly versatile artist whose work includes portraiture, installation, performance, fashion, and interior design, including furniture made from recycled utilitarian objects from North Africa, such as upturned Coca-Cola crates as stools and aluminum cans turned into lamps.
Turning to photography in the late 80s, Hajjaj is a master portraitist, taking studio portraits of friends, musicians, and artists, as well as strangers from the streets of Marrakech, often wearing clothes designed by the artist. These colorful and engaging portraits combine the visual vocabulary of contemporary fashion photography and pop art, as well as the studio photography of African artist Malick Sidibe, in an intelligent commentary on the influences of tradition in the interpretations of high and low branding and the effects of global capitalism.
In 2009, Hajjaj was shortlisted for Victoria & Albert Museum's Jameel Prize for Islamic Art. His solo exhibitions have been held at The Third Line, Dubai; Rose Issa Projects, London; Freies Museum, Berlin, as well as group exhibitions such as The Marrakesh Art Biennale; Edge of Arabia, London; Photoqua, Paris; and Re-orientations at Rose Issa Projects, among others. His work is in the collections of the Los Angeles Museum of Contemporary Art, Los Angeles; the Victoria & Albert Museum, London; the Farjam Collection, Dubai; Institut des Cultures d'Islam, Paris; Kamel Lazaar Foundation, Tunisia; Virginia Museum of Fine Art, Richmond, VA, and more. The artist lives and works between London, UK and Marrakech, Morocco
More info: http://www.taymourgrahne.com/artists/hassan-hajjaj