Enjoying the latest piece from mad man exceptional and one of our favorite moto-people in the world, the one & only Dimitri Coste. DC is the biggest grin in any race, and the only one capable of crashing as many times as necessary in order to find where the real limits are and of course doing it with style. Watch this low-tech high-fun video of Scott Burnworth on the dirt on an OSSA for the cool american goggle brand 100%. RAD!@#$
Paris-born Dimitri Coste is a photographer and film director who's extensive work is ingrained with his immense passion for motorcycles, skateboarding and American culture.
Thanks to his dad's job as editor-in-chief of French publications such as Moto-Verte, Bicross Magazine and later Velo Vert, Dimitri's love for two wheels started at an early age. Growing up alongside an artistic older brother (Ruby helmet's creator Jerome Coste), Dimitri tapped into his own creative side and began taking photos while hitting up Mountain Bike and BMX races. His work has since transcended far beyond 2 wheels although his true passion, along with photography, still remains motor- cycling.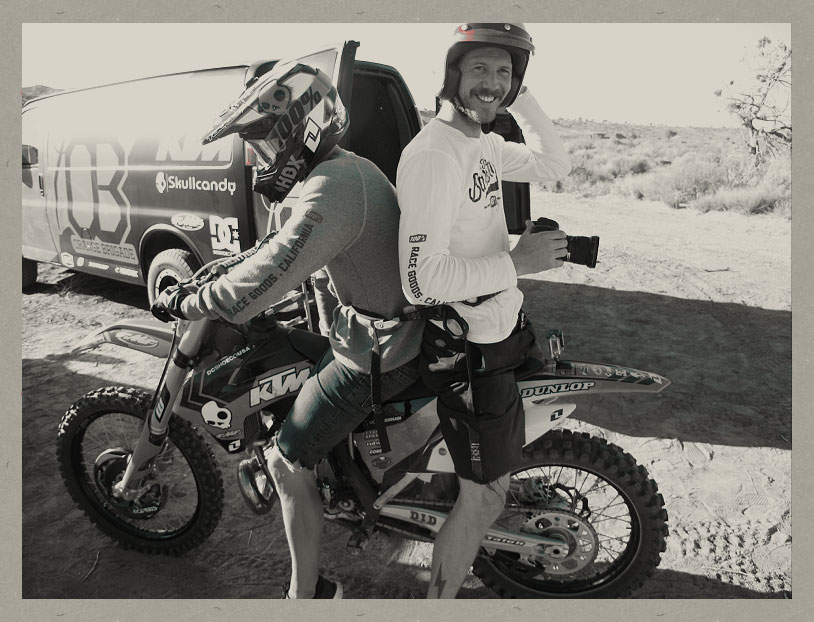 This is why when the famous Catalina Grad Prix was revived in 2010, Coste quickly signed up and arranged to have his 1967 Triumph TR6C shipped over from France so he could race. Dimitri went on to win his class at Catalina and followed that up by finishing the infamous Pikes Peak hill climb in Colorado as part of his OSFA (One Size Fits All) project: to race the same Triumph in the classic U.S. races of the 50's & '60's just as it was done back in the day.
Some- times referred to as "the California guy living in Paris", his interest in vintage American culture plays into his freestyle way of doing things. He's always having fun and effortlessly relates to the people he is shooting.
The phrase inked across his chest sums it up best…"Life is a rodeo"