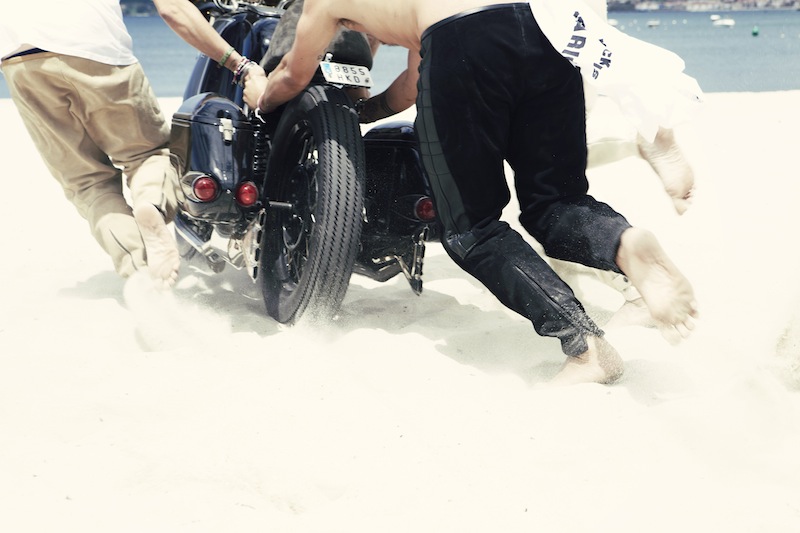 This is the story of two life friends who dreamt about doing a different bike. Nothing more nothing less. They fantasized about a crossbreed between a 1950's racer and a touring motorcycle, intended  to be ridden for ultra-miles evading the need to constantly halt on the way. The starting point was blueprinting the motor, all new electronics, rebuilding the transmission, the clutch, the carbs and a long etc…  Once the drivetrain was sorted, El Solitario carried on with the ergonomics of their tiny sumo motorcycle. Cornerstone was the find of the center piece of the build, the impressive 10 gallon Hoske tank. The rest  of the concept just developed naturally, continuously outgrowing their initial thoughts.
After positioning the tank on the bow, a new subframe was sketched & equipped with the mandatory comfortable seat which was then covered in thick suede. With comfort and practicality always in mind, two round headlights would take care of the night, a small fairing would ease the pressure on the arms in long distance hauls and two fishtail pipes, with their distinguished tone, would escort the ride without further annoyance. The riding position, although definitely comfortable, should be proper for an sportive gentleman who fell for a fast ride every now and then. Carrying on with the build's abundance & pragmatic philosophy, a pair of vintage Buco Panniers were purposefully added for cruiser's paraphernalia.
Baula was one of those classic exercises forged on the premise that form should follow function, and although it resembled  outrageous at firsthand, the coherence of the plan made it fascinating at least for our daring insolent minds. Today and after many charming miles, Baula still defies  the common eye, becoming the conversation of every village or town that you are appointed to stop to refill her tank.
Special thanks to Chris Hunter, Gary Inman, Javier Minchan, Vincent Prat, Kristina Fender & Mark Hoyer for their everlasting support.
Read the feature in BikeExif by clicking on the following link: http://www.bikeexif.com/el-solitario-bmw-r75
Read the Cycle World Introduction by clicking on the following link: http://www.cycleworld.com/2013/01/04/el-solitario-custom-motorcycles/