What to say about good old Bonneville. Not the place for the timid or the slacker. Also not the place for spectators or tackle & run racers. Bonneville is all about a long term fight. A fight against the clock, a fight against oneself. The extreme natural conditions dictate that no living creature should ever disturb the peace of the salt, but as you already know, we humans, & specially fast ones, like to complicate things and play a sure death a couple of tricks just to show what we are capable of.
(CLICK ON THE LINKED WORDS IF YOU WANT TO SEE OTHER CONTENT)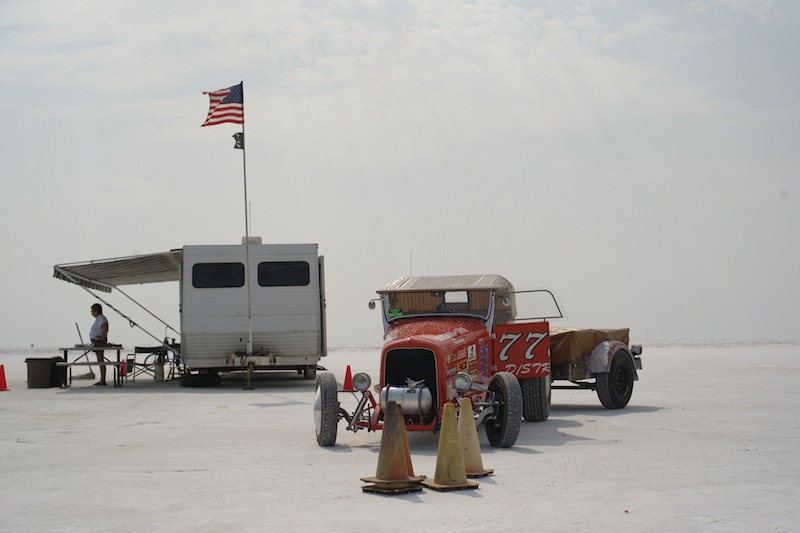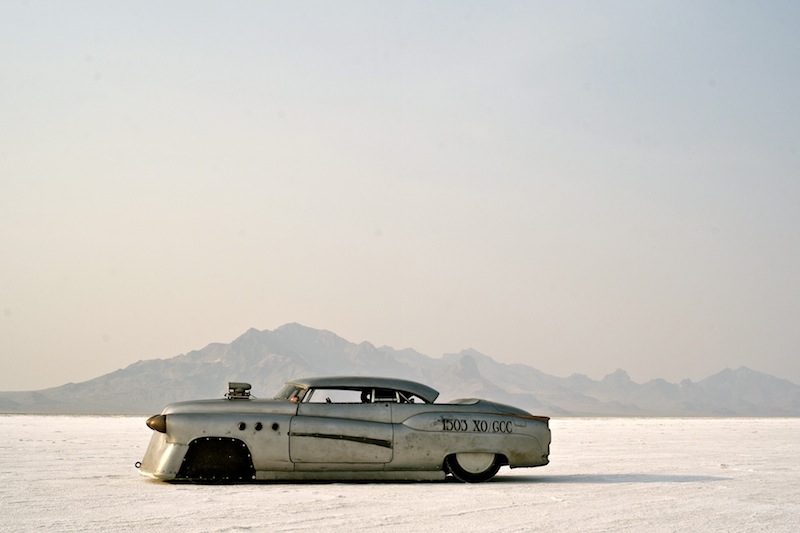 Jeff Brock's 1952 Buick
But don't be fooled by the need for speed. Speedweek is also an esthetic venture where it is also important to go fast with an attitude. At Bonneville, classic lines meet new design trends in a rad & distinct way we have only appreciated here. Jeff Brock's Bombshell Buick recordbreaker, (above) ,is a fine example of this fabulous mix & match tendency.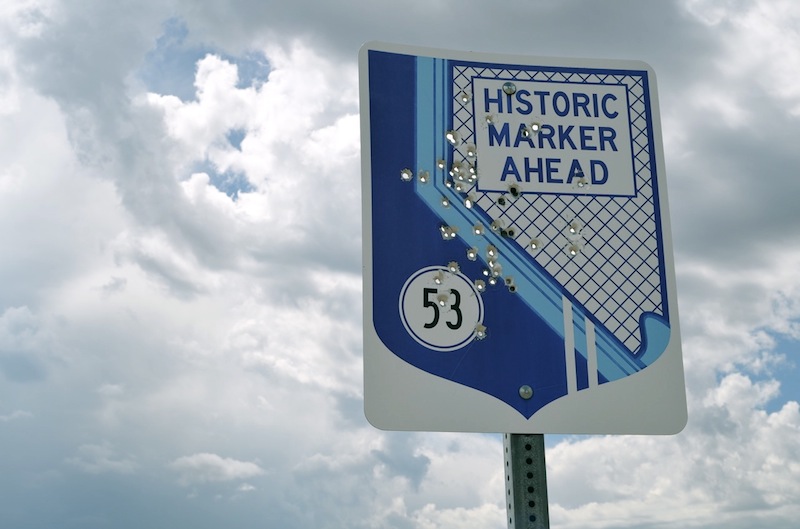 Never forget you are in the Nevada border…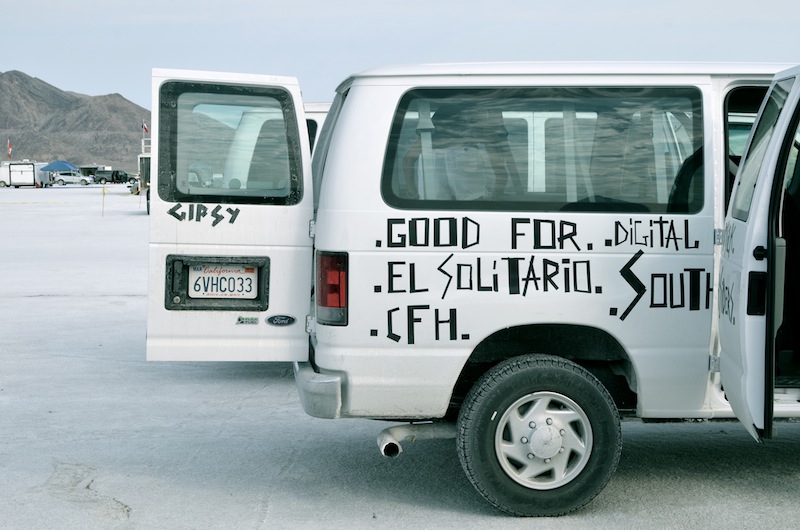 Digital Milk's cool duct tape lettering on the Impossible Vans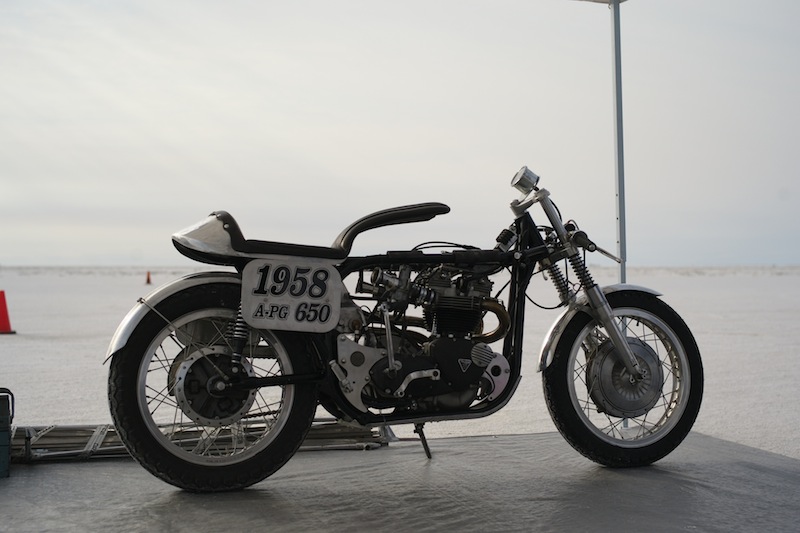 The 1958 Triton delivered all the "enjoyment" you should expect from a british mistress but did well in the end with no major incidents at 104.64 MPH with Commander Prat on the throttle.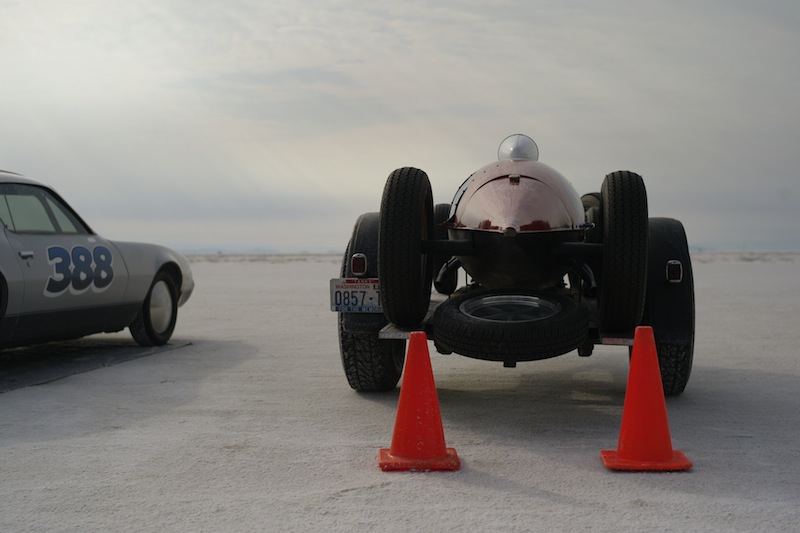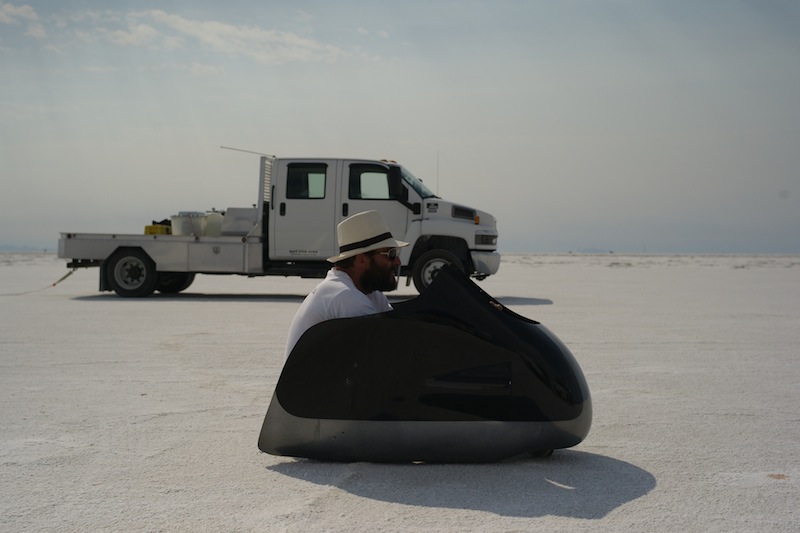 We arrived on a stormy friday afternoon, listening like madmen to Gustav Holst's The Planets in our hearts. Suddenly our Econoline Vans, packed with gear and motorcycles!!! left the tarmac for the desired soft white salt. Yeah!!! we thought… this could be heaven!!! But don't be fooled… as the welcomed high winds, scattered with rains & electric discharge, only lasted for that afternoon, and the over heating punch, already planned for us, was just about to start.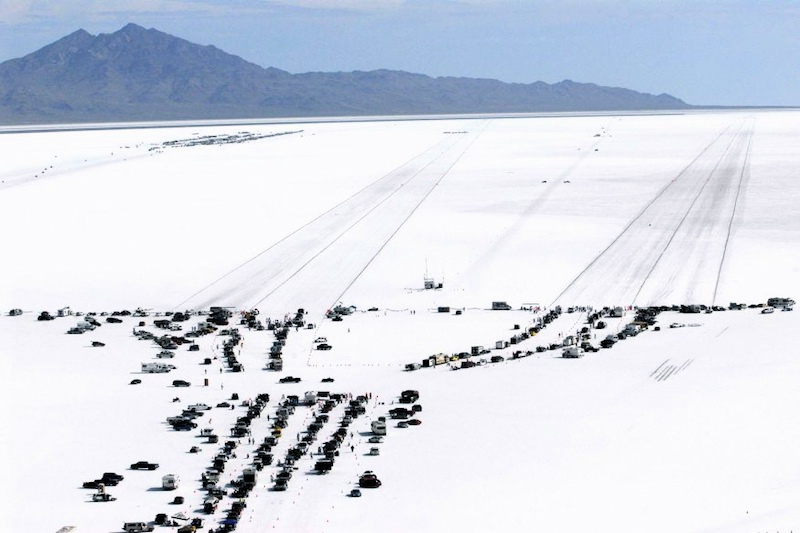 Bird's view of tracks 1& 2 with their long lines and the pits far ahead on the left side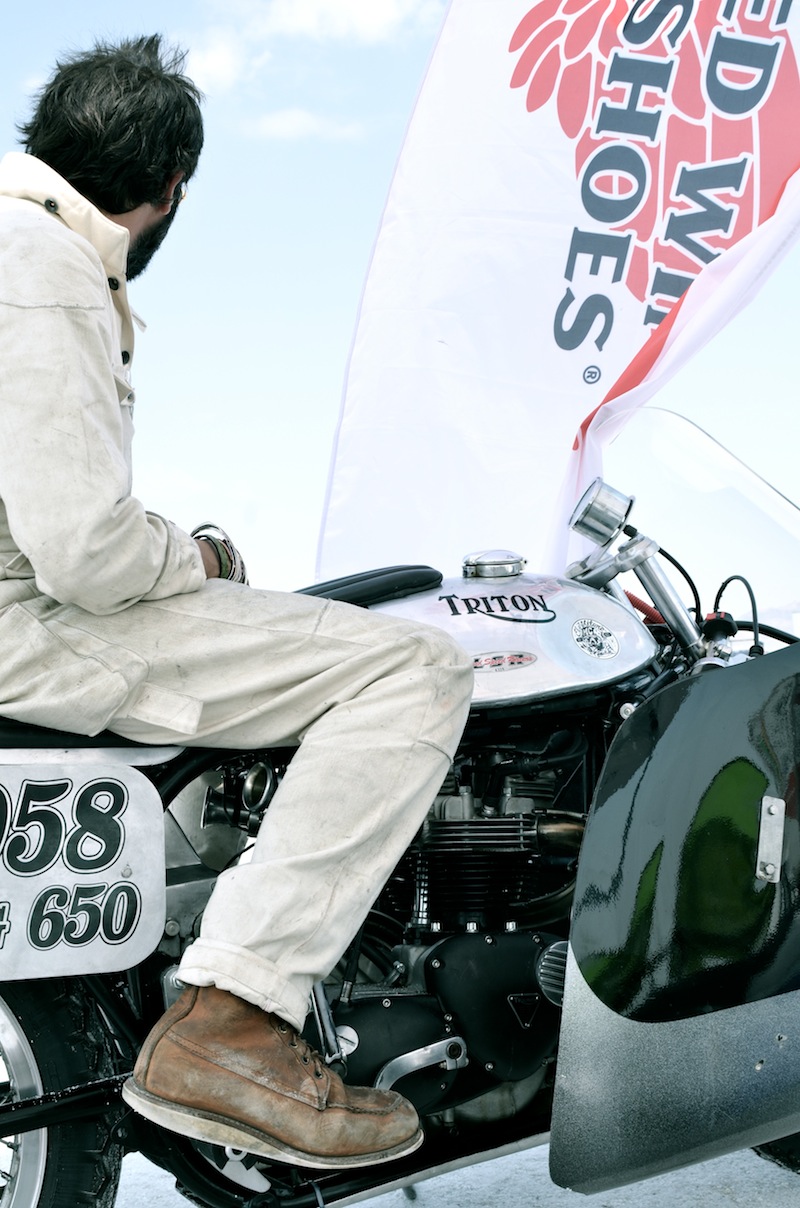 The corrosive Salt was the perfect environment to test the all new El Solitario Red Selvage Overalls, and they proved to be the perfect companion for all your motorcycle adventures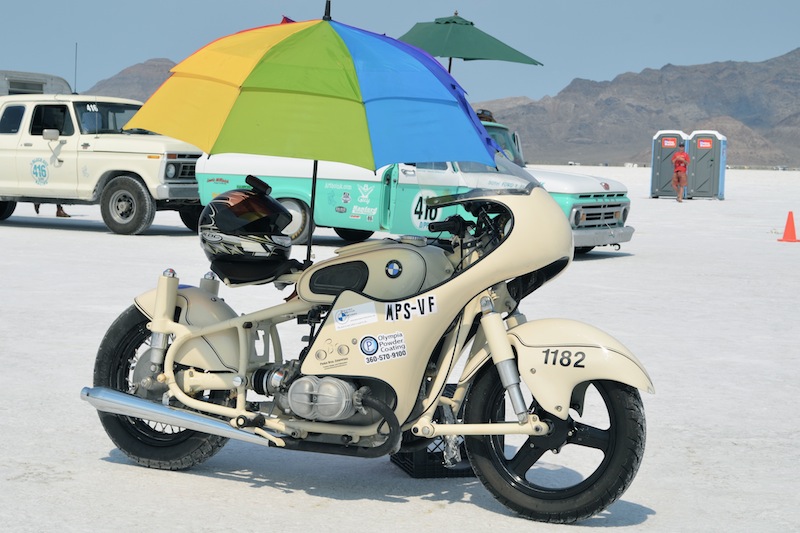 You should hear the way this BMW R50 motor revved up… Crazy!
4 tracks; track number 4 is the shortest, (3 miles) ideal for less fast vehicles and mandatory for rookie contestants. Tracks 3 & 2 are longer & closer to the almighty 1, which is 9 miles long and beholds the fastest pushrod vehicles on the planet. George Poteet and his SpeedDemon battling against themselves for the fourth consecutive year, did 417 MPH, becoming the fastest push rods vehicle on earth.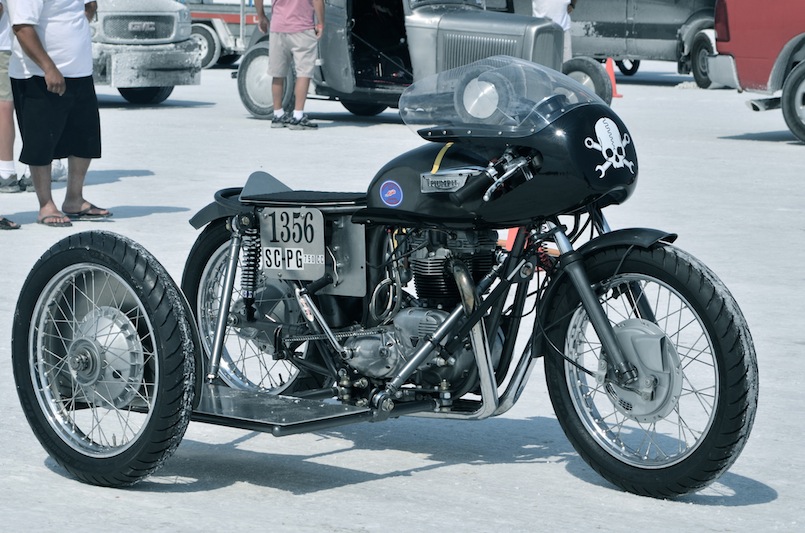 Don't remember this man's name but he was cool dude and his T120 had bitching details all over it. Also got a record and went home with a big grin.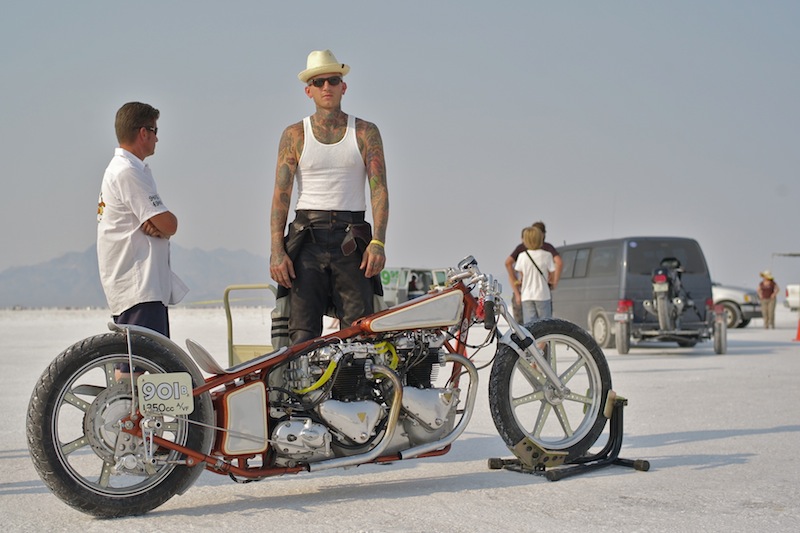 Tyler Malinky and the Low Brow Double Vision. The bike is even more astonishing when you get closer & so is the fabulous crew. They got a record that afternoon and confirmed it the next morning at sunrise. Good!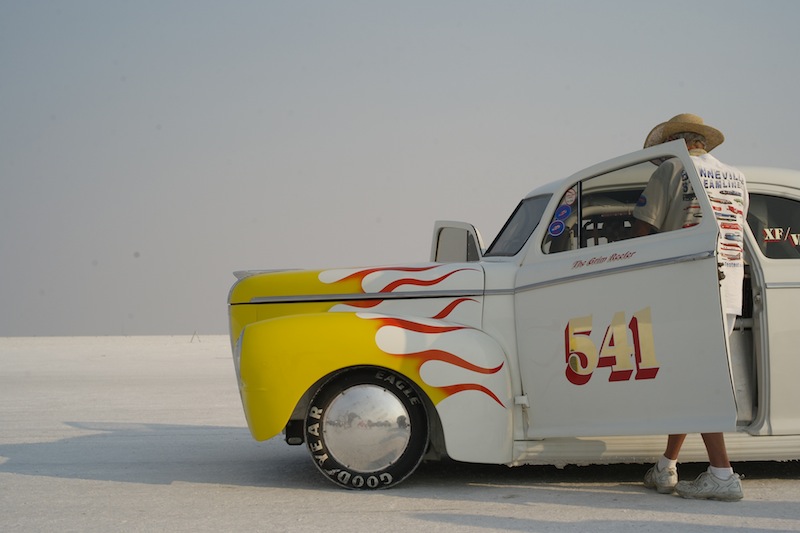 Flames are cool on the salt!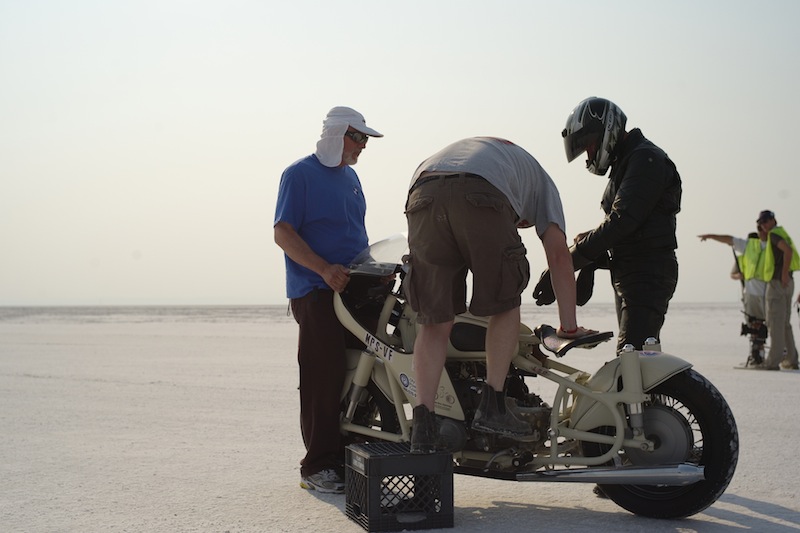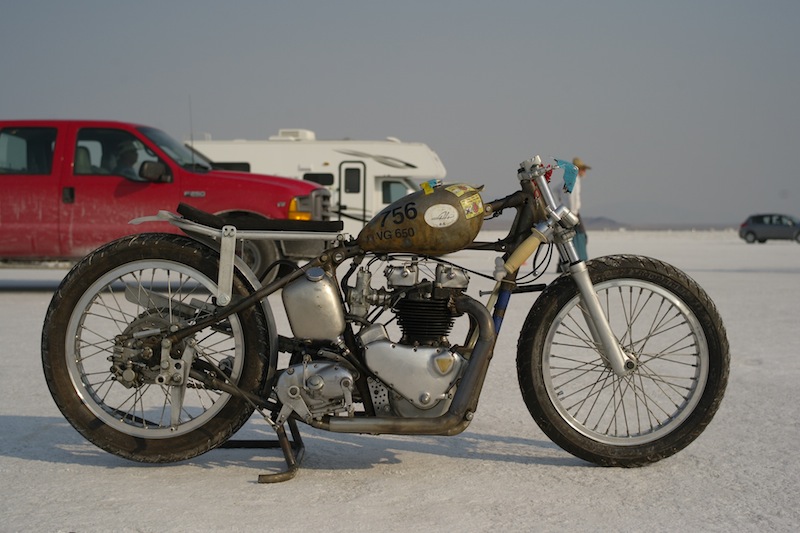 Alp Sungurtekin's pre unit Triumph was avid for records and got some.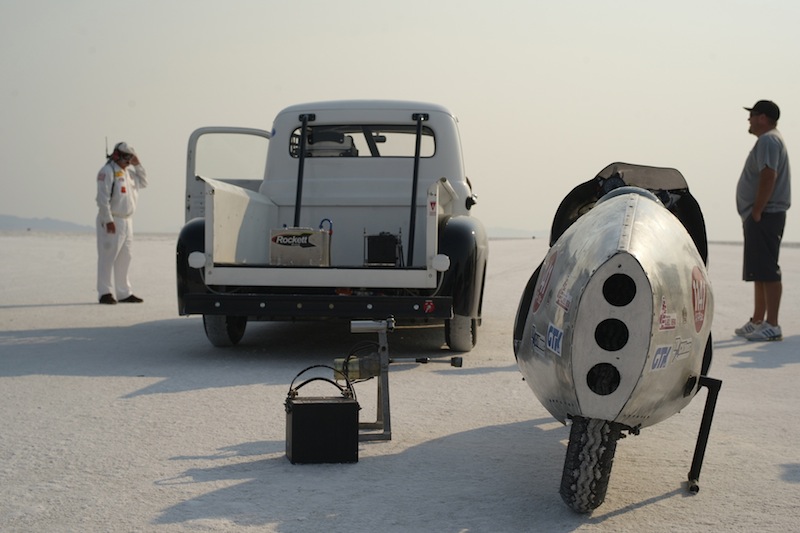 Scandinavian thumper full streamliner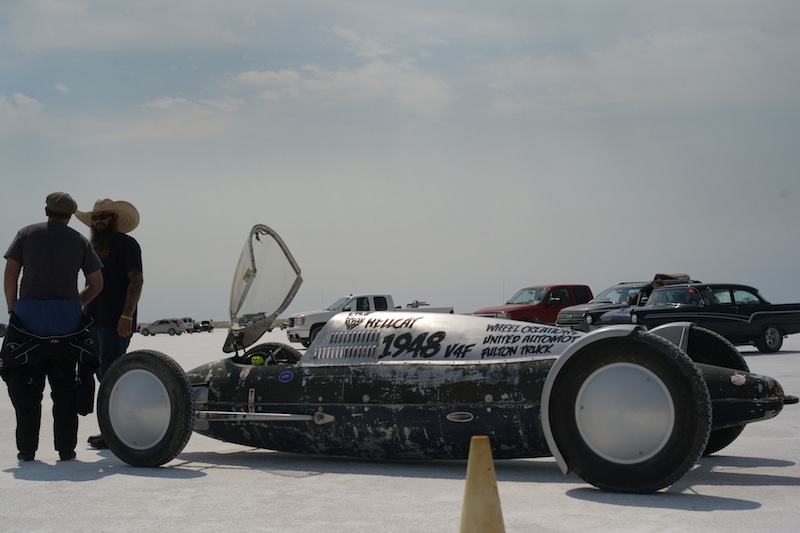 Belly tanks are beautifully built and symbolize the persistence of man fight against physics. This exemplar was superb.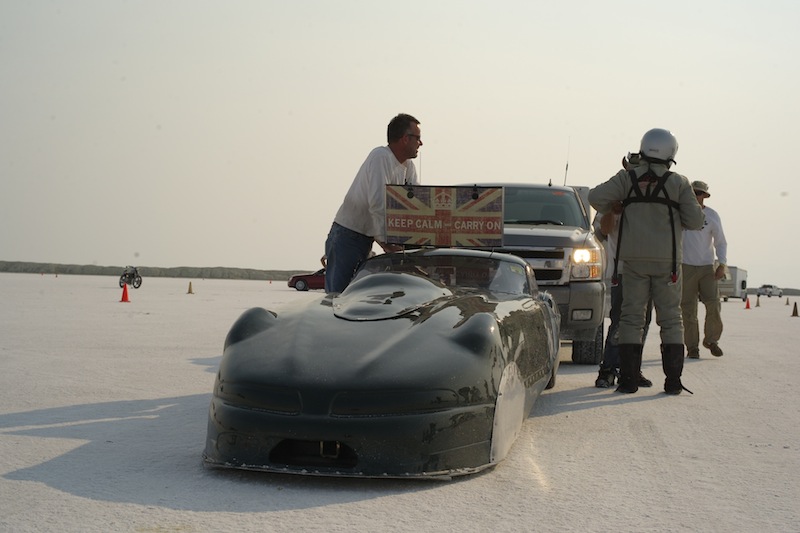 World's longest & fastest Triumph GT6
On the salt you must monitor your activity carefully, in order to get all the important things done first, as strength might leave you at a stake. The huge distances inside the lake (with a 9 miles long paddock!@#) and the never ending tune up problems with our machines didn't leave us much will to tourist around, although the great crowd present was appointed among the elite of the faster and friendlier generation ever seen.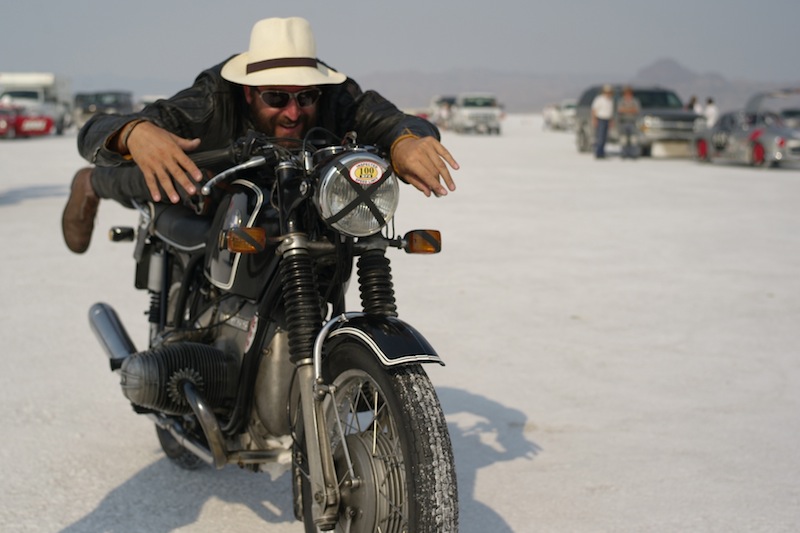 In one run JR did a Rollie Free and was later cheered by one of the inspectors on mile three who saw him fly by… What a place!!!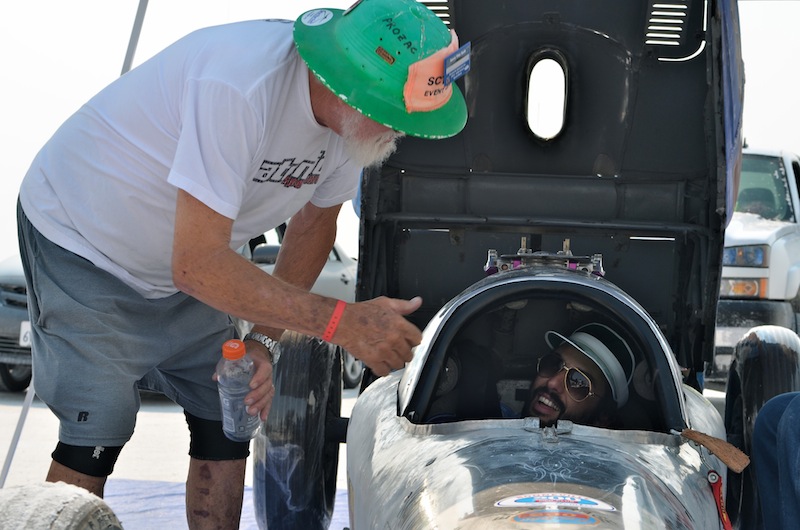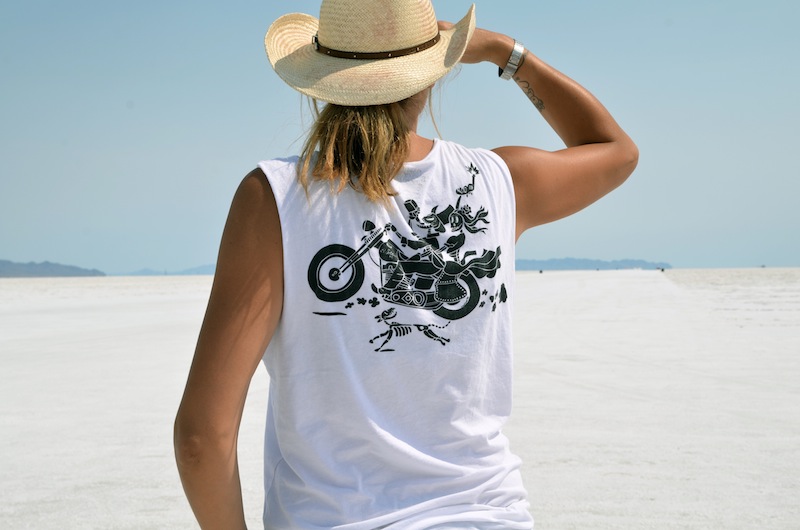 Listen to the sounds of speed while you see the mechanic wonders disappear behind the curvature of the earth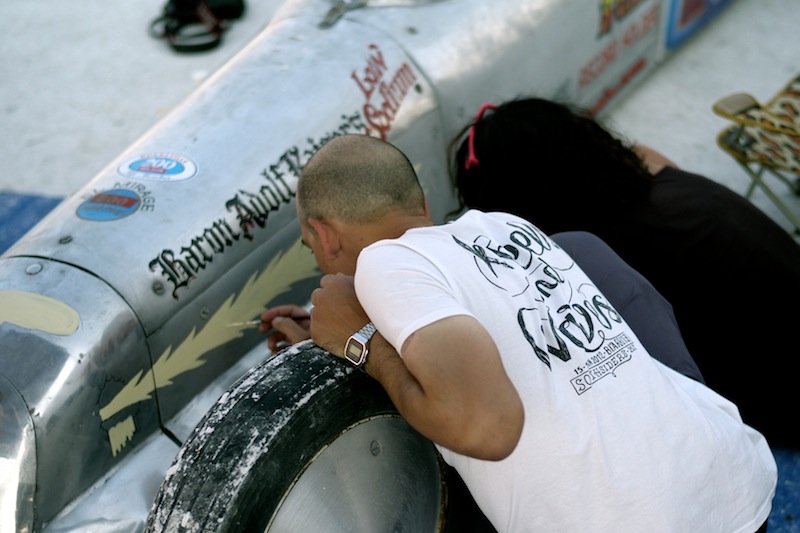 Maxwell from CFH paints mad Willie's "Grrracing Gaaaaassss" 1925 Ford Model T Punk which went passed the 254 MPH and straight into the 200MPH Club. Well done Kaiser!
The first three days, everybody is there suffering speed itching, and the lines for running can easily take you 3 or 4 hours of exasperating wait under the merciless sun. Once the week starts to develop, mechanical failures reduce the quorum and only serious record pursuers remain on the lines making things easier for everybody.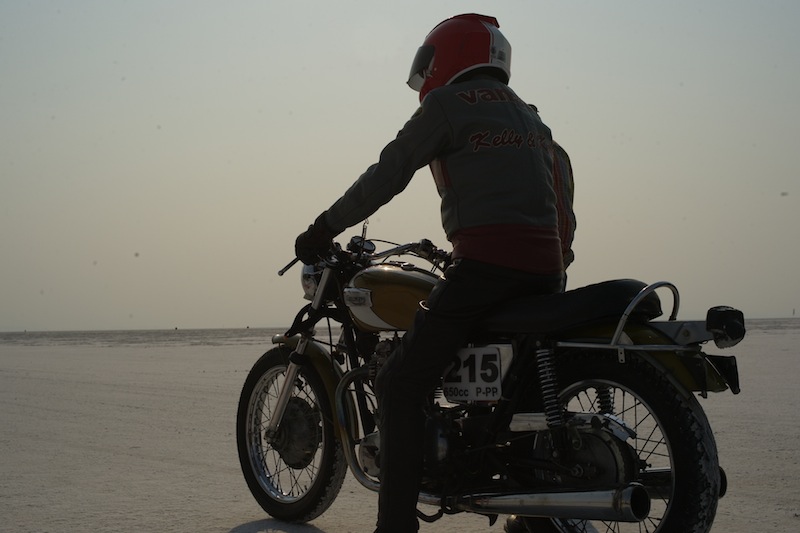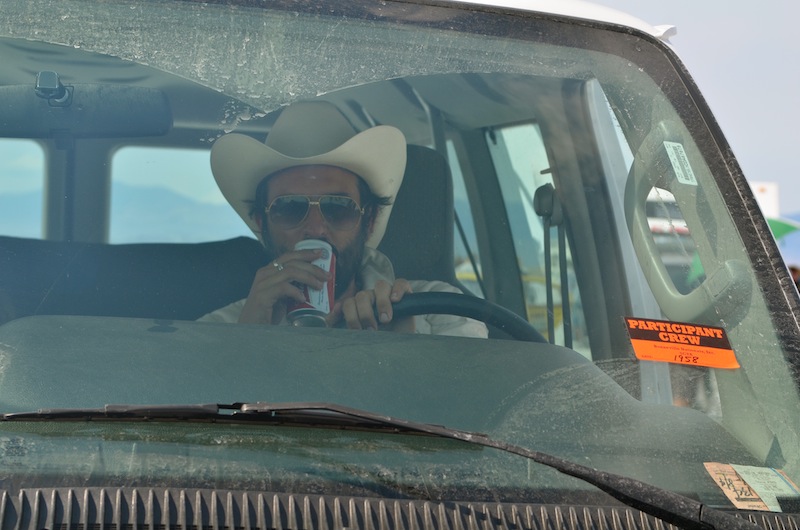 Long lines at the track start line grant you the time to chill and enjoy…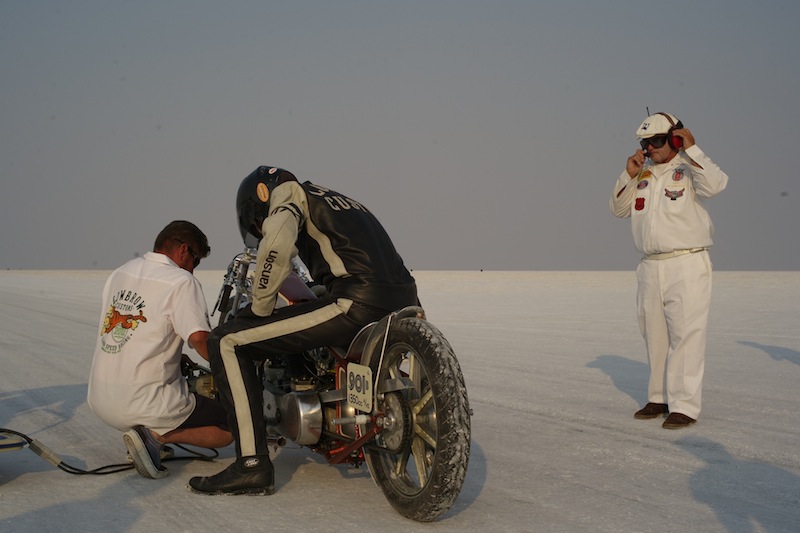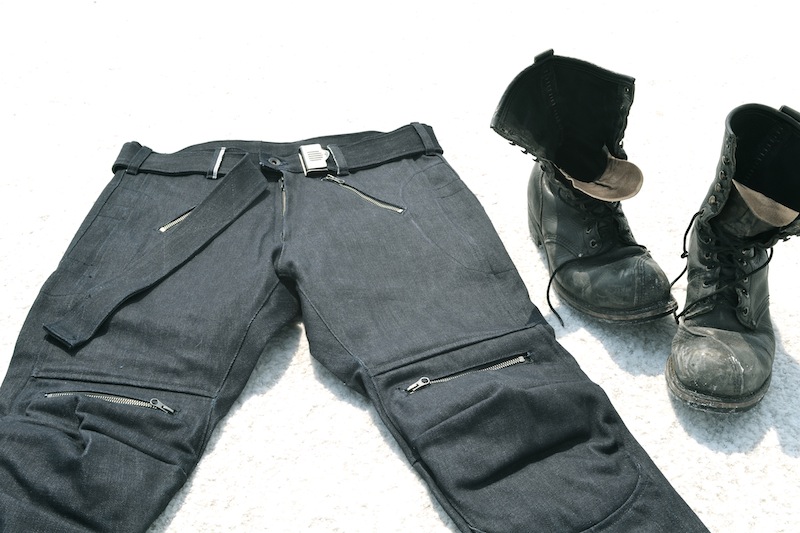 EL Solitario  Raw 18oz Denim Moto Pants prototype, (Brand new in the photograph) also took their beating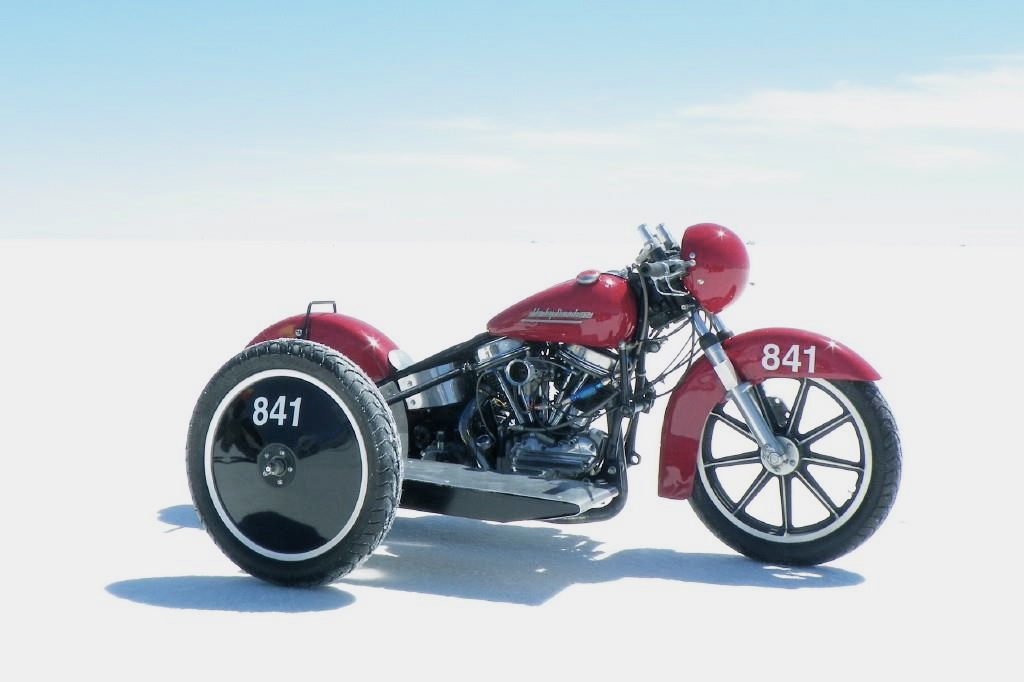 Tom Foley's beautiful Panhead Sidecar Racer broke a record running above 121 MPH in  full streamliner gown.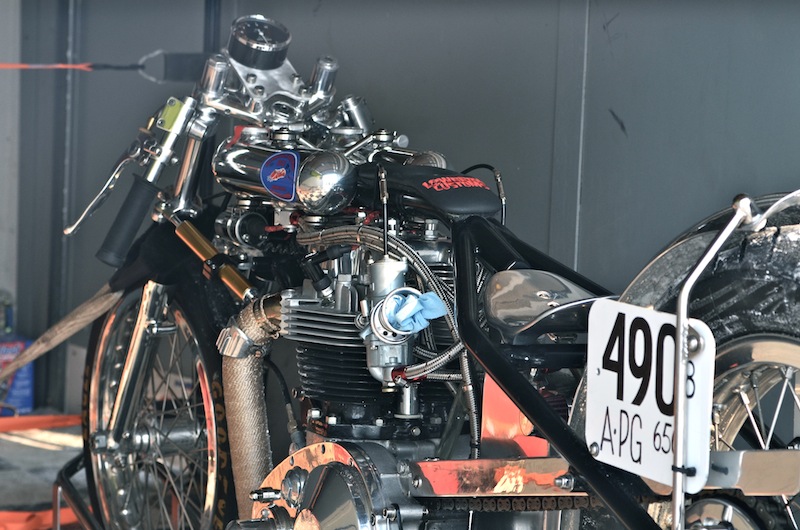 Kyle Malinky's unit Triumph was doing good when unfortunately broke the crank case!
Our bestest & padrino, VP, cleverly, realized that maybe we were too young for a truly Bonneville experience, and he wasn't ill fated. The salt is not for the go fast, go now, speedster, who needs the rush of each and every turn a demanding road might throw at you. With the highest average age we've ever enjoyed in a motoring event, Speedweek is all about the path not the destiny. You have 3 years to compete again if you don't want to lose your number, and in that time you must prepare your stuff right. Master your engine, choose the right class and be ready to fail as the conditions will be rough, will be tough.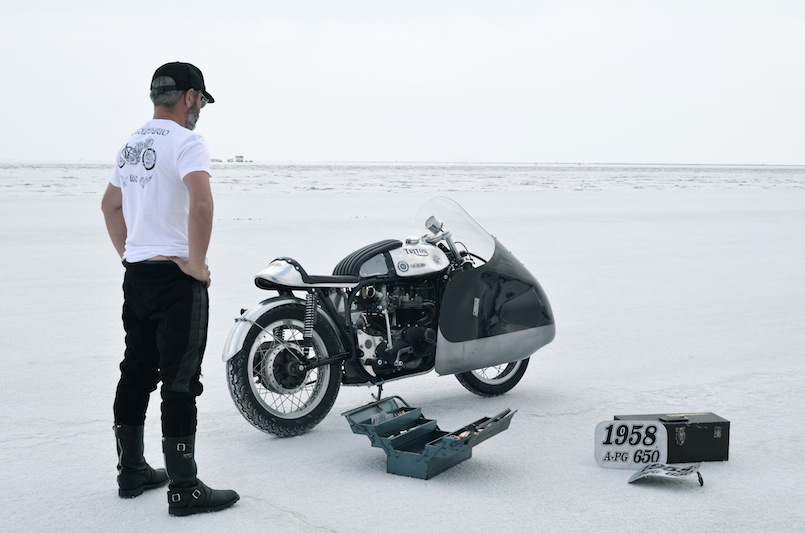 V.P. rockin' El Solitario Leather Motorcycle Pants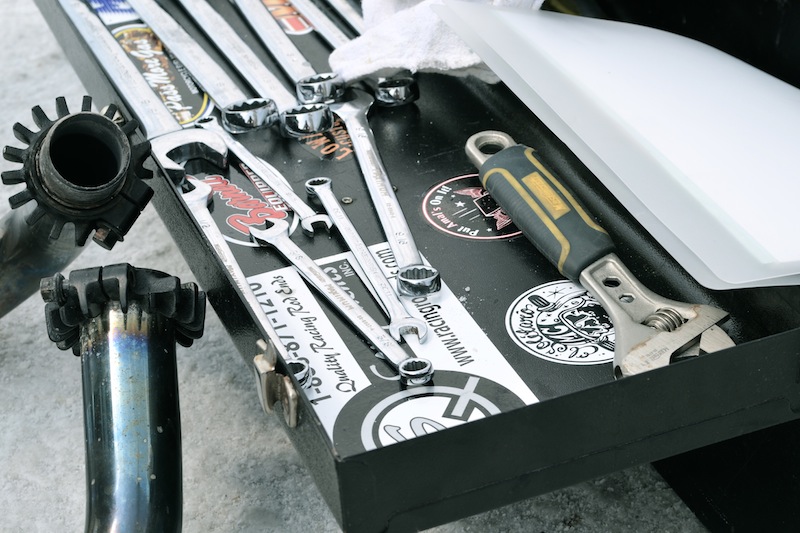 There is a good average of six hours of wrenching for every minute on the track!!! … not bad uh?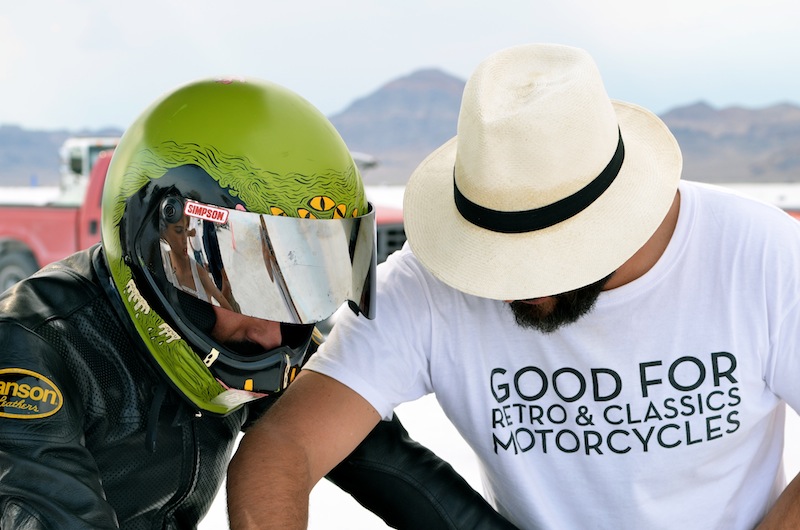 And now the answer to what most of you are eager to question. How was it riding on the salt? Slippery? Bumpy? Difficult? Well not really… The feeling is like those well compacted, off-road flat tracks you might come across when linking two different mountains on your dirt bike. Not difficult at all. As a matter of fact I found it disappointingly easy, if you guys know what I mean…( Probably if you go above 200MPH then its another story…) But took me some time to understand that the ride isn't really the point of Speedweek. It is the achievement and the constant battle what counts here.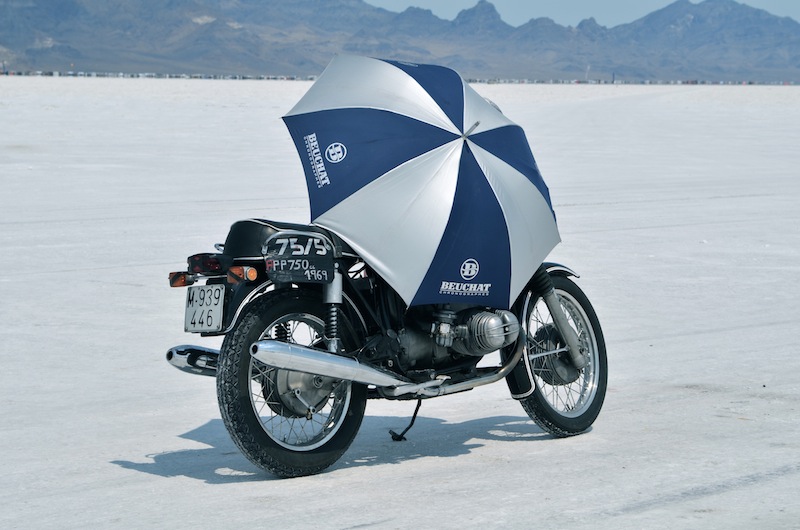 The stock Beemer ran in production class, flawlessly, and achieved a top speed of 107.68 MPH with this writer on the throttle. Not bad for a 1969 grocery getter. JR you rule!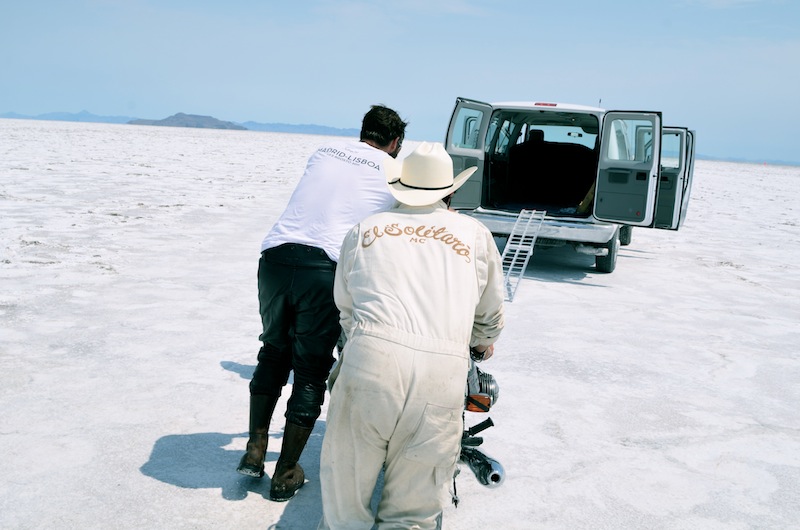 If we added all the times we did this @ Bonneville with our two bikes, I reckon we may get close to three digit numbers…
If you are lucky enough to break a record, your vehicle will be "impounded" (what a sweet meaning for a strong term) for the night, and at sunrise you must repeat it again or you will not qualify for a valid record. If the rider/driver achieves this second run, the vehicle will go through a profound verification where bore and all other class limits & regulations will be verified by the always cool SCTA personnel.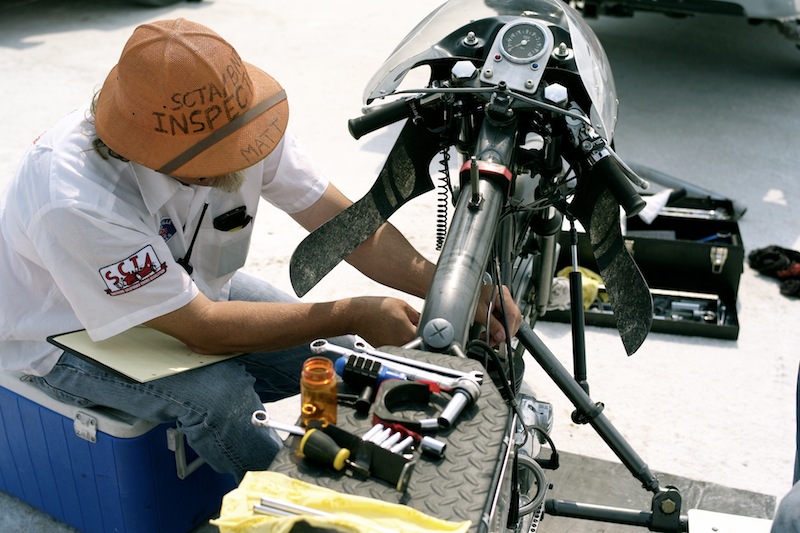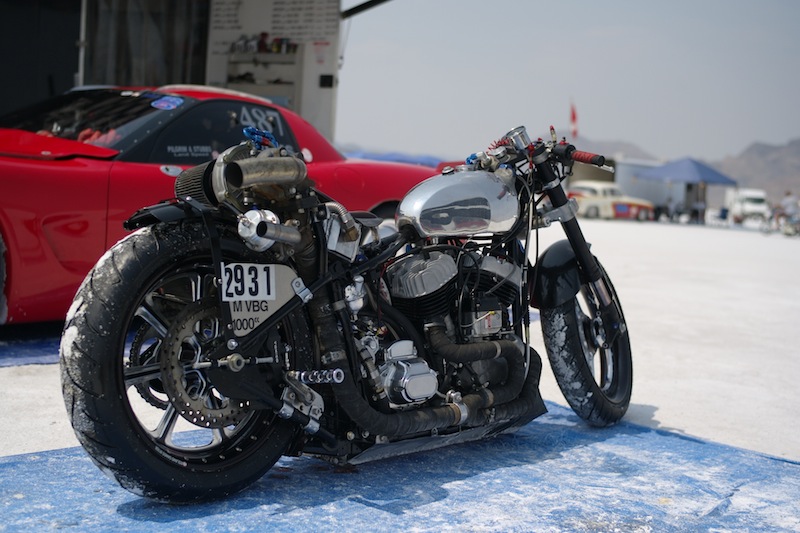 World's fastest flathead in impaund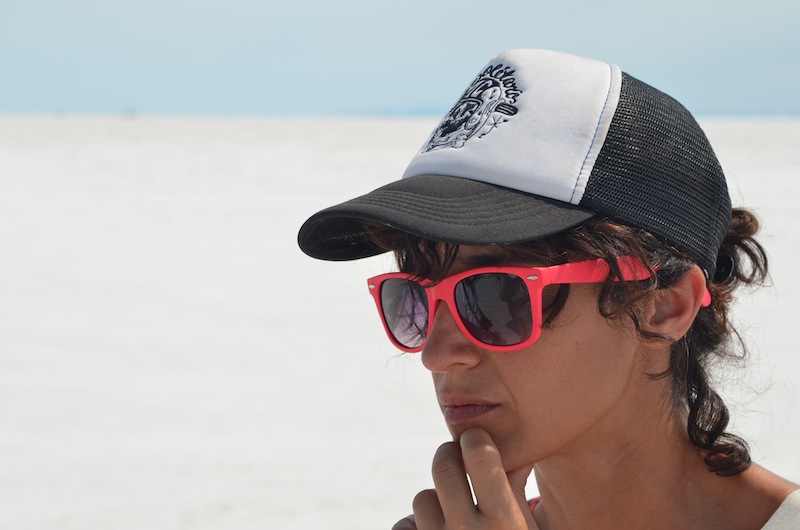 Kristina Fender
The SCTA people… What to say about some of the bestest people on earth!! All of the people working to make this impossible event happen for the last sixty years, are all volunteers and most of them are record holders themselves. What a cool bunch, always smiling, turning a friendly hand. Our kudos to the best crew in the world.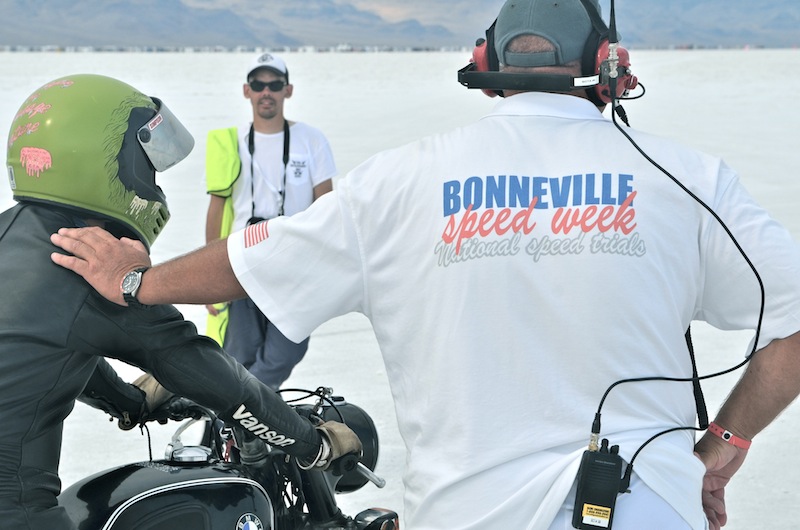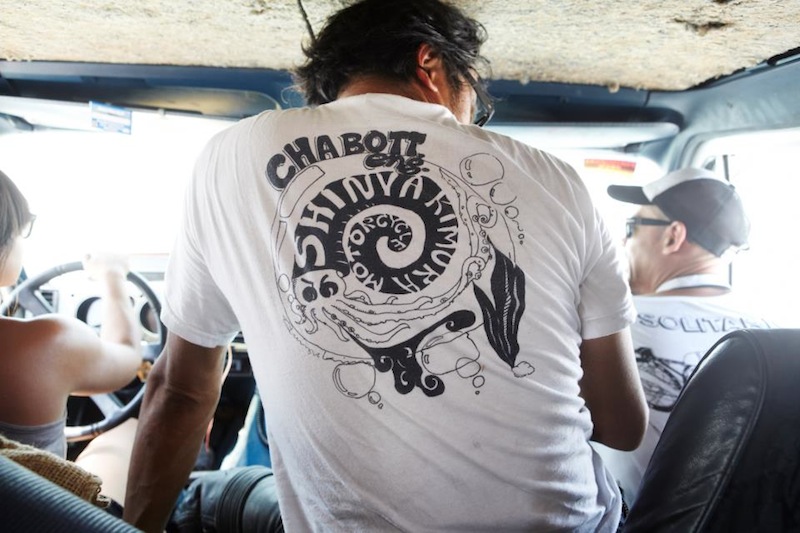 Ayu, Shinya & Maxwell on Chabbot's van on the return road from the track. Shinya did his personal best run with the, Knucklehead powered, beautiful Spyke at 114 MPH. Go!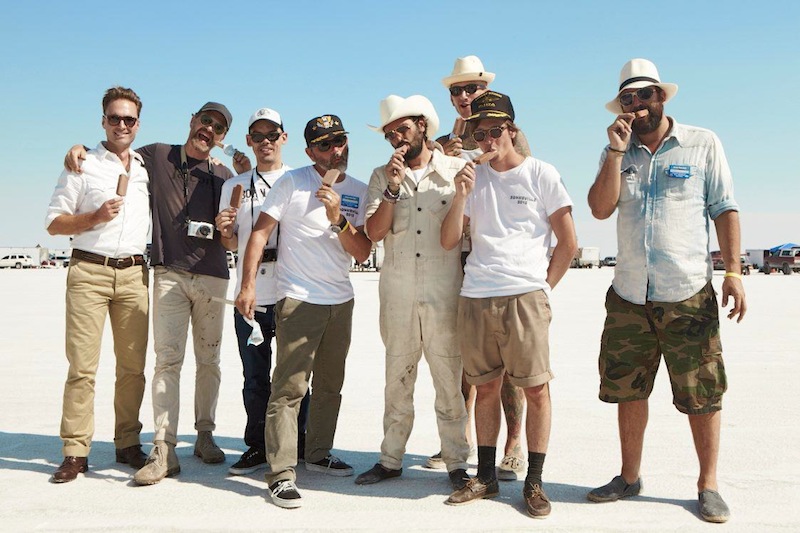 Team Impossible &  other hobo friends taking a good earned break (from left); Jared Zaugg, Paul D'Orleans, Maxwell Paternoster, Vincent Prat, DB Solitario, Tyler Malinky, Olivier Prat & J.R. Ortega
As we started this chronicle; what can we say about good old Bonneville that hasn't been already said a thousand times. . ? Its like a week on the moon, with its pros & cons, it's not easy nor relaxing but will surely stay branded in your memory… I survived a week in Bonneville!
 More and better stories to follow shortly on this thread, but meanwhile ride faster you all cool cats around the globe that read this little corner of the blogosphere.
Follow the Impossible Team do America with hundreds of photos and tales updated daily on ElSolitarioMC's Instagram & Facebook